This is what I said in my Invicta 16 preview several months ago,
"So very quickly, here's what you missed if you didn't watch the show (and if you didn't you deserve Trump, there I said it.) "
Told ya! Only one way to make amends America, watch Invicta 20 this week on Fight Pass.
It's been a wild and fun ride following Invicta to this it's 20th show and throughout it's young life no one has been as dominant a figher as the Bantamweight champion Tonya Evinger. Tonya is currently on a five year long win streak that if she wins this Friday will go into double figures. The last six of those wins have happened in Invicta and she has out punched and out wrestled everyone they have put in front of her including recent Dana White obsession Irene Aldana.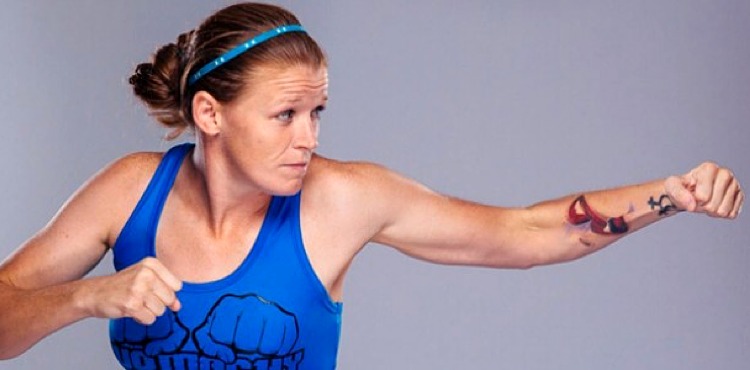 Luckily for Invicta Tonya also has all the power of a star outside the cage too. Totally outspoken and down to earth, she is always value for money in interviews giving no fucks when wading through the regular bullshit spouted around from within MMA.
Naturally this earns her some enemies. Last time out her successful title defence against Collen Schinder drew less headlines and attention than her post fight shenanigans announcing she was making a play for moment of the year and stealing a full on kiss with interviewer Laura Sanko. A ridiculous backlash ensured on message boards and social media totally ignoring the fact Laura is Tonya's friend and saw the funny side.
It was a complete Tonya moment, always a riot, always entertaining and having fun and not giving a damn about being PC. After all Tonya's first brush with MMA stardom was in the build to her fight with Gina Carano where she proclaimed while she was here to knock Gina out she also wanted to make out with her. Naturally poe faced MMA purists were not amused.
So with such a kick ass personality and a strong fight record, naturally comes the question of why Tonya has never got a decent shot in the UFC? Her sole fight for the company was on the qualifiers to get into the UFC house on the Rousey vs Tate season of Ultimate Fighter.
Viewers were robbed of seeing one of the most entertaining athletes ever to have crashed at the house when she lost to Rachel Pennigton. Tonya has described her brief appearance on the show as been a miserable experience, going into the fight frustrated by her preparations being interfered with by the television demands of the show and missing the support of an actual fight team that an experienced fighter like Tonya would be used to (this problem with the show format was also highlighted in the Straw weight season).
It is still baffling with how impressive and focused she has been the past few years that UFC has not come calling while other fighters with lesser records have have their way to Reebok land.
And you know what FUCK THE UFC!!!!! Tonya seems happy and committed to Invicta and it's fortunes and true Invicta fans are proud to have her as their champion. In Invicta she's appreciated by fans and management as a legend and trendsetter and while UFC is the biggest it's hardly the be all and and end all, particulary when it comes to the women divisions and the massive disparity in the amount of fights awarded them per card.
It would have been nice to see her get her fists working against Miesha Tate though. They got bad blood.
Tonya's challenger on Invicta 20 will be Russian Yana Kunitskaya a name that won't strike fear into Evinger but no doubt will the announcers who have to pronounce it. This is Yana's first fight on American soil bringing with her a 9-2 record. In her first 9 fights she showed tremendous striking ability, especially with kicks and used them to win most of her fights in the first round. However she disappeared from active competition in 2012 with a severe case of pregnancy, returning in March of this year against Zaira Dyshekova. In this return she looked sharp and seemed on the way to an impressive win by ground and pound in the first round until Zaira managed to turn it into a grappling battle and caught her with an armbar. She returned from this loss to beat Chinese Yanan Wu by a second round stoppage.
Strawweight Title: Angela Hill (5-2) vs. Kaline Medeiros (8-4)
Look up the word fun in any decent dictionary and you'll see a picture of this matchup for the Straw weight title.
Champion Angela Hill has had an insane 2016 and will have appeared in four out of the Six Invicta shows this year. Challenger Kaline Medeiros made herself an Invicta favourite as a late stand in back on the May card. Although her win over Manjit Kolekar was frustrating to watch because of Kolekar's refusal to actually engage, it says something about Kaline that she was equally disappointed because she wanted to put on a show for the fans. Lucky for us she's going to get the chance for that.
This fight is going to be like something out of a Mad Max movie with two ladies sporting big, crazy mohawks tearing the cage apart with big smiles on their faces because they so love going to war. These two look like warriors and fight like warriors and this could be epic.
You may have noticed I'm no analyst but even if I was how can you analyse two tornadoes smashing into each other? Because that's what we're going to get. You can also start placing your bets on what colour hair Kaline will have and what cosplay costume Angela will wear at the weigh ins.
If you aren't excited for this fight you should get yourself checked out with a doctor, because you probably have some disease that makes people miserable bastards and you should probably start a comic review podcast.
Atomweight: Herica Tiburcio (9-4) vs. Simona Soukupova (5-4-1)
Simona Soukupova was in an absolutely thrilling contest at Invicta 18 against Tess Simpson and although losing the decision she finished the fight the stronger after taking a beating in the first two rounds and looked seconds away from stopping her opponent at the final bell. Taking a fight so quickly after the defeat is a good sign for Soukupova who has only fought twice since 2013.
MMA can be a cruel mistress, one minute laughing an joking as you cruise the countryside in a fancy sportscar and the moment you back is turned  driving off with some new lover and leaving you by a deserted petrol station in the middle of the night. Herica Tiburcio just over a year ago was Atomweight champion after beating Michelle Waterson in a fight that will be forever remembered as one of the greatest in Invicta history. Two fights later and she's almost fighting for her Invicta existence having lost the title to Ayaka Hamasaki and then losing by decision in a close fight to Jinh Yu Frey.
Atom weight fights are almost always fun and this is an especially vital fight for both competitors as neither needs another straight loss on their record. If they show here the same kind of heart and energy in the losing fights this could be a desperately intense affair.
Strawweight: Ashley Yoder (4-1) vs. Amber Brown (6-2)
Amber Brown came tantalisingly close to winning the atom weight title last time out, pretty much doing everything short of ripping whole limbs of Ayaka Hamasaki away from the rest of her body in an effort to get the submission out of the champion. It was not to be, but it was a thrilling display of groundwork and a chess like contest of wits and counters. It was a joy to watch and Amber will be looking to resume her string of submission victories to kickstart her road to a second title match.
Amber comes from a boxing background (before she found the sport too restricting) excelled in MMA with a fierce grappling style that's as exciting as any stand up action. Amber got into MMA training as a way to get into shape after the birth of her daughter and it's  clear from interviews that she still gains strength and inspiration from being a mom. Her daughter attends her fights and competes in grappling tournaments herself.
There's a quiet determination about Amber that you can sense she has a genuine drive and positive work ethic that is going to pay off down the line.
Welcome to Invicta Ashley Yoder who comes in fresh from her stint on the Ultimate fighter where she got into the house with a controversial decision over Jodi Esquibel but consquently lost to Kate Jackson. Yoder's most impressive performances came before the TUF house during her time in Bamma USA. There she won three of her four fights, with two great armbar submissions and an absolutely electric decision win over Liz Tracey (who recently got a win over Invicta favourite Christine Stanley) which saw Yoder busted up early and showed amazing dexterity to escape a sick second round armbar attempt. Invicta fans need to check out this fight as it's one of the best women's fights of 2015.
If Yoder brings the gripping grappling style she showed in Bamma this could be another excellent display of rough, high octane wrestling.
Bantamweight: Jessica-Rose Clark (6-2) vs. Pam Sorenson (4-1)
Jessica Rose Clark is an Australian MMA fighter which naturally means she has the awesomely colourful look of a kickass anime character. Even more striking is the inspiring story of a young woman who had to work hard all her life with a challenging homelife that saw her the eldest of nine children and having to compensate for a sick mother and absent father.
Despite being a strong academic student Jessica was drawn to the freedom and excitement of life in MMA and started a promising career, with wins in five of her first six contests with a mixture of victories via TKO and chokes. However along the way she had to contend with a volatile relationship with another MMA fighter that turned sickeningly manipulative and descended into physical abusive.
Thankfully Jessica managed to break away to make a fresh start in life and these days can be found training with Roxanne Modafferi in preparation for her return to Invicta. The last time she was in Invicta cage was in July 2015 where she lost by decision to Pannie Kianzad but got back to winning ways in July of this year when she picked up a decision win over Janay Harding in a bout in Australia. This was a hard fight for Jessy, having to weather a tough storm with the larger Harding having missed weight (and was deducted two points for doing so), however she finished the fight the stronger, pounding away on top of Harding and coming close to finishing her by submission when the final bell rang.
Time and again I read the stories of these amazing people who are warriors in life as much as in the cage, battling adversity and using their experiences to turn their lives to a positive direction in the competition of MMA. Jessica Rose Clark is one such person and a true example of the strength and spirit that now more than ever is sorely needed from young people who have the odds against them.
Newcomer Pam Sorenson brings a 4-1 record to Invicta all of her fights coming in the last twelve months. Despite only a year as a pro she has been fighting and training on the amateur circuit since 2012, using combat sports as way to turn her life around when going through personal issues following the death of a close friend.
Sorenson has sampled other combat sports such as kickboxing and Muay Thai and has used her skills to pick up the King of Combat bantamweight title in her last fight in September with her first stoppage win as a professional.
Strawweight: Lynn Alvarez (6-4) vs. J.J. Aldrich (3-1)
Lynn Alvarez has had a spotted ten year career, with a 6-4 record and a loss to Mizuki Inoue in her return to Invicta back in July. Before that she had a devastating win against Amber Stautzenberger knocking her senseless and proceeding to choke her out in 45 seconds.
Another fighter to return to Invicta after starring on the recent Ultimate Fighter season is J J Aldrich. Alrich won her way into the fighter house but lost to eventual tournament winner Tatiana Suarez. Aldrich rebounded from this loss with a first round tko stoppage over Kathina Catron in September.
Aldrich started her professional career in Invicta having established herself on the amateur circuits as far back as 2010. Her last fight in Invicta before taking time for the Ultimate Fighter season saw her kneeing and pounding the hell of Rose Acevedo in the first round just over a year ago.
Bantamweight: Stephanie Egger (2-0) vs.Alexa Conners (0-1)
Alexa Conners learned the lesson of never leaving it in the hands of the judges back at Invicta 17 when she lost her professional debut in a controversial decision against Laura Howarth (although to be fair neither fighter did any damage of note). Now that her debut glitch is out of the way she'll be looking to make good on the promise built from her amateur days.
Stephanie Eggers is making her Invicta debut after winning her first two MMA fights in 2015. She comes into MMA with a Judo background, a black belt in that sport so she naturally won her first bout with an armbar in the first round.
Strawweight: Miranda Maverick (0-0) vs. Samantha Diaz (0-0)
Invicta 20 kicks off with these two fighters making their pro debuts after honing their skills in the amateur ranks. Diaz has won all five of her recorded bouts, three with an armbar submission while Maverick has won seven of her eight, five of them in the first round.
Like most recent Invicta cards we have a great double header of title matches, preceded by a card of full of hungry fighters. Some new and trying to make their early impressions count while others are facing "do or die" moments with their Invicta careers possibly on the line. The roster and hierarchy of Invicta will look significantly different after this weekend.
Enjoy the fights!
Til next time,
Dazza