Word just hit the streets (which is where my ear is pressed to the ground) that Christopher Miller and Phil Lord, of The Lego Movie fame, are directing the stand alone Han Solo Star Wars film!
First, this is AWESOME news! Han Solo is cool, like me, has a spaceship, LIKE ME, and bangs princesses, like me! And he has a potentially very cool back story that can be mined for his own Star Wars film. Will we see his first meeting with Jabba the Hutt? What about how he and Chewbacca became best buds?
Maybe it'll be a porno where he puts his lightsaber into Princess Leia. Oh, right. He wasn't a Jedi. So he puts his blaster in her booty and pulls his trigger. Same difference.
There isn't much word on what the film will be about, though the current screenplay (which I'm guess Lord and Miller will rewrite) comes from Lawrence and Jon Kasden. Lawrence Kasden wrote the screenplay for The Empire Strikes Back and The Return of the Jedi, so he probably knows his Star Wars stuff.
Mike here: is this the first solo Star Wars film to be released? Did you miss a Solo pun AND a "Han shoots first" joke?!?!?
I just want to say I'm happy, and Han, I love you.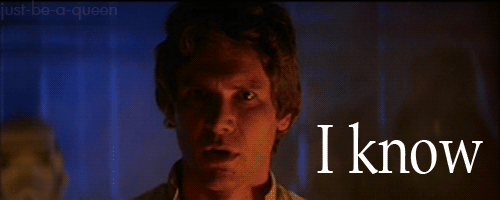 See More of Han Here