It is weird to think of Dan Henderson having a career with an asterisk attached to it. This is a man who held two titles in a major promotion at the same time. A man who twice went to the Olympics. He is someone that when you list every great legend of the sport almost all of them have suffered a loss by his hands:
Wanderlei Silva
Big Nog
Vitor Belfort
Murilo Bustamante
Shogun Rua
Rich Franklin
Michael Bisping
Fedor
That isn't a run of the mill list of victories, this is a who's who of first ballot hall of famers.
And yet for all of that, KOing the greats, moving up and down weight classes on a moment's notice, being one of the most beloved fighters in the sport's history, there is still the one great white whale he has yet to conquer: UFC championship gold. It's unfair to say his career would be incomplete without a UFC belt but nonetheless there'd be that asterisk for sure.
At UFC 204, Henderson will get a chance at his whale. All he has to do is something he's already done: beat Michael Bisbing. Their UFC 100 bout ended with one of the most legendary exchanges in the sport's history.
One shuffled kick into a punch, one flying first from hell coming down like a screeching bomb upon Dresden, and two men forever became entwined with one another. Bisping cannot see a retrospective of his career without reliving that hell; Henderson can't see his highlights without smiling at one of the most famous punches of all time.
This is where the story becomes more than just Henderson vying for the final trophy on his mantle. This isn't just about him, it's as much about Bisping.
Bisping. The undisputed UFC Middleweight Champion of the world. Bisping. The man who beat Luke Rockhold in the first round last May via a devastating KO of his own. Bisping. The man who seemed destined to always be a bridesmaid until one day he found himself saying, "I do… I do accept that I am the greatest on earth."
It would be easy to say that Bisping's career has achieved all it could. He fought as much as anyone, against the toughest opponents possible, often while having the pressure of headlining the show, did it clean as a whistle, and even won the title on such short notice that fairy tale is an appropriate descriptor.
But he has the specter of Henderson hanging over his head. He's done everything he could in life, achieved it all in Hollywood fashion, will even get to headline a show in his home country for his first defense, and yet he's still stalked by one loss from seven years ago. No one replays on a loop his lossed to Chael Sonnen or Tim Kennedy. But everyone replays this: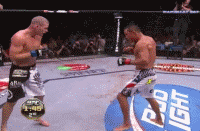 That will keep a man awake at night. That will ensure a man doesn't feel complacent having reached the summit of the sport.
At UFC 204, what will we be saying: Those predicting that the younger Bisping is expected to come out victorious, making up for the devastating KO back in 2009, were right? Or those foreseeing a Henderson win as he rides off into the sunset having done everything any fighter could have ever done knew it all along?
Someone will be right. More than just a title is at stake at UFC 204. Two men's entangled legacies will be redefined once again, forever more.