Poll: Are you Excited for Grown Ups 3?

Loading ...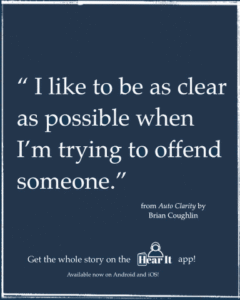 This is of course the single most important thing of all: the Grown Ups 3 Release date. Grown-Ups 3 will be released on July 4, 2018. This is know because they did not release it this year and they will release a movie of this magnitude during the summer. Now you know where you won't be on July 4, 2018.
And the reason for this Filmed Turd existing is…
GROWN UPS 3 BOX OFFICE
Grown Ups had a budget of approximately $80 million dollars – because everyone involved in unabashedly just taking the money directly for themselves. Grown Ups made $270 million. Grown Ups 2 had a budget of $80 million dollars and made $240 million dollars. The Grown Ups 3 budget is (probably) $80 million dollars. The Grown Ups 3 box office will likely be around $250 million dollars.
That is why there is going to be a Grown Ups 3 (heck, odd box office success is the only reason anything gets made, including potential sequels Jumper 2 and Hancock 2).
Grown Ups 3 is coming in 2017. We all know this. Deep in our heart of hearts, even if we didn't want to, when we tossed at night, we asked: Will they make a Grown Ups 3? Are they going to make Grown Ups 3? When will Grown Ups 3 come out? What is the Grown Ups 3 release date? Already, is it out already and I didn't know about it and OMG if that is true how much do I hate myself for even wondering? You know Adam Sandler cannot help but be dreaming of making Grown Ups 3.
HalfGuarded.com knows movies. We know movies like X-Men. We know movies like Star Wars. We know that all movies are real. We know that if you're a vampire, you're either being hunted by Will Smith, lead by Luke Evans, or learning to be a modern girl in a Vampire Academy sequel. And we darn sure know everything there is to know about what will easily be the smash hit of the summer. The movie that will redefine cinema for generations.
One of the stars of the show, Maria Bello, had this to say about a potential Grown Ups 3:
"People have talked about it and we've heard it might happen. But I don't know if there is a script, I don't know what there is. But I hope so because, boy, it's fun to work with those guys."
Perhaps the closest Hollywood has yet come to making 'Ow! My Balls!' seem like a plausible future project."
Andrew Barker, Variety
THE GROWN UPS 3 DIRECTOR IS
Grown Ups 3 will be directed by Dennis Dugan. I know this for a fact. Dennis Dugan directed Grown Ups. Dennis Dugan directed Grown Ups 2. Dennis Dugan raison d'etre is to direct This Harbinger of the Anti-Christ. He also confirmed it to The Hollywood Reporter. He was also born one town over from where I currently live. I'm sorry, world. We gave you John Hughes at least. He did not grown up in Downers Grove though. But I'm sure he's been there.
GROWN UPS 3 Cast
Adam Sandler Grown Ups 3 just rolls off the tongue. And you know the Grown Ups 3 Cast will also feature Chris Rock, Kevin James, Chris Rock, David Spade, Chris Rock, Rob Schneider and Chris Rock. Chris Rock will star in Grown Ups 3 because he likes money. One of the funniest comedians of all time, who artfully did more to repair race relations than any other man alive (that may not be true), now runs around and hangs out with Adam Sandler shooting the same movie every other year. At least for Kevin James the alternative is being Paul Blart again. (Oh, he will be making Paul Blart Mall Cop 3. Just you watch…) I'd also like to see Esther Ku appear.
THE GROWN UPS 3 TRAILER
This is the trailer for the first mega-dump of a film:
Then came this abomination, which does not bode well for The New Grown Ups 3 Trailer:
Sure, those trailers may say Grown Ups Trailer and Grown Ups 2 Trailer but those are actually the Grown Ups 3 Trailer. I know this because: they are the exact same thing. I have watched them far too many times and can assure you: there is no difference.
GROWN UPS 3 POSTER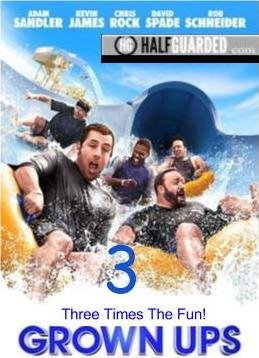 THE GROWN UPS 3 PLOT
Adam Sandler will star in Grown Ups 3 and he will get together with his challenged friends for yet another week. Adam Sandler will wear shorts (oooo… like Nic Cage will in National Treasure 3!). The entire cast, crew and likely producers of Grown Ups 3 will endlessly drink beer. They will make fart jokes. They will all have wives that are too attractive to be with them for any reason that isn't monetarily motivated.
Really, there isn't much need for any kind of plot or story for Grown Ups 3. Much like I Am Legend 2, Dredd 2 or the possible Victor Frankenstein sequel, or any other number of hilariously unnecessary sequels for that matter, Grown Ups 3 simply needs to exist to make money. No logic necessary.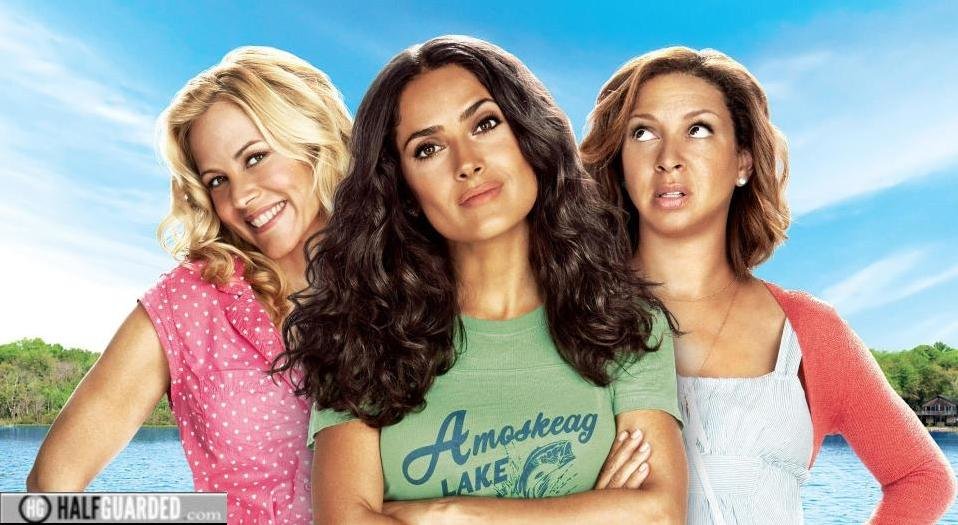 After all of that, the morons will actually make a movie (unlike Zombieland 2, which will have a plot and, you know, be good).
GROWN UPS 3 PHOTOS
These are a collection of Grown Ups 3 Photos (Grown Ups 3 set photos, Grown Ups 3 movie photos – any photo at all that ever existed). You know these are accurate (we're very concerned with accuracy, lest our ruler Dracula, from Dracula Untold 2, consumes us).
GROWN UPS 3 WILL BE WRITTEN BY
Adam Sandler and Fred Wolf will write Grown Ups 3 (I Dredd the thought of sitting through more of their garbage, but alas, this is life). This will happen in under 2 hours, as they drink Miller Lite, and re-watch Billy Madison, marveling at how smart it is. There will be many high-fives throughout this process.