The Secret Life of Pets 2 Poll:

Loading ...
Ride Along 3
The Wedding Ringer 2
Jumanji 3
Soul Plane 2
When is The Secret Life of Pets sequel Release Date?
The Secret Life of Pets 2 will release on June 7, 2019.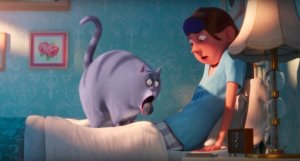 The Secret Life of Pets 2 Cast & Characters:
Patton Oswalt as Max

Breed: Jack Russell Terrier
Interesting note about Max: He was voiced by Louis C.K in the first movie, but since Louis has had some #

MeToo

issues lately, he was removed. Whoops.

Kevin Hart as Snowball.

Eric Stonestreet as Duke.

Breed: A brown mutt. He's all shaggy.

Jenny Slate as Gidget.

Ellie Kemper as Katie.

Lake Bell as Chloe.

Breed: Grey Tabby cat. Also super fat and apathetic.

Dana Carvey as Pops.

Breed: Old Basset Hound who is paralyzed in his back legs.

Hannibal Buress as Buddy.

Bobby Moynihan as Mel.

Tiffany Haddish as a Shih Tzu.

Nick Kroll

Pete Holmes

Harrison Ford
What is The Secret Life of Pets sequel about?
The second of Illumination Entertainment film, after Despicable Me, to become a franchise. It will continue to follow the various pets of the first film, with Kevin Hart's Snowball, a fluffy white bunny, taking more of the spotlight. Illumination probably thought he'd be a safer star after Louis C.K.'s problems (see more about that below).
But then Kevin Hart dropped out of hosting the Oscars because it turns out everything you say can and will be used against you forever and ever.
I'm screwed.
The Secret Life of Pets 2 Trailer:
What is the most exciting part of the new Secret Life of Pets movie?
That there may be another sequel after it, The Secret Life of Pets 3! I love seeing the conclusion to trilogies. Actually, I like watching pet-based films in general, but I also like to start with the third film in a series, then jump to the first, then the second. It really improved my watching experience for The Godfather films.
Are there any controversies surrounding The Secret Life of Pets 2?
Well, this is a kids' movie, an animated one about dogs and cats and bunnies having a grand old time together and getting into trouble and having adventures, so generally there wouldn't be any negative or salacious rumors or controversies.
But then Louis C.K. went and exposed himself and did other nasty stuff that came out hard and bad. That came out bad too. Anyways, I give Louis credit for owning how awful he is, but he's still pretty awful to have done what he did. I won't go into the details, but wieners were involved. Or at least one wiener, his, was involved.
So they recast his lead character of Max! Welcome Patton Oswald! Thank you for not molesting any women!