Poll: Are you Excited for HAPPY GILMORE 2?

Loading ...
What will Happy Gilmore 2 be about?
Sorta like Sandy Wexler 2, I Am Legend 2, Dredd 2 or the possible Victor Frankenstein sequel, sequels make money. And Happy Gilmore Two will make fat stacks of cash.
Twenty years after the events of the first film, Happy is seen sitting in a man cave. His wife left him and all he has left are his old memories of playing golf. As he glances around the room at all his trophies and framed memories, he feels the hairs on his neck stand on edge as his radio crackles from the storm outside. The dial slips down a station and Happy hears what will guide him throughout Happy Gilmore 2: a young golfer is mid-stroke when lightning strikes his club.
The boy comes to, looks around, and is helped to his feet. The normally polite gold crowd erupts as he grabs his now mangled 4 iron and lines up at the tee. Happy tilts his head, his ears trying to reach out and grab what happens next: everyone gasps as the boy shanks it wide left. And then it happens again. And again. And again. The boy has the yips.
But Happy then hears one final note from the announcer, "That boy looks like he'd be more comfortable on ice than he does on the greens."
From there, Happy takes it upon himself to train the boy and make him … a golfer turned hockey player!
Oh, and, spoiler: at the very end, it'll be revealed the boy is actually Shooter McGavin's son.
One rumor has JUSTIN BIEBER possibly being The Boy. Nic Cage after National Treasure 3! could ironically play the rival hockey coach.
Someone wants to make a Zombieland 2, so why not Happy Gilmore 2? Huh, tough guy?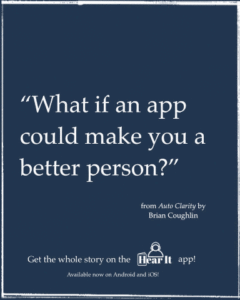 When will Happy Gilmore be released?
Happy Gilmore will be released on Netflix in late 2020. Or later. They haven't decided.
Happy Gilmore 2 Title Possibilities:
Happy Gilmore 2: The Gilmore Boys!
Sad Gilmore
Happy Gilmore 2: More Gilmore
Moderately Satisfied Gilmore
Hockey Gilmore
Happy Gilmore 2 Photos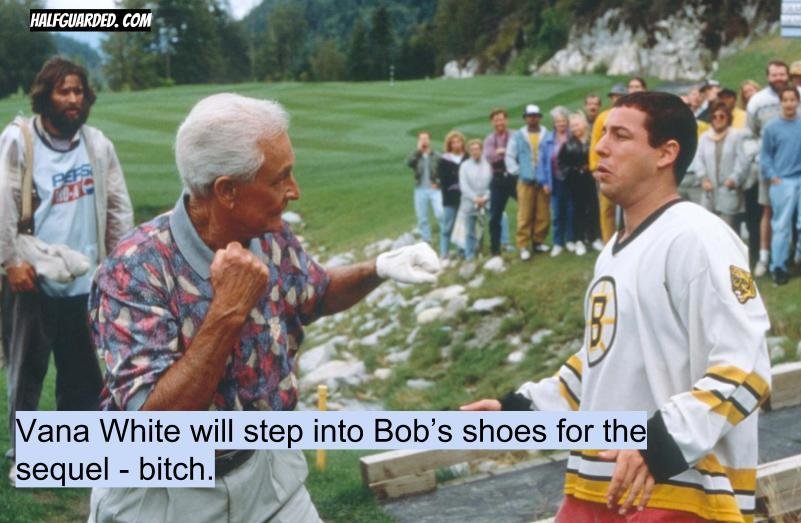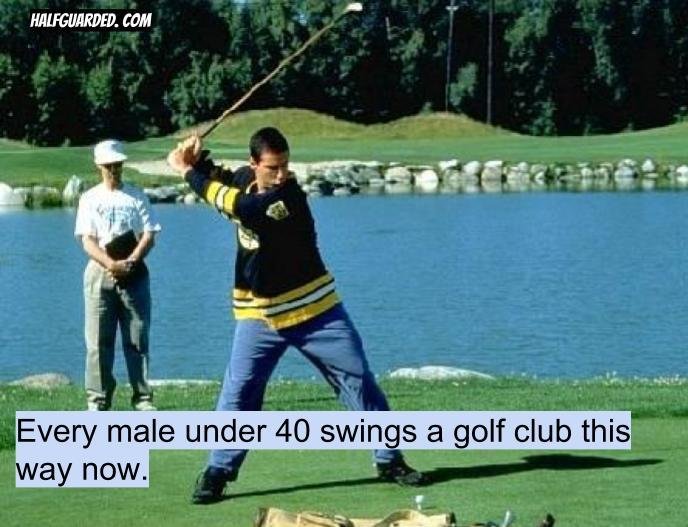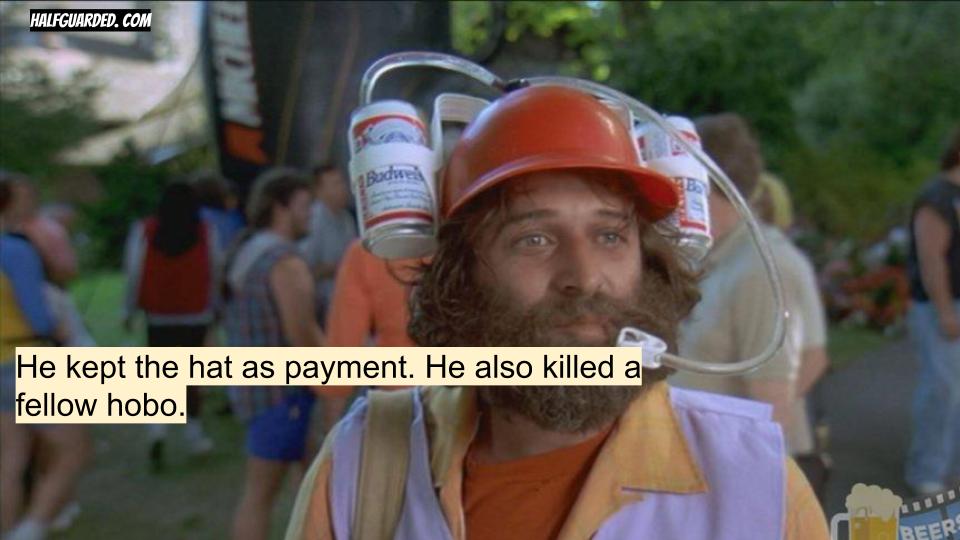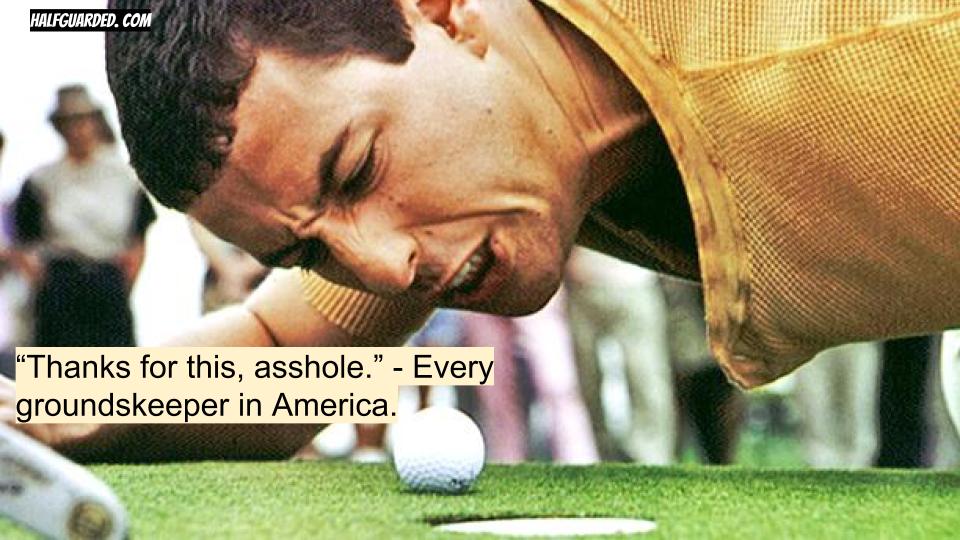 Who will direct Happy Gilmore 2? Will Steve Brill return?
Steve Brill is helping with Sandy Wexler and then he will slide over and help Sandler go-direct this film.
Happy Gilmore 2 Cast and Characters:
Julie Bowen as Virginia Venit.
Christopher McDonald as Shooter McGavin.
Carl Weathers as Chubbs Peterson.
Happy Gilmore 2 Trailer:
I'd say that counts as representative of the comedy stylings you'll get with Happy Gilmore 2: Gilmore Guys!
Okay, definitely not a trailer, but here's a reliving of a fantastic Happy Gilmore moment:

Will Adam Sandler be skinny for Happy Gilmore 2?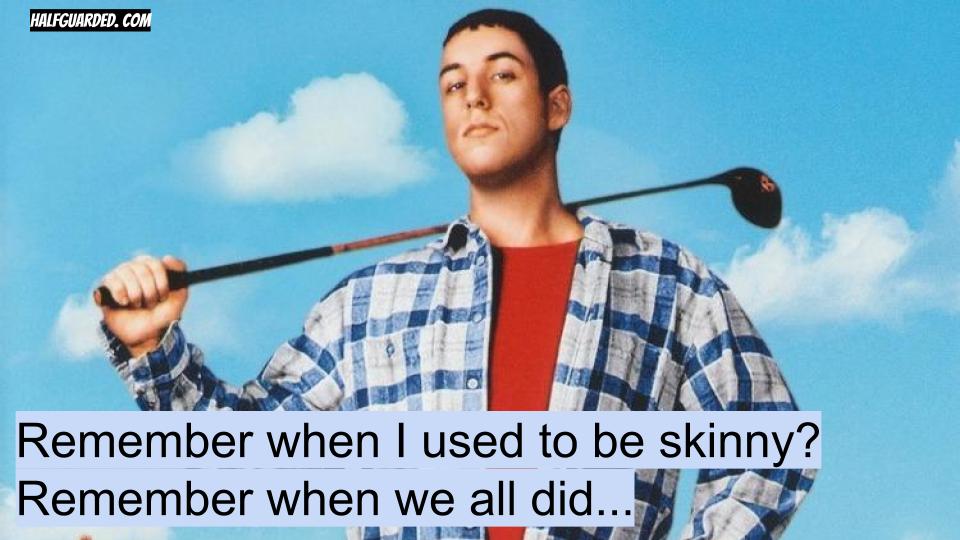 So Adam Sandler wasn't always a middle aged chubby white guy. He didn't exactly look like an athlete, but at least it was kinda, sorta believable that he could play hockey. So we better hope he loses the weight for the sequel, unless that's part of the character… because old white guy golfers who used to be good are usually fat…
Will Adam Sandler write Happy Gilmore 2?
Well, yeah. Adam Sandler, duh, and me, since I'm banging out this treatment here already anyways.
What's the box office outlook for Happy Gilmore 2? Will it be straight to Netflix?
Unlike the potential sequels Jumper 2 and Hancock 2, it's more difficult to pin point if a Netflix Sequel is profitable. But we all know it'll generate $50 million in gross revenue for the notoriously secretive Netflix.