Every once in a while a year comes up where looking back the cinemas spoiled us. Take a look at the top ten box office for the year 2007 and there is nothing really special, the usual assortment of franchises and sequels (with a curious number of third in the series films released) dominating. But look away from the top earners and there were so many films I have an affection for in 2007 there was enough for several pieces.
I had a hard time deciding on my top three films to write about (as well as a decidedly gut wrenching WTF? moment), so it's with a heavy heart that I won't be getting to write about interesting films such as No Country for Old Men, The Mist, Knocked up, Juno, Charlie Wilson' War, the criminally overlooked Gone Baby Gone, The Kingdom and one of my favourite chillout movies Ocean's 13 (again a third in the series). Hell WWE films produced something enjoyably decent with Battle Royale ripoff The Condemned.
The three films I've chosen show what an interesting and varied year 2007 was. Little did we realise that we were one year away from the start of a slowly building phenomenon that was going to blossom into the biggest series of films the world had ever seen.
Zodiac (Director: David Fincher)
True story on the hunt for the Zodiac killer who terrorised San Francisco in the late 60's and early 70's.
True crime documentaries and dramas have become a craze in the last few years thanks to Netflix and the many podcasts which have surfaced. For any fans of this genre now then is a great time to check out one of the greatest crime investigation films ever made.
Zodiac follows the hunt for the Zodiac Killer, who killed five people between 1968 and 69 in San Francisco and may have been responsible for many more attacks. The case was notorious for the Zodiac's correspondence with police and media in the form of letters and coded puzzles which purportedly could lead to his identity. As such it caught the imagination of amateur sleuths and speculation and theories on the unsolved case remain to this day.
Zodiac in particular is based on the book by Robert Graysmith, a cartoonist for the San Francisco Chronicle who became involved in the case when the coded letters were sent there. Graysmith is played by Jake Gyllenhaal and is one of the central figures of the story, as his interest takes him to pursue his own investigation and becomes obsessive to the point it he eventually loses his family.
The film also follows the effects the case has on journalist Paul Avery (played by Robert Downy Jnr on the wave of a comeback) who becomes paranoid and reclusive after receiving a death threat from the killer, as well as the fruitless efforts of Chief Inspector for the case Dave Toschi (played by Mike Ruffalo).
Set in the late 60's and 70's the film has a decidedly 70's cinema feel beyond it's visual style, with a scattered narrative and a methodical pace that at times reminds me of All The President's Men. The story is engaging as we follow the many leads by the police and the journalists, with a sense of exhilaration as the case seems to be heading somewhere. Yet many times we are left frustrated with seemingly compelling clues resulting in dead ends. Just like in the real case the film is ambiguous, having to leave open the authenticity of the evidence, the Zodiac's possible role in further attacks or the actual identity of the killer.
Fans of True Crime will no doubt be fascinated by both the investigations methods of the police at the time (along with the difficulties in a pre computer filing era), as well as a the amateur out of the box pursuit conducted by Graysmith. In one of the stand out scenes of the film, Graysmith follows up on a lead on a suspect who was a projectionists and meets one of his work colleagues. In a uncomfortably tense scene Graysmith is unnerved by the man's odd behaviour and when he hears something in the house he starts to believe the two are not alone. Gyllenhaal looks absolutely terrified in this scene, especially when the man tries to get him to go down into the basement. Like most of the film it's left ambiguous whether Graysmith was being paranoid or if the man was a genuine threat to him or was simply trying to scare him.
While no firm conclusions are ever presented, being based on Graysmith's book the film does lean heavily towards his theory that the killer was one Arthur Leigh Allen. The film ends on evidence from an identification by a surviving victim that seems to support this and with a silent confrontation between Allen and Graysmith, although the final text before the credits points out Allen died before he could be further questioned. To this day, the evidence against Allen is inconclusive and DNA testing after the film's release has only furthered to muddy the waters.
Zodiac is a gripping movie, as much about the toll it takes on those involved as it is the hunt for the killer. The performances of it's three leads are outstanding, as well as the supporting cast. It's also chilling, with the uncertainty of what is or isn't real, what phone calls, threats and letters are the work of the Zodiac or fakes and copycats.
In some ways it was a film ahead of it's time, a serious, long examination of a fascinating case that is worthy of rediscovery.
Paranormal Activity (Director: Oren Peli)
Believing that a poltergeist may be in their home, a young couple begin recording the disturbances. The resulting footage details a horrifying and violent haunting.
Not so long ago Helen Mirren made a statement that there was nothing like watching a film in a cinema. Proving once again that you can't fucking say anything these days, this tribute to the joy of going to the pictures was twisted by those who like to angry at stuff and called her comments elitest and ablest. By the way, there's a movement to get clapping banned at events, you can't make this shit up!
Anyhoo, one unique experience I can recall where being in an audience made a film better was when I went to see Paranormal Activity, a $15,000 film that became a phenomenon and put Blumhouse on the map as the most exciting source of low budget hit horror movies. I saw the film in a suitable small but packed screening, that was to prove to make for a rewarding, community like experience.
It's a simple concept for a film. A likeable young couple Katie and Micah believe the home they have moved into may be haunted and begin filming their bedroom to catch any paranormal incidents on camera. What follows is an unbearably tense build, as small, unsettling incidents start to intensify and the footage as the couple sleep shows that Katie has taken to sleep walking and unnervingly standing over Micah for hours on end.
All around me, my fellow audience members became increasingly unsettled. Some brought their knees up on to their seats, hugging themselves into as tiniest a ball as possible. Couples held hands. There was nervous laughter from a group next to me when one of their number, a large guy with a Rugby player's physique had his arms folded and zipped up his jacket all the way up so the bottom half of his face was hidden, as if this act would protect him from the power of the film.
I was just as petrified as anyone, so wound up that a door opening became a major gasp inducing moment. And the film was only going to get more chilling.
A tangible feeling of dread was in the theatre as the demon in the house became more aggressive, it's attacks more violent. Katie being dragged from the bed and into the darkness corridor by unseen hands would probably have looked comedic and ridiculous if we were watching with clear minds. But the film had inflicted on us a sense on anxiety that made it shocking and terrifying. The screams we heard from whatever was going on outside the bedroom out of range of the camera was unbearable awful to sit through and each time we heard the vibrating roar of the demon, where we should have laughed we shuddered.
For 88 minutes we were entranced. There was no mocking from obnoxious loudmouths (which sadly is something you seem to find in horror screenings), we were just scared by the image on the screen, and like being on a intense theme park ride some of us I'm sure were wishing it was over. When the ending came, going out with a chilling bang and a final eye widening jump scare, the lights came on almost immediately (I don't remember any credits). I looked around at my fellow audience members and as we sat their stunned we acknowledged each other with a sense of relief and humour at what we'd just been through. It was a weird sensation, as though strangers that most of us were, we'd not watched a film, but had shared an intense experience and survived it together.
Paranormal Activity was one of the most unique cinema experiences I've ever had, and it's a film that works best in a theatre with a commonly engaged audience. As effect as it is as a found footage film (it's far better than Paranormal activity, and looks far more authentic), it does not have the same effect watching at home in a comfortable environment, especially for a second time.
The film was a smash, bringing in nearly 200 million. Naturally there were follow ups. The second film is set just before the first and focuses on Katie's sister Kristi and ties in effectively with the original and hints at more than just a random haunting. The third is a prequel following the young sisters and begins to expand the mythology to reveal a conspiracy of a witches coven at the root of the disturbances. The fourth follows yet another family who are recording everything (this time via social media devices) who run into Katie.
There were two further sequels that I never bothered to see. The first four were still tense and had effective scares, but the concept had by now stretched beyond credibility. Yet the original film will always have a place in my cherished cinema memories, especially the sight of that big burly man trying to hide in his own jacket.
Son of Rambow (Director: Garth Jennings)
Two young boys, outcasts for different reasons, bond while attempting to film their own Rambo movie.
Discovering delightful little movies is personal joy for me as a film fan, especially when it's one which my first glance of was a movie poster that made me go "what the hell is that?"
"What the hell," Son of Rambow turned out to be was a cool little coming of age story, combined with a passion for movies. It follows the unlikely friendship of a shy boy Will who comes from a strict religious church and Lee (played by a young Will Poulter )who is notorious at school for bad behaviour and has problems at home due to a bullying older brother.
When the two meet they accidentally break a goldfish bowl and the naive Will is then blackmailed by the opportunistic Lee into helping him on his dream project, making a short film based on First Blood (secretly using his older brother's camera). Although a reluctant participant at first when having to do the stuntwork, Will starts to become even more impassioned for making the film than Lee.
As well as being funny Son of Ranbow really gets across the importance of following dreams and having a passion for something. While having bullying tendencies, Lee gains sympathy for his tough home life and at how he is written off at school as being a no hoper. Uninspired by school, the one thing that clicks with him is seeing the film First Blood and in that his desire to enter a short movie contest is born, even if the goal is quite beyond him.
Will on the other hand is hampered by the ultra religious church that his mother belongs to. The church forbids any frivolous activity that distracts from worship (there is a heart rendering scene where his mother tells him the story of how as a child she heard a beautiful song and bought herself a record player just so she could listen to it, but her proud possession was destroyed before her eyes once her parents fellow church goers discovered it), and has to keep his involvement in the film a secret. Through this act of rebellion and been introduced to the wonders of film for the first time, he seems alive and confident for the first time, being able to express his untapped creative impulse for the first time.
A relationship based on manipulation transcends into one of genuine brotherhood, as the two complete opposites are able to bring a side out of themselves they didn't know they had. Lee becoming a guardian of sorts to Will, who in turn becomes the loyal friend who believes and helps him attain a degree of his dreams.
Son of Rambow is a wonderful movie, and it's an inspiring one which good parents should show their kids to ignite that optimistic spark in them. There is a glorious moment late in the film, where a disillusioned Lee sees the finished product in an actual cinema and in that moment you see him recognising the potential that he has.
It also has a nostalgic 80's tone, a homage to the wondrous time when people were for the first time able to make their own movies, albeit with the restraints of bulky but endearing 80's VHS equipment.
BTW upon seeing it the film was endorsed by Rambo himself Sylvester Stallone.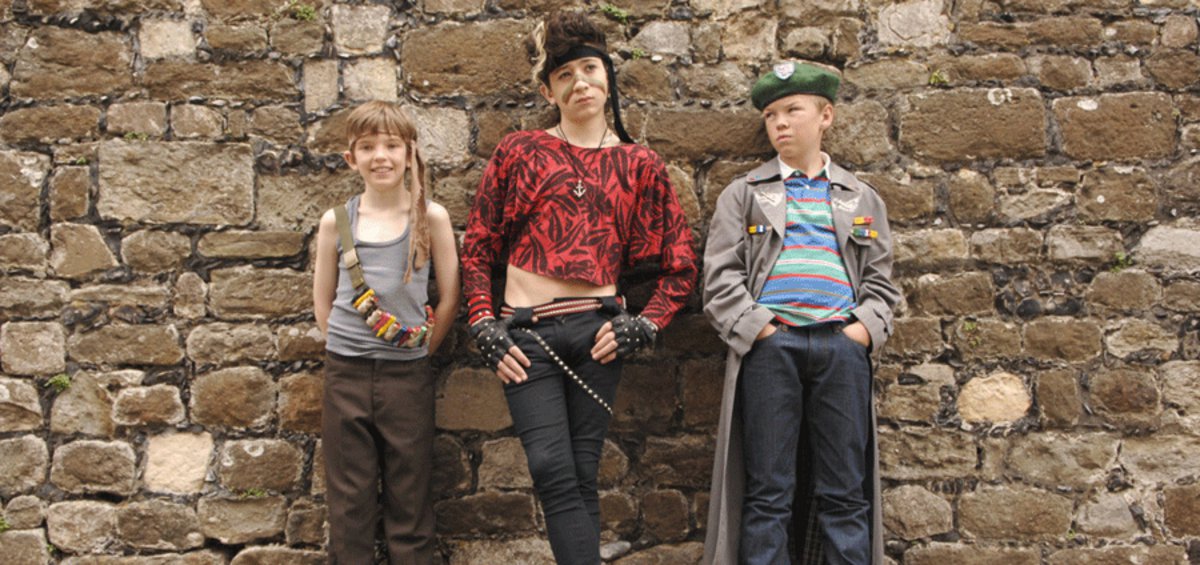 WTF??? Teeth….the weirdest trailer I ever saw,
I can't remember what film I had gone to see the first time I saw the trailer for Teeth. I do remember I had uncharacteristically gone with someone else. The reason I remember that detail is because when the trailer started, which showed a nervous girl about to submit to a gynaecological exam as sinister music begins to air, I turned to my friend with a quizzical look and said "where are they going with this?"
A moment later the screen goes blank, the audio continues as the puzzled doctor s heard to say "what?" and what follows made me and friend look at each other startled and go "Oh my God!!!!"
After that it became quite fun when at the cinema to take a look around when the Teeth Trailer was shown and watch people's reactions. Men and women were horrified and shocked by what they saw, probably for very different reasons.
Sadly Teeth never appeared at my local theatre, and the trailer slipped to the back of mind and I never thought to seek it out. I only remembered it again when searching through the film releases for 2007 for this here piece.
So for you dear reader, I give to you this here trailer. I guarantee you've not seen a premise like this.
Told ya!
Dazza