While one-time wunderkind M. Night Shyamalan received heaps of praise following The Sixth Sense (this, despite admitting to ripping off the story from an old episode of Are You Afraid of the Dark), his career has been a very mixed bag at best ever since. Signs was a big disappointment, but The Village was even more lackluster. Then he really started going downhill with mega-bombs like The Lady in the Water and The Happening before nearly committing career suicide with The Last Airbender. Following the dismal box office performance of nepotism-fest After Earth, I was shocked — shocked, I say — that any film studio would let him anywhere near a camera again.
Alas, Shyamalan's latest, The Visit, is a shockingly good movie. In fact, I'd say it's the best movie he's made since 2000's Unbreakable, which I've always considered his true magnum opus.
On the surface, The Visit seems awfully familiar. With its gimmicky "found footage flick" premise, it's initially indistinguishable from the bevy of Blair Witch knockoffs that have glutted cineplexes for the better part of a decade now. Thankfully, Shyamalan's excellent script and inventive scares elevates this one to the upper echelon of genre offerings. It's no Cannibal Holocaust, of course, but it's definitely up there with way-better-than-average stuff like Rec and The Last Exorcism.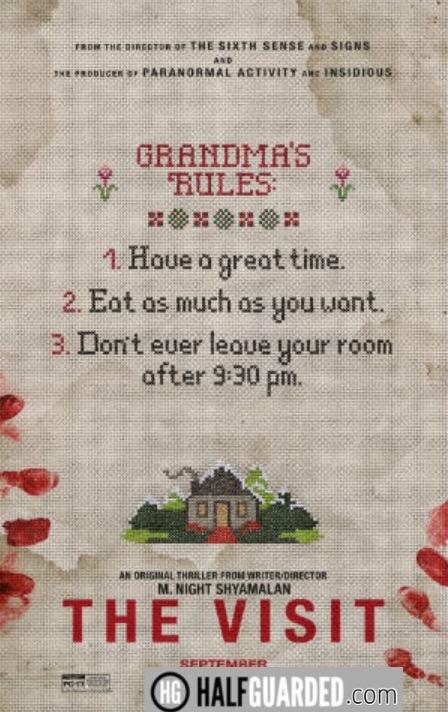 The protagonists of the flick are a brother and sister duo, who have been sent off to their estranged grandparents' house for a week so their chain-smoking mom can party it up on a cruise line with her new boyfriend. The kids' idiosyncratic quirks are spelled out for us early; both reeling from their parents' separation, the younger brother — an aspiring rapper and germophobe who uses female pop singer monikers as substitutes for the non PG-13 swear words — has a nasty habit of freezing up when terrified, while his documentary-crazed older sister just can't stand the sight of her own reflection.
As soon as they arrive in the bucolic Pennsylvania countryside, it becomes very clear that their grandma and grandpa aren't right in the head. Granny suffers from some sort of weird disorder that makes her go squirrel-doo-doo crazy at night (be warned, this does lead to some elderly nudity) while grandpa likes to beat up random people on the street for "following him" and burn his adult diapers in these weird rituals out behind the tool shed. Taking place over the course of five days, each evening concludes with some really out-there incident that leaves you wondering whether these kids are going to be eaten alive or stabbed to death in the middle of the night … and whether they're going to make a run for it before things get a little too unsettling.
Since this is a M. Night movie, it does have a pretty big twist in the third act. Without giving it away, I will just say that he wisely works his way around the expected supernatural deus ex machina and gives us a fairly rudimentary reveal that actually makes the movie way more harrowing had he gone with a more fantastical approach. The ending is just terrific, too. In fact, it's one of the best Jamie Lee Curtis vs. Michael Myers let's run all over the house until the cops get here grand finales in recent mainstream movie history, complete with gobs of geriatric poop and razor sharp mirror shards playing prominently as plot devices.
The film is one of those rare big studio fusion horror flicks that actually works as a multi-genre offering. As a pseudo-slasher, it brings the goods, and as a semi-psychological thriller, it's certainly suspenseful and atmospheric. It's also a pretty funny movie in its own right, complete with about three or four laugh-out-loud scenes — the sequence where the boy does his best granny imitation had my theater roaring.
The kids are a lot smarter than your average cast of horror movie fodder, and their personalities are much more fleshed out than in your average Hollywood genre offering. Still, they are just kids, so they can't just amble out of the predicament like any sensible adult would. M. Night Shyamalan seems to have struck the perfect balance here between exploiting their vulnerability and playing up their cleverness when it comes time for things to take that big nose dive in the last twenty minutes.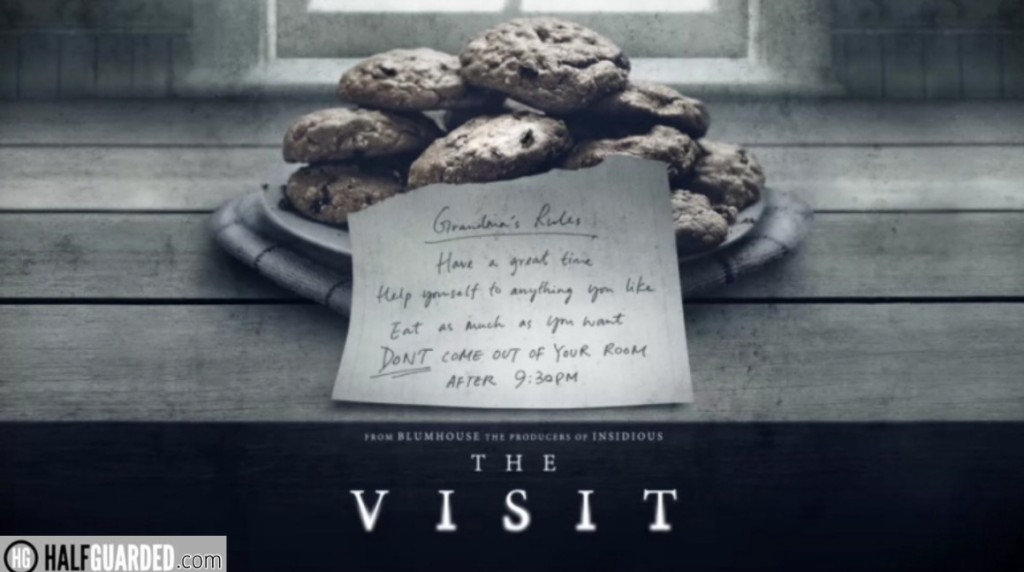 I suppose one can wonder why the kids aren't as traumatized by the horrific events in the film — there is a pre-credits non sequitur where they seem astonishingly well-adjusted despite almost being killed — and the whole subplot about them trying to forgive their dad for leaving them seems a bit clumsy and overly-saccharine. The biggest plot hole, however, concerns the expediency of the local police force. Just how much time did they squander on picking up their mom when they could have been rescuing the kids, anyway?
That said, The Visit is still a thoroughly enjoyable popcorn movie. It's engrossing, the acting is well above-average for the genre and the scares — a nice jumble of cheap pop-up surprises and some genuinely unnerving, suspenseful passages — are extremely satisfying. I could go on and on about the scene structures and the use of foreshadowing, but to really put The Visit over, I have to go back to the old "bicep bruise" rating system. How "good" is a horror movie, you may wonder? Well, I've always considered the film quality proportional to how deep your girlfriend's hand prints are on your arm.
After about a day or two, my welts went away. Needless to say, The Visit succeeds at scaring the Shania Twain out of the audience.
Rating: Three and half Pibb Xtras out of Four.