We have fights a coming, see. And in those fights the men will have most surely fought before. They are legion in experience. This is a war of a lifetime's worth of battles.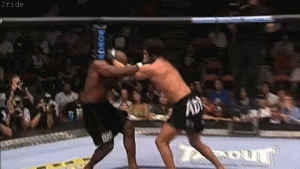 And so before many of these Trojan horses filled with Pandora's box fight mythic tomorrow, enjoy watching some of what they wrecked upon one another in their past.
UFC 204 FREE FIGHTS
Look, it's Bisping WINNING THE WORLD TITLE!!
Oops. How did THAT get in there?
And that time Henderson left a solar flare like outline of Bisping's skull seared into the mat.
Reza Madadi Łukasz Sajewski vs. Marc Diakiese (Lightweight)
Leonardo Santos vs. Adriano Martins (Lightweight)
Danny Roberts vs. Mike Perry (Welterweight)
---
Leon Edwards vs. Albert Tumenov (Welterweight)
Damian Stasiak vs. Davey Grant (Bantamweight)
Ian Entwistle vs. Rob Font (Bantamweight)
Iuri Alcântara vs. Brad Pickett (Bantamweight)
---
Mirsad Bektic vs. Russell Doane (Featherweight)
Daniel Omielańczuk vs. Stefan Struve (Heavyweight)
Ovince Saint Preux vs. Jimi Manuwa (Light Heavyweight)
Vitor Belfort vs. Gegard Mousasi (Middleweight)
Michael Bisping (c) vs. Dan Henderson (UFC Middleweight Championship)