This is a preview piece of a preview piece; tell someone you know and it'll be like you previewed a preview of a preview.  I will later tweet about this, and that tweet will be a preview of this preview of the below preview – which also contains a preview.  Welcome to 2015.
As an important member of the media – not just the MMA media but all media in general – the UFC sent out a PRESS ONLY preview of the UFC ROAD TO THE OCTAGON for the UFC on FOX Chicago show that happens next Saturday in – yes – Chicago.  I click a link, I get taken to a secret internet website, and I watch the  Countdown special that all of you people will get to see on Sunday on Big FOX Network at 5 pm ET/4CT/3MT/2PT O'Clock.
But I got to watch it two days earlier than you did.  So that I can then talk to you about it.  And, I dunno, why not?  I'm obviously going to throw the videos for it up on this site anyways.
They highlight the three main fights:
T.J. Dillashaw vs. Renan Barao for bantamweight title
Jessica Eye vs. Miesha Tate
Edson Barboza vs. Paul Felder
No love shown for Gomi vs Lauzon but you have to pick your spots when you only have an hour.
Overall Thoughts
If you were excited for the show, you'll still be excited.  I didn't walk away thinking, "Wow, that made me want to watch whatever it is normal people watch on Saturday nights."  If you weren't excited, maybe you'll be a little more excited.  If you had no interest you'll still probably have no interest, outside of boobs.
Dillashaw vs Barao
The Dillashaw vs Barao fight was made to seem important – though I felt there could've been more emphasis on this being actually a PPV given away for free.  One presumes Barao won't pass out again but it has been absurdly humid in Chicago lately so no gimmies on that one.  I felt like they didn't play up the first fight enough.  It was mentioned but they seemed more intent on almost presenting Barao as if he was a new challenger who was riding that absurd 30+ undefeated streak.
Dillashaw is a smart human being.  There was a shot of his house and it was a small, quaint little deal.  I know housing in California probably isn't cheap but he's not blowing whatever money he's made on a mansion.  He also continues to make time to train with Duane Ludwig.  Again, he's smart.  He found something that works and will stick with it no matter what, even if some of his teammates were a little put off by it.
Some of TJ's coaches and campmates managed to have Torque gear on.  That's Urijah Faber's clothing company, so the whole, "If you're on TV during fight week everyone and your mother must wear Reebok" deal isn't as enforced as I thought.  Thankfully.
Tate vs Eye
Eye and Tate were fine.  Eye came across as somewhat dull and less pretty than normal.  Tate knows what she's doing by now but her line, and I quote verbatim, when she explains her nickname of "Cupcake" was: "Oh. She's too pretty." This was something other girls would say when wanting to fight here so she claims Cupcake is now a twist on it.  Her taking it back and being ironic.  Note: she used to be nicknamed "Takedown."  Pray that wasn't a result of other people having the impression she was easy to … moving on.
This will sound sexist – and maybe it is but heaven help me it was just THERE – Tate's breasts.  They jiggle all over the place.  They stick out like … well, boobs.  You couldn't help but notice them.
Felder vs Barboza
Paul Felder was the guy I was more interested in seeing how they'd present.  He's the newest face of them all and is taking a biiiiiiit of a step up in competition in facing Edson Barboza.  He was fine and I thought for being given like 8 minutes or so he stuck out a bit.  Irish kid from Philadelphia who doesn't like to let anyone ever get the best of him, even in the gym, which makes him one of "those guys" that you don't want to spar with.
There's a clip of him walking down his Philly streets and I swear it looked like this: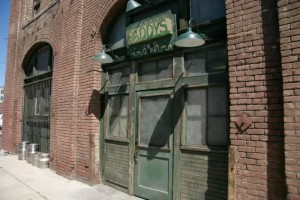 His story is unique in that he was an amateur who was at a seminar hosted by Donald Cerrone.  After the seminar, Cerrone sparred with everyone and noticed him and said, "You've got that special it, kid.  Come train with me."  I don't know how much of that is true but given that it's Cowboy Cerrone I 100% believe it is likely.  Especially the part where Cerrone would spar with a room full of amateurs and such.
Barboza was standard stuff.  More entertaining that Eye (who, again, was "there").  He has a new kid and that motivates him.  Yada.  He, unlike Dillashaw, has a HUGE house.  There were clips of him training in his backyard with his boxing coach while his wife and kid are in the background.  I'm sure it was done for dramatic effect but sometimes the good life makes it harder to train as hard as you trained to get that good life.
You've seen this show approximately 189 times before, give or take, and this was like most of them.  Not blow away.  Not blown away.  Watchable.  We'll have it up shortly.
We will also have a ton of coverage of this show, as it's here in Chicago and I live in just outside of Chicago and as an important member of the media it is my duty to be there. Full card is:
UFC on FOX Chicago MAIN CARD (big) FOX, 8ET/7REAL TIME/6Mountain Man/5 Pacific
T.J. Dillashaw vs. Renan Barao for the UFC Bantamweight Championship
Jessica Eye vs. Miesha Tate
Edson Barboza vs. Paul Felder
Takanori Gomi vs. Joe Lauzon
UFC on FOX Chicago Regular Non Super Duper Prelims FOX, 6/5/4/3
Tom Lawlor vs. Gian Villante
Danny Castillo vs. Jim Miller
Kenny Robertson vs. Ben Saunders
Bryan Caraway vs. Eddie Wineland
 UFC on FOX Chicago SUPER DUPER Prelims on UFC Fight Pass, 4:15ET/3:15/2:15/1:15
Daron Cruickshank vs. James Krause
Andrew Holbrook vs. Ramsey Nijem
Jessamyn Duke vs. Elizabeth Phillips
Zak Cummings vs. Dominique Steele
 This, by the way, is a preview for a preview contained within a preview for that preview.