History tells us that everyone was having fun in the sixties. Rampant, sex, drugs and rock and roll, trips to the moon,  Presidents who broke the law were out on their arse. Even those sent to fight in Vietnam had a cool soundtrack playing alongside their tour of duty.
The 60's apparently came to an end when Charles Manson burst into it's home one night and stabbed it to death. With the 60's laying dead on the floor a new decade was needed and so the job fell to the 70's. If decades were a trilogy the 70's was the Empire Strikes Back, grittier and darker and less optimistic but everyone agrees better creatively.
And enough of that waffle. Same as always here is my choice of three films that meant something to me from a five year period in movie history. Not necessarily the best, but the ones that have stayed with me throughout the years for one reason or another.
As always I will be added a third wildcard of something bizarre from movies in that time, my WTF? moment. (Spoiler, I have a doozy this time out).
Kelly's Heroes (1970)
"Clint Eastwood and Telly Savalas are two of the coolest actors around. Men on a mission movies are cool. Heist movies are cool. World War II movies are cool. So why don't we have a World War II movie where Clint Eastwood and Telly Savalas are leading a team on a mission to pull a heist?" Is how I liked to think the pitch for the incredibly fun Kelly's Heroes went.
I first saw this as a kid, probably staying up way past when someone my age should have gone to bed (hooray for mums that put their children's film appreciation above sleep). At the time I was already a big Clint Eastwood fan having seen him in Westerns, Dirty Harry and those films with Clyde the Orangutan. I also knew Telly Savalas from Kojak and just thought he was the coolest tough guy on television. Seeing them teaming up in a film was a dream come true and the idea they were going to battle Nazi's and sneak across enemy lines to steal a cache of Gold worth $16,000,000 hidden in a heavily guarded German bank.
In contrast with the 70's convention of elevating genres to more edgy and violent levels, Kelly's heroes has a distinctively lighthearted tone for a war movie. In fact It's very much a action based caper movie set in a warzone rather than a dedicated war movie. The fun of the film relies heavily on it's cast, with Eastwood and Savalas playing off each other perfectly. Eastwood's Private Kelly oozes  with his trademark cool calmness, while Savalas as Sgt Big Joe is the loud, yelling tough guy.
But as great as they are they are arguably upstaged by Donald Sutherland's whacky portrayal of Sgt "Oddball."
Oddball becomes involved in the heist when he overhears Kelly telling the the opportunist Staff Sergeant "Crapgame" about the gold. Oddball is leader of a ragtime tank division that has been sitting the war out after their Commander was killed and rather than reporting him dead, lounge around, drinking, partying, sunbathing and seemingly by his eccentric manner getting stoned off his arse. However they volunteer their three Sherman tanks as support for the raid on the bank in exchange for a cut of the take.
Oddball is hilarious and threatens to steal the film at times, especially when he leads the attack on a German base to break through the lines. Oddball's crew slaughter their way through the Nazi's while playing loud the gentle song "All for the love of Sunshine" (which Oddball claims calms the crew down). He's almost like a happy go lucky hippy, often spouting about "positive thoughts" and "beautiful people" despite being in a warzone. He also takes his place in the trio with Kelly and Big Joe when the three do a homage to Eastwood's Spaghetti Westerns as they walk cowboy style towards a showdown with a German tank with the theme from The Good, the Bad and the Ugly accompanying them. Incidentally the music to Kelly's heroes is outstanding, especially the opening and closing credits song "Burning Bridges."
Kelly's Heroes is as Oddball would probably insist "a beautiful film." A really fun action movie, that does the rounds on television and is worth sitting down for a mellow, untaxing watch.
Kes (1969) (1970)
Ok, I kinda screwed up here because officially Kes is a 1969 film as it was released in London in November that year. However it was released in the rest of the UK March 1970 and I missed talking about it last article so who's gonna mind if I pretend it's 1970? No one that's who!
("I do." – Mike.)
Kes has a special place in my heart. Not only is it a funny and fabulously charming drama, it is also set in my hometown of Barnsley. Watching it today helps me reminisce, seeing the gritty but lush Yorkshire landscapes that have been built over by housing now and the giant coalstack that once I could see from the top of my streets, a sign of the mining industry that thrived in the town and is long gone now. I can even see one of my neighbours in the film during a scene in St Helen's school where she was a teacher of at the time.
Local nostalgia aside, Kes is a damn fine movie, one of the finest of the kitchen sink, working class dramas that the UK film industry once produced so proudly. It was based on the Barry Hines novel "Kestrel for a Knave" and is the story of Billy Casper, a young boy saddled with a poor homelife, an absent father, a bullying older brother, and a dismissive mother. He does poorly at school which presents him with a mixture of bullying classmates and disinterested teachers. In common with many kids his only prospects seem to be a lifetime at the pit, until one day he discovers a Kestrel in a nest.
Intrigued he takes the bird and begins to take care of it and train it (television showings of the film often come with a warning that the taking of birds and eggs is illegal). Through the bird he becomes inspired and steals a book to learn about falconry. The kestrel opens up a new outlook on life for Capser, as he successfully trains the bird he begins to realise a glimpse of his potential. It gives him the opportunity to speak in class on the subject and it impresses an English teacher who is the one positive source of encouragement in the film.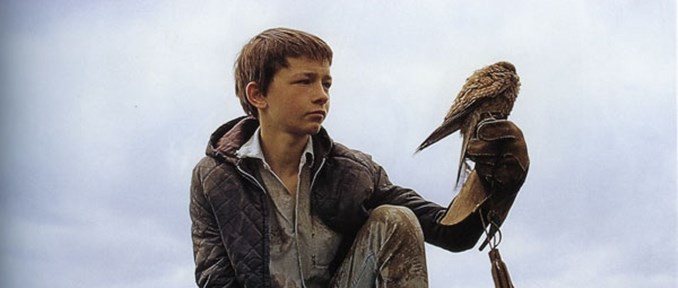 Kes has a down to Earth feel to it, shot with almost documentary style realism that treats the camera as if it is observing the action naturally as opposed to the cast acting for it. This is evident with the performances of the children who actually talk and behave like real kids. This is because most of them had never acted before, including Freddie Fletcher who played the nasty Jud the older brother of Billy (incidentally a few days after seeing Kes for the first time I saw Fletcher in Barnsley town centre while shopping with my mum, probably the first time I saw someone in real life that I'd seen on the screen).
The desire for this realism also inspired director Ken Loach to take some unorthodox methods to gain reactions from his cast. This occurred in the scene where a group of Billy and his classmates are caned by the headmaster (including one little innocent lad who is mistakenly taken for one of the group when he's only there to deliver a message) where the kids are actually unbeknown to them were caned for real and the tears in the eyes of the youngest lad is heartbreaking. The lads rebelled when it came to  reshooting the scene and went on strike demanding an extra 50p for taking the cane again.
Spoiler: David Bradley who played Billy developed an attachment to the Kestrel Hardy which Loach exploited for the scenes at the end where Jud kills the bird and a heartbroken Billy buries him. Loach let Bradley believe they had actually killed Hardy to get a real upset reaction from him, only telling him after that he'd shot the scenes that Hardy has alive and well and an already dead kestrel had been found to use as the corpse.
Despite the bleak setting of Billy's home and school life, Kes is heartwarming and very funny. David Bradley plays Billy with a dry delivery, capturing the fabled Northern, working class wit. This is evident in the scenes where Billy tries to obtain a library card and banters with a librarian and while waiting for an appointment with a useless careers guidance counsellor. Sat with a classmate who has come with a bossy mum and is nagging him about what to say to the counsellor, Billy acting as if the mother is not there dryly asks his classmate "Is that ya mam?" (translation to those who don't speak Yorkshire "is that your mother?")
But the most memorable scene takes place in the school football match, between the kids but also including the bullying, bitter gym teacher played by Brian Glover. It's an hilarious scene and anyone who was crap at sports at school can relate to it through Billy who is picked last in the teams and is stuck in goal in a game played on a muddy field, shivering in the freezing cold. The kids are all playing in an assortment of different coloured shirts, yet when the gym teacher states his team are Manchester United the opposing team captain states his team will be Spurs "so there's no clash of colours."
From the kickoff the Gym teacher (who has announced himself as Bobby Charlton) immediately takes the game too seriously, roughly fouling the other players and throwing the ball hard  into Billy knocking him down when he lets in a goal (incidentally a graphic pops up after each goal to show the score between Man Utd and Spurs). He proceeds to dive and award himself a penalty and order it retaken when it's saved. Later when one lad has enough of being fouled he calls the teacher a "Fat Git" and is sent off for ungentlemanly conduct. It's an hilarious scene, with disinterested players complaining about not wanting to play and is something so many reluctant kids in gym will remember.
Kes gained a steady cult following and the book also spawned a play which became a required text for many school syllabus in the UK. Efforts to take the film to America proved unsuccessful, largely because test audiences  could not decipher the thick Yorkshire dialect and accent. Something that anyone who has met me on my trips to the USA can probably relate to.
Blazing Saddles (1974)
There's a moment towards the end of Mel Brooke's Western spoof Blazing Saddles which begins one of my favourite segments in comedy history. In this finale the film, which has embraced fourth wall breaking  throughout with characters talking to the audience and recognising that they are in a film, takes the concept to ridiculous levels of wonderfulness.
It begins during the climatic battle with cool and wisecracking Sheriff Bart (Cleavon Little) and the Waco Kid (played delightfully by Gene Wilder) leading the citizens of Rock Ridge in a mass brawl with the army of thugs assembled by Attorney General Hedley Lamarr. The camera shot pulls up away from the fight in the town and pans slowly to the right leaving the set behind and revealing the other studios on the Warner Brothers lot. As a kid watching this  I wondered what the hell was going on but this was only the beginning.
We go into one of the studios where Dom DeLuise is filming an old school musical, which is interrupted by the brawling cowboys from Blazing Saddles crashing through the walls. When Dom DeLuise screams at them that this is a closed set one of the Cowboys yells back "Piss on you, I'm working for Mel Brookes!" The fight continues, now involving the dancers from the musical and spreads into in the studio cafeteria, where an actor playing Hitler on a break states his role finishes after the bunker scene.
The villain Hedley Lamarr is just coming out of the bathroom, sees the battle (which has descended into a pie fight) is not going his way and flees, hailing a cab and asking "get me off this picture." (Remember up to five minutes ago this has been a western). He's taken to Hollywood where he hides out at the famous Chinese theatre, which just happens to be showing…..Blazing Saddles!!! the film he is in. He takes his seat and on the screen is the pursuing Sheriff Bart arriving on his horse outside the theatre having tracked Lamarr there. After dispatching the villain, Bart and the Waco kid go into the theatre and sit with the audience to watch the end of the movie they are actually in.
It's a mindblowing, tremendous sequence and in common with the rest of the movie is hilarious as Blazing Saddles is one of those rare comedies that seems to hit the mark constantly and has never a duff gag or moment, despite them been thrown at the audience in rapid fire fashion.
Blazing Saddles is a parody of old school, Golden era Hollywood westerns, with the theme of townsfolk being harassed by cowboys sent to drive them out of their town. To increase the pressure on the town, when the citizens rally the Governor (played by Mel Brookes in a brilliant display of bumbling) to send a Sherriff, Lamarr politics to have Bart sent, hoping the prejudiced townsfolk will turn on him for being Black. Richard Pryor (who co wrote the script) was the original choice to play Bart, but the studio was wary of his drug use and wanted Little instead. Ironically the choice for the Waco Kid was the alcoholic Gig Young who collapsed on the set for his first scene  and Gene Wilder was flown in at the last minute.
Blazing Saddles is hysterical, clever and satirical not just on the movie industry but on race relations. It's also a film that could probably never be made today at least with that script. Indeed those watching the film for the first time today through 21st century eyes and sensibilities would baulk  at the constant use of the N word by the villains and the racist townsfolk.
While it's not appropriate for me to say how people should react to use of that word for comedy purposes. However I do find it interesting that when researching for Blazing Saddles of the many podcast reviews I sought out, those by white podcasters were very negative on the film and uncomfortable with the N word use. However the podcasts with black presenters were the opposite and in particular I would recommend checking out 3blackgeeks podcast for their episode reviewing the film because a more joyful and hilarious revisit of a film you are unlikely to find.
In Blazing Saddles the use of racist terms is meant not to be derogatory to black people, it's meant to ridicule the small mindlessness of the idiot white folk (although with any satire and with the best intentions to be progressive you always walk a fine line as you have no control why some parts of an audience will find something funny). There's a subversive tone to the movie, with the whites portrayed as morons (with the exception of the Waco Kid and Lilli Von Shtupp who is initially hired to seduce and destroy the Sheriff but ends up enamoured with him and joining his cause)  and constantly outwitted by Bart. Initially we see this with the defiance of Bart and his railroad colleagues when mocking the unknowing white cowboys who bully them into singing for them, later then when he escapes being killed by the townsfolk on his arrival in the village by putting a gun to his own head and taking himself hostage.
There is one powerful use of the hurt of racial language used to good effect. It comes when Bart is walking down the town (something that the Waco Kid warns him against) and wishes a little old lady a good day. She responds with "Up yours, N****R!" In the next scene Bart for the only time in the film looks, hurt and upset, staring into space as Wilder gently delivers to him one of the best monologues of the film.
"What did you expect? "Welcome, sonny?" "Make yourself at home?" "Marry my daughter?" You've got to remember that these are just simple farmers. These are people of the land. The common clay of the New West. You know…morons."
There is a payoff with this as after Bart saves the town from the brute Mongo (by employing a candygram from the Bugs Bunny cartoons) he is visited by the old woman who has baked him a pie as apology and thanks. However she does add that she hopes he won't mention to the other townsfolk that she spoke to him.
Blazing Saddles was not a favourite project of Warner Brothers executives and they constantly rose objections to Brookes about the racial language, the scenes of punching of old women and horses and the infamous cowboys round a campfire farting scene. However Brookes had full creative control and the only gag he took out of the film was a blowjob reference when in the seduction scene Bart tells an impressed Lilli in the dark that she is actually sucking on his elbow. When the finished film was screened to Warner Brothers bosses the response was silence and some suggested cutting their losses on the film and dumping it.
Naturally these geniuses were proved wrong when the film gave them one  of their big hits for the year. It's since become a staple of greatest comedies of all time lists and is not only one of my favourite comedies of all time, it's also for it's daring and sheer fun one of my favourite movies of all time.
Sadly it's an shinning achievement in what is now an artistically dead genre. The movie spoof spawned the great Airplane movies, the underrated Top Secret and the fantastic Police Squad television series. Unfortunately with the Naked Gun series (based on the superior Police Squad tv show) outstaying it's welcome and with Leslie Nielsen becoming a genre himself in a range rushed unfunny parodies the concept was worn out. It got to a stage where any culturally successful franchise was immediately followed by a cash in spoof, even comedies would be spoofed which missed the point that straight genres were the better targets for ridicule.
Even Brookes who with Blazing Saddles and the black and white horror parody Young Frankenstein  could be considered the one time master of the genre almost became a (ahem) parody of himself with forays such as Spaceballs and Robin Hood:Men in Tights which tried too hard to ape the signature  fourth wall breaking of Blazing Saddles (although the bit in Spaceballs where the crews stunt doubles are captured is funny).
Blazing Saddles shows just how the genre should be played, capturing the style of the classic western and with an anarchic rebelliousness and uncompromising humour that leaves no joke taboo.
What the fuck?  moment: Last Tango in Paris (1972)
This film is a fucking piece of shit!
I hated this movie the first time I saw it, back in the early 90's when I was trying to devour every film that had the tag "classic" on it. Having heard how this was an "erotic classic" I admittedly as a teenager was expecting something a bit hot and sexy. What I got was  a vulgar, horrendous tale of a dirty fucker (Marlon Brando) in his late 40's who strikes up a sexual relationship with a 19 year old girl (Maria Schneider who really was 19 when filming) which is full of frankly degrading and humiliating acts.
One delightful scene that stuck sickeningly in my head has Brando getting Schneider to stick her fingers up his arse while he tells how how he wants to get a pig to have sex with her and vomit in her face. Yeah Love Story this ain't.
Some film student tried to explain the cultural context of the film to me one time, but I zoned out hearing bullshit like Vietnam Metaphors, 20th century suburban isolationism and the like. This film was just ugly.
But my disdain for this trash was heightened even more with revelations around an infamous rape scene in the film where Brando sodomises her with butter. In order to get a genuine shock reaction from the 19 year old director Bernardo Bertolucci he withheld elements of the scene from her, such as the use of butter, hoping to distress the girl.
Schneider states that while the rape was simulated her reaction and distress was real, with her crying real tears. Brando also claimed that Bertolucci wanted the two to engage in real sex during filming (although Brando is hardly the most reliable of sources on anything). Scheider came out of the filming distressed and later described feeling "Raped a little," she blamed the whole experience working with Bertolucci for her later depression and drug addiction.
So anyway once again fuck this vile, piece of shit movie. Fuck you Bernardo Berolucci you lecherous, callous twat of a human being. And yes fuck you too Marlon Brando you dead arsehole, you may have been great as the Godfather and Superman's dad but you were complicit in what I consider an assault on a girl in the name of art, so fuck you too!
And that's all for this time, be back soon for the years 75-79
Dazza