On January 1st 1995, scumbag serial killer Fred West was found hanging in his prison cell. I couldn't fucking sleep when I heard that had happened.
1995 then got off to a great start and certainly when it came to film it proved to be an incredible year with cracking box office hits which were also great movies. This was frankly a tough year to make my three selections from, the fact that films like Seven, Strange Days and Braveheart didn't get a look in when they are all films I could say a lot about really says something.
That said i'm more than happy with my three awesome movies to scream about and one weird WTF? moment.
Heat (Director: Michael Mann)
Al Pacino plays a detective on the hunt for a professional gang carrying out heists in LA. With the police on his trail, crew leader Robert De Niro intends to pull one last job, a daylight bank robbery worth over 10 million dollars.
This may blow your minds, but great actors make a film better! Shocking, I know.
Take for example for the 1989 television movie (originally made as a TV pilot for a series that never got picked up) LA Takedown. It's a pretty ok low budget crime story of a detective hunting down a professional thief, with a bit of a Miami Vice vibe to it. In one key scene the detective catches up to the thief and they actually have a talk over coffee, discussing the similarities in their lives, the nature of their thief vs cop rivalry and what they are prepared to do to come out on top in this game of cat and mouse.
It's an interesting scene but the delivery comes across as really corny, the dialogue seems a little cringe worthy. The really overblown macho stand off is not helped by the less than stellar acting by Scott Plank and Alex Mcarthur and frankly some God awful delivery.
Fast forward to 1995 and Michael Mann remade LA Takedown as a big budget crime epic with a great cast, keeping practically the same story, chunks of dialogue and including that coffee shop face to face. Only this time the cop is played by Al Pacino and the thief is played by Robert De Niro and playing off the same exact lines as in LA Takedown (with a few extra bits of dialogue) the scene is suddenly fucking awesome. It's one of those moments that gives you goosebumps simply because you are seeing Pacino and De Niro share the screen for the first time. Not surprisingly they set that scene on fire, not merely making speeches but deliver their lines in a natural conversational way bring a real pathos to their characters. Several times there is a break in the dialogue and they just look at each other, their expression telling the whole story with a range of emotions, conveying a gradual growth of respect between them and regret of what they both may have to do next time they meet.
It's one of the most intense and engaging seven minutes in movie history and absolutely owns the audience, making it hard to come away from the scene invested in the fates of these two and not want them to just give up and go their separate ways rather than face each other with a likely tragic outcome.
Heat isn't just a two man show though. It's a multi layered crime saga, featuring the workings of De Niro's crew within the underworld, their own conflict with an out of control former member, the police tactics (sometimes dirty) to track and trap them as well as the personal lives of all involved. Pacino's characters has his marriage falling apart due to his time spent chasing crooks, while De Niro puts his own criminal code at risk by unwittingly falling in love with a young woman unaware of his criminal life.
There are stories amongst the supporting cast too. Val Kilmer in one of his best roles plays a member of De Niro's crew with a drinking problem and a rocky marriage, with his wife embarking on an affair. In a small but moving subplot Donald Breeden is an ex-con who's attempts to go straight and make a new life with his wife are hindered by being exploited by his corrupt boss, ultimately leading him to take part last minute in the bank heist.
The amount of sub plots in Heat are akin to the first season of a crime series and the result is a massive film, which fortunately is done justice with an almost three hour run time. The build and tension towards the final bank heist is really well done and (spoiler alert) when it doesn't go to plan the resulting shootout is spectacular, with a blazing war breaking out on the streets of LA.
The 90's saw a trend for stylish and cool crime movies, but Heat rose above the plethora of heist movies by bringing real heart to the screen that made you care about both sides in the conflict. For it's epic scale and emotional drama, Heat may be one of my favourite films of the 90's.
Although I kinda like the ending in LA Takedown just a little better.
Usual Suspects (Director: Bryan Singer)
The sole survivor of a violent heist recalls to detectives the story of how he and four other criminals brought together in a police lineup, teamed up to pull off a series of jobs.
The Usual Suspects is the Citizen Kane of crime movies.
Just like Citizen Kane, the film is built on the premise of an unreliable narrator (in this case Kevin Spacey as Verbal Klint), with a mystery that switches from what turned a heist into a bloody massacre to the search for the identity of the vengeful mastermind, the allusively mythical crime lord Kaizer Soze. The resulting revelations upon revelations lead to one of the greatest twists in cinema history. It's a twist that absolutely floored my back when I saw it in the cinema and made me go return and watch it again a week later, as looking for clues to this twist makes it an entirely different viewing experience. I won't spoil it for anyone who hasn't seen it yet, but if you watch it and say you saw it coming I'm calling you a liar.
(Incidentally, while I really don't believe anyone can watch this film fresh and figure out the twist, if you genuinely did then I apologise. I know the feeling as I worked out the twist in Sixth Sense halfway through and no one believes me either)(Mike: Liar.)
Even without the expectations of twists and turns, watching The Usual Suspects for the first time you still get the sense early on you're watching something special. In the shorts scenes where the five criminals, Verbal, Keaton, Fenster, Mcmanus and Hockney are rounded up and briefly questioned, we learn all we need to know about their disparate personalities and the roles they will bring to eventual crew. It all comes together in the iconic lineup scene, where we see them side by side for the first time. The scene shows us who the hothead is, who the flamboyant one is, who the wiseass is. It's also hilarious, as the crew crack up and the hints of comradely amongst thieves take shape. It was also totally genuine as the scene was for the most part ab lied and none of them could stop laughing long enough to do a serious take.
With this rich group of characters, the script wrong foots it's audience from start to finish. We think we're watching the story of a criminal crew who fate has brought together to embark on a series of jobs. Then we're thrown in a completely different direction with revelations that nothing has been by accident and a conspiracy of sorts is pulling at their strings.
It's an amazing movie, full of great, career altering performances (the film practically brought Kevin Spacey and Benicio Del Toro to world attention), a brooding and sinister score and an array of colourful, but believable underworld characters.
Some mild spoilers may be alluded to in this section:
Aside from being featured regulary in "greatest films of all time" lists, The Usual Suspects was also groundbreaking to me in that it was the first time I had ever come across the concept of a film commentary. While these are boringly common on dvds (although you seem to have become a blu ray exclusive these days) for even the most basic of films, back in 1995 the idea of watching a film while the director and writer talked about it (Bryan Singer and writer Christopher Mquarrie) felt revolutionary. It's existence was even more exceptional at the time as affordable dvds were still a few years away, so the commentary came as a VHS double box set, where one tape was the regular film and the other came with the commentary.
It's very apt that Usual Suspects was awarded such treatment, because as well as being an interesting insight into how an independent film gets made, it also has a plot that is open to a variety of interpretations. Nothing is as straight forward as it seems on first viewing, and apparently Gabriel Byrne came away from filming under the impression that his character Keaton was Kaiser Soze.
Going back to the Citizen Kane analogy, I had a film studies teacher who theorised that in the Orsen Welles classic, Foster Kane is not actually in his own movies and we only see the various narrators inaccurate and biased memories of him.
And the same is probably true of The Usual Suspects, because when you get to the final seconds of the film you realise that the vast majority of what you've been watching is entirely made up. Nothing in the tale that Verbal told (made up with details taken from the wall behind Agent Kujan) can be trusted and since it doesn't tally with the twist and reveal of who Soze is, probably little happened in the way we've been watching.
The twist doesn't 100% explain anything, it just raises questions. Such as was there ever really a Verbal? Was there a Verbal who was replaced by Soze before the film began or a Verbal who died on the boat and Soze took up his identity to escape? Or was Verbal a fake identity from the start? And who was the Pete Postlehwaite character, as we know the Kobayashi name was made up from the label under Kujan's mug? Did any of the Crew actually die?
I used to have a vague theory (that dissolves after about five seconds of analysis) that Soze is actually a composite of the gang. Taking Keaton's history of faking his death and disappearing, Verbal's appearance, Fenster's ethnicity, and in the one scene we may (or may not) see Soze he has a voice like Mcmanus and holds his gun in a similar fashion to Hockney.
And as I write this, I wonder….is it possible the story the film is showing us is not what "Verbal" is relating to Kujan, but what actually did happen while a completely different tale is been told in the office. After all there are some details during the attack on the boat that Verbal could never have seen.
The Usual Suspects has a special narrative structure, that the more you think about it makes you realise you've been totally played with. Just like the Rosebud revelation in Citizen Kane, Spacey walking off his limp and disappearing forever does not tie the film up into a neat little bow. It raises questions as to what if anything is actually real in the story we have just been watching. What are the answers? Maybe only Bryan Singer and Kevin Spacey truly know….and I'm not bloody knocking on their door alone to ask.

Apollo 13 (Director: Ron Howard)
Tom Hanks, Kevin Bacon and Bill Paxton are the astronauts trapped on the ill fated Apollo 13. The crew and their team back at Mission Control must race against to keep themselves alive and get back home.
"We've never lost an American in space, we're sure as hell not going to lose one on my watch…Failure is not an option!!!"
When I first heard Ed Harris in his role as NASA head Gene Kranz utters those words in a trailer for the film, I wanted to jump up throwing a fist in the air and shout "Fuck yeah, let's get those buggers home!!!"
Yes it's patriotic tub thumping typical of the All American, corny flavour of Ron Howard, but don't tell me it's not well deserved. Because while the true story of Apollo 13 is technically of a disaster, it's also a tale of triumph for intelligence, ingenuity and teamwork. Which is what I love about Apollo 13, it's a rare film that is all about brains saving the day. No muscles, or butch jock types, these are guys, many with glasses, who are good at maths and solving puzzles rising up and coming into their own. So hurrah to the intelligence of American nerds…..and all those Nazi scientists that were smuggled to America to make NASA.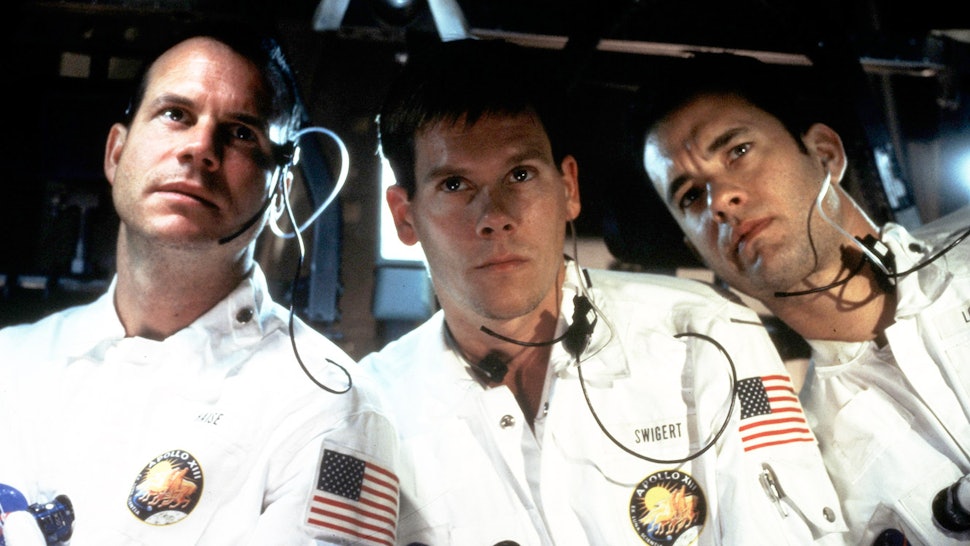 Apollo 13 is amazing in that it is unconventional in what it manages to make exciting. From the moment Tom Hanks issues that chilling report "Houston, we have a problem," the film switches from it's homely, exploration of awe and wonder (albeit with the foreboding and superstition surrounding the number 13) to a tense, frantic race against time as problem after problem hits the crew and has to be dealt with, in the most unlikely dramatic situations.
Making a contraption to plug an air filter with a round peg into a square hole suddenly becomes high tension (your heart skips when Bill Paxton tears the plastic bag putting it together). Watching for warning lights and air level gauges to return to normal is suddenly causing you to bite your nails and you can't help but feel relived when then do. Frantically doing hand written maths seems exhilarating. The quest for Gary Sinise (whatever happened to him) to find the right combination of switches to push without using up a battery becomes totally compelling and you want to cheer when he gets the brainwave that solves the problem.
In the final scene, where after an unbearable amount of radio silence we hear that the crew have made it though Earth's atmosphere, the rousing cheer that erupts at NASA feels so well earned. I wanted in on scenes of celebrating amongst the eggheads and the tearful families, as I felt I'd shared in the ordeal.
It's amazing that Apollo 13 could instil such nerves in me, when you consider that we know how this will end. Although Ron Howard claims that at a test screening one feedback he received criticised the happy ending as unrealistic and typical Hollywood.
Apollo 13 was nominated for a bunch of academy awards but won in only two of the technical awards in sound and editing. It lost in best picture to Braveheart and annoyingly Ed Harris lost best supporting actor to Kevin Spacey in Usual Suspects. Harris is one of the many highlights in the film, his portrayal of Gene Kranz brings to life a truly heroic figure. His unwavering demand that they will not lose the crew under any circumstances is just inspiring, as is his disgust at Nixon who sends word he wants "odds" on the crew's survival.
Ed Harris you're a goddamn American hero.
Apollo 13 is epic, with a wonderful cast across the board (Hanks, Paxton and Bacon are tremendous and had to endure flying in a special training plane to simulate bursts of weightlessness realistically) and a score that is awe inspiring and chillingly tense. Definite recommended.
WTF?????? Casper (Director: Brad Steilberling)
When I was a toddler I had a toy Casper the Ghost, that when you pulled it's body on a cord from it's head would say something heartwarming like "I'm Casper the ghost," or "will you be my friend.
I thought it was the most lovely thing, and on the rare occasion a Casper cartoon would show up on UK TV I would think he was the cutest thing. So when a Casper, live action movie showed up in 1995 it's no surprise that the little boy who was a ghost was as adorable as ever.
But with more adult, cynical sensibilities I started to wonder, if the ghost is a little boy, surely that means Casper must have died as a kid? The cartoon as far as I'm aware skipped this detail, but the film shows no such sensitivity.
For in the film it's revealed that lovable little Casper died when he played out in the snow too long and got pneumonia, a memory that returns to the little mite when he goes through his old stuff and finds his old sledge. Which is really bloody tragic for a kids film.
I'll be honest, I've never been able to face this film, the thought of little Casper been, well, dead and a kid for all eternity while any friend he makes grows up, just breaks my heart.
Although I am intrigued that the film features cameos from Clint Eastwood, Rodnet Dangerfield and Mel Gibson……..and Dan Ackroyd in his Ghostbuster role!!!!!! And for some reason that last one really disturbs me.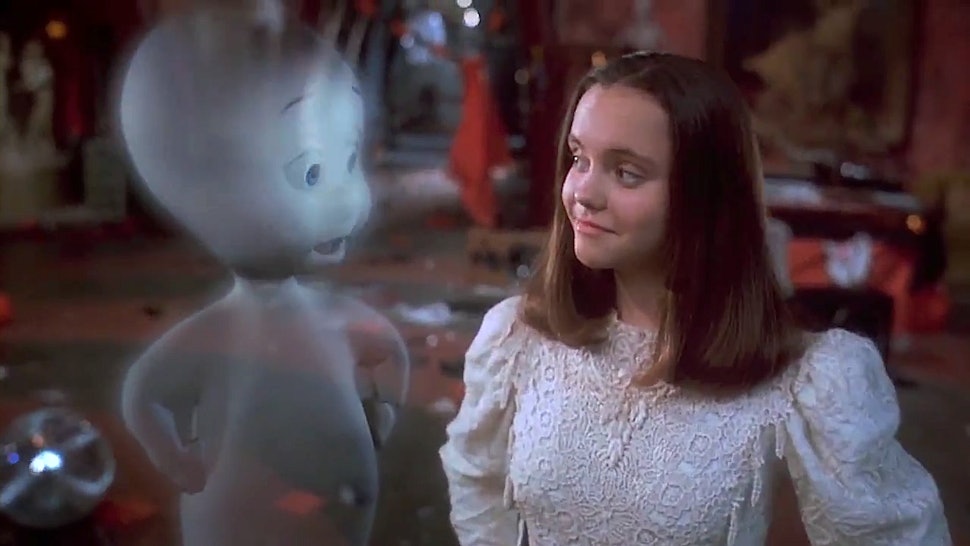 And on that lovely thought I will bid you all adieu.
Dazza