And oh, how we chuckled when that guy in the Apprentice said he was running for President of the United States, with Ladbrokes giving odds of 150-1.
Honestly if for years you'd been decrying how sequels and franchises were taking over cinema, then 2015 may have been the year for you to stick your head in a gas oven. The top five movies were all part of franchises and took in over a billion dollars each, meaning they weren't going away anytime soon because guess what, people liked going to see them.
Of course the big movie of the year saw the now Disney owned Star Wars rising from the dead with a Christmas release for episode VII the Force Awakens. After years of trying to wipe the taste of the prequels from my mouth, I went into Force Awakens having all but the merest glimpse of this year film (quite the task when you practically live at the cinema), and walked out with tears in my eyes and goosebumps in places I didn't know you could get Goosebumps. A feeling of joy descended over me that December, that was akin to getting an old lover back. Naturally within a few years it would all be spoilt thanks to Star Wars proving to be cursed with one of the pettiest and nastiest examples of toxic fandoms (and I've been with wrestling fans on the buss to Wrestlemania), but for a while the magic was back.
Force Awakens merely capped off for me a great year for movies, and this was another where I struggled to whittle my choices down to three (and as always one WTF? moment). Spectacular movies like Mad Max: Fury Road, Sicario, batshit crazy ones like Lobster, Hi-Rise, Bone Tomahawk and quirky small films like Scout's Guide to Surviving the Zombie Apocalypse, Final Girls and Kid Turbo were all ones I would have loved to have covered. And for me, they prove that if while blockbuster franchises take in the money, they far from dominate the number of great movies that are out there if you're prepared to look.
The Big Short (director: Adam Mckay)
Three groups of investors bet against the stock market when they sense that the housing market is about to collapse.
I don't think I've ever loved and become invested (no pun intended) in a film that I really didn't understand completely what was going on more than I did with The Big Short. I've watched it many times, I'm entertained by the dialogue, the humour and a range of incredible characters and performances, but no matter intently I concentrate (and do background reading) while I understand the basics, I still can't get my head around that this is how the financial system actually works.
Yet frankly, I don't think it's all that vital, because Big Short is one of my favourite films of the 21st century. As well as managing to creatively make understanding the stock market not only interesting but actually exciting, it also conveys a hopeless sense of tragedy surrounding the greed and callousness and ultimately unfairness that drives 21st century values.
It all begins with Christian Bale as an eccentric hedge fund manager who believes he has discovered a flaw in the mortgage market (I'm not bothering giving you the details) and that the housing market is going to collapse as a result. He essentially bets against the banks and becomes a laughing stock as a result, but his actions gain the attention of a banker played by Ryan Gosling, which trickles down to another hedge fund team (led by Steve Carrell's cynical investor at war with the system), and a pair of young investors on the lower rungs of the ladder.
Aided by a witty and fast paced script, Big Short introduces us to cast of oddballs, misfits and eccentrics who become de facto heroes as they essentially take on the banks. While their motives is clearly to profit, you start to root for them as we delve into the system who's fall they are banking on, and find it built on arrogance, greed, incompetence and corruption. The villains come on a ladder, with unscrupulous, cocky young mortgage sellers on the bottom leading up to arrogant dealers and incompetent bosses right at the top.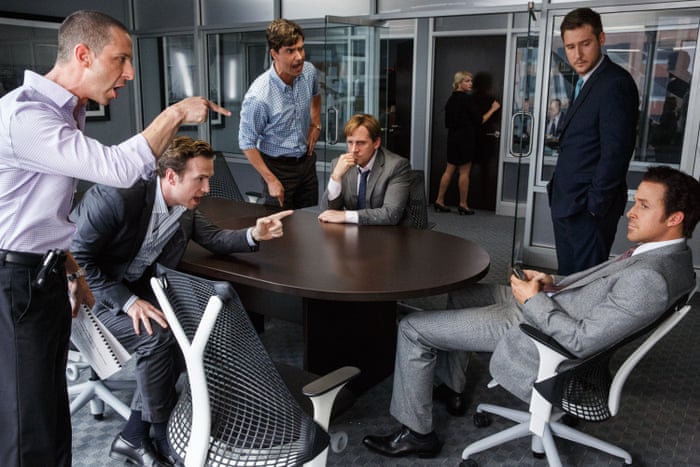 Big Short has a really dark, cutting sense of humour. Gosling is hilarious as the foul mouthed maniac, who also acts as our narrator for the film. Carrel meanwhile is perpetually angry throughout the story, enraged and snapping at the conceit he discovers behind a financial institution which is about to blunder itself into collapse (I personally thought Carrel was robbed of at least an Oscar nod, although Bale did get a supporting nomination).
Director Mckay managed to make a complicated subject matter at least palatable to the audience with some creative, forth wall breaking exposition. To explain the complex aspects of swaps in relatable terms the film will hand over to Margot Robbie in a bath, Anthony Bordain making a stew out of old fish and Selena Gomez playing Black Jack. The film also breaks the fourth wall further by acknowledging how the script has deviated from true events for dramatic events. Such as Gosling upon first learning about the swaps at a wine bar turns to the camera and points out how he would never hang out at such a joint in real life, likewise Charlie and Jamie admit to the camera that them discovering the housing bubble in a discarded prospectus in the lobby of a bank was not the way it actually happened.
Big Short brings a sense of rock n roll to the financial crash of 2007, with it being the rebellious that were proved right (this vibe is also helped by a great soundtrack, featuring Guns n Roses, Led Zeppelin and Neil Young) but it never lets you forget how frightening the realisation of the fragility of 21st economics actually is to our daily lives. It also soberly reminds us that when the banks fail, it's regular people who suffer.
Brad Pitt as a former trader retired to a hippy existence, who lends a hand to young traders Charlie and Jamie in making the trades they aren't qualified to make. When they begin celebrating at their impending windfall, Pitt berates the pair, chillingly pointing out that they have essentially bet on something that will ruin the lives of the American people. Carrel makes a similar argument when delivering a speech in a debate, where he points out that ultimately the banks will be paid bailouts after the fall and it will be the working classes who will pay the price "because hey always do."
Big Short is a sobering movie. There are no real winners, even the various traders who make their money thanks to the collapse, collect their winnings with a mood of melancholy against a backdrop of failing businesses and people out of work. There's ultimately a lesson throughout the film, that it all happened because no one was paying attention, blinded by the profits coming in. When no one bothered to look at what it was they were actually dealing in (there's a subtle reveal of how out of control the market is early on when it turns out a landlord has managed to get a mortgage in his dog's name), you have a system that's bound to collapse because no one knew what anyone was actually doing.
Green Room (Director: Jeremy Saulnier)
After reluctantly playing in front of an audience of Neo-Nazi's, a Punk Rock band are trapped in the club after accidentally witnessing a murder.
Green Room has all the makings of a cult movie classic. It's dark, brutal, has a grungy, seedy vibe, pits nice punk rockers against nasty skinheads, and is loud and cool. Unfortunately it was such a cult film, hardly anyone went to see it. (Fucking shame on you).
There's a distinctly Grindhouse feel to Green Room's setting and plot. A small touring Punk band "Ain't Rights," end up accidently accepting a gig as support act for a Neo-Nazi band. It's a massively unsettling, hostile atmosphere for the punky but amiable youngsters especially when they defiantly start their set with the song "Nazi Punks Fuck Off." Things escalate when the band are leaving the squalid venue and walk in on the murder of young girl. Prevented from leaving, the band manage to barricade themselves in the venue's Green Room (the traditional lounge area for performers) and take one of the skin heads hostage, inciting a tense and ultimately bloody standoff.
Green Room is claustrophobicly terrifying, with unbearable tension at the fate of the likeable band members (who include Alia Shawkat and Anton Yelchin in his final ever role), who are sadly just caught in the wrong place at the wrong time. Trapped, it really seems impossible that they can ever escape as they are torn between negotiating their way out of making a fight and run for it.
The Skin Head gang are frighteningly menacing, suitably grimy and dispassionate. Armed with grotty, machetes, knives and attack dogs they feel disturbingly authentic. However the scariest performance is from Patrick Stewart, playing against type as the grizzled leader of the skin heads. Stewart is unnervingly sinister and callously evil here, aged as he is he comes across as a real, dangerous threat.
Parallels can be made with Assault on Precinct 13 in terms of story, although there is a vulnerability to the victims here and more exposure to the invading force that ramps up the emotional investment somewhat. The violence is grittier and more bloody, and some of the deaths involved are shockingly nasty. The down to earth manner and random order that some of the characters meet their demise really keep you guessing as to which, if any of them will make it out alive.
Green Room is a fantastic modern horror movie, exciting, tense and definitely only for those with a strong stomach.
Eye in the Sky (Director: Gavin Hood)
Political wrangling ensures when a terrorist cell is located in a Kenyan safe house, with the military seeking authorisation to carry out a drone strike.
There are very few rememberable films about the War on Terror, those that do seem to focus either on one element, whether it be following those boots on the ground or the institutions dealing with the implications back on American soil. Finally in Eye in the Sky we had a film that tied the various elements together with those doing the fighting, those controlling the action, the civilians caught in the crossfire and the political in play behind the scenes. Running through the film are the moral and practicalities behind the decisions to engage or not engage.
Above all Eye in the Sky manages to take the many themes in play and weave them into a thrilling and nerve wracking story, that never sugarcoates the harsh implications of fighting a war against terrorists. In Kenya a terrorist cell has been tracked to a small village, and while preparing a capture operation surveillance reveals that the group is arming two suicide bombers for an imminent attack. A British Army Colonel (played by Helen Mirren), wants to proceed with an immediate drone strike, however the operation is complicate by the arrival of a small girl who is selling bread next to the building housing the terrorists and targeted for destruction.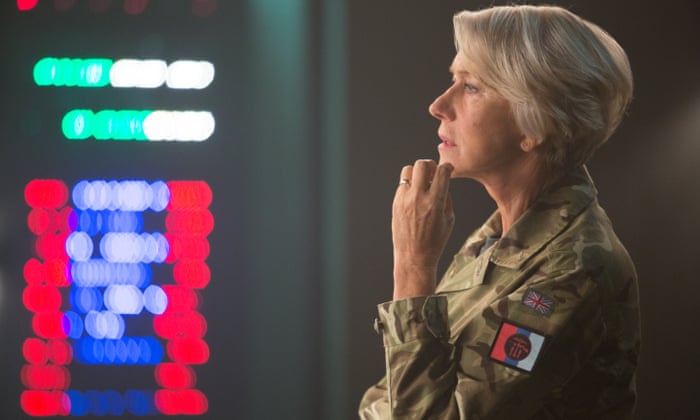 A anxious race against time ensures, with the British command centre working with the Drone pilots in America and an agent on the ground in Kenya to get the girl out of the target area. Hanging over the situation is the moral quandary or weighing the risk to the life of the girl against the potential causalities caused if the terrorist attack is allowed to happen.
Further complications are brought by the political agencies overseeing the operation, debating the legalities of taking a military strike in a friendly nation and the consideration that one of the terrorists is an American citizen. Much to the military's annoyance the authorisation to strike is not forthcoming, as the various political agencies reluctant to take the responsibility for the strike bass the buck back and forth as to who is going to left dealing with the implications.
Eye in the Sky provides a critique on the face of modern warfare, where technology now allows a warzone to be observed in minute detail and engaged without ever having to leave the home countries. Such distance somewhat provokes a disengagement with the consequences of military actions and devolves causalities into cold statistics. One of the more questionable moments is when Mirren coerces one of her military analysts into reducing the probability of the girl's death to a lower percentage that will increase the likelihood of her getting the authorisation to strike.
Naturally Mirren is great in her role as the General losing her patience at navigating the red tape and rules of engagement, as is Alan Rickman in his final role as the General overseeing the operation. Over on the American side, Aaron Paul, who has got portraying someone guilt ridden with tears in his eyes down to a fine art, is great as one of the drone pilots, distressed at being the one who will ultimately have to pull the trigger and possibly kill the little girl. Also making a welcome addition is Barkhad Abdi (the lead pirate in Captain Phillips), as the undercover agent on the ground in Kenya.
Eye in the Sky is a thought provoking insight into the realities and politics surrounding 21st century war. It provides an impossible situation and never offers an easy way out, leaving it open for the viewer to decide on the morality of the outcome.
WTF? Mortdecai
See, I kinda feel a little uncomfortable talking about this film because in truth there is a chunk of it I didn't see. That chunk being about 100 out of the 107 minutes running time. Yeah, I admit I never even made it beyond ten minutes into the film.
What I did see was absolutely awful, as in completely unwatchable. Johnny Depp was was the definition of cringe in his over the top and creepy portrayal of a flamboyant cad and conman. Sadly it was a film I'd been looking forward too, having read and enjoyed the novel "Don't Point That Thing At Me," which this was based on, and trusted that Depp would have been able to inject some charm into the role. Yet after five minutes of this weird, nauseating and unfunny performance, I realised I could not stomach another hour and half of this unsettling awful feature and I threw in the towel and switched my Netflix off (honestly I'm glad I'd never found the time to see it in the cinema for it's one week run or it would have severely tested my "never leave a film before the end" policy).
Which begs the question, what happened to Johnny Depp? For years there seemed to be great care in the roles he chose, concentrating on challenging and memorable characters and yet by the time he was the secret reveal at the end of Fantastic Beasts his appearance was greeted with a sizeable groan from audiences.
Whatever the case, Depp got a Golden Raspberry award nomination, and I'm not surprised as it's so annoying I don't blame Amber Heard from giving him a few backhanders (allegedly).
Incidentally, despite been slammed by critics and branded as one of the worst films of 2015, Mortdeci took 47 million at the boxoffice (below it's budget of 60 million) which is more than Eye in the Sky and Green Room combined. Sometimes I think audiences don't deserve nice things.
Dazza
Next time I will be of course choosing my top three films of 2016, which will in fact be the end of this silly little journey I've been on. My top films of 2017, 18 and 19 are already covered by my top ten reviews of the year I did at the time.
Although I may have an idea on how to carry on.