And then came 9/11
The plot from a real life blockbuster movie seemed to be playing live out to a shocked television audience on that Tuesday in September. While many of us reacted in different ways as the attack on the World Trade Centre and Pentagon unfolded, one thing we could agree on was that nothing would ever be the same again.
While the immediacy of television would have the drop on cinema in terms of dealing directly with 9/11 and it's aftermath (The South Park episode "Osama Bin Laden has Farty Pants" airing less than two months after the attacks was a fabulous and sometimes poignant satire on America coping with the attacks), the effects on films in production was swift. There was rapid work in editing studios where films set in New York had shots of the Twin Towers removed or digitally edited. Most notably the climax of Men in Black II set in the WTC was reshot to occur at the Statue of Liberty and scenes from the Spiderman film featuring a helicopter caught in webs between the towers was removed from early trailers.
Scripts with terrorist plots, hijackings or scenes with mass destruction were delayed or rewritten. Even existing films that featured mass destruction of iconic cities were toned down for television and DVD. It would be a few years before studios felt audiences were ready to watch famous landmarks been destroyed again, and even today when watching cities devastated in a film such as Rampage there can be an unsettling feeling for those of us who watched very similar and very real images back in 2001.
With such real life tragedy overshadowing this year, it feels trite to bemoan the lack of enjoyment I had revisiting movies from 2001. But once again this was a year that in terms of movies that meant a lot to me, I had real slim pickings to choose from. So much so I had to reprint one review from my previous format of Couchzone.
Lord of the Rings: Fellowship of the Rings (Director: Peter Jackson)
An epic quest begins, as a groups of heroes embark on a long journey to take a powerful ring to the one place it can be destroyed and kept out of the hands of the forces of evil. Although why they didn't fly on those big bird things is beyond me.
Towards the end of 1999 the BBC ran a survey which invited the British public to vote for their favourite novel of the 20th century, the results of which would be complied in a top 100 novels list. In true BBC fashion a panel of people known for being very clever was formed to discuss the list, from a clever people perspective. This panel of clever people (the only person I really remember was Germaine Greer and some twat with large hair who called himself a satirist and complained how ridiculous it was to let people vote on their favourite books. Which begs the question why did he go on the show), went over the list, tutting with exasperation that the books people voted for were not clever books at all and certainly not what they would have voted for. Appalled that the opinions of "ordinary people" were been treated as important with regards something clever like books, the panel snarkyly tore apart the most loved 100 novels of all time. Naturally they didn't approve of the number choice voted by people who worked for a living instead of being clever, especially as it was a fantasy book with adventure, wizards, action, orcs, elfs, dwarfs and lots of swords and sorcery.
The point of this long introduction (aside from getting some stuff off my chest), is that the book trilogy of Lord of the Rings was the people's favourite book of the 20th century, which shows just what expectations were on the shoulders of Peter Jackson in bringing this beloved classic to the screen. Especially as all other attempts to film it had failed with an animated trilogy only managing to have the first part released and a live action version in the 60's with the Beatles in the starring roles (not making this up) never getting it off the ground.
And the man pulled it off. The way the Lord of the Rings film franchise expanded into an obscenely bloated monster and overstayed it's welcome, it's easy to forget just how mesmerising and instantly loved the first epic event movie of the 21st century truly was.
Not since the original Star Wars trilogy has a screen saga been blessed with such an iconic and stirring score, that makes it impossible to imagine the visuals without it. Would it feel right watching the opening titles and the haunting prologue monologue of Cate Blanchett without the gentle forbidding initial tune? Imagine our first glimpse of the lush, green beauty of the Shire without the warm, welcoming country style flute melody. And could there ever be more majestic, triumphantly inspiring music than what signals the forming of the Fellowship of the Rings, an anthem that may as well have lyrics that scream "LORRRRRRD OF THE FUCKING RIIIIIIIIINNNNNNNGS! DAH DAH DAHHHH, DAH DAH, DAHHH, (ETC)" (Honestly next time you hear the tune sing that line along with it).
Speaking of that iconic forming of the band scene, what a lineup of amazing characters and perfect casting. Elijah Wood and his fellow Hobbits bounding with innocence, CGI'd so perfectly to diminutive size you have be looking specifically for any flaws. Sean Bean as the brave but flawed Boromir seduced by the power of the ring, Orlando Bloom and John Rhys-Davies as the at odds Legolas and Gimli and Viggo Mortensen who's got his chiselled, dashing adventurer image down effortlessly as Aragon. Yet standing tall over all of them in statue and presence is Sir Ian Mckellan as Gandalf. Mckellan is an epiphany of a sage, oozing with wisdom and gracing the film with genuine class. His screaming rage as he faces down the Balrog with the cry of "You Shall Not Pass!" is so iconic that when I attended Mckellan's one man show just a few weeks ago this monologue was what he opened the performance with.
Running in contrast to the defenders of the idyllic, untouched New Zealand landscape are the hordes of Saruman (played with apologetically hamming by Christopher Lee). The scenes of his armies preparing for war, seethe with the menace of dirty industrialisation, feasting on the forests with a menacing orchestral score almost Heavy Metal in it's rocking intensity. A long tracking shot as we dive into the bowls of the enemy mines is breathtaking and seductively evil.
The Orcs that make up Saruman's armies are monstrous, all tooth and nails and boiling with ugly, guttural rage and frighteningly realistic. But most terrifying of all are the Nazgul, the nine riders who hunt the Hobbits early on. One of the most lingering aspects of reading the novels is the horrifying descriptions of these soulless horsemen atop black steers of sheer evil, and the film incredibly does them unnerving justice.
With casting, scenery, score, Peter Jackson just got so many things right in building up his version of his first part of the trilogy. Some purists of the novels may baulk at adapting the story into a cohesion suitable for cinema audiences, but the tightening of the narrative and pacing was necessary . The result is an epic adventure yarn which boasted breathtakingly choreographed action scenes, years before Marvel came on the scene (Legolas's quick arrow work and the brutal slaying of Boromir were incredible and ahead of their time).
For three straight years the Lord of the Rings trilogy owned the world of cinema. Fellowship was followed by possibly even better and larger Two Towers (believe it or not there was a school of thought of changing the title in the wake of 9/11). The third instalment dragged somewhat, mainly as so much of the saga seems to have reached a conclusion a the end of part II, not to mention the infamous endings upon endings as everyone says their farewells.
Shaky as the ending may be, the original Rings trilogy was fondly remembered by audiences. Sadly the sense of blatant cash ins couldn't be avoided with the decision to follow up with an adaptation of the preceding novel the Hobbit. Despite the Hobbit been less pages than even just the Fellowship of the Rings alone, the story was stretched into a bloated trilogy equalling the screen times of LOTR. Just like another prequel trilogy, The Hobbit swapped simple, real majesty for overblown, loud animated worlds and was inferior because of it.
Tainted as the legacy as a whole it may have become, The Fellowship of the Rings should still be remembered as the triumphant, vibrant movie that brought a touch of class to the blockbuster.
Spirited Away (Director: Hayao Miyazaki)
A 10 year old girl travelling to a new life crosses over into a magical fantasy land, where her parents are transformed into pigs. Forced to work for a mysterious witch, young Chihiro befriends a group of magical beings in the hopes of saving her parents and return home.
"What the chuff is this?" is what went through my mind when I saw the cover of the DVD that a friend had lent me. When she had promised me the greatest anime of all time my prejudice of what Japanese Anime was had led me to expect something massively violent and full of sex, no doubt with a cyber punk cool vibe to it. Spirited Away looked more like a Disney film, which while not a bad thing is not quite what I was expecting. However the name of the writer and director Hayao Miyazaki is one I'd heard of as being a legend in Japanese cinema and not to be rude to my friend I gave it a go.
So glad was I that I did as Spirited Away proved to be one of the most enchanting films I have ever seen. It's stunningly beautiful, animated like a glorious fairytale with just a hint of the surreal and imaginative fantasy land of Alice in Wonderland. We see a young girl called Chihiro travelling with her parents to start a new life. While taking a break at a remote restaurant they accidentally cross over into a strange fantasyland and become trapped with her parents turning into pigs while they greedily eat.
Chihiro seeks shelter at a bathhouse run by the sinister witch like Yubaba who intends to enslave the young girl by making her forget her past. Chihiro forges an alliance with a number of strange characters including a Dragon, a ghost and Yubaba's twin sister to find the keys to escaping the world and restoring her parents back to normal.
To go into too much detail into the story would ultimately do it a disservice (imagine describing Wizard of OZ to someone who had never seen it) and a lot of the enjoyment of Spirited Away is in immersing yourself in the beauty of this magical world, it's colourful inhabitants and its majestic scenery. It also has a wonderful innocence about it, with the use of computers kept in the background and the hand drawn artwork taking centre stage.
Spirited Away has wowed audiences and critics everywhere, collecting awards throughout the early 2000s, naturally bagging the best animated film at the Oscars. It's also claimed a permanent spot on "best of" lists, particularly when it comes to animated and children's movies. It has become the biggest box office film in Japan's history.
Spirited Away is constantly referred to as one of the ten movies all children should see, and rightly so. It is a must see for families and while I honestly think films should be watched in their original language (as should this one) anyone who baulks at horror of horrors having to read subtitles, I will say that the English dubbed version is actually really good (as with many of Miyazaki's releases in the West) so if that's what it takes for people to experience this masterpiece then Dazza forgives you just this once.
Moulin Rouge (Director: Baz Luhrmann)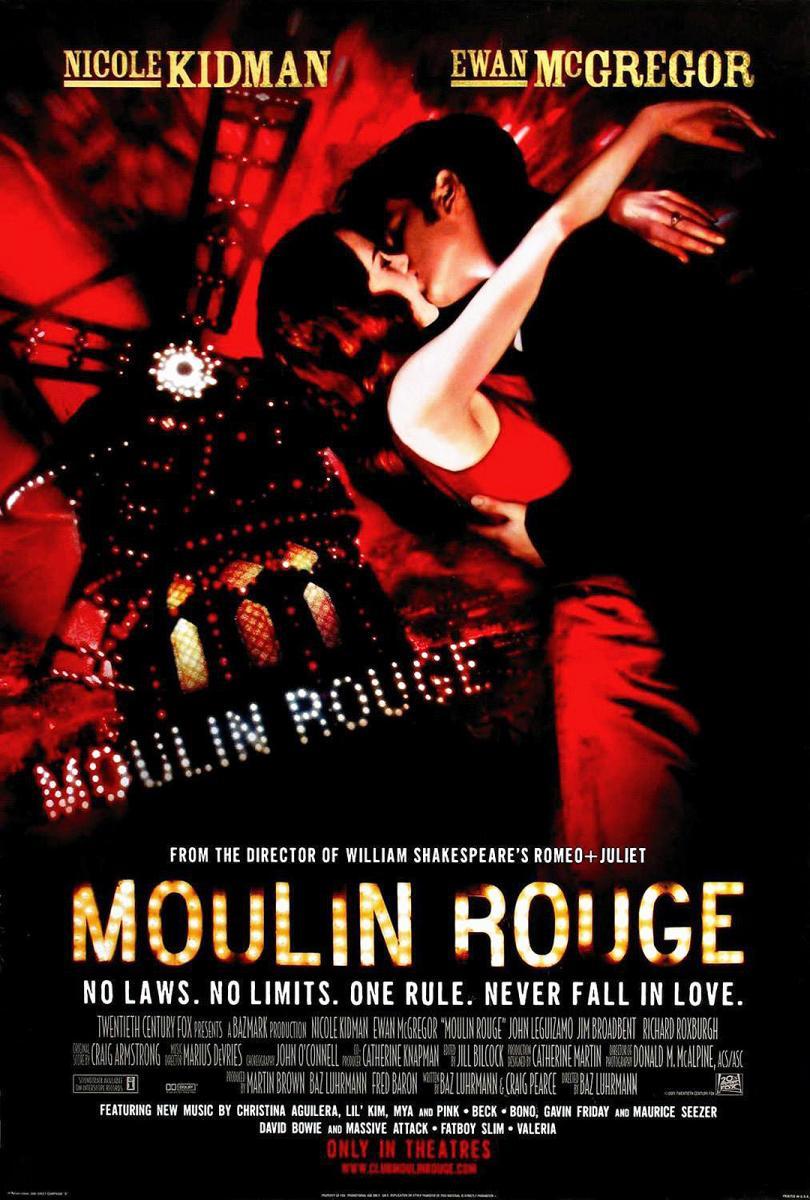 A young man (Ewan Mcgregor) goes to late 19th Century Paris seeking a Bohemian existence. Indulging himself in the arts he is drawn to decadence of the Moulin Rouge and falls in love with it's star Satine (Nicole Kidman).
Moulin Rouge was a film that I simply passed over on it's release in 2001. Despite the heavy promotion, I was left cold by trailers and clips that were baffling as to what the film was but also fairly bland. The acting seemed so over the top that even in the small doses it threatened to get annoying really fast and reconciled despite the hype into giving this one a miss.
It took a short lived Vegas show called Baz to turn my thoughts around. Baz was a lively staged show based on the work of director Baz Luhrmann, which combined the stories of three of his film into one lively musical, with Moulin Rouge been mixed in with his interpretations of Romeo and Juliet and the Great Gatsby. While Baz had a criminally short run on the Strip, I loved the show and was intrigued enough to give Moulin Rouge a try.
Christmas Evening 2018 I finally got to watch Moulin Rouge(a DVD present off me mum) and by God has ever the marketing of a film not done justice to how splendidly batshit crazy and a festival of the senses that is on offer. It's as if the raw celluloid of this film was coated with the skin of a captured rainbow and dipped in pure glitter, before been run through a projector with a thousand lenses at a hundred times the speed it was equipped to handle.
The first hour of Moulin Rouge flies along with the pace akin to a sonic boom. It's a frantic, sometimes bizarre experience, where the camera never seems to settle for more than a second as the film cuts back and forth, zipping through a mesmerising range of angles and close ups. Amongst a scenery of burlesque indulgence, adorned with fantastical colour and fireworks, we flash through a Shakespearean comedy or errors, destined to end in tragedy. Christian, a young writer meets the beautiful Satine, the star of the indulgent and decadent Moulin Rouge who mistakes him for the Duke, a man of influence she intends to seduce in exchange for his funding for their cabaret. The two fall in love and a romantic farce ensures as they try to keep the lusty intentions of the Duke at bay, while using his support to finance an extravagant stage show.
Just as the look of Moulin Rouge is barrage of explosions on your eyeballs, the music is even more relentless, drowning your ears in a cascade of iconic tunes, performed in ways you've never heard before. One minute you're seeing Kylie Minogue performing "The Hills are alive with the sound of music" and "children of the revolution" as a hypnotic green fairy, the next an army of Top Hat wearing gents are singing "Teen Spirit," before the Satine and her dancers are doing brief rendetions of "diamonds are a girl's best friend," and "Material girl". "Rhythm of the night," "One Day I'll Fly away," Elton John's "Your Song," all blend together along with sumptuous melodies featuring Bowie, U2, KISS, The Sweet, Joe Cocker, Whitney Houston. The film descends into a drug haze of a wild karaoke, except a really fucking good one. It's self indulgent, over the top, sometimes crossing over into the contrived and I'm thankful for it, because as a fan of musicals this film is a wonderful feast of sheer joy. When Jim Broadbent does a rendition of "Like a Virgin", while draped in a white curtain and absolutely nails it I wonder why in the hell it took me so long to embrace this movie.
For all it's joys and the celebration on the abandonment of modern life in the pursuit of pleasure, the film hits the audience with a dark suckerpunch late on. A sombre and violent rendition of the Police's "Roxanne," marks a turn in the fortunes of the young love. Even the closing credits refuse to lift the audience with an earnest, down beat tune in favour of what would have been a crowd pleasing reprise of the uplifting tunes that thrilled us earlier.
This movie is not for everyone. Those who don't love musicals will have little patience, and many will find the giddiness of the acting and humour grating. Thankfully for me, I fell under the spell of Moulin Rouge, and embraced it's magical mayhem.
WTF???? Pearl Harbour (sucks and I miss you)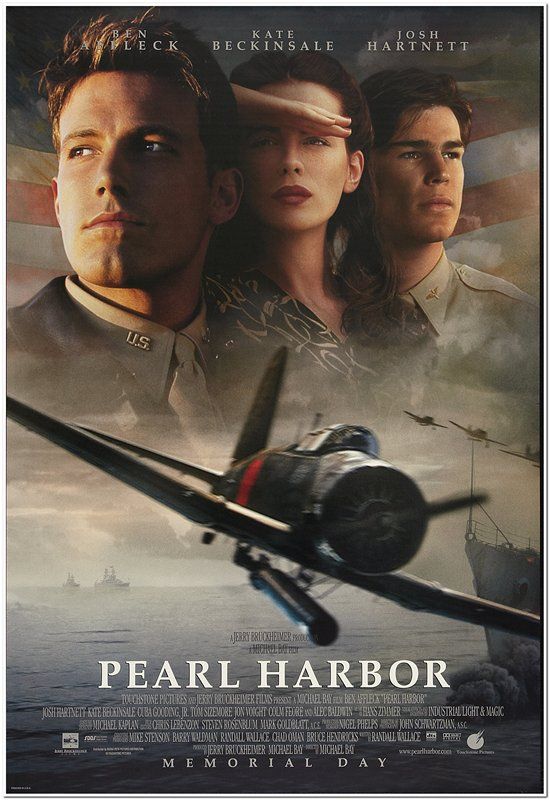 Only four months before 9/11, American audiences (on memorial day weekend no less) flocked to see a film about the last time a major attack occurred on their soil. Except not really. Because yes the film is called Pearl Harbor, and Pearl Harbor is on the poster, and the actual attack features a lot in the trailer with tons of explosions, fighters diving and ships blowing up. But Pearl Harbor is less about the build up to Pearl Harbor and the events of the day, and instead it's about whether a pretty woman played by Kate Beckinsale while choose to shack up with a pretty guy played by Ben Affleck or a pretty guy played by Josh Harnett. For three cheesy, trite hours (that would be much better spent re-watching Avengers: Endgame) we find out that the real tragedy of WWII was how it effected this frankly bland, wishy washy triangle.
In a story that pushes even the patience of my melodramatic leanings, we see US fighter pilot Affleck hooking up with nurse Winslet, leaving best pal Harnett in the cold. Affleck goes off to fight in the Battle of Britain (which historically he wouldn't have been allowed to do as a US serviceman, the Eagle squadron he joined was in real life made up of US civilians who volunteered), and is shot down and thought dead. He turns up back in America and finds Winslet has now shacked up with Harnett, which just happens to be the day before Pearl Harbor.
Despite the loss of all those lives, ships and planes, the attack proves to be a good thing because it brings the two friends together again as they bond shooting down Japanese planes. This does leave the sticky question as to how this love triangle will be resolved but not to worry, another key battle in World War II history The Doolittle Raid (an attack by American aerial forces on Japanese mainland which isn't portrayed as devastating and heartbreaking as Pearl Harbour because…Murica!) comes along where Harnett is mortally wounded and as he dies gives Affleck his blessing to shack up with Winslett and bring up his unborn child as his own. So it's not about the War but the friends and loves we make along the way.
While I can cope with artistic license in historical movies (I personally love Argo, despite it embellishing events for dramatic purposes), Pearl Harbor feels somehow more exploitative. Maybe if a better movie had been come out of it, the liberties would have been more palatable. As it is, taking the very real heroics of George Welch and Kenneth Taylor in taking to the skies and shooting down half a dozen attackers and adopting them to Affleck and Hartnell's characters feels tacky as hell.
Join me next time as I find my favourite movies from 2002, a year that saw more money pass through the box office than any other.
It was also a year that got back on track for providing me with some enjoyable experiences to look back on, except for one film in particular that I remember as one of the lousiest movie experiences I have ever had.
Dazza