Spoiler alert! There is a certain blockbuster film out at the moment where none of the rag tag group of heroes have fully functional, breathing bodies by the time the end credits roll. But I'm not going to spoil things if you haven't seen that film yet.
So in honour of those fallen heroes in a Galaxy Far, Far Away and the many Bothans who did in similar circumstances several years later, I now pay tribute to all those heroes went to war without a feasible  exit plan and made our trip to the cinema end on a downer.
Oh yeah this article is filled with spoilers so don't blame me if you find out Rosebud is a sledge and the girl is really a guy.
1. Reservoir Dogs
It all starts with a lovely little coffee morning where everyone chats about music and the merits of tipping and the day goes tits up from there, with a botched robbery, slaughtered bystanders, tortured cops, severed ears, lots of swearing and use of the "N" word and a Mexican standoff which popularised the tagline "Who shot nice guy Eddie!" By the end of the film everyone is dead (well Mr Pink may still be alive) which left audiences spilt into two camps. Those who said "What the fuck? That sucked!" and those who said "What the fuck? That's the greatest film I've ever seen.
Tarantino had arrived,  showing a Hollywood bereft of fresh ideas it was still possible  to come up with one hundred percent original movies by stealing from City of Fire, A Better Tomorrow, The Killing, Gone With the Wind, Angels with Dirty Faces, Django, Mean Streets, French Connection, Clockwork Orange, The Fury, Q the Winged Serpent, Vigilante, Once Upon a Time in America, Breathless, Miller's Crossing, Twin Peaks, After Hours, Hannah and Her Sisters, Taxi Driver, The Wild Bunch, Good the Bad and the Ugly, Straw Dogs, Twelve Angry Men and pretty much every Hong Kong action movie and 70's exploitation movie he watched while working in a video store.
2. Beneath the Planet of the Apes.
Spoiler Planet of the Apes ends with Charlton Heston on his knees screaming at the ruins of the Statue Of Liberty. If Heston has his way that's where he would have left his character having no interest in doing a sequel. However Hollywood wouldn't leave things alone and to shut the pesky fucks up Heston offered a compromise where he'd return to do their shitty apes sequel if he was killed off at the start of the movie. Producers offered a counter compromise where Heston would disappear at the start of the film and the plot would follow another stranded astronaut searching for the missing crew of the first film and who would meet up with Heston at the end.
After a weirdly 70's story involving a race of mutants living in a now underground New York (hence the "Beneath" but the film climaxes with  Heston and new guy Brent going down in a hail of bullets in a shoot out with the Ape army. Then in a scene suggested by Heston his dying act is to set off a nuclear bomb that destroys the Ape ruled planet and seemingly end any possibilities of a third movie.
Movie executives would find a way round this.
Planet of the Apes films continued to be made ("Escape" and "Conquest" are really good films) and if you believe everything Michael Moore says Charlton Heston went on to be responsible for all gun crime in America.
3. Blackadder goes Fourth.
I didn't care for the fourth season of Blackadder, it just seemed to rehash jokes from the previous seasons. However it totally redeemed itself with an incredible final episode and ending with one of the most moving scenes in British television history and a powerfully subversive  indictment on war.
Blackadder, Baldrick, George and even villain Captain Darling (a joke that wore thin from the very first episode) face certain death as they prepare to charge from the trenches of the first world war in a doomed big push. It's a touching moment to see these characters who have generally behaved horrible to each other forming a comradeship in their final moments (the normally reviled Darling has a heartbreaking moment stating "Rather hoped I'd get through the whole show. Go back to work at Pratt and Sons, keep wicket for the Croydon Gentlemen, marry Doris… Made a note in my diary on the way here. Simply says: "Bugger.")
A haunting piano rendition of the Blackadder theme plays over a slow motion suicidal charge over the battlefield which fades to a scene of the poppy fields of the Somme today. The absence of closing credits leaves a haunting feeling that anyone who saw it the first time is unlikely to ever forget.
4. Blake's Seven
Ask most people which is the greatest science fiction show to appear on BBC TV and they'll probably answer Dr Who. Those people are in fact dead wrong as the greatest is in fact Blake's Seven which ran for four years from 1978.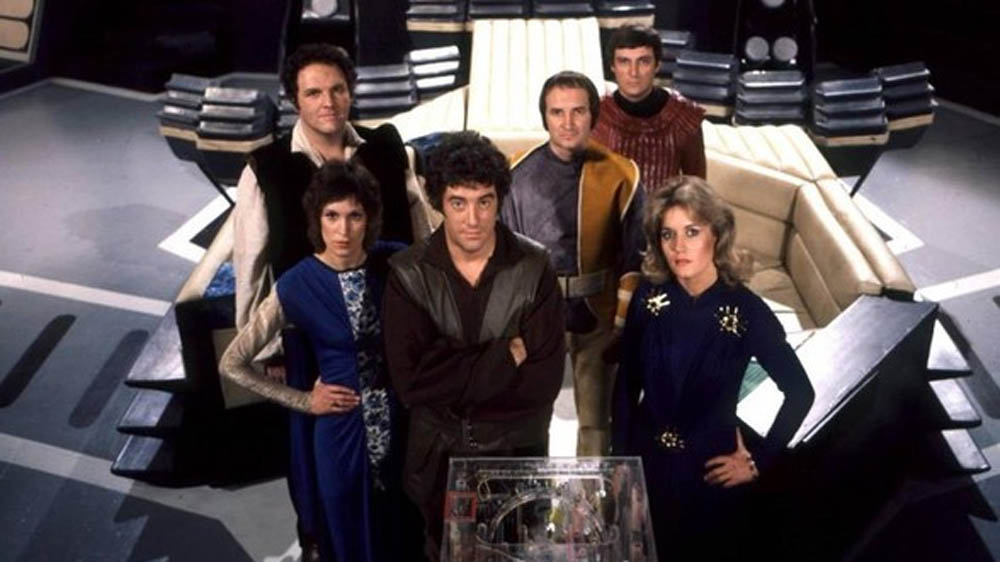 Blake Seven was the story of a misfit band of rebels (there were seven of them led by Blake hence the title) fighting against a fascist, totalitarian regime known as The Federation and is remembered for it's dodgy special effects, cheesy cheap looking sets and props, seventies glam outfits, some seriously hammy acting and it's universe of planets that all seemed to either be like a forest in Hemel Hempsted or some abandoned quarry. But loyal viewers looked through all that and recognised a Goddamn awesome drama, a gritty space opera with a complex moral ambiguity and story arcs that were years ahead of their time.
Blake's Seven also had two of the greatest characters the BBC have ever created with vampish Federation leader Severvalan (Jacqueline Pearce) and awesome anti hero Avon (Paul Darrow) who became the leader of the group once Blake disappears after actor Gareth Thomas decided he'd had enough of the nonsense and left after series two.
The show ended with it's fourth season the final episode of which was tantalisingly entitled "Blake" and aired on December 21st  1981. As the title suggests Gareth Thomas agreed to return for the finale leading to an amazing episode with a final scene that has become the stuff of legend.
In a scene of sheer tragedy Avon finally reunites with a now battle scared and war ravaged Blake only to mistakenly believe that he's been betrayed by his former leader when in fact Blake has been masquerading as a bounty hunter to build up his own rebellion and has waited for Avon and his band to join him. Avon shoots Blake and as he dies before him the base is overrun by federation troops and the ensuring battle the crew fall one by one in joyfully overacted slow motion.
The episode ends with a defiant Avon surrounded by federation troops and grins as he accepts his fate. The credits role with the sounds of lazer blasts, leaving me as an eleven year old with my jaw on the fall wonder what the fuck had just happened.
And this theme music is glorious
5. Age of Apocalypse
In 1995 Marvel ran a storyline where Legion went back in time and accidentally killed Charles Xavier years before he ever formed the X-Men. For the next four months all eight regular X-Men related comics changed to portray a very different Marvel Universe where Apocalypse had conquered America, Magneto led a resistance of X-Men and where without Xavier's influence many characters led very different lives. Many of the X-Men and New Mutants had grown up evil followers of Apocalypse and a few villains such as Sabretooth had actually become X-Men and the relationships which had grown in this world without Xavier were very different (Wolverine and Jean Grey were finally a couple in this reality with Cyclops busy being one of Mister Sinister's henchmen).
The story was a massive hit with fans and despite being huge in scope was comfortingly easy to follow (a lesson Marvel could learn today). Throughout the saga many different but familiar faces met their end, sometimes in brutal fashion as the heroes plotted to revert the timeline back to how it should have been. The death count rose to massive levels in the climatic showdown with  Apocalypse and even those that survived that battle were wiped out by a nuclear attack that seemingly wiped out America.
Age of Apocalypse was a triumph and Marvel decided to leave things as they were and resist from cheapening fan's experience and returning to the concept in a cynical cash grab.
Nah, just kidding every chance they got they recycled the "Age of…" idea and even went back to the Age of Apocalypse world and continued the saga with underwhelming results.
But to fans like me the real story ended with everyone disintegrated in a nuclear blast. The End.
6. Valkerie
Look, I know Hollywood likes to position us English as the villains (Even the "rat" in Reservoir Dogs turned out to be played by an English guy), but really wasn't it a bit weird to have all but one of the Nazi's in 2008's "Valkerie" played by Englishmen and still talking with English accents? I know that Americans don't know much about the course of the Second World War before December 7th 1941, but guess what, us English had issues with the Nazis!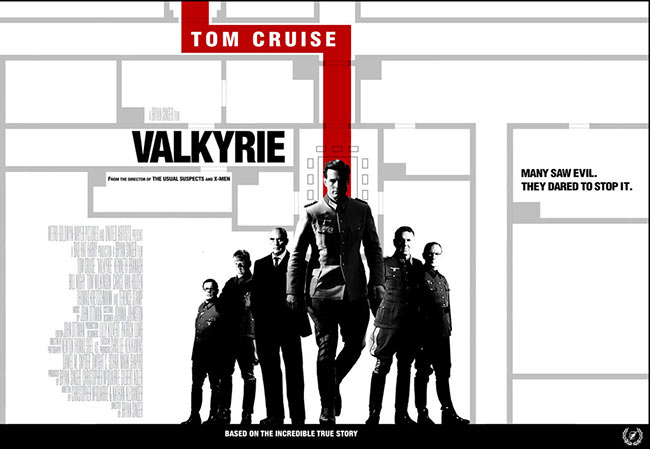 That said I loved this film that dramatically recounts the attempt of a German coup to assassinate Hitler and overthrow his regime. All of which failed because some arsehole left some windows open.
Surprisingly the tension is still very solid even though us who actually know are history know that the plot failed and Hitler survived to be finally assassinated at the screening of a propaganda movie in France some time later.
Anyway all the nice Germans  gets rounded up and executed.
And speaking of Valkyries.
7. Ragnorak!!!!
Has there ever been a more badass race in history than the Vikings? These guys rocked! Burning, pillaging, conquering and drinking and partying and shagging all over Europe with smiles on their faces. They lived life like a biker gang, Sons of Anarchy without the Shakespearean undertones and prison rape.
If you haven't seen the 1958 Vikings film with Kirk Douglas finish this article and go watch it.
Even their religions kicked ass!
How did Vikings get into Valhalla, their version of heaven? By dying in battle with a sword in their hands! I love these fuckers!
If the Vikings had conquered Europe and Norse Mythology was the recognised religion the churches of England would be full every week to hear the tales of Odin, Thor, Loki, the  Giants, the giant wolf Fenrir, Hel and the climatic battle of the Gods in the glorious Peckinpah like battle of Ragnarok.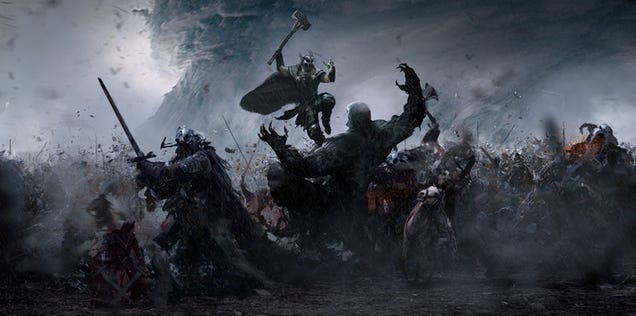 That's right the Vikings killed off their Gods with all the gusto of a HBO series finale. During a massive invasion by Loki and the giants of the God's realms all combatants on both sides are killed. Odin is killed in the jaws of Fenrir who is in turned ripped apart by Odin's least famous son Vioarr. Thor kills the giant serpent Jörmungandr in a cracking scrap, but then falls dead from his wounds. It's an epic story and everyone dies in a blaze of glory.
Never mind this Planet Hulk shit, this is what the next Thor movie should be striving for.
Game of Thrones
Ok, so we don't yet know how this one is going to end. But my bet is the final scene shows Westeros a giant ruin, with all the characters laying dead on the ground and two peasants stood on a hill shaking their heads at the scene and one saying "All this because some kid saw a brother and sister fucking!"
Don't have nightmares.
Dazza