Face/Off 2 Poll:

Loading ...
Matchstick Men 2
Gone in Sixty Seconds 2
Raising Arizona 2
Mandy 2
Face/Off 2 Release Date:
Face/Off 2 has a tentative release date of June 19, 2022. 25 years to the date since the original came out (on June 19, 1997).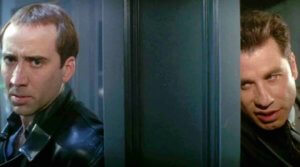 Face/Off 2 Cast:
Nic Cage as Castor Troy.

John Travolta as Sean Archer.

Joan Allen as Eve Archer.

Domanique Swain as Jamie Archer.

Aaron Eckhart as Two Face.

Face/Off 2 Plot Option: Nic Cage's Castor Troy returns?
The Face/Off sequel will start off with some new and excessive technology for face swapping so they can bring Nic Cage's Castor Troy back. But it isn't really him. John Travolta's Sean Archer just needs to once again don his face to take on the evils of the world. But this time, it isn't a face for face swap. Nope. This time, Sean Archer does his job, but he only gets half a face back because Harvey Dent bribes the doctors and GETS THE WHOLE FACE. Thus disfigured, Sean Archer has to take on a new foe, one more deadly than any he has ever face… Two Face. A Batman villain. How has Travolta not played a Batman villain already? I would wait in a mile long line to see him play a totally deranged Two Face.
Face/Off 2 Trailer: