Hey Dana. This is your good buddy Jimmy over at HalfGuarded.com.
Now, I know we've had our differences in the past. You've tweeted about some of the things I've written and called it absolute garbage, and I've written plenty of articles questioning your decision-making as the de facto head of a multi-billion dollar corporate empire.
But you see, Big D, you and me need each other. Obviously, without your handiwork, the world of mixed martial arts wouldn't be anywhere near as awesome as it is today, and this fine, outstanding site probably wouldn't even exist. By that same token, though, if it wasn't for die-hards like me espousing the gospels of the sport, you would've gone bankrupt in 2002.
I'm no filthy casual, Senor White. I've been a UFC devotee before the wheels on the bandwagon were even in production. I was there for the dark ages, back when EVERY show poster looked like a bad nu-metal CD cover and you were charging us actual legal tender to view Murilo Bustamante vs. Matt Lindland and Ken Shamrock vs. Kimo as PPV main events. Most sane people would've abandoned ship during all that mess, but ever the MMA loyalist, I stood by the product. If it weren't for evangelists like myself, you never would've even made it to the first season of The Ultimate Fighter.
Now, even though your annual income is about 1,000 times higher than mine, that doesn't mean you can't make a few ill-advised decisions up in that ivory tower of yours. Frankly, you need plebs like me to remind you of your fallibility, so that egomania doesn't drive you into making, well, Bellator-ish executive calls.
Now Dana, I'm about to tell you something that, on the surface, may sound a little extreme. You may want to write it off as the musings of some madman who doesn't know anything about the business, but just hear me out, OK?
Buddy, you've got to fire Jon Jones. Yeah, I know he's the proxy "face" of the company, but he's just too much trouble. Yes, yes, he is indeed probably the most talented physical specimen to ever step foot in the Octagon. If he never fought another fight ever again, he would still be considered one of the greatest fighters of all time, if not the absolute greatest.
But he's just too dadgum problematic. He's one of those kids that thinks just because he's good at his craft, he can run around doing whatever he wants to and he'll never have to worry about the consequences. And like a woefully manipulated parent blind to their offspring's misbehavior, he know he has you over a barrel.
Remember that time he got a DUI in 2012? He knew you wouldn't care.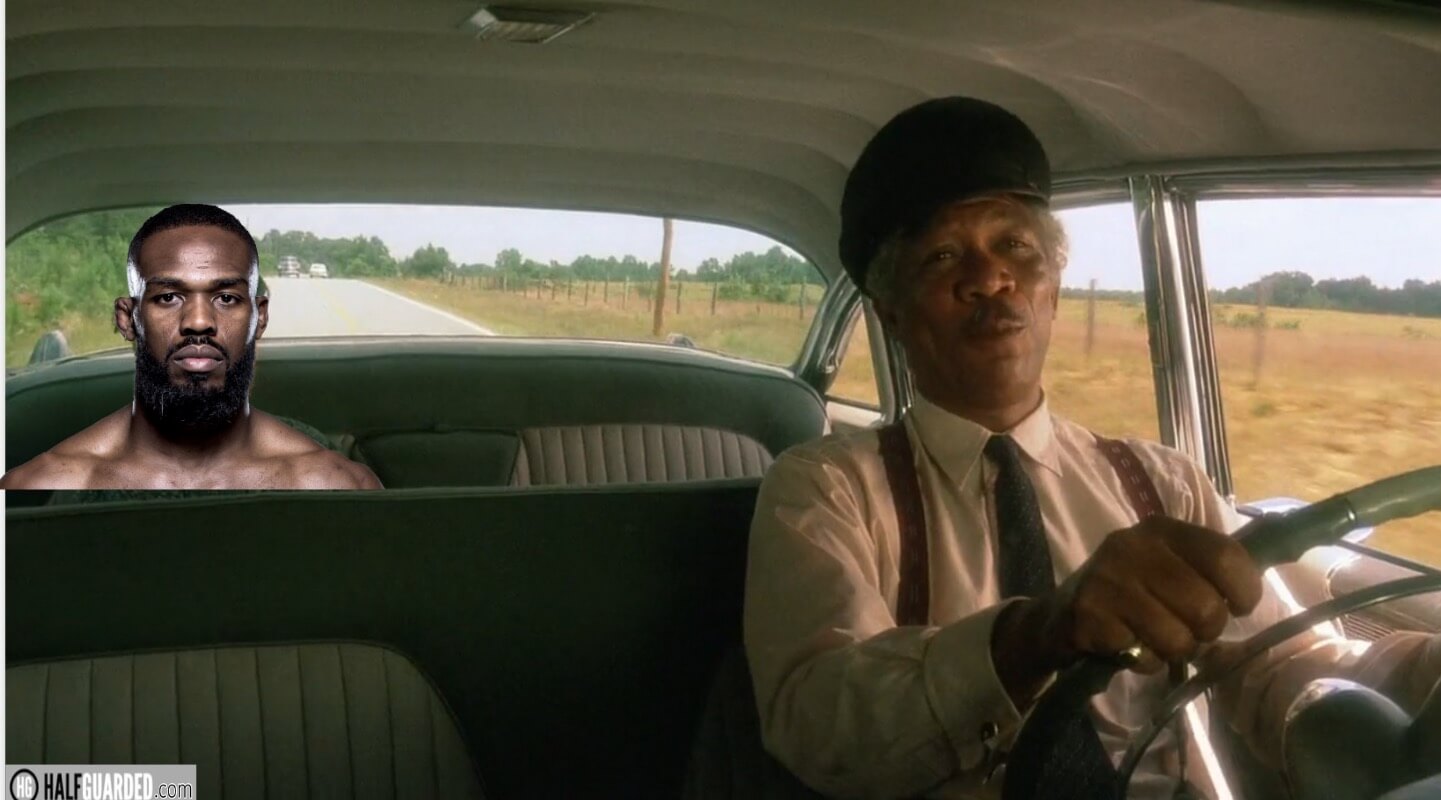 Remember when he pulled out of UFC 151, and the whole card – and all of that PPV revenue – went down the toilet? Yeah, he's still laughing about that one.
Remember when he physically assaulted Daniel Cormier at a press conference, then lied about losing his Nike contract because of it? That one always makes him smirk. He can't believe you fell for it!
And who could ever forget that time he got popped by the NSAC for testing positive for the nose candy? Can you imagine ANY NFL quarterback or NBA superstar getting a plus sign for blow and keeping their job? Bones knows you'd look the other direction, though.
OK, OK, so you finally had to do something when he left the scene of an accident involving a pregnant woman while he was (probably) high as a kite. You took his belt and gave him a year off, but you just couldn't cut bait. He's too talented, you said. He's too marketable, you told yourself.
He's just too good to kick off the company payroll.
Besides, you thought to yourself, after the whole title-stripping thing, he'd certainly learned his lesson. Now he knew that he wasn't above the law, and that his dunderheaded actions would eventually come back to bite him on the brown eye.
And then, on the eve of the absolute biggest show you've ever produced, you get a phone call the drug lab.
Uh-oh. It looks like your golden boy tested positive for something he ain't ever supposed to test positive for. And like that? The main event of the biggest show you've ever dreamed of gets taken off the table just hours before the spectacle airs.
Now, if the full tests prove conclusively that Jones had some PED's in his P-E-E, he's looking at a two year suspension by the NSAC, at the minimum, and he won't be able to fight stateside until 2018.
DW, you've got to make yourself a decision here. Do you look at your star student and deduce that he's just so talented and gifted and full of potential that he's worth all the troubles, or do you put your foot down hard and make an example out of him?
Well, a lot of people are going to tell you a whole bunch of different things as to what you should do. But as your unsolicited advisor, I'm just going to flat-out tell you – pal, it's time to fire Jon Jones.
Forget all of the nonsense about him being the pound for pound best fighter in the world. After all, what's the point of being the most talented MMAthlete in the world if a.) all your wins keep getting overturned because of drug violations, and b.) you're spending more time serving suspensions than actively training for competition?
Five years ago, Jon Jones was a great investment. But now, it's clear the risks no longer outweigh the rewards. He's a big-headed prima donna who thinks his hype is huge enough to overrule all of his wacky, irresponsible antics outside the cage.
Leopards don't change their spots, Mr. White. If you think Jon Jones has committed his last lawsuit-baiting felony or failed his last drug test or sunk his last PPV event, you're fooling yourself.
Granted, it's a bit scary having to take your star player off the team and throw him out into free agency. I'm sure those guys on Spike TV or whatever that network is called nowadays would pay a LOT of moolah to have Jon Jones on their roster, and they'd probably find a way to book all his fights in countries without sanctioning athletics committees just so he wouldn't have to worry about all those pesky wee wee examinations. And for sure, there's got to be some money mark out in Japan or Russia that would gleefully shell out bonkers bananas for Jones to beat up tomato cans in front of literally dozens of fans.
But you see, the joke's on Jones. What he doesn't know is that the UFC will function just fine without him, while without the UFC, he's destined for nothingness.
Jon Jones was propped up by UFC marketing. Your company made him an international sports star. And you can do it with any talented up-and-coming fighter, and last I checked, you've got plenty of 'em on your roster.
Simply put, there isn't an MMA market beyond the UFC. You know you are the NFL of the sport; technically, you have competition, but there isn't a single player in the Arena League who wouldn't give his left ventricle to play half a dozen downs in a regular season game against the Browns.
No one NFL player is bigger than the game. The sport itself is the true draw – after all, you've got veteran players leaving every season and a steady stream of hot prospects ready to replace them every year. The UFC, whether you realize it or not, works the same way. Some guys are good for a while, they get old and/or they start doing really dumb things, and even better and more mature guys eventually come in and take their spots.
As long as the quality of the product is consistent, you've got nothing to worry about, amigo. And truthfully, not having Jon Jones around isn't going to negate the general awesomeness of the rest of the roster whatsoever.
You see, Dana, you've got to remember something. YOU are the company, YOU are the brand and YOU are mixed martial arts. You've got to accept that responsibility, and that means getting rid of all the head cases on the payroll before they start doing all sorts of stupid stuff to taint the sport's image forever. You had War Machine on the roster at one point, and you had Jayson Miller under contract, too. At heart, Jon Jones is hardly any different than either of those knuckleheads, except he thinks he's so talented that he can get away with all his tomfoolery.
He's not bigger than the sport and its reputation, and he's certainly not bigger than you, DW.
The longer you keep him under your roof, the more havoc he's going to wreak. And it's only a matter of time until he does something really, really destructive, like drive a car through your dining room like Stephanie Tanner did in that one episode of Full House.
It's your call, compadre. And deep down, you and I both already know what the right course of action is.