As soon as guests made their way out of the Sheraton Atlanta Hotel's labyrinthine parking deck on Feb. 3, they weren't greeted by the expected strings of elevator muzak. Rather, they were bombarded by the dulcimer tones of Metallica before running headlong into a mob of people (the males generally donning studded denim jackets with Cannibal Holocaust patches, the females usually clad in tattered jeans, fishnets and every hue of black lipstick imaginable) double-fisting 24 packs of Pabst Blue Ribbon in the lobby.
No, these were not the visitors attending the Southern Region National Black Law Students Association meeting. These were the merry, jolly sorts participating in this year's Days of the Dead horror convention.
And these are unmistakably the most hardcore of the hardcore horror fanatics. Not content with merely cosplaying as their favorite celluloid psychopaths, those waiting in line at the ticket booth compared and contrasted Freddy Krueger tattoos while discussing the most minute intricacies of ultra-obscure genre films such as The Leopard Man.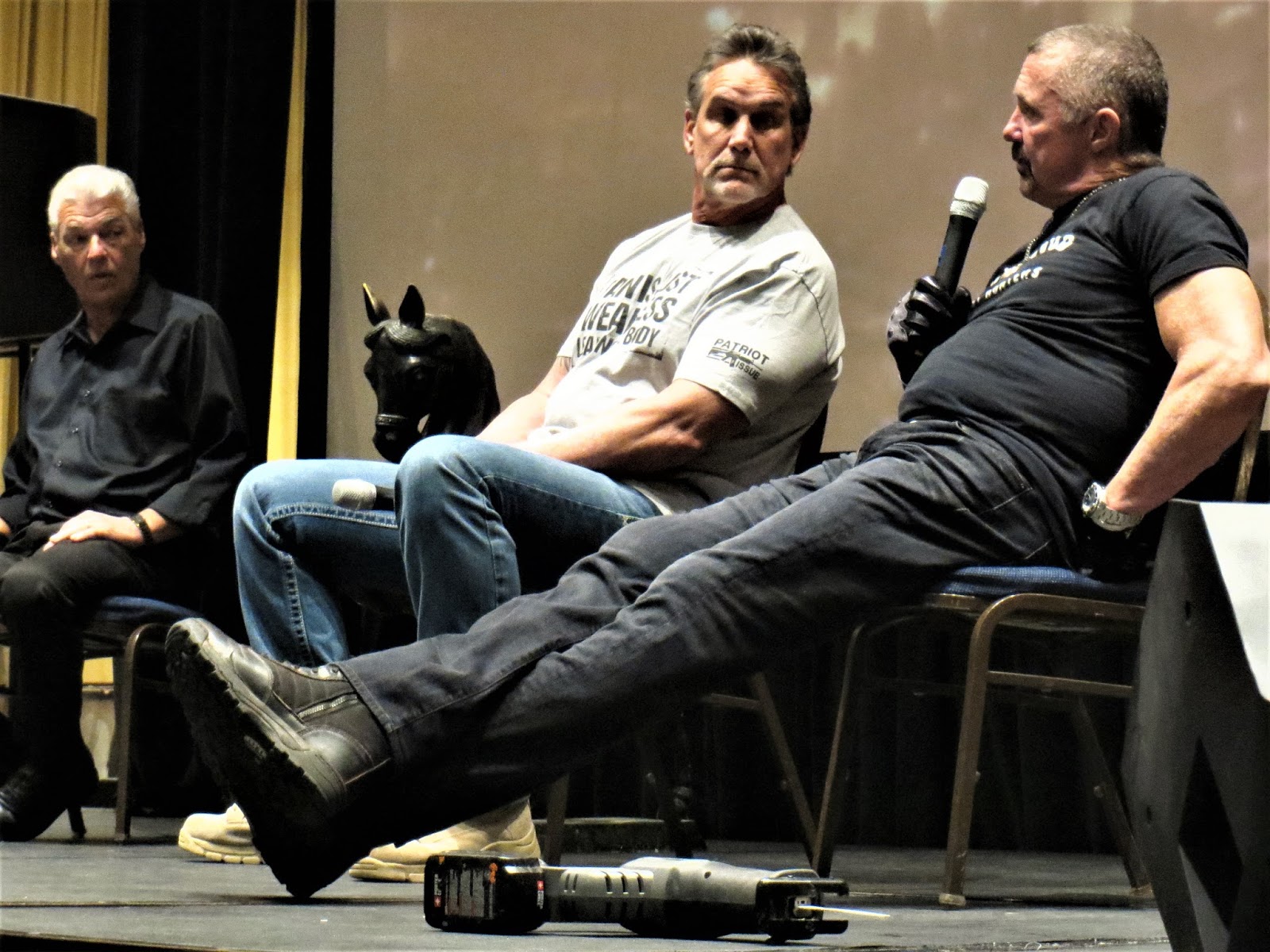 The scent of patchouli and raspberry-tinged deodorizer spray wafted over the show floor, where merchants hawked all sorts of kooky knickknacks – running the gamut from blood spattered hockey masks and lawsuit baiting "mash-up" t-shirts depicting random pop cultural icons gussied up as moviedom's most memorable murderers to stunningly realistic replicas of mutilated cats and infant onesies depicting the mugshots of real serial killers like Richard Ramirez and John Wayne Gacy.
While the old comic books, action figures and VHS cassettes for sale garnered their fare share of attention, the real draw of the event was its smattering of genre movie staples offering a photo op or their John Hancock for cold hard cash. While names like Bill Johnson, Sid Haig and Doug Bradley may not resonate with the hoi polli, the Days of the Dead attendees flocked to them like teenage girls making a mad scramble at Justin Bieber. Surreal doesn't begin to describe the scene of green-haired men wearing shirts reading "fuck the world and fuck you, too" and elementary school-aged children in panda costumes rapt with attention as the co-writer of Night of the Living Dead showed off a framed paycheck from 1968 – all while self-described "dominatrix wrestlers" in chain mail bikinis feverishly gyrated one table over.
While there were plenty of attractions to keep attendees occupied – full movie screenings and punk rock concerts and costume contests and special effects demonstrations, among others – perhaps the most popular events of all were the numerous panel discussions in which horror all-stars gathered to reminisce on the good old days of cinematic guts and gore.
And that evening, Days of the Dead attendees weren't getting just one beloved screen psychopath performing a grindhouse version of Inside the Actor's Studio – they were getting three of them.
The Unholy Trinity of Jason Actors
Almost universally reviled by critics but nonetheless a perennial box office powerhouse (earning more than $460 billion worldwide across a spate of a dozen motion pictures), the long-running Friday the 13th series more or less represents the James Bond cash cow of Hollywood slasher series. The same way numerous actors over the years have portrayed Agent 007, about a dozen men – including credited actors and uncredited stunt doubles – have donned the iconic hockey mask (and sometimes, burlap sack) of franchise anchor and serial oversexed teenager slayer Jason Voorhees.
Three of the most memorable actors to ever put on the Jason regalia – part two's Steve Dash, part six's C.J. Graham and the only man to portray the character more than once, Kane Hodder – took the stage for a reunion and free-floating chit-chat on opening night at Days of the Dead 2017, each sharing personal recollections of their respective experiences beneath the ghoulish goalie mask.
That is, except for 73-year-old Dash (birth name, Steve Daskewisz), a former New York cop turned movie stuntman, whose tenure as Mr. Voorhees preceded the unveiling of the horrific hockey equipment in Friday the 13th Part 3.
"I got called one day for a job – there was this guy they hired to play Jason on Friday the 13th Part 2 and his name was Warrington Gillette," Dash recounted. "He was going to go through a window … he said he was a stunt man, but when it turned out he had to go through the window, he was scared shit."
The stunt coordinator asked Dash if he was up for portraying Jason instead. He drove all the way to Connecticut for what he believed was his big acting breakthrough.
"I said 'holy shit, I got a lead role in the film,'" he reminisced.
Alas, the title role in the film that was initially dubbed Jason wasn't exactly what Dash had anticipated. He recounted the words of stunt coordinator Cliff Cudney. "'The whole deal is you wear this bag and you kill all these kids that are having sex and then, at the end of the film, then they kill you … and you have no lines.'"
Still, Dash soldiered through the shoot, in which cast and crew had to rough it through freezing filming conditions and sleep in unheated cabins. Such a miserable experience, Dash turned down an offer from Paramount to reprise the role in Friday the 13th Part 3.
If I would've known then what I know now, I would've taken the job because I would've made a lot of money like Robert Englund," he said, referencing the man who made a mint portraying Freddy Krueger in eight A Nightmare on Elm Street films.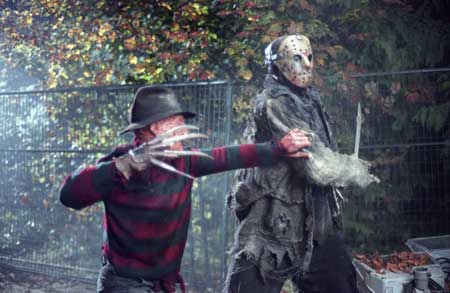 Fellow stuntman – and one time Culver City, Calif. Chippendales dancer – C.J. Graham was likewise brought in as a replacement Jason for Friday the 13th Part 6, which, incidentally, was filmed in nearby Covington, Ga, in the mid 1980s.
"The first dailies come back and unfortunately, he didn't resonate with quite the physique they were looking for," Graham said. "It is kind of a Cinderella story, you know, but I knew what I was getting into when they pulled me back to [Paramount producer] Frank Mancuso's office."
Kane Hodder, 62, is the only actor to portray Jason in more than one film. In fact, he played the character in four consecutive movies, beginning with 1988's Friday the 13th Part 7. Hodder made quite the impression on the director of that film, John Carl Buechler, while working as a stunt coordinator on an earlier horror flick titled Prison. When asked to put live nightcrawlers on his body while portraying a zombie, Hodder one-upped directer Renny Harlin by stuffing a dozen real worms into his mouth.
Buechler was instrumental in getting Hodder the Jason role. He even paid out of his own pocket to bring Hodder in for a screen test.
"Because there were a lot of stunts to do in this particular movie, I think that's what helped put me over the edge," Hodder said. "I loved playing the character, and would've done it for free."
[To finish this story, head over to James's awesome site, Uncommon Journalism. Trust me, it's well worth a read. – Your Favorite Editor.]