"I ain't doing no X-Men spinoff Hannibal!" being said in the style of Mr T Is how I'd like to imagine Chris Claremont's responding to Jim Shooter's demand for to launch a new X-Men comic back in the early 80's. This obviously couldn't have happened as Claremont is too classy a guy for this nonsense, the A-Team didn't appear until another few year and in any case Claremont was probably pissed at the idea.
You see Claremont and editor Louise Simonson were not keen on expanding the X-Universe, probably paranoid that one day there would be countless shoddily conceived comics with an "X" lazily tagged onto some dramatic word with equally lazy thrown together rosters.
Shooter though was insistent with the attitude "If you don't do it, I'll have someone else do it!" (which is a line from a film you probably haven't seen called Arthur and I'm unfortunately sure Shooter didn't deliver it in the style of Dudley Moore), so Claremont came up with his own concept he could work with and thus heading off the suggested original team reunion idea that was being suggested with (Havok and Polaris thrown into the mix).
Another lingering idea Shooter had been plaguing Claremont with was to take his Uncanny X-Men series back to it's roots of being a school for mutants title. It's a rather bizarre suggestion when you consider that the original school premise had not been a viable success and was cancelled after 66 issues (and only surviving as a reprint title for another 30 issues) while the new all different team had become one of Marvel's bestselling titles. In any case the school concept could not have worked with the current team of adults, something pointed out in Uncanny 129 where Wolverine walks out of a danger room session tired of Xavier's patronising training. When Xavier laughably states that "Wolverine's outburst will cost him ten demerits" Cyclops tries to point out that this team isn't made up of school children.
Uncanny X-Men would stay as it was and instead it was the spinoff that would revive the Xavier's School for Gifted children as Claremont and artist Bob Mcleod set about brainstorming a new group of mutant adolescents set to be called the New Mutants. The team was set to debut in their new comic at the end of 1982 however plans changed to instead feature them first in the fourth instalment of their experimental graphic novel line. Here we see Xavier believing his X-Men to be dead (they were in fact off in space battling the Brood) recruiting a new class of students.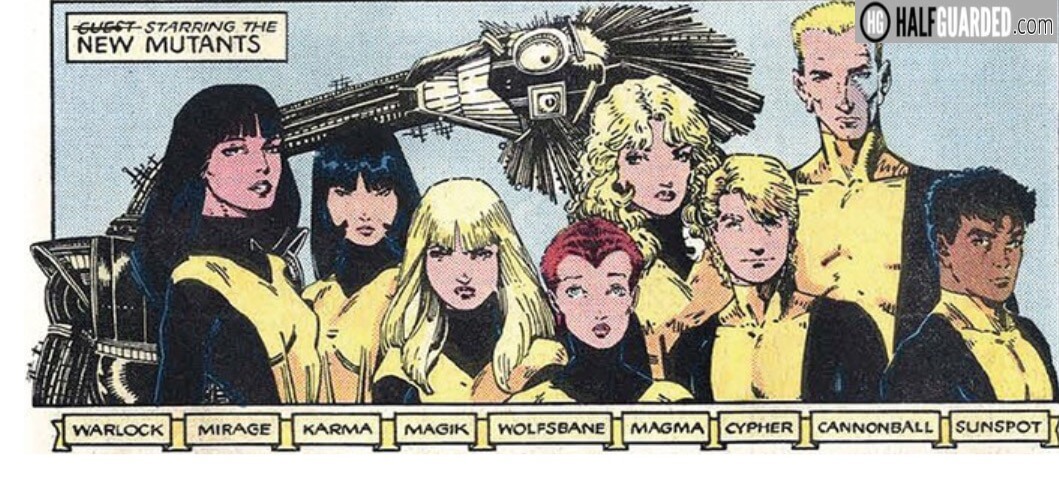 In common with most comics at the time the new cast each had clearly defined power sets. Mirage could project a person's biggest fears and desires, Cannonball was virtually invulnerable when in flying mode, Karma could possess people, Wolfsbane could morph into a wolf, Sunspot absorbed sunlight to gain super strength. What's curious is in contrast to the outlandish appearance of All New, All Different X-Men which had become such a hit, so much restraint had been shown in creating the look of the early members of the New Mutants. The team for most of the time passed off as normal human kids, totally unassuming. Even the most visual members being fairly understated with Sunspot resembling a silhouette when powered up and Wolfsbane morphing into a tyical looking wolf (Magma would soon join adopting a Volcanic version of the Human Torch form).
Even with their blue and yellow uniforms the Mutants looked like an extremely down to earth team to headline a Marvel Comic. This was also evident in the way they acted towards each other, their codenames were rarely used in dialogue and readers would tend to know them more by their real real names. However the characters were more remarkable in many other ways. The issues of prejudice and intolerance had become a driving theme in the X-Men and seemed to heavily influence the casting of New Mutants with each member coming from a background that even without their mutant genes would have cast them as outsiders and victimised in one way or another.
Mirage is a steadfastly proud native American who baulks at the idea of training under a "white" and makes a stand to Xavier by wearing a Cheyenne belt instead of the X-belt (rather disturbingly Xavier states he would have once mentally forced her change her mind). Sunspot is mixed race which appears to conflict with his aristocratic background. Karma is Vietnamese and has fled to America as a refugee. Wolfsbane comes from a deeply religious background and is regarded as a devil in her community because of her mutation and naturally because she's Scottish we first meet her fleeing through remote countryside from a mob brandishing rifles and burning torches. A vicious sterotype, which in all my many visits to Scotland has only happened that one time (I've found indications that Wolfsbane was originally meant to be a Muslim but instead came from a background of "Scottish Fundamentalism" which for the life of me I have no idea what that is). Even Cannonball as a white male is given an impoverished background, saddled with only a lifetime of backbreaking work down a mine in his future.
Being the early 80's comics were not yet ready for a gay character which would have fitted in perfectly with this concept (although many years later Karma would come out as gay).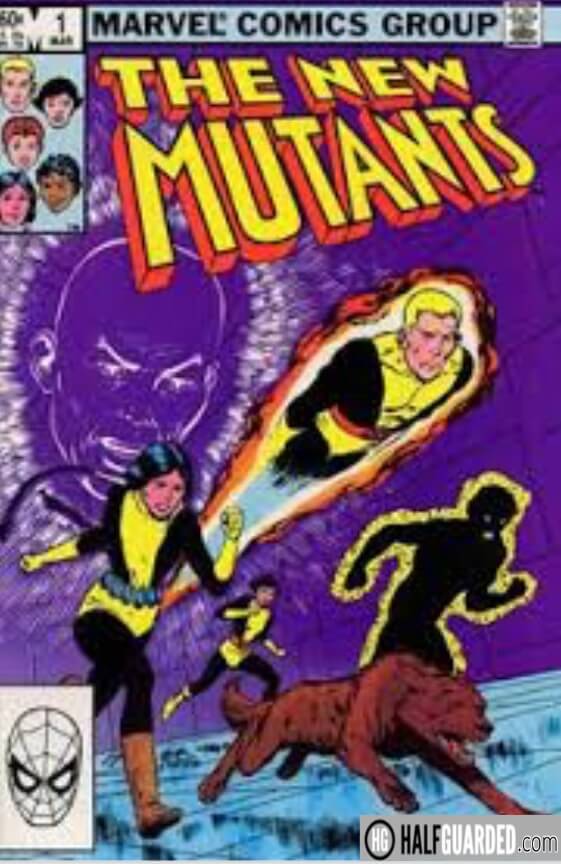 Despite the reservations of Claremont and Simonson, New Mutants worked as a great accompaniment to the Uncanny X-Men. The school concept differentiated the Mutants from the adult team, especially seeing as Xavier always strived to keep them focused on training and school work and out of adventuring (a stark contrast to how he would send the original team off onto life threatening missions on a monthly basis). The two teams close proximity meant that guest starring in each other's books was a natural, regular occurrence, although in true superhero tradition the first meeting of the groups led to them knocking the shit out of each other.
While the New Mutants faced threats from the start such as the Hellfire club, Sentinels, Brood, Viper and Silver Samurai and Selene during a storyline in a lost city of the Roman Empire (yeah really), the focus of the comic was very much on the adolescence of the cast. Claremont's work has always had a soap opera quality to it which divides comic readers (I personally love it) and it lent itself wonderfully to watching the growing of the New Mutants.
The Mutants would run the gauntlet of teenage emotions with jealousy, insecurity, anger issues, and arguments between team mates that could result in super powered blows. There was a defiance shown towards Xavier's mentorship, especially from Moonstar and Sunspot (who himself had an arrogant side and could be a bully, something that concerned Xavier fearing he could descend down a path on the other side of the mutant tracks). Certainly there was more of a rebellious side to the New Mutants than Xavier's first set of pupils which led to a few stories where the Mutants would have to contend with losing control of their powers or getting into scrapes because of their own immaturity or inexperience.
Being teenagers there was something odd about them battling adults, especially those which were already seasoned villainous veterans. So it's not surprising that one of the most effective opponents in the early days was that of the White Queen's Hellions. The inclusion of the Hellions was a great move, a class of students based at the Hellfire Club which made them natural rivals, especially as some of their powers mirrored those of the mutants, Jetstream for cannonball, Catseye for Wolfsbane, Moonstar for Empath.
The issues featuring the many clashes between the two were always ones I was sure to collect as I loved their feud. The Hellions weren't necessarily evil (with the possible exception of emotion meddling Empath), their status of Hellfire club members gave them an arrogance and sense of entitlement that grated but they were more rivals than all out enemies, with their battles often over pride and bragging rights. There were even friendships between the two sides, with Catseye and Wolfsbane and a possible romance teased with the leaders Moonstar and Warpath.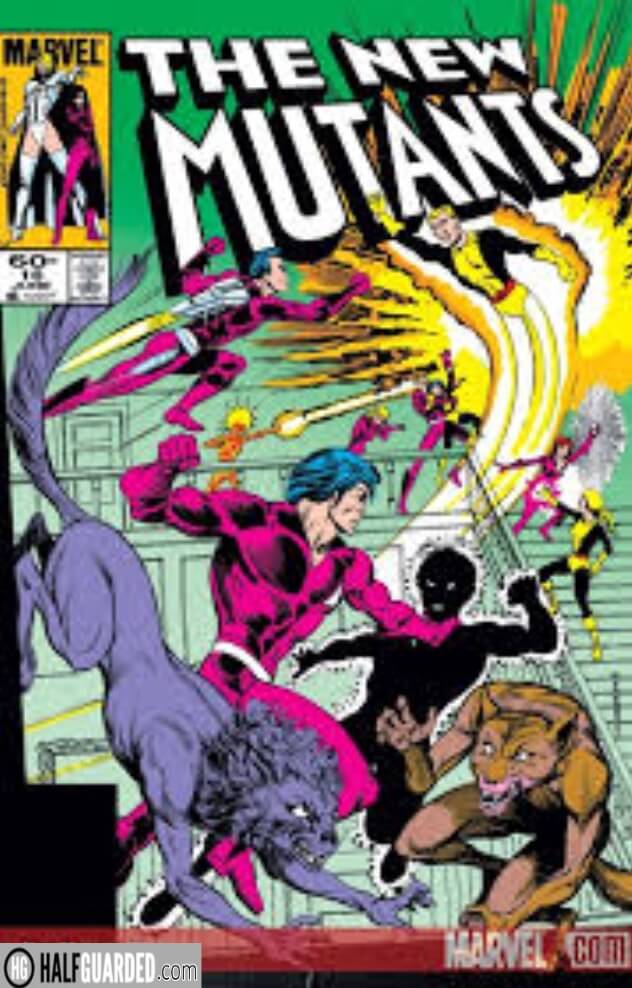 I first discovered New Mutants 1986 when I was having a great time experimenting with titles in my voyage of discovery through the Marvel Universe (you've no idea how much fun that was back then). It was issue 34 that I first sampled the New Mutants (by now the team had gained the wonderfully devilishly Illyana Rasputin and the much maligned Doug Ramsey) and upon opening the first page I was taken aback with what I saw. Having become accustomed to a traditional Marvel style I wasn't quite ready for the sketchy, abstract art here (Stephen Leialoha who was filling in for a few issues doing work a million times better than his Secret Wars II work) but just like when I took in Walt Simonson's wonderful art in Thor 362 (the death of the Executioner is one of my favourite single pages in comic history) I was engaged and it helped to make the comic a different tone from the other Marvel fare.
This style appeared to be a staple of New Mutants at the time as differing artists over the next year would adopt a similar approach, including an atmospherically grim Secret Wars II tie in where Mary Wilshire portrays a truly menacing Beyonder massacring the team. However if I'd discovered the New Mutants a year earlier I would have been even more blown away by the art of Bill Sienkiewicz.
New Mutants: Enter Bill Sienkiewicz
Sienkiewicz came on board with issue 18 and immediately with his portrayal of Moonstar's battles with the Demon Bear which has stalked her family he stakes his claim to producing one of the most visually exciting Marvel comics of that era. His work was subtly surreal, his layouts having a compelling collage like quality and every page is as wild and interesting as Psychdellic rock album cover. But for all his crazy creativity it's never at the expense of the emotions and humanity in the characters (something that a certain artist would have done well to take note of many years later).
Sienkiewicz was perfect for the direction that New Mutants had taken with the exploration of the demon side of Illyana. However he was able to really let himself go with the introduction of the alien shapeshifter Warlock in his first issue. A chaotic character, Sienkiewicz drew Warlock with a frenzy of constant change, barely drawing him the same way twice.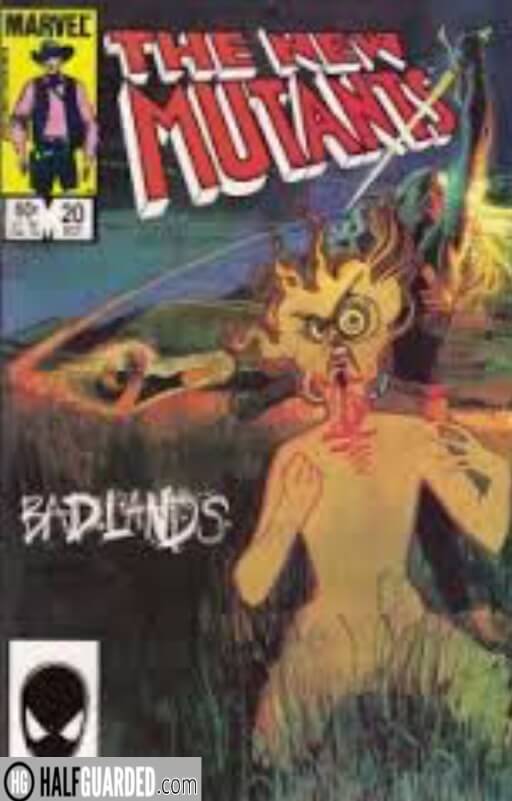 Complementing Sinkiewicz's strips are his covers during his tenure which are some of the most bizarre and eyecatching I've seen in the history of Marvel, not just comic covers but everyone a work of art, very weird art. While we're on the subject of covers (Sienkiewicz also did the awesome cover to Transfomers issue one, that depicts Optimus Prime with the big anteni).
For a Claremont title the lineup stayed pretty rigid in it's first few years, however it's links to the ever evolving Uncanny X-Men meant it would have to change eventually. In issue 35 Professor Xavier had buggered off into space and responsibility for the school fell to Magneto who was having his first stint as an ally of the X-Men. This was part of Claremont's overall build towards X-Men 300 (at the time roughly eight years away) where Xavier was to die heroically and Magneto would once and for all take his role as leader of the X-Men. Of course shit and Bob Harras and Jim Lee would happen which put an end to that and the many other awesome plans Claremont had for X-Men.
Magneto's presence benefited New Mutants immensely as he would contribute more heavily in stories than Xavier had. Conversely Magneto seemed to show a more emotional rapport with his students than the aloof Xavier.
Claremont would leave the book with issue 55, initially meant to be a temporary move so he could concentrate on launching Wolverine and Excalibur however stand in Louise Simonson would instead remain on the title until almost the end of it's run.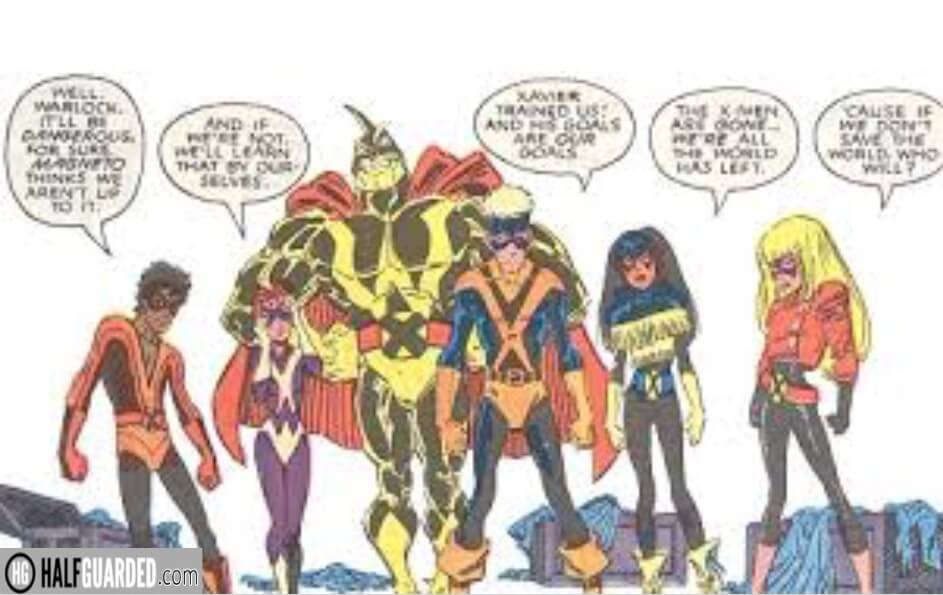 The changes were pretty much immediate not only in story style but in artwork. New Mutants had been going through a variety of artists, much more traditional than the days of Sinkiewicz and settling at the start of Simonson's run on Bret Blevins. Blevins had a more cartoony style than I was used to with Marvel at the time which depicted the New Mutants almost like Disney characters. As a result the Mutants seemed to look and act a lot younger than they had previously been potrayed and the stories at first seemed to take a more comedy based feel, especially with the inclusion of Bird Brain as a brief member who was either a fun character or the annoying Jar Jar Binks of the X-universe depending on your point of view.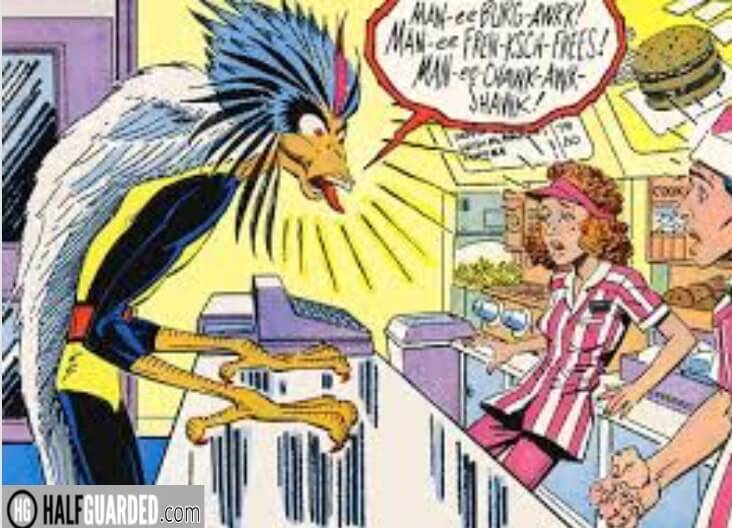 Ironically the Bird Brain storyline would take the New Mutants into their section of the Fall of the Mutants saga and probably the darkest few issues of the comic's history. The three issue contribution to the Mutant event of 86 was a fairly routine storyline where the Mutants return Bird Brain to his home, an island populated by animals that have been mutated by the experiments of a Doctor Moreau style mad scientist The Animator. The inclusion of Cameron Hodge and his anti mutant army the right seems forced to try and keep in with the theme of Fall of the Mutants.
Then came the shocking moment where during the story's final battle Doug Ramsey (Cypher) sees Wolfsbane about to be shot by the animator and shield's her with his own body. He's killed in the most tragic manner as his heroic sacrifice goes unnoticed and he passes away alone, it's not until after the battle the Mutants notice his dead body.
It's a heartbreaking moment seeing the Mutants distraught and crying for their fallen friend. Wolsbane is particularly moving of her howling with grief while holding his body and Illyana giving into a burning rage wanting to take retribution by shooting the animator in the head. As deaths in comics goes it's massively effective, since Doug having a minor power (his ability was being able to interpret and speak languages of any kind, which is great except for everyone in the Marvel Universe seems able to speak American) makes it totally plausible that his death is final (it wasn't!). Also his death serves a purpose in being a major development in the lives of the Mutants as it's the first time the team have to come to terms with the death of one of their own and a wake up to the danger that they face and have survived through luck for so long.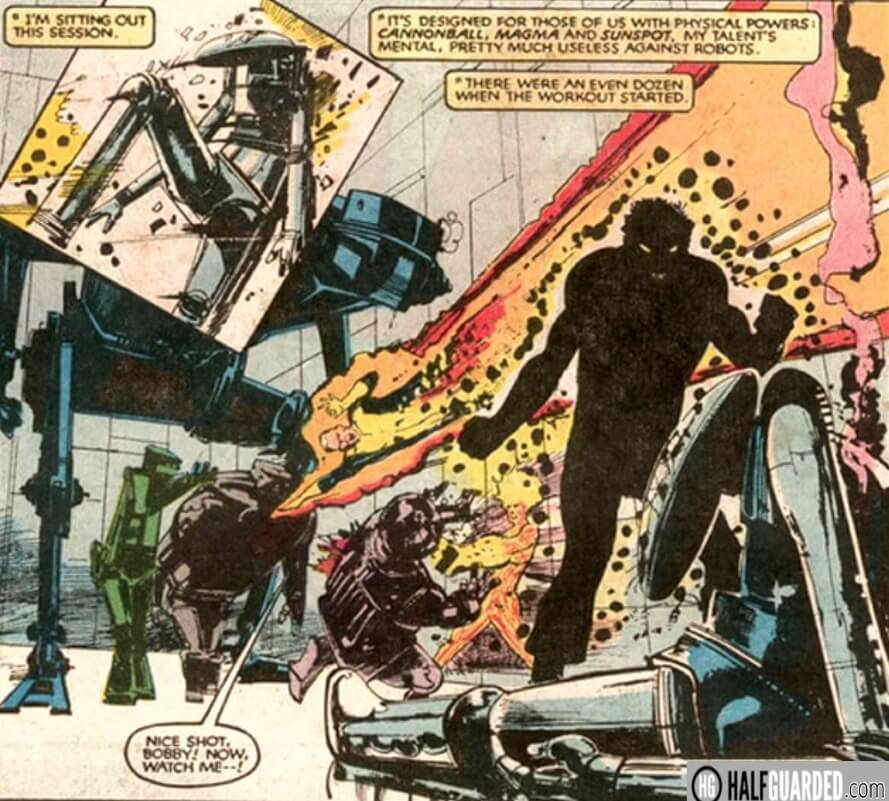 It's ironic that Doug's death was such a pivotal moment in the comic as he was the least popular character in the comic. Fans hated his weak power and according to Louise Simonson creative teams found him a boring character to write and draw. Personally I liked Doug, as been blonde, skinny and totally useless during a fight, this was a character I could really relate to….not that I couldn't kick YOUR arse, maybe.
In any case Doug probably contributed more to the direction of the comic with his death than he ever did while alive. The death also effected Magneto who was traumatised by the loss, going into an absolute rampage and screaming at his pupils how this shows what protecting humans does for mutants. His line "I am going to do the most difficult thing I have ever done, I will call Doug's parents and try to find a way to tell them that I allowed their son to die," was absolutely stunning at the time.
The death drives a wedge between the Mutants and Magneto who starts to wavier from the path of Xavier that he'd tried to follow. A conflicted Magneto is a fine development, unfortunately however Simonson takes this further and has him revealing how the whole redemption that Claremont had been building was in fact a ruse and he was hoping to use his position at Xavier's to guide the X-Men away from Xavier's dream of cohabitation with humans and towards his own views on isolating the two species. It's a disappointing development and an unnecessary case of retconning.
Magneto would disappear from the book which under Simonson was looking very different. For a start the Mutants had ditched the Black and Yellow uniforms and adopted crude superhero masks and outfits, attempting to step into the shoes of the X-Men who they believed dead after Fall of The Mutants. Over in her X-factor comic Simonson had built up her own small group of young mutants as a supporting cast and dubbing them the X-Terminators gave them a four issue limited series and had them encounter the New Mutants as part of the Inferno crossover. And in a first in the history of comics the two groups of superheroes when first meeting did not automatically start beating the shit out of each other! Instead while the X-Men and X-Factor were kicking the crap out of each other these young kids were working together to beat the bad guys which makes them the most mature superteams in the history of comics.
Incredibly the two teams actually got on really well and after Inferno had finished (sadly the awesome Illyana had reverted to her younger pre demon toddler self) a merger of sorts occurred with Rusty, Skids, Boom Boom and Rictor joining the regular New Mutants. Though we didn't know it at the time, the seeds for comic history were been planted here.
Rob Liefield arrives to the New Mutants party…
The New Mutants had become a more wandering team of adventurers, drifting off from the school concept and in many ways perhaps it was time for this. Just like we'd seen with the original X-Men we'd seen the New Mutants grow, mature, fight through the pressures of their teen years and characters can't stay children for ever (unless you're the Richards brats). It was time to watch them break out on their own and when they did it was clear that the 90's was going to ensure the team would take a massively different direction to the optimism of the original X-Men.
With Magneto gone a new mentor was required but the idea came that what the team needed was no longer a headmaster but a leader in the field as the book began to take a more militaristic tone, a violent response to the dangerous times the Mutants were now living in. When developing this new character the working title was Commander-X but when he made his debut in New Mutants 87 it was to be as Cable.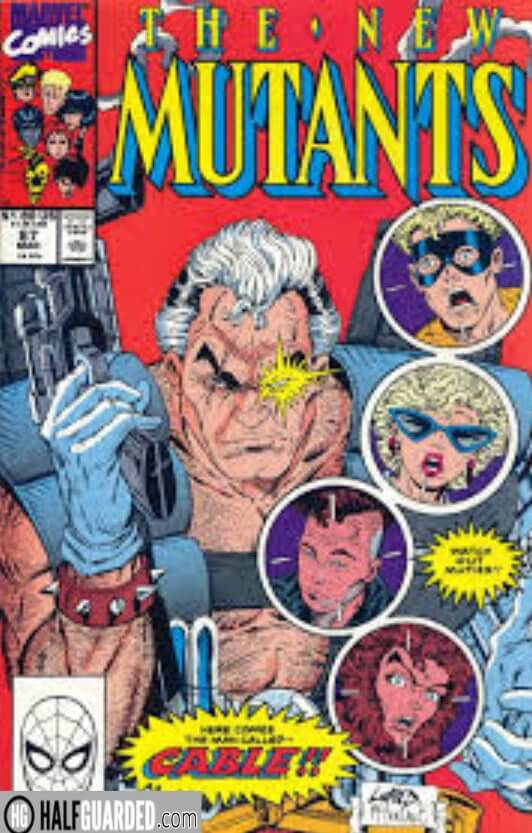 Who should have credit for the creation of Cable is open to debate. Rob Liefield (who was now on board as regular artist) certainly came up with the specfic design and look of Cable, however Walt Simonson disputes the claim that Liefield made him specifically for the role. Simonson claimed in a post on facebook that his wife Louise and editor Bob Harras came up with the concept of a kick ass field leader to treat the Mutants as a squad of soldiers. He goes on that they picked Cable out from the many character designs that Liefield was churning out and that the design that would become Cable Liefeld had earmarked as a villain.
In any case Cable was a massive hit with fans and sales for the comic (which had declined) grew accordingly. His image was indicative of a change in style that was going to hit comics like a rollercoaster in the next few years, as the industry went into the biggest makeover since someone went into a WWF locker room and said "hey want big muscles? well check these pills out." Comics exploded with massive muscles, big boobs and butts and big fuck off machine guns. The artwork too would have probably failed a urine test as pages went splash page crazy with massive panels showing heroes charging into action in impossible dramatic poses blasting and slashing their way with a renewed violent vigour. Within the space of a few issues Liefeld bombarded the comic with a new breed of flashy but violent heavy characters with Shatterstar, Domino, Feral and Deadpool.
Fans apparently loved this new direction.
I bloody hated it.
I've never been able to digest Rob Liefeld's artwork which was an example of a trend where comics were increasingly becoming more cartoon like and unrealistic. I often felt claustrophobic reading his books with the intense closeups and giant characters taking up ever potion of the panel, probably so that he didn't have to draw in backgrounds which resulted in heroes perpetually floating in middair. Under another artist I may have enjoyed the Mutants steadily becoming a more military style combat group, but with Liefeld's pencilling I felt the action lacked any tone or drama, even Sabretooth lacked any sense of menace.
Liefeld created some great visually exciting characters that made for great covers and poster style art, but as characters they were all one violent aggressive warrior after another. I personally found Cable to be boring as hell, totally humorless and painfully stiff although he did act as a great counter to the regular X-Men's ways of following Xavier's dream.
I wasn't the only one not in love with Liefeld's work as Louise Simonson was finding it difficult to work with him and she has since stated he seemed less interested in story telling and more with adding outrageous characters to make his pages more valuable to collectors later. Editor Bob Harras became caught in the middle of the dispute just like he was having on X-Men between Claremont and Jim Lee and just like over there he supported the hot at the moment artist over the long running writer.
Simonson walked and Liefeld lobbied to bring in Fabian Nicieza, however for the comic the end was nigh, well for the New Mutants title at least. Liefeld felt that with the new direction the comic needed a relaunch under a new banner, pointing out rightfully that the New Mutants were no longer "New" anymore. So it came to be that issue 100 was the last New Mutant comic. Incredibly there was some hesitancy about rebooting a long running successful title to issue 1 status back in the early 1990's, perhaps paranoid about a day when comics would continually reset themselves every couple of years to cash grab those first issues sales. However when the New Mutants became X-Force the first issue of the series was a massive hit selling four million copies and starting the novelty of special issues coming bagged, this one with an exclusive trading card.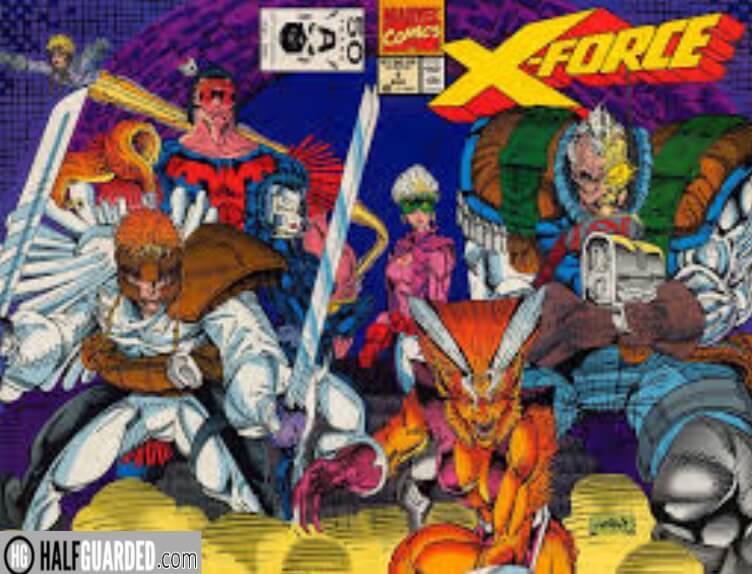 The X-Force team that sprung from the pages of New Mutants was as far away from the team that honed their skills in the Danger Room as you could get. The creatively imaginative and cerebral abilities spread across the team had been replaced by powers that smashed and blew things up in various ways. Although the comic had fallen far short from the one that I loved there was a poetry in the comic ending, the final panel of issue 100 showing that they had graduated and setting out towards a new and grittier destiny. In a decade where grunge music would represent a disillusioned youth distancing itself from the society and values created by it's parents it seemed apt that the Mutants would rebel from their teachers taking a more radical pursuit of Xavier's dream, although by now the team only consisted of two members who had ever been pupil's at Xaviers (Cannonball and Sunspot).
In it's 100 issues and ten years run I watched the Mutants grow in a manner eerily mirroring my own path through my teenage years and into adulthood (ironically the New Mutants ending also came around the first time my love for comics faded to zero). And the evolving nature of the team did not end there. Years later Cannonball would be the first New Mutant alumni to graduate to the regular X-Men team, back in the days when the line-up of teambooks actually meant something (drink a shot everytime I mention something like this in my writings). It was a mild lump in the throat moment for an older reader like me, watching him called up on his first mission the culmination of the characters development and a move that would have done the evolving philosophy of Chris Claremont proud.
Ideally this could have been the legacy of New Mutants and X-Force, grooming the next generation of not only X-Men members but characters spreading off over into the other team books (mutants and non-mutants alike) with some even going off into other directions in the Marvel Universe (I always thought Sunspot would have grown into a great villain).
Sadly aging in the Marvel Universe has always been an awkward concept to make work and the New Mutants members forever hovered around the 20 year old mark and made little impression on any comics (with the exception of Magik), and were often lucky to feature as supporting cast members when the X-Men titles became less team books and more a Mutant community series.
A worse fate perhaps was the attempt to cash in on the nostalgia value of the New Mutants (and give those old fans now working in the industry a chance to play with the toys they so loved in their youth) by having a reformation of the original lineup in their own regular series once again under the title "New Mutants". A reunion in itself was a fine idea, however resetting the team into the old black and yellow school oufits and reverting their looks and personalities back to their early 80's selfs seemed forced and pandering. They even brought back Doug Ramsey to complete the lineup.
But rather than dwell on the ways that the business and politic side of the comics industry effected the splendid New Mutants from time to time, I prefer to look back on those wonderful days at Xaviers when they were the best of all the incarnations of life as a pupil at the school for gifted children.
Til Next time
Dazza