It being Black History Month, we here at HalfGuarded.com feel it is our duty – no, privilege – to shine a spotlight on the many, many exceptional deeds of African-American athletes. Except this time around, there aren't that many African-Americans to discuss, since we're counting down the 10 greatest melanated pro hockey players ever.
Sure, the world of pro hockey isn't as diverse as the other big four (North) American sports – indeed, there's only been about 84 black skaters in the League's 100-year history – but that doesn't mean the sport is devoid of stellar athletes of African/Caribbean descent. In fact, looking at the pantheon of pro hockey players there are more than a few black skaters whose on-the-ice exploits are worth extolling … or, at the very least, pithily summarizing.
Still think hockey is the whitest thing this side of bluegrass festivals and cheese sampling parties? Then it's time you got yourself acquainted with some of the (oft-unsung) brothers who brought a little soul to the fastest game on earth…
No. 10
Willie O'Ree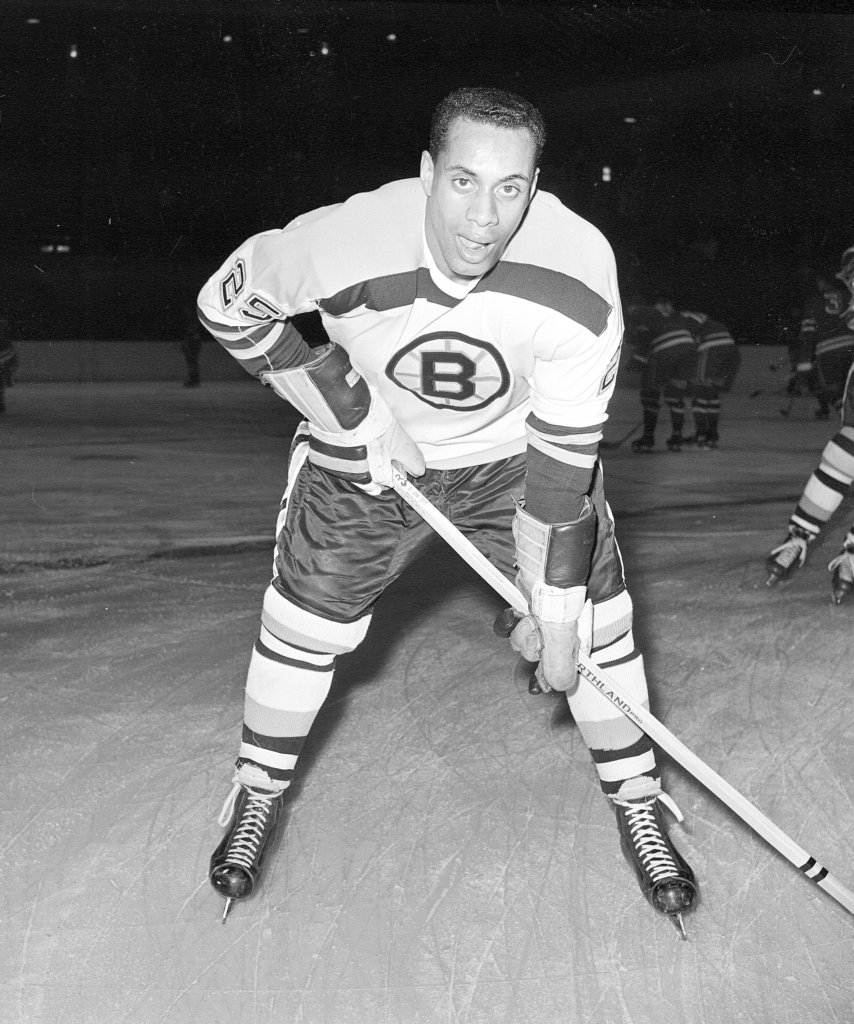 Well, it's pretty hard to make a countdown of the greatest black hockey players of all-time without bringing up the first black hockey player in NHL history (although Art Donnington was signed by the New York Rangers earlier, he never actually set foot on the ice.) The thing is, O'Ree didn't really do all that much during his NHL days; indeed, he only played two games for the Boston Bruins in 1957, and he only recorded 4 goals and 10 assists in his second (and last) NHL season in 1960. Still, he had a very lengthy career as a minor leaguer, predominantly as a player for the Los Angeles Blades and San Diego Gulls in the Western Hockey League; in 13 seasons in the WHL, O'Ree racked up 328 goals, 311 assists and 639 points across 785 games.
No. 9
Bryce Salvador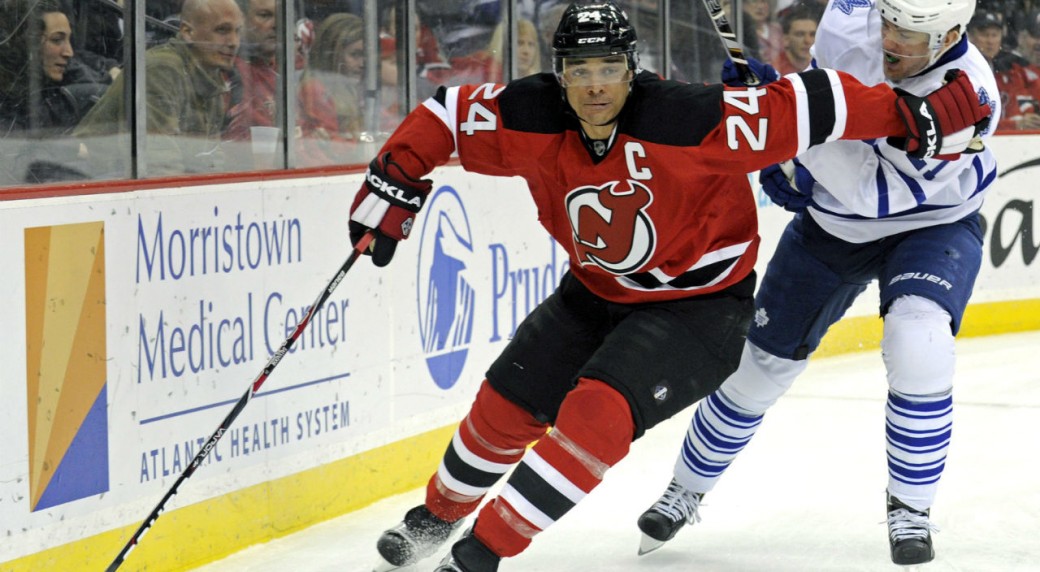 All right, so Salvador's numbers ain't exactly Hall of Fame material (indeed, he managed to accumulate 29 times as many penalty minutes as goals scored.) Nonetheless, the defensemen still logged on an impressive 15-year pro hockey career, spanning the 2000-2001 season as a member of the St. Louis Blues to the 2014-15 season with the New Jersey Devils. The 2011-12 campaign was certainly the highlight of his career, as he played 24 postseason games and racked up four goals and 10 assists in the Devils' (ultimately unsuccessful) Stanley Cup run. He also holds the distinction of being only the third black player in NHL to ever be named a team captain – an honor bestowed upon him by the Devils in the 2012-13 season.
No. 8
Kevin Weekes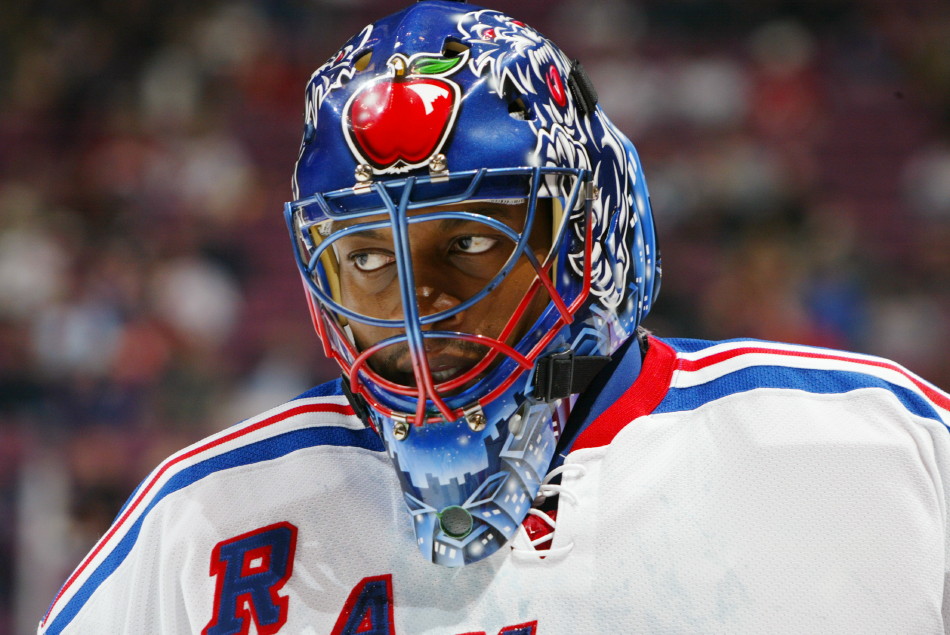 No position in hockey is important as goaltender, and Toronto-born Kevin Weekes is certainly one of the finest black goalies in the history of the National Hockey League. With a career spanning 1999 to 2009, Weekes played for half a dozen teams over his roughly 10-year career, with the highlight most definitely being his inspired play behind the net for the Carolina Hurricanes during their 2001-2002 Stanley Cup run. In all, he played 348 regular season games, chalking up more than 18,000 minutes in the crease (that's more than 12 full days, if you need the comparison point) with an impressive .903 career save percentage – and he fared even better in the playoffs, posting a .927 save average in nine postseason appearances.
No. 7
Donald Brashear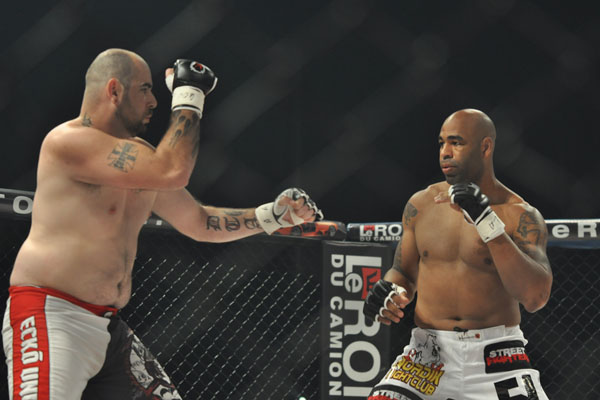 If you're looking for the hardest man to ever play in the NHL, you won't find 'em much tougher than Indiana-born Donald Brashear, who was nearly killed when his father tossed him out of a window … when he was just six-months old. A pro from 1993 to 2009, Brashear is regarded by many as one of the greatest hockey "goons" of all-time, with The Hockey News declaring him the "enforcer of the decade" for the 2000s. While his all-time numbers – 85 goals, 120 assists and 205 points – aren't that impressive – you do have to give Brashear props for two other stats: his combined number of NHL games played (1,025) and total penalty minutes – an astounding 2,634 (which means he's literally spent two full days of his life sitting in a timeout box.) Also: he could have been a badass MMA fighter if he wanted and he's the great-nephew of Carl Brashear – the inspiration for the 2000 Cuba Gooding, Jr. drama Men of Honor.
No. 6
Dustin Byfuglien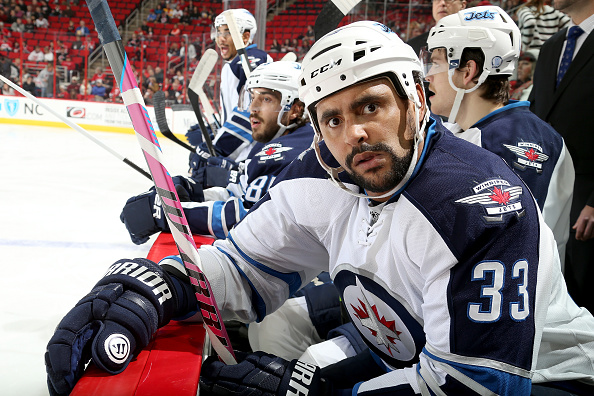 Current Winnipeg Jets defenseman/right winger Dustin Byfuglien has to be the greatest African-American hockey player of all-time, and it's not even close. The Minnesota native joined the Chicago Blackhawks in 2006 and was a huge factor in the team's 2010 Stanley Cup Championship run, having scored 11 goals in the playoffs – including three in the series finals against Philadelphia. After getting traded to the Jets in 2011, Byfuglien has recorded 97 goals and 131 assists and has been named to four All-Star Games. And according to HockeyFights.Com, he hasn't lost a single fight in 10 years of NHL action, which is more than enough to get us to overlook the fact he sometimes boats under the influence and hits totally defenseless players lying face up on the ice with his stick.
No. 5
P.K. Subban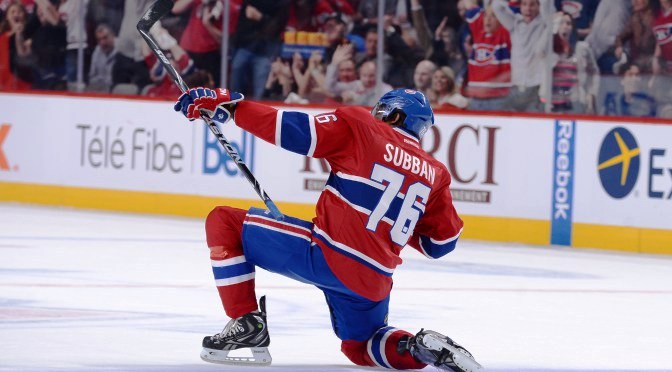 There's never been a greater quotient of top-notch black hockey players than the present, and that's indicative by the 2017 All-Star Game, which saw four black players suited up for competition. While there are plenty of talented black players in the League right now – Kyle Okposo of the Buffalo Sabres, Seth Jones of the Columbus Blue Jackets, Trevor Daley of the Pittsburgh Penguins and especially '17 ASG MVP Wayne Simmonds of the Philadelphia Flyers – the consensus pick for best black player in the League right now has to be P.K. Subban of the Nashville Predators. Just eight years into his pro career, the former Canadien has amassed 71 goals and 232 assists, with an additional 11 goals and 27 assists in 55 playoffs games. Subban also claimed the James Norris Memorial Trophy – the League's top honor for defensemen – in 2013 and earned an Olympic gold medal playing for Team Canada in 2014.
No. 4
Dirk Graham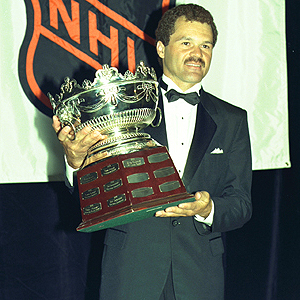 The Saskatoon native's first season in the NHL was in 1983 playing for the Minnesota North Stars. Graham would be traded to the Chicago Blackhawks in 1987, where he played until he retired in 1996. In 1988, the right winger made history by becoming the first black player in the NHL to ever be named a team captain. In total, he played 772 regular season NHL games, posting 219 goals and 270 assists over his 13-year-long career. He fared just as well in the playoffs; across 90 postseason games, he racked up an impressive 17 goals and 27 assists.
No. 3
Tony McKegney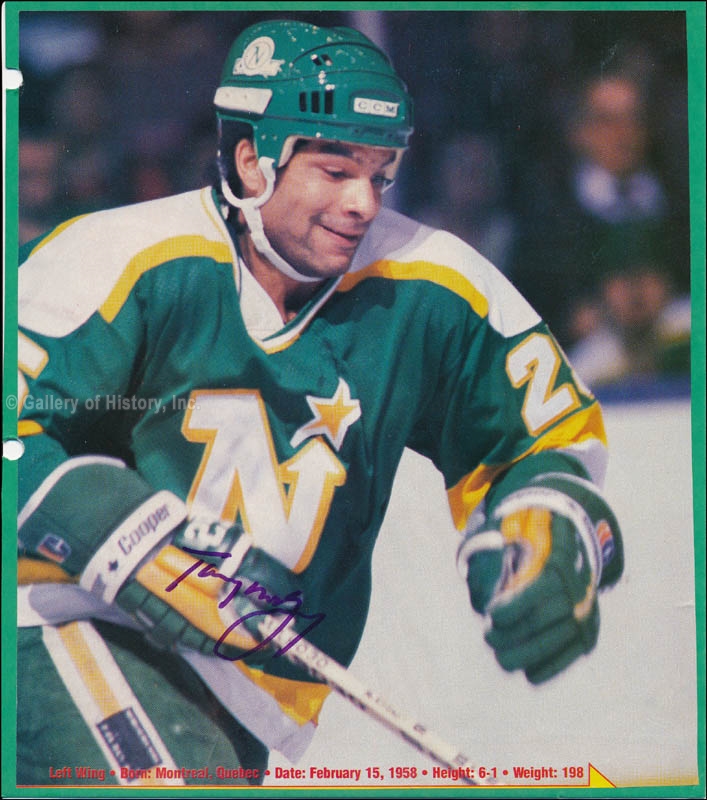 Now here's a guy who deserves way more recognition. While McKegney may not have had Hall of Fame caliber stats, he certainly deserves props for longevity; with a pro tenure spanning 1979 to 1991, he was really the first black player to have a sustained career in the NHL. Playing for seven teams over 12 years, McKegney posted eight 20-plus goal seasons and logged over 900 games. At the end of his NHL career, he had accumulated 320 goals, 319 assists, 639 points and – the ultimate sign of a career well spent – 517 total penalty minutes. And the most amazing thing? His whole NHL career came about because the World Hockey Association's Birmingham Bulls were too racist to allow a black player on the team.
No. 2
Jarome Iginla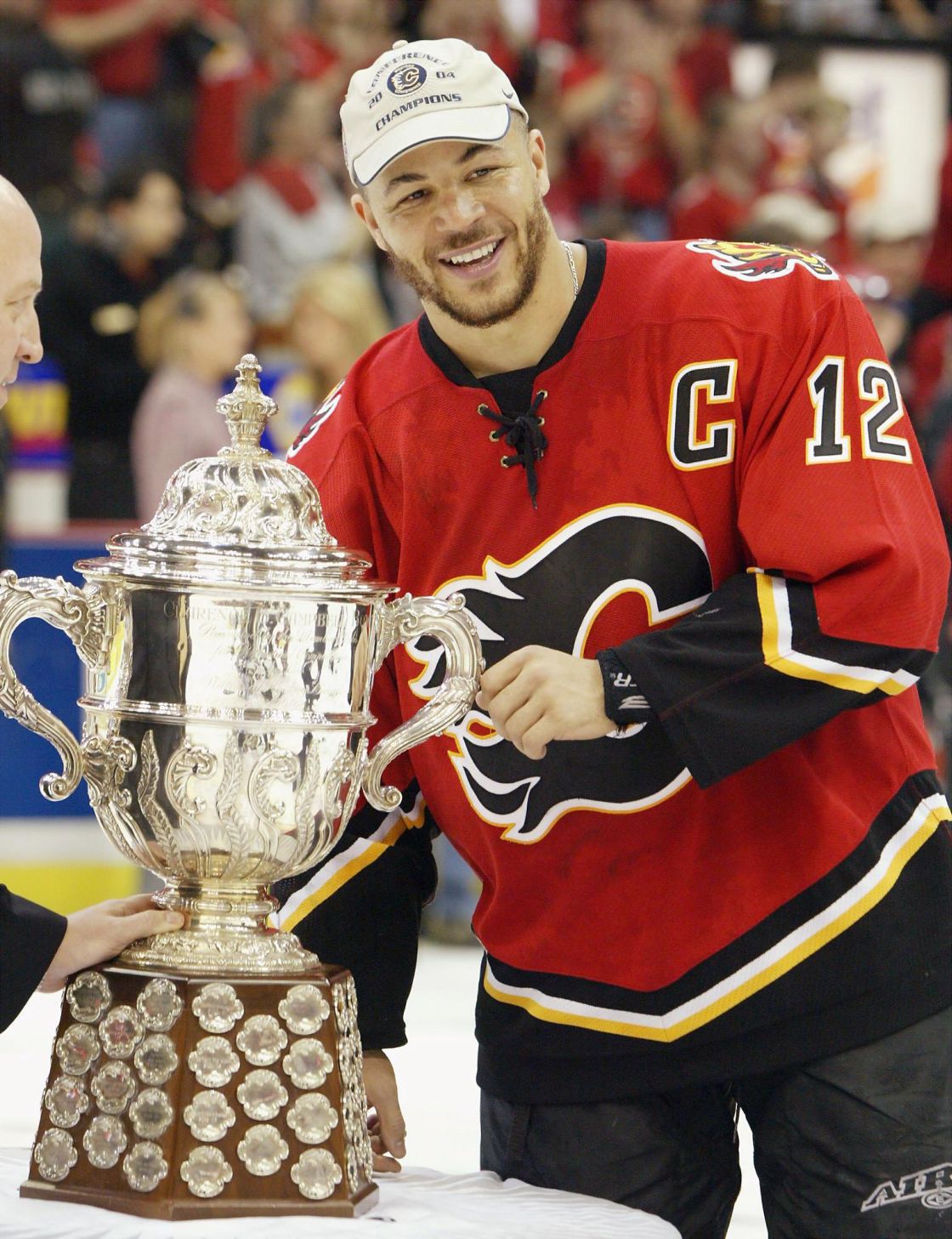 At 39 years old, Iginla (currently skating for the Colorado Avalanche) has been playing in the NHL since 1996. He led the League in scoring in the 2001-2002 season (garnering him the Lester B. Pearson MVP Award in the process) and the 2003-2004 season, when he led the Calgary Flames all the way to the Stanley Cup Finals. He's still the Flames' all-team leader in games played, goals and points and second in assists, and is one of just seven players in NHL history to collect at least 30 goals in 11 consecutive seasons – and if that wasn't enough, the dude also has two gold medals playing for Team Canada in the Olympics. With more than 600 goals and 1,200 career points thus far, it's pretty much a lock Iginla is Hall of Fame bound – if not a first time ballot no-brainer.
No. 1
Grant Fuhr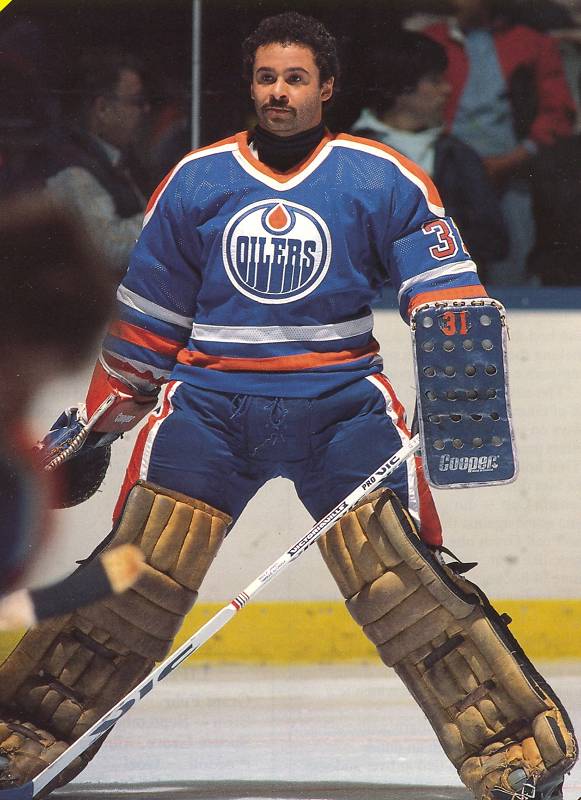 And seeing as how there is precisely one black guy in the Hockey Hall of Fame, really, was there ever any question as to who the number one selection was going to be? The fact the dude won five Stanley Cup championships over a 10-year period is more than enough to propel him to the top of the list, but that's just scratching the surface of Fuhr's incredible pro hockey career. As the go-to-guy behind the pipes for the Edmonton Oilers during the Gretzky years, he collected six All-Star appearances and was given the Vezina Trophy for League's best goaltender in 1987 (and even crazier, he later came out and said he was a hopeless cocaine user throughout the Oilers' dynasty.) He's tenth in all-time NHL wins as a goalie, with 403 victories spanning a 19-year pro career, and among other pro hockey records he holds to this day? He's got the NHL record for longest undefeated streak by a rookie goalie, the most assists in a single season by a goalie, the most games played by a goalie in a single season and the most consecutive appearances in the net in a single season by a goaltender. With a track record like that, there's no denying Fuhr is the greatest African-Canadian to ever hit a pro hockey rink – and it will likely be a long time before he ever surrenders the superlative.