I can never do justice to the life of a man like Muhammad Ali, but neither can I let his passing go without an attempt to pay tribute. If nothing else I want to say thank you to Muhammad Ali for making this world more colourful, for simply bringing a smile to my face and showing the potential of what one person can be. Thankyou for being The Greatest.
I wrestled with an alligator, I tussled with a whale, I handcuffed lightning, thrown thunder in jail, I'm bad man….Last week I murdered a rock, injured a stone, hospitalized a brick. I'm so mean I make medicine sick.
We've lost so many greats in 2016. Sadly this one in many ways for those who have seen Muhammad Ali in recent years is the least surprising.
But for me this is one that hurts the most.
Here we've lost one of the few men in this world I'd consider worthy of being called an idol. A man who displayed excellence in his field, elevated his sport while transcending it and attempted to make a positive mark on the world. In doing so he became a legend.
Impossible is just a big word thrown around by small men who find it easier to live in the world they've been given than to explore the power they have to change it. Impossible is not a fact. It's an opinion. Impossible is not a declaration. It's a dare. Impossible is potential. Impossible is temporary. Impossible is nothing.
For many years the only footage of Muhammad Ali fighting I ever got to see was a clip of him being floored by Britain's Henry Cooper at the end of the fourth round of their first encounter at Wembley Stadium in 1963. It says a lot for the history of British Boxing that one of it's most celebrated moments is in a fight where the British boxer went on to lose as Ali (still called Clay as this was before he won the world title) tore him apart in the very next round stopping the national hero on cuts. (Cooper dined out on the knockdown for the rest of his life always adding to the story how a split glove credited to Ali's corner man Angelo Dundee delayed the start of the next round, giving Ali time to recover).
When I started to take an interest in boxing I sought out what fights I could of the pioneers of the sport, at least those few that were readily available on video tape at the time. The Ali fights I found astounded me, never had I seen a fighter so gracefully skipping round the ring, flicking out his punches and playing with his opponents in a way that made me think I was watching a Harlem Globetrotters type exhibition. When he put together those lightening combinations it was like watching a whirlwind descending on his foes with frightening accuracy. I was in awe and if there was poetry to be found in fighting this was it.
When people pick their definitive Ali moments the tendency is towards the championship wins over Sonny Liston in 1964 and George Foreman in 1974. Naturally these were amongst the most historic moments in all of sport, especially since Ali was not expected to win either fight (you could get odds of 7-1 to beat Liston on the day of the fights). But for a display of the sheer brilliance of Ali I'd recommend the title defence with Cleveland Williams. A textbook display of the showmanship and technical ability that made the world stop when ever he fought and was also the first appearance of the Ali shuffle.
As unearthly as his skills may have seemed they were matched by his heart and bravery. It was these qualities that drove him on in his fights long after his speed and agility had left him. The heavier, less mobile Ali had punishing wars with Joe Frazier and Ken Norton the first fight of which he finished the final two rounds with a broken jaw. However it's the title win over George Foreman at the age of 32 that is the best remembered example of this with one of the most extraordinary displays of sheer guts. Foreman was an absolutely fearsome puncher but Ali deployed the tactics of leaning on the ropes and letting Foreman punch himself. For eight rounds Ali fought Foreman at close quarters, taking heavy punishment from the champion's wild, swinging blows until the younger man was exhausted and Ali was able to knock him out with a flurry of punches.
If you want to lose your money, be a fool and bet on Sonny.
Driving all of this was Ali's mouth. Supposedly influenced by watching the wrestler Gorgeous George (although Ali's style more resembles Fred Blassie who Ali would have more likely  seen on Louisville television), Ali would build fights by firing trash talk at his opponents. Sometimes it could be cruel like his labelling Frazier as a Gorilla, but Ali always pulled it off with humour and charisma. The most amazing work was before and after the first Liston fight, especially in his post fight interview where with mock indignation he claims that Liston quit before the seventh round in order to scupper his rhyming prediction that he was going to win in the eight.
Ali's hysterical proclamation that he had "Shook up the world" is one of the most iconic moments in the history of sport but it's unlikely even he could truly envisage the impact he would later have on the world at large.
Why should they ask me to put on a uniform and go 10,000 miles from home and drop bombs and bullets on brown people while so-called Negro people in Louisville are treated like dogs?
For all his achievements in and around the ring Ali's true greatness as a human being  really shone outside the squared circle. When the American Government attempted to draft Ali during the Vietnam War, it's possible he would never have seen action and instead been used for propaganda purposes. Nevertheless Ali refused out of principle to be involved in a war against a people who had never done him harm for a country that continued to oppress his race as it had done for hundreds of years (at the time many African Americans in some parts of America were fighting legislature that effectively prevented them from voting). This show of integrity by Ali cost him his heavyweight title and robbed him and boxing of four years of what would have been the prime years of his fighting career.
This selfless stance in the name of principles must seem alien to the athletes of today, for whom many will only consider making a stand when it comes to contract negotiations or selling themselves for other revenue that will add more zeroes to the end of their paycheck. In someways Ali was a figurehead of his era, gaining his fame when there was a call to arms to make a stand in America and protest in the pursuit of civil rights, equality and justice. Ali stepped forward for these ideals, the fast talking charisma that promoted his fight now deployed  to speaking out for others against authority in doing so taking the harder path in life and risking everything he had built for himself.
Skip forward some fifty years and another wisecracking, trash talking fighter is creating buzz and controversy and drawing millions to watch him fight. Sadly Conor Mcgregor also echoes the values of his own time, his hyperactive monologues built on constant boasts of accumulating excessive wealth and materialism. It's indicative of today's society that equates worth with monetary profit above everything and encourages vulgar exhibitions of riches as the symbol of success.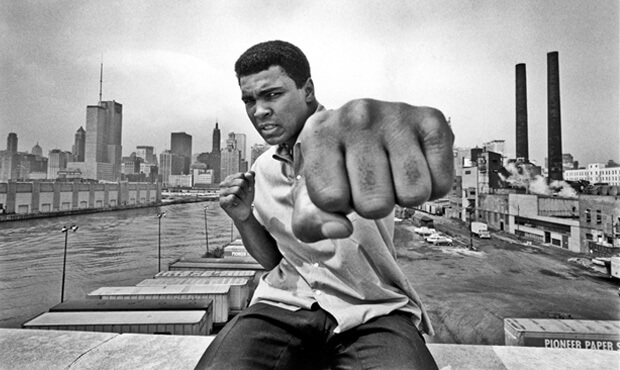 Today I keep hearing the phrase "There will never be another Ali!" This is heartbreaking for so many reasons, not least of which is that in this world today we really need another Ali, a charismatic  figure to speak out and inspire others against oppression.
Even when Parkinson's disease took it's toll on Ali's mind and body he never stopped trying to make the world a better place. His charity work and public appearances while sometimes hard to watch brought smiles to faces, and though a shell of his former self occasionally you would see a smile, a flash of the eyes or a burst of banter that would show a glimpse of the old Ali charisma.
In 1989 Ali, George Foreman and Joe Frazier appeared on a television chatshow in the UK hosted by Joanna Lumley. When asking Ali his first question about how he kept his pretty looks there was an long, awkward pause before he could barely, mumble "Pray to God." It was clear Ali with Parkinson's was going to struggle to contribute and Foreman and Frazier would have to carry the interview. But then a moment came when Ali came to life, poking fun when Lumley mixed up a sentence and pulling a growling Ali face and his eyes lightening up as he engaged in brief moments of banter and even made up a poem for the show. It was one of the most memorable interviews I ever saw, seeing the three legends together and glimpses that in that broken down body Ali was still there.
I want to leave with one memory of Ali, a scene from one of his interviews with Michael Parkinson. It encapsulates everything that made Ali such a great figure, charismatic, intelligent, entertaining and bringing smiles to people's faces. This is how I always want to remember Ali.
RIP The Greatest
Don't count the days, make the days count
Ali Bomaye