The Ultimate Fighter Season 10: Heavyweights (the one with Kimbo Slice)
Airdate: Spike TV, September 16, 2009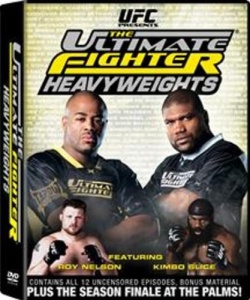 The Ultimate Fighter season 10 was highlighted by the exposure of Youtube fighting sensation Kevin "Kimbo Slice" Ferguson. It was also the season where Rampage Jackson tore the door off the wall. Other than that, it was lame. There were no fights to get into the house, which was a plus.
The two coaches were Quinton "Rampage" Jackson, back for his second stint as a coach, and "Suga" Rashad Evans back on the show as a coach after winning season 2 as a heavyweight.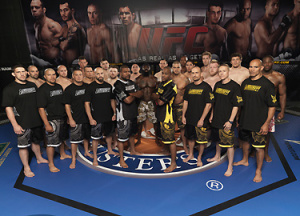 Team Rashad: James McSweeney, Brendan Schaub, Justin Wren, Jon Madsen, Roy Nelson, Darrill Schoonover, Matt Mitrione, and Mike Wessel
Team Rampage: Kevin "Kimbo Slice" Ferguson, Abe Wagner, Demico Rogers, Wes Sims, Scott Junk, Wes Shivers, Marcus Jones, Zak Jensen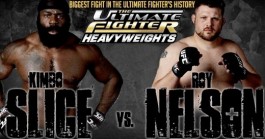 Highlights
Kimbo Slice was the surprise for episode one; rumor has it that Dana didn't want Kimbo to lose in the fight to get into the house, thus those fights didn't happen
Wagner's skull was literally exposed by a cut in a losing effort to Madsen
Roy Nelson defeated Slice by TKO at 2:01 of round 2 – EXPOSED! Yet today, Slice is the one laughing all the way to the bank
Mitrione gets labeled a snitch
Jensen got caught rubbing one out in a communal bathroom
Mitrione beat Junk which caused Rampage to go on a, well, a rampage destroying a door to the locker room – Come on Dana, hollow core doors, really? How much money do you have?
The coaches challenge was 2 vs. 2 volleyball – Rashad won $10,000 and each of his boys got $1500 – Rampage is 0-2 in coaches' challenges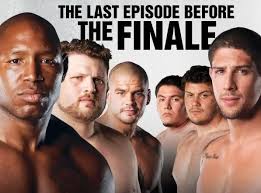 The Finale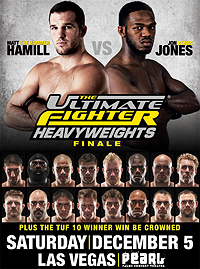 Roy Nelson KO'd Brendan Schaub to win the tournament. What's notable about this night is not Nelson winning. It's that this finale featured the only loss on Jon Jones' record, which occurred after Jones got DQ'd for elbowing Matt Hamill repeatedly with 12-6 elbows and Hamill could not continue. It's a joke. Jones beat the ever living piss out of Hamill prior to the DQ. None the less, Mitrione is the only person to ever get a W out of a match with Jones.
Where are they now?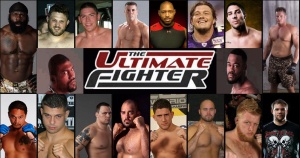 Roy "Big Country" Nelson is still fighting at age 39. He currently has a 21-12 record, most recently beating Jared Rosholt by unanimous decision at UFC Fight Night 82. Roy isn't going anywhere anytime soon. He's a fighter.
Summary: Rampage and Rashad were great. Rampage was a maniac all season. There was a lot of funny house antics as well. Slice was disappointing. Dana should have protected him more and put his first match on PPV instead of wasting him on this show that didn't need it.