@MichaelCoughlin
UPDATE: apologies. We had technical issues that took the site down all day. Which sucks. I'm gonna pretend it was a DDoS attack Bc Fedor fans now hate me.  Oh well.  It's here again.  For now…
No idea who can see what Bc F SERVERS buy whatever's….
IIIIIIIIIIIIIT'S TIME! … for UFC 191 Live Results as they happen. Buffer never says anything like that. He doesn't get excited and then cause a deliberate drop in enthusiasm. Probably because that would undermine his job. Oh well. We've had our normal amaze balls awesome coverage this week with: Audio Preview; Written Preview; Video Preview – just tons. We put a lot of it HERE too in our UFC 191 EYE!
The drill is as always: at the bottom are the QUICK AND DIRTY UFC 191 RESULTS if you just want to know who won and when and all that. Otherwise, sit back, relax, open that nice bottle you've been saving for when he's on his stupid fishing trip (like you don't know he's secretly gay) and come along for the ride.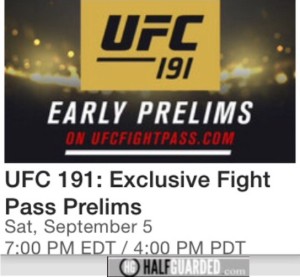 PRELIMINARY CARD UFC Fight Pass, 7 p.m. ET/6/5/4
1.Nazareno Malegarie vs. Joaquim Silva
Round one
RESULT:
2. Joe Riggs vs. Ron Stallings
Round one
PRELIMINARY CARD FOX Sports 1, 8 p.m. ET/7/6/5
3. Clay Collard vs. Tiago Trator
Round one
RESULT:
4. Jessica Andrade vs. Raquel Pennington
Round one
RESULT:
Pennington was too big and won in R2.
5. John Lineker vs. Francisco Rivera
Round one
RESULT:
Lineker proved his power moves up in winning.
6. Paul Felder vs. Ross Pearson
Round one
RESULT:
Person won.
UFC 191 MAIN CARD Pay-per-view, 10 p.m. ET9/8/7
7. Alex Chambers vs. Paige VanZant
Round one
PVZ got the armbar in R3. She dominated throughout. Needs stiffer (HAHAHAHAHA) competition.
RESULT:
8. Corey Anderson vs. Jan Blachowicz
Round one
RESULT:
9. Anthony Johnson vs. Jimi Manuwa
Round one
RESULT:
10. Andrei Arlovski vs. Frank Mir
Round one
RESULT:
UFC 191 MAIN-EVENT
11. Demetrious Johnson vs. John Dodson for UFC Flyweight Championship
Round one
RESULT:
Mighty Mouse won after dominating throughout. He was on a different level. Dodson showed more grace in losing during the post show press conference than I've ever seen from someone before.
Now. To see how long the site lasts until our next server issue…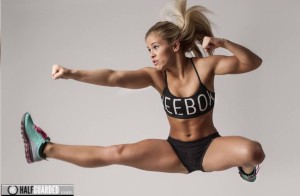 UFC 191 LIVE RESULTS QUICK & DIRTY
PRELIMINARY CARD UFC Fight Pass, 7 p.m. ET/6/5/4
Nazareno Malegarie vs. Joaquim Silva
Joe Riggs vs. Ron Stallings
PRELIMINARY CARD FOX Sports 1, 8 p.m. ET/7/6/5
Clay Collard vs. Tiago Trator
Jessica Andrade vs. Raquel Pennington
John Lineker vs. Francisco Rivera
Paul Felder vs. Ross Pearson
UFC 191 MAIN CARD Pay-per-view, 10 p.m. ET9/8/7
Alex Chambers vs. Paige VanZant
Corey Anderson vs. Jan Blachowicz
Anthony Johnson vs. Jimi Manuwa
Andrei Arlovski vs. Frank Mir
Demetrious Johnson vs. John Dodson for UFC Flyweight Championship