Let's face it, the negative things in life are far more alluring than the positive. When the current crisis hit, how much more attention was given to videos of sleazy families leaving leaving supermarkets with trolleys piled high with toilet paper rather than communities pulling together and volunteering to help?
You only have to look at the chatter around all fandom's to see that in the balance of toxicity and optimism, it's sadly the more destructive elements that get reactions. Last year I was personally gutted when a piece I worked hard on covering Tessa Thompson's 4% percent challenge to get Hollywood stars to commit to women directed movies, get very little reaction. While I've no right to feel entitled to any readership of anything I write (my film blog is primarily to amuse me and anyone who takes the time to check it out is an ecstatically welcomed bonus), but it is soul destroying when you're positive work is ignored while some dickward with ten followers on twitter will manage to get his proclamation about not liking films directed by women, retweeted and spread around the internet a couple of thousand times (this did indeed happen).
I have theories on why this is, as well as the harm it ultimately causes as well as misconceptions about the make up of most fandoms, and I was going to write a piece about all this. But instead, I'm going to put into practice what I want to preach and spread some positive vibes, by highlighting that for every bitter, vile spewing youtuber broadcasting from their basement there are more fine people who are using access to media in constructive ways to express their passion.
What follows is the work of some good people who's efforts I really respect for creating content which is a mixture of fun and though provoking insight, and I heartily recommend checking them out.
Film Stories Magazine

You see back in the day, tablets were made of paper.
One of the saddest consequences of the rise of digital media is the heavy decline of the actual magazine industry. The simple joy of nipping to the local newsagents once a month for your favourite magazines has fallen to one side thanks to the immediacy of internet "news" sites. Not only have sales suffered but the quality of some magazines has shockingly dipped also. When I recently bought a copy of Empire to accompany me on a train journey I was mortified to see this once quality movie magazine was now littered with bland, blockbuster puff pieces .
Fortunately an avid film writer by the name of Simon Brew wasn't prepared to watch print die off just yet, and took it upon himself the chance the risky move to launch the first new film magazine in years. Leaving behind Den of Geek which he had built up to be one of the best pop culture sites on the web, he launched Film Stories in late 2018.
Film Stories is a real movie fan's magazine. You won't find reviews of Marvel Movies or features on blockbuster franchises here. Instead Film Stories throws it's weight behind the smaller movies, giving much needed exposure to films where buying a ticket really means a difference. As well as interviews with directors, set reports and nostalgia pieces the magazine is committed to supporting smaller cinemas with features on small local theatres.
Film Stories has a genuine movie fan vibe to it's features. You'll find many quirky stories such as the past joys of visiting VHS rental stores, hunting for DVD's in charity shops and discovering niche TV and streaming channels. Some of this must be attributed to the fresh variety of writers working on each issue. To this end, Simon has pledged to providing at least two previously unpublished writers per issue with their first PAID commissions.
There's a real independent spirit that has carried Film Stories through it's first year and It's clear that Simon Brew is working his arse off to make the magazine a success. It's a venture that cares about films and it's fans and is worthy of support, now more than ever. It can be bought from some WH Smith's stores or can be bought direct from their website, along with some back issues as well as the Film Stories Junior spinoff magazine.
In Their Own League
When it comes to the many people covering movies on the internet, I don't think there is anyone I admire more for her passion and work ethic than Bee Garner. Following her on twitter, I've seen her throwing everything she has in pursuing her desire to be a film critic, writing for many sites and pushing herself out of her comfort zone to travel to cover film festivals.
Last year Bee decided to take the plunge to create and run her own website, with an accompanying podcast, dedicated to promoting the work of women both in front of and behind the camera. The result was In Their Own League: Shattering The Celluloid Ceiling, which launched with a professional looking and beautifully designed site.
The amount of content which appears on the site is astonishing, with a healthy mix of reviews, profiles and commentary appearing daily along with special ongoing features such as Top 50 Films of the Decade. The film promotes the work of women in film today as well as paying homage to those who played a (often overlooked) part in cinema's history.
Fortunately Bee has assembled a dedicated team of contributors to keep the diverse level of content flowing. Especially worthy of checking out is the work of Deputy Editor Rosa who goes by the social media name Rosa Reviews. I've been fortunate to have a couple of pieces featured on there myself.
In Your Own League is an excellent, lively site, with a clear and worthy purpose and if Bee and her contributors imaginations and hard work continue this site has the potential to break through the ceiling.
.https://intheirownleague.com/blog/
Geek Juice
If you're wanting some pop culture analysis with a real bite, and a decidedly dirty sense of humour than anything under the label of Geek Juice by the mad genius of MisterX should be just up your alley.
I first came across MisterX when he was doing an hilarious video review of the Star Wars Holiday Special. From there I became a fan of his on the underground vibe heavy pop culture podcast Geek Juice radio, and in particular his incredibly in depth episodes discussing the Star Trek franchise (seriously if you're a fan of any of the Star Trek films and series up to Voyager you have to check these out).
Nowadays MisterX's work on Geek Juice is focused on doing live commentaries Riff track style, both on his website and on his twitch stream. As a regular viewer I highly recommend tuning into his Twitch stream live, which is where you get MisterX in all his unrestrained gives no fucks glory. Join the show and you'll can find yourself joining in a viewing of anything from a Star Trek episode, a classic movie (Tron and Airplane have been featured in the past), a Japanses monster movie, an SNL montage, unaired Pilot episodes of shows that were never picked up, a religious propaganda commercial, literally anything goes. Incidently, I really do recommend viewing live as you can then take part in the chat with MisterX and the Geek Juice community.
MisterX has an obviously passion for the many facets of geek culture, his knowledge of which is impressively extensive which allows him to bring enlightening background to anything he covers as well an intelligent, thought provoking analysis. I guarantee you will come away from a Geek Juice show feeling unquestionably smarter.
Word to the wise, Geek Juice isn't for everyone. Imagine if Bill Hicks went to Sci Fi Conventions and enjoyed them, and you're on the way to understanding the streetwise attitude and not for the offended dirty humour of MisterX. He also has no time for the phoniness of modern day political correctness and is savage in taking down the fads of woke culture.
But if you're open minded, you may find the Geek Juice mentality a wonderful liberation of the mind.
.https://www.twitch.tv/misterx313
VHS Revival
Nostalgia is a funny thing. We're quite happy to abandoned our crunbling and well worn vinyl and vhs collections we spent our lives building the moment the cute, easy floozy like next generation format comes along. Then years later we look back all misty eyed and romanticise about those simpler days. Nostalgia can be pretty nostalgic.
There are many sites and podcasts that hanker back to the days of the "mom and pop" video rental store, but the resource that stands out for me is the site VHS Revival. This site concentrates on the movies produced in the era of the VHS tape, treating it more as an diverse era as opposed attribute a specific style or genre to the medium. Yes, the horror films of video are covered as are the low budget fare of Roger Corman and Canon Films, but browse the articles on offer and you'll see pieces written on Full Metal Jacket, Colour of Money and Brazil.
The library of articles and retrospectives is huge, presented in a pleasing montage wall style front page which is a joy to browse through. However aside from the obvious care that's gone into the aesthetics of VHS Revival what really sets this site above the rest is the sheer quality of the writing of the articles. Unlike the tendency of websites articles to rely on the lists format like"Top five films to watch if your dog's been run over" (you know similar to the article you're reading now), all the VHS Revival articles are in depth, insightful essay quality with ample background and setting the scene of the era.
Even though I myself am a philistine when it comes to reading on webpages, much preferring some printed paper in my hands, I'm hooked on VHS Revival, far beyond mere nostalgia it gives a worthwhile insight to old favourite movies. I've particularly been enjoying the "The month in…" series which gives an incredibly detailed look back at a particular month in movies.
VHS revival is essential reading for anyone who enjoys films of the 70s, 80s and 90s, but also any film writers or websites creators to see how it should be done. There work has definitely inspired me to raise my game of what can be achieved.
Screen Junkies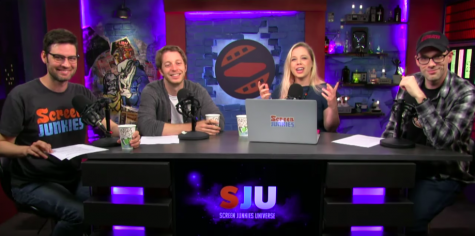 One of the biggest things to hit the face of movie news reporting was the rise of the youtube film panel show. Once the domain of self professed movie experts reporting from their bedrooms (Exasperated that stupid Hollywood wouldn't listen to smart people who did homemade youtube shows) , Youtube became home to shows like Collider come along with decent studio level productions and presenters who were actually skilled and articulate. This new breed of movie show was not shackled by the niceties of regular television format, and presenters were able to connect with audiences with a fun mix of laid back and anarchist attitude, bringing radio sensibilities to the screen.
Unfortunately as audiences grew and some of the presenters gained a degree or fame, for some it clearly went to their heads. A live on air meltdown by one presenter resulting from not being invited to a preview of a Star Wars theme park, was systematic of this attitude. As were regular bitchy rants from those who were aspirated at stupid Hollywood not being smart and listening to people like them who hosted youtube movie shows.
Thankfully as Collider disappeared up it's own bloated arse, one such show managed to retain a down to Earth attitude and sense of fun. Screen Junkies followed the panel format of Collider, but as well as being more light hearted, there remains to this day a comradery amongst the team, with a banter that makes you feel like you're less watching a show and hanging about with friends. The shows often descend into hysterics, especially when the show go off tangent from the topic schedule, and normally instigated by chief giggler and main host Roth Cornet.
As well as Cornet, the dream team are Dan Murell, Joe Starr and Spencer Gilbert, the four of them have undeniable chemistry and the shows are at the best when it is these four. However there is a rolling roster of other presenters such as Roxi Striar and Danielle Radford, who also fit the humour and chemistry just as well.
As well as the daily news shows, Screen Junkies also produces the hilarious Honest Trailers which are definitely worth a binge as well as the commentary shows that add insight and discussion on the films lampooned. A more business orientated, but still light hearted show is Murrell's Boxoffice show "Charting with Dan." This is one of the most informative shows on the current movie business that you will find, as Dan goes in depth to analysis the weekly boxoffice numbers and is often able to dispel misconceptions about the true successes and failures of the finances of movies. Anyone who wants a clearer understanding of the movie business should definitely start here.
In short this is the perfect movie show network, a balance of fun, news and analysis that you feel is speaking to you and wanting you to be in on the laughs. And incidentally the team are currently still doing shows from their respective homes, entertaining us fans at this time when we need them the most. Kudos to them.
,https://www.youtube.com/user/ClevverMovies
So that's all from me, you now have less reasons to go outside and more reasons to smile.
Please stay safe and watch out for each other
Dazza