I've seen graffiti style murals on walls at skateboard parks featuring a snarling Judge Dredd. I've watched a heavy metal band with a Bassist armed with a guitar adorned with the image of Nemesis the Warlock. Many times I've noticed Flyers and posters for rock gigs with the likes of Strontium Dog, the ABC Warriors and Slaine mid charge amongst the bands apocalyptic names.
Fuelled with a dangerous, dirty, no compromising edge the stars of 2000AD have been embraced by underground movements as the icons of counter culture like no other comic creation ever could. Because 2000AD has always different. It's characters bleak anti heroes, despatching enemies with barrages of bullets and swords in orgies of gore and violence decades before the dark age of Punishers and dark knights made it fashionable. Yet it was always tinged with with a biting, dark sense of humour. It also carried a street cred respectability that made it acceptable to be seen in the hands of teenagers long after they'd passed the age where they were supposed to have outgrown childish comics.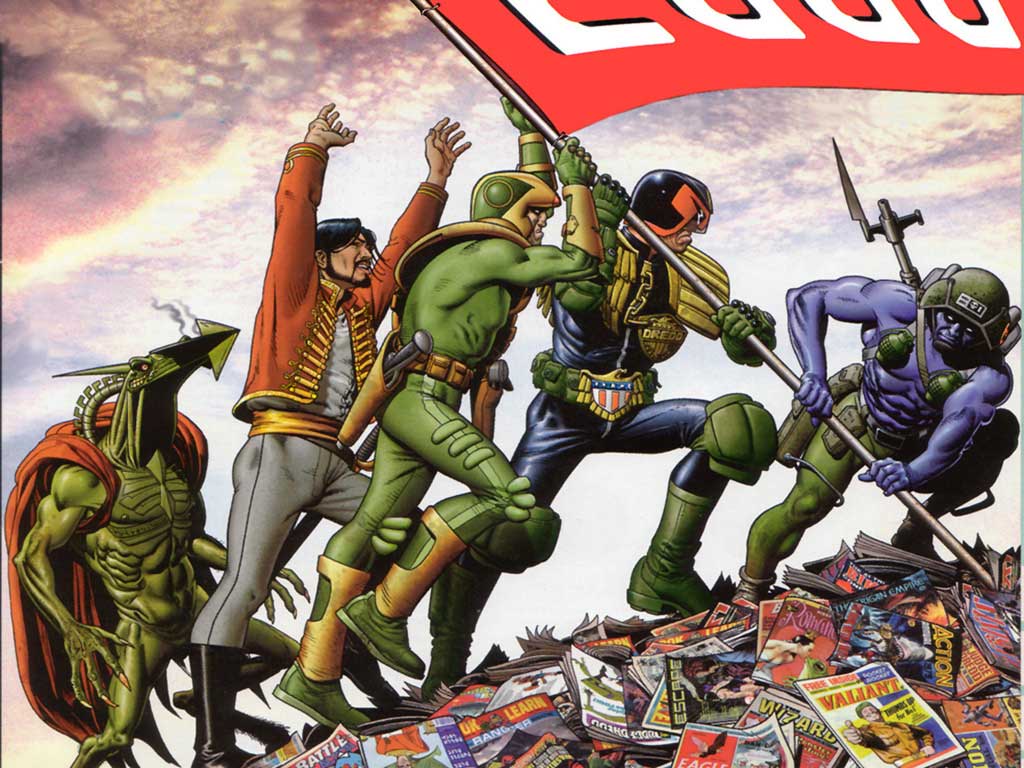 This week the 2000th issue of 2000AD hits newstands proving that while the year that the comic was named after has long since passed this very British institution continues to thrive against all the odds.
At their prime UK comics were very different from their American counterparts. For a start UK comics were normally weekly, for the most part were black and white (the front and back covers and centre pages were the only places for colour) and rather than focusing on one one single story UK comics were anthology based, each issue featuring four to six page episodes of roughly half a dozen separate strips.
In the late 70's there were two major houses publishing comics in the United Kingdom. Both IPC and DC Thompson (no relation to DC comics) had libraries of weekly comics that ranged from funnies, girls comics, television tie-ins and a variety of action comics. IPC had edged ahead in the rivalry and were reportedly shifting five million copies of it's comics a week. War and action comics were amongst the top sellers at the time, but in 1977 IPC tried something different. A little independent film called Star Wars was on the horizon and it was predicated that Sci Fi was going to explode as the latest fad. What was needed was a comic that would capitalise on the craze for science fiction movies while bringing a gritty, British attitude.

Britain in the 70's was a nation in turmoil, and simmering with unrest. It was a time of high unemployment, strikes, riots, the only industry that seemed to be growing was in the arms race during the height of the cold war. Even if the threat of nuclear annihilation never came Britain still seemed a dangerous place where a trip to the shops on a Saturday afternoon could see you running from a soccer riot into the path of an IRA bomb blast. The anger of a nation was reflected in the television of the day with gritty TV detectives and bleak working class drama shows while in music Punk Rock was giving voice to an angry, disaffected youth.
It was this Britain's that 2000AD landed upon on February of 1977 and just like the Sex Pistols were rampaging against the establishment of the music industry so Pat Mill's creation would tear apart the cosy UK comic industry.
However it wasn't the first comic to tap into the fuck you, tear it down attitude of the time. In 1976 a streetwise comic called Action found it's way into the hands of Britain's kids, thrilling the youngsters while shocking those parents who bothered to take a look at what they were reading.
Action pushed the boundaries of comics like nothing before it, with all it's stories having dark premises and a violent, subversive attitude that kids ate up. A shark called Hookjaw, a half blind boxer, a German Panzer division were just some of the challenging characters starring in their own series. But it was a story called Kids Rule OK where the adult population has died out and the world belongs to warring gangs of children that really drew infamy from the media.
The moral watchdogs of the time always on the look out for new dangers to be outraged by were quick to seize on Action, spurned on by a front cover that appeared to show a policeman been set upon by a mob of chain wielding kids (closing inspection shows that the victim wasn't a policeman but a man who just happened to be laying next to a bobbies helmet). In the resulting campaign against it the IPC heads ordered Action publication to be suspended and reworked to cut back on the violence and gore. The Action that returned had been robbed of the edgy content that made it a success and the comic's popularity dipped and soon faded into cancellation.
Action at least drew a vague line in taste where 2000AD should not cross, but that didn't mean the new comic wasn't going to dance along it wherever it could. Despite the outrage that had greeted Action, 2000AD was not going to retreat into the fairy tale, cosy and bubbly brand of Science Fiction that the Star Wars phenomenon was inspiring. 2000AD was a rampaging riot of a comic, revelling in anarchistic attitude which would batter it's readers with rough, dirty characters against worlds of grim, futuristic fascist societies and wastelands.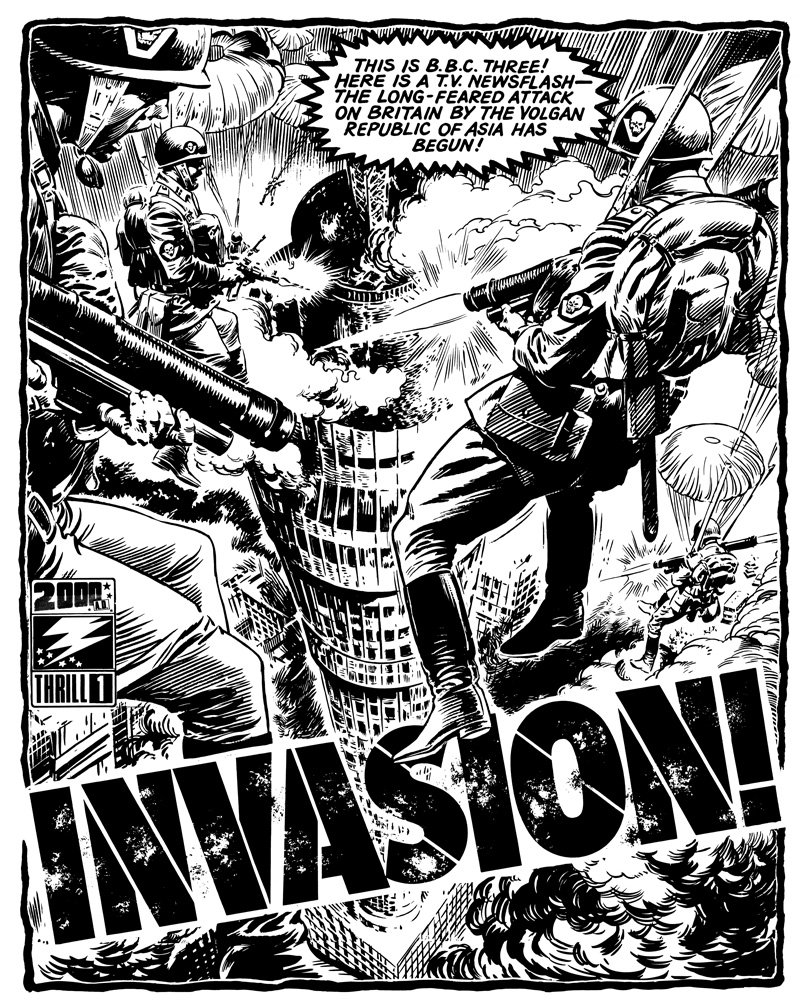 2000AD hit the UK with a powerful kick in the teeth statement with the first issue's most stirking strip coming with Invasion, which dealt with Brtiain being occupied by a fictional foreign power in the form of The Volgans. It's an intense first episode the very first panel showing enemy paratroopers descending on London as all of England's major cities come under attack. During several pages of slaughter the BBC frantically report on the nation's defeat and surrender. Bill Savage a working class lorry driver returns home to find his family killed in the invasion and embarks on a killing spree, snarling and slaughtering his way through the first 51 issues of the comic. It's one long crusade of venom and non stop rage.
As violent as Invasion was the first chapter was toned down considerably at the last minute. Originally the invading army was supposed to be Russian before being changed to a fictional country in the Volgan Empire. Likewise the female politician executed on the steps of St Paul's Cathedral was named as Shirley Brown yet the artwork shows it was clearly meant to be Margaret Thatcher (Thatcher would not become Prime Minister for another two years, but she was already a hated figure as leader of the Conservatives. My first encounter with politics as a child was when that bitch took away my school milk).
While the fate of Action tempered how far the new comic could go a little, those missing the extreme gore well were provided for in Flesh. A wild mix of western and dinosaur story, Flesh followed cowboy style time travellers using the prehistoric creatures as a source of meat after the future's animal population had been made extinct. Cowboys meeting grisly ends in the jaws of Dinosaurs was a weekly occurrence.
The rest of the initial line-up in the anthology strip shows a heavy influence of American TV and film. M.A.C.H 1 was a bionic man type hero while Harlem's Heroes tales of a sports team in a violent gladitorial combat sport drew heavily on the Rollerball movie.
Part two comes tomorrow with a look at some of the even more iconic comics to come from the UK's most important comic book magazine.

Dazza