Hey, wait, read part one and part two!
2000AD had a whole host of strips that in their own way were just as creative and action packed but with intelligent, political and social subtexts that intrigued readers even more the older and more sophisticated they became.
Here are just a few of my favourite strips that have stood the test of time in arguably one of the greatest comics ever to see print.
Bad Company

Without a doubt my favourite 2000AD strip. Bad Company are a rogue platoon fighting a guerilla war with a decidedly sadistic alien race called the Krool. The Krool are absolutely vicious, gleefully inflicting experiments on their human captives in brutal concentration camps, but their cruelty is often matched by Bad Company's leader Kano, a colonel Kurtz like figure obsessed with killing as many of the aliens as possible.
The story is narrated by Danny a fresh faced soldier who along with his squad is press-ganged into joining Bad Company.
Bad company are an assortment of vicious rogues and outcasts who at first treat Danny and his fellow "recruits" like cannon fodder, even forcing them at gunpoint into fields to draw out ambushes. The cheapness of the lives of Bad Company's soldiers is emphasised when the vicious Thrax kills a frightened comrade during a bombing raid simply for making too much noise.
Danny's appearance subtly changes with each episode as the war takes it's toll on his body as well as his personality making him harder and darker. He's hardly recognisable by the final issue of the first series that ends with a battle worthy of a Sam Peckinpah movie as the majority of Bad Company are killed in one final showdown with the Krool.
A second series would see Danny forming a crew of even more outrageous characters as the humans continued a seemingly pointless resistance against the Krool.
Bad Company was a brutal Vietnam war analogy with a downbeat anti war theme, right down to the suspicions that the upper classes back home on Earth had an agenda for fighting the war. One of the most shocking and memorable plot lines ran through the first season with the mystery of what Kano kept in a small box he was obsessively protective of, even going so far as to kill a Bad Company member who snatched and took a look inside. I won't spoil the secret here but for those who never will read Bad Company I'll post it at the end of this article as it's a gory, twisted revelation.
2000AD: Nemesis The Warlock

The Gothic heavy and weirdly wonderful artwork of Nemesis the Warlock was just the icing on what grew to be one the strangest and intelligent strips throughout 2000AD's history. Nemesis himself is possinly the most peculiar looking characters to have his own strip, a bizarre hybrid of a horse in a humanoid body. Nemesis is an anarchistic alien at war with the puritanical extremists of the human race, headed by one of the greatest villains in 2000AD Torquemada. With the catchy and devilish slogan "Be pure, Be vigilante, Behave" Torquemada as ruler of Earth rages a crusade against all things non human.

Nemesis takes being an anti hero to the extreme, using any methods in his anarchist philosophy on the principles of chaos in his war against Torquemada's terminators. One of the strips most shocking moments is when he hijacks a bus full of two hundred school children and deliberately crashes it during a chase, killing all on board. When the atrocity is questioned by his partner Purity, Nemesis dismisses the act and states the children would probably have grown up to be terminators.
The themes of discrimination, persecution and religious intolerance are never far from the surface and there is a real seething anger throughout the story. Hardly surprising as creator Pat Mills envisioned Nemesis as his personal outpouring of hatred against the Catholic Church.
Nemesis saga spanned ten series over a twenty year period and is one of most bizarre of all of 2000AD's series and can be daunting at times in it's weirdness, but it's an engrossing read and visually there's nothing quite like it.
ABC Warriors

For a time Nemesis was joined in his adventures by another favourite of mine the ABC Warriors, a crossover of sorts that afforded a rare hint that some of the strips of 2000AD were actually part of a shared universe.
The ABC Warriors were a rogue team of combat robots (a bit like the Transformers on acid) that popped up in many different eras of 2000AD having served time in the Volgan war that began in the Invasion story. The first two Warriors Hammerstein (who had a cameo in the God awful Stallone Dredd movie) and Ro Jaws (a sewer droid that was fuelled by eating shit basically) appeared in the strip Ro Busters that began in the short lived spin off comic Starlord. This series spun off into the ABC Warriors which had a revolving membership of violent, dysfunctional robots, the mainstays being the ultra cool assassin trench coat wearing and secret cross dresser Joe Pineapples and the treacherously evil Blackblood.
Zenith
Traditional caped Superheroes have never quite worked in UK comics with creators generally treating them with disdain. So when a superhero strip arrived in 2000AD in 1987 you can bet it wasn't going to treat the genre with any kind of reverence and instead give it a damn good kicking.
Zenith was frankly an absolute little shit, a Justin Biebler figure that's spurned the superhero life inherited from his parents in favour of a tacky pop career. Selfish, arrogant and saracstic throught the series, any involvement in using his powers for the greater good is done so begrudgingly and always with a degree of self interest involved. He's so obnoxious that even when he saves the world you he's still not redeemed and you still can't help but resent him.
Until recently legal issues over the ownership of Zenith between publisher Fleetway and creator Grant Morrison prevented the cult favourite strip from being reprinted. Finally the publication of a collection of beautiful hardbacks has allowed readers to once again savour this series, that while not reaching the heights of Watchmen and Dark Knight in terms of deconstructing Superheroes still gives a wonderfully 80's and British feel to the genre.
The Ballad of Halo Jones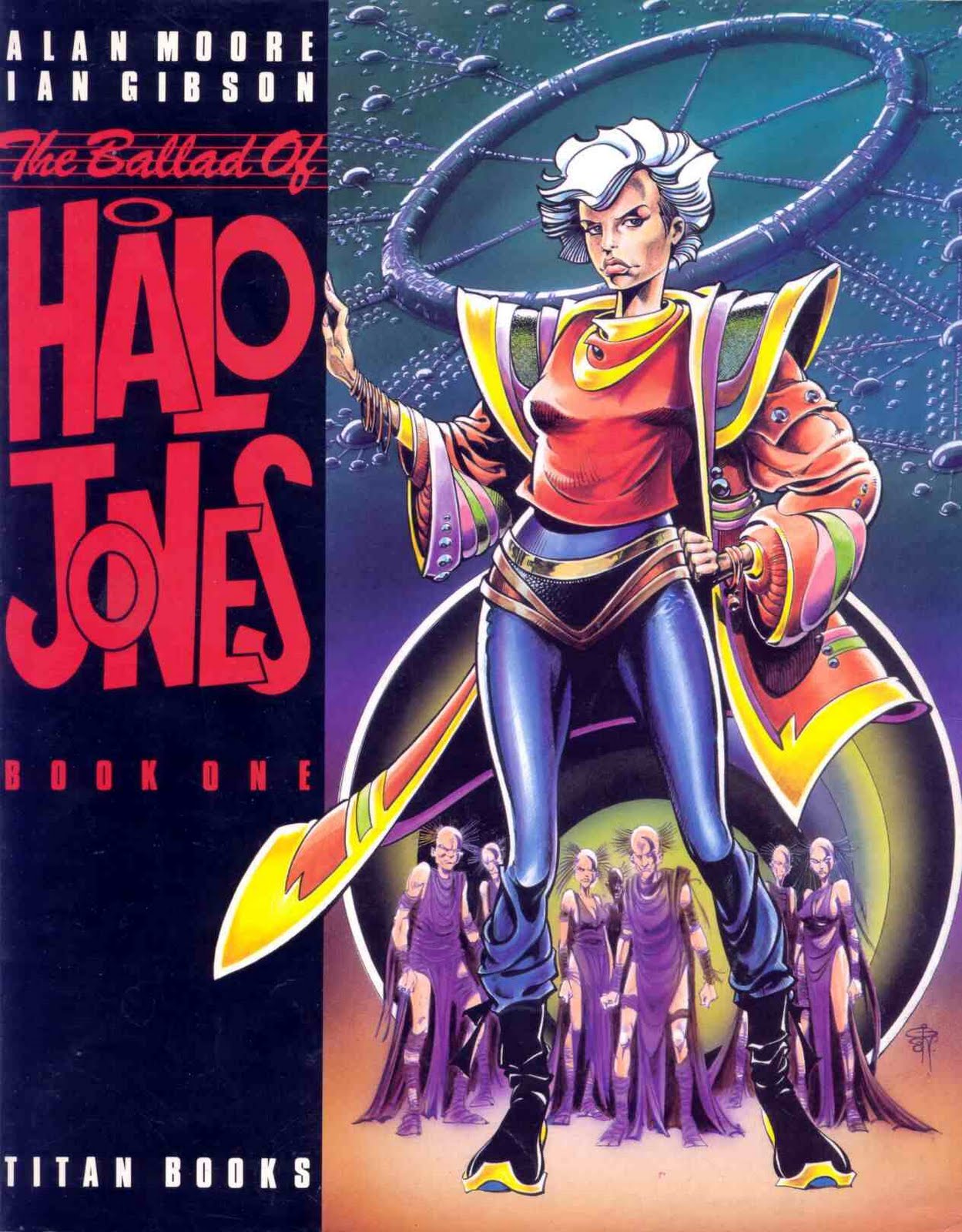 While disputes between creator and publisher may have temporarily put Zenith out of reach a larger tragedy occurred with regards the treatment of Alan Moore's wonderful epic Halo Jones.
Halo Jones is just a regular woman living in the wild and dangerous 50th Century, where a simple trip out shopping turned into a ten episode adventure as we explored the society she lived in. Another two series saw her leave her life behind her as a stewardess on a starship and then become embroiled as a trooper in a time war. Further adventures would have seen us follow Halo throughout her life and into old age but sadly the disputes over property rights caused Moore to walk away from the series leaving the Ballad unfinished.
Halo Jones is one of the great "What ifs?" of comics history and truly infuriating for readers as Moore had a nine season plan for where he was going with the story. In the recent excellent documentary "Future Shock: the Story of 2000AD" Neil Gaiman with a lump in his throat relates how Alan Moore over several hours recited to him the full story of what Halo Jones was meant to be. If Gaiman's reaction is anything to go by the world of comics was robbed of what could have been one of the most moving and brilliant comics of all time.
These are just a few of the many brilliant strips that were so ground breaking and refreshing and thrilled British childhoods for so many years. But it's legacy stretched far beyond the British Isles. When comics in America had become stale it was the Invasion of British talent that revitalised it with the likes of Alan Moore, Bryan Talbot, Mark Millar, Neil Gaiman, Grant Morrison, Pat Mills all of them 2000AD alumni. And when DC's Vertigo arrived with it's catalogue of outrageous titles, so vibrant and full attitude the influence of 2000AD was unmistakable.
The comic scene in the UK is practically dead. The weekly action, comedy and girls comics have all disappeared replaced by a hoard of television tie ins that don't even feature comic strips anymore and instead are filled with puzzles and activities and cheap plastic free gifts with every issue.
Yet still 2000AD remains, like Mega City One it stands alone amongst the wasteland of the UK comic scene and while it's sales are nowhere near the days of selling 300,000 a week it's still hanging on in there. It's undergone an image change, with the black and white pencilwork largely replaced by a lavishly vibrant paintwork style, (ABC Warriors in particular is an amazing feast for the senses) but it's still got that underground feel that made it such a dirty, thrill riding hit.
And long may it reign. Happy 2000th issue 2000AD, you beautiful bastard.
Bonus spoiler of what's in Kano's box?
So in the final episode of the first series of Bad Company Mad Tommy (mad because he seems to think he's fighting in world war one, but was really only acting insane to avoid being killed by Kano for knowing his secret. But he lived the role so well that by series two he was really mad), reveals that the young Kano was captured by Krool and experimented on by removing half his brain and replacing it with half a Krool brain.
After escaping from the camp Kano was going insane and Mad Tommy went back to the camp and returned with the discarded half of Kano's brain in a box. By having this Kano was able to stabilise his mental condition somewhat. However Mad Tommy also reveals that he was unable to retrieve Kano's brain from the camp and so took half a brain from a random dead soldier's body.
In series two we find out that Kano's real half brain has been surgically placed into another Krool.
Told you it was fucked up.
Dazza