Maybe I drank too much eggnog over the holiday season, but is it just me or is Bellator getting all awesome all of a sudden?
Right off the bat they're hitting us with quite possibly the best all-around card they've ever put together this Saturday. Tito Ortiz/Chael Sonnen, Paul Daley/Brennan Ward, Ralek Gracie/ Hisako Kato, plus the battle of the two Dereks (Campos and Anderson) all on one free cable TV broadcast? I'm not going to lie, that's a far more appealing line-up to me than UFC 208, even with Anderson Silva shoehorned into the line-up at the last minute.
With the Bellator shindig, you've got a nice mix of old school but not too old school fighters going at it up top, two welterweight scrappers who would probably be top 10 material in the UFC rankings wailing on each other in the co-main and a whole slew of talented up-and-comers trying to make themselves famous padding out the rest of the docket. Personally, I find that way more enticing than watching Glover Teixeira and Ronaldo Souza beat up on subpar competition – by golly, I may not know who Emmanuel Sanchez and Georgi Karakhanyan may be, but whatever they're bringing to the table has to be more entertaining than watching Derrick Lewis and Travis Browne do their best impersonations of sleeping slugs for 15 whole minutes, for sure.
Alright, so Bellator 171 might be a skip (sorry, but "free" is still too much to charge for a Melvin Guillard fight) but Bellator 172 looks amazing. The damn card hasn't even been filled out yet and we've already got two lightweight unbeatens (Brent Primus and Adam Piccolotti) tapped to go at it, plus Cheick Kongo and Oli Thompson duking it out in a bout bioengineered to result in somebody getting brain damage, and the headliner? The reanimated corpse of Fedor Emelianenko doing battle with Matt Mitrione – aka, that guy that kicked Kimbo Slice's ankles off and who already KTFO the UFC's Great Black Heavyweight Hope, Derrick Lewis. That's the kind of Must CTE TV that hasn't been afforded to us since Strikeforce got bought out – just good old fashioned hyper-violent fisticuffs-fueled mayhem where the intent isn't to legitimize title bouts with boring-ass 25 minute snoozers we all try to convince ourselves are technical showcases afterwards, but to give us the most explosive, entertaining product imaginable.
Or to put it another way: if the UFC is a tofu-loaded veggie wrap, Bellator's giving us two buckets of double swirl chocolate ice cream and half a dozen Doritos Locos Tacos, and whatever tequila they don't drink, we can TAKE HOME WITH US.
Of course, you can bellyache and complain and bicker and bitch about the UFC having the better overall fighters with championship bouts that mean a whole lot more and actual TV production values and whatnot, but sometimes, you don't want the best, you want the most ENJOYABLE. I'm sure a $300 filet mignon would be just dandy right about now, but you know what? I'll settle for an $8 pepperoni and pineapple pizza from Dominos just as long as they don't burn the crust too bad.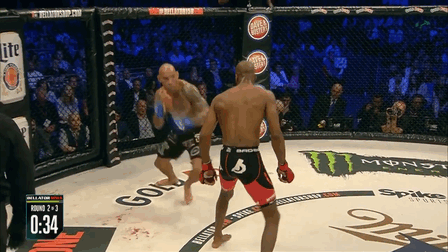 Sure, it may seem like a counterintuitive approach to serve up the MMA equivalent of Sloppy Joes while the UFC is offering lobster rolls, but Bellator might be onto something here. A lot of times, the instantly gratifying and partially sleazy is way more desirable than the more refined. That's why I eat oysters maybe once or twice a year, but eat microwavable chicken burritos and an entire jumbo-sized bag of Take Five once a week. I consider Schindler's List one of the best movies ever made, but it's not something I can watch at the drop of a hat. Meanwhile, a "lesser" work of art, like Slap Shot or Death Race 2000 or Rock N Roll High School? I could literally watch those suckers every weekend and never get sick of 'em.
Why Bellator is Better than the UFC
By going the frozen enchilada and Friday The 13th Part 2 route, Bellator is actually making a brilliant business move. They're not really trying to build up stars or create some kind of multimedia narrative or even pull in high-enough ratings to keep SpikeTV from replacing them with reruns of Cops. Instead, they're selling their shows like Pride used to do, as holistic offerings for fight fans only.
The allure isn't that you're getting to see some mega-huge breakout crossover celebrity throw punches at the end of the night, it's that you're not being saddled with pointless filler for five consecutive hours before you get to the one fight you actually care about seeing. There may not be anything even remotely resembling a Conor McGregor and Ronda Rousey at the top of the card, but it doesn't matter: you KNOW you're going to get some high-quality bang-bang all night-long, regardless – which, to be frank, really isn't something you can say about the bulk of the UFC's star-studded PPVs these days.
For that, Mr. Coker, I applaud you. You may not be putting your company in a position to financially go toe-to-toe with WME's MMA monolith, but at least you're able to say you're sending your fans home happier than those who tuned into the billion dollar competition.
And trust me – that's a laurel worth a whole hell of a lot more in the long haul than you'd probably think.

Loading ...