I think this broke last night, but I was half asleep catching up on the TV I'd missed while passed out this weekend.  So, yeah, BJ Penn failed a USADA test and is out of his UFC 199 fight with Cole Miller.  He used an IV over and above the standard.  I believe this makes him the first fighter to fail for using an IV. I theory, this means Penn's career is over, though I suppose USADA could give him a lesser penalty (as they randomly did for Yoel Romero).
"I voluntarily disclosed to USADA that during a non-fight period that I had an IV administered under the care of a doctor. The rule for IV usage had changed since my last fight in the UFC and was unaware of the change and voluntarily disclosed the information to USADA. I had no idea that IV use was banned 365 days a year. At no time in my career in martial arts have I ever doped and anticipate all test results from USADA will come back clean and will be working with the UFC to get the matter cleared up and return to fight as soon as possible."
I mean, that's not a bad excuse as far as excuses go.  I actually could see someone messing that up.  On the other hand, Penn had previously tweeted about IV use:
I love the new PED and IV ban in the UFC. I never took an IV in my life after a weigh-in. IVs are for wimps! #BeerAndHotDogs
In fairness, he does say "after a weigh-in."  I kinda know what he's saying but maybe if he had used an IV he might've made weight a bit easier…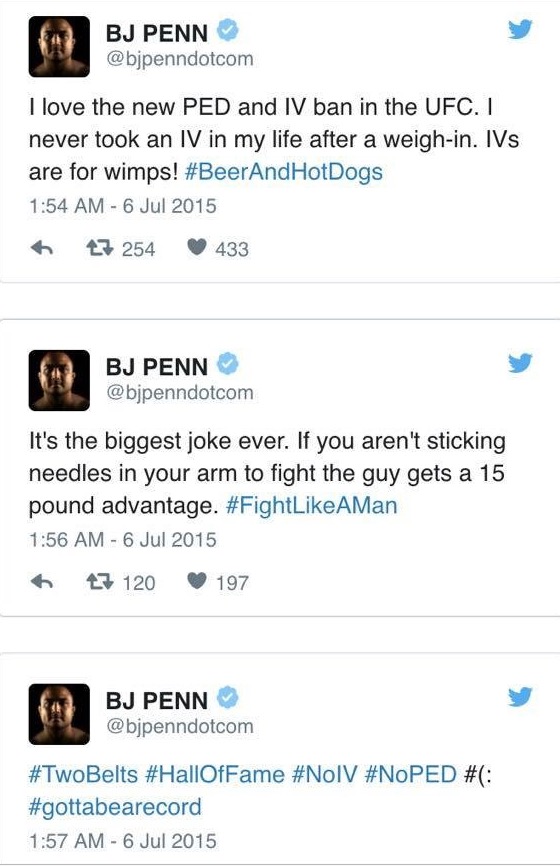 This sucks because I do understand that the IV ban is in place to prevent the masking of PEDs but I dunno because it seems weird.  From every Russian on earth failing for something that was legal last year and is over the counter to the IV ban, it seems like a lot of these infractions are for gains that are minor, if there are gains at all.
If suspended 2 years, Penn would have to be done as a fighter.  If so, what a sad end: 1-5, allegations of beating a woman, allegations of cocaine use, and now a PED failure.