The Forum
Inglewood, California, AMERICA!
Ladies. Germs. Bacteria.  Welcome to the most amazing UFC 199 coverage you'll ever find, the now legendary UFC 199 FREE LIVE STREAM of consciousness RESULTS & RECAP as brought to you by us, halfguarded.com.  Now, I write "us" but it's really just one guy at the moment.  Well, one, in that I'm the one doing the PBP but there are more than just me and … you get the point.  Anyways.  We'll update this post throughout the week, as is needed, with all the latest news before just using same said post as the PBP thread because that's how life works sometimes.
Amazing full card preview from the one and only James Swift!
Mike says Cruz is the best ever.
Weigh ins were not only fine but everyone loved the earlier weigh in.

UFC 199 FREE LIVE STREAM of consciousness RESULTS & RECAP – Preliminary Card (UFC Fight Pass) 615/515/415/315 (LONDON: 1115)
Polo Reyes vs. Dong Hyun "Not that one" Kim – Lightweight
Round One
I don't speak Spanish but 1. Reyes is Mexican; 2. I'm pretty sure "Polo" means chicken in Spanish.  Is his name really Chicken Reyes?
AND Polo's nickname is Toro.  So, he's Chicken Bull Reyes.  It's MARCO Polo "El Toro" Reyes.  MARCO POLO.  His parents hated him.
Also: Korean guy with last name of Kim shocker.
Reyes with short punches to start.  Kim trying to get in tight to clinch up and Judo on Reyes.
Chicken gets clipped though!  Kim with several left hooks that have rocked Polo.
Kim in the clinch but Reyes with a BRUTAL elbow that drops the Korean.  He's down.  Reyes pounding.
Kim survives and is on his feet now.  Kim throwing.
Reyes with a left hook that drops Kim!!!!
Kim recovers quickly and establishes full guard; he's tying up The Chicken.
Kim scrambles up and eats a knee in the process.
Kim again finding a home for his left hook.
Shit, Kim lands his left and backs up Reyes.  Then a knee.
Polo fires back with punches of his own.
THIS IS AN AWESOME AS SHIT ROUND AND THE CROWD IS CHEERING!!!!!
Kim with a takedown off the clinch, side control, but Reyes stands quickly.
Reyes lands a right hand and the round ends as they trade.
Round Two
Please let them fight forever.
Reyes still looks more comfortable on his feet but that hook of Kim is just so deadly.
Kim's eye is swollen shut basically, so he's gonna be fucked for punches coming towards his right.
Reyes counters with an overhand right that should drop a man but is shrugged off.
Left hook from Reyes but Kim doesn't give a shit.  He's moving forward.  Do we have a new Korean Zombie?!?
They both land left hooks at the same time.  This is Rocky like.
The left hook staggers Chicken Man!!!!!!
They're clinched and trading knees.
Now they're in a phone booth just exchanging with no regard for their health.  This is proof of a god!!!!
Short left hook fromKim brilliantly gets through the guard of Reyes.
NO!  Reyes landing several right hands.
HUGE combination from Reyes.
Kim shoots, Reyes sprawls, but Kim keeps with it and gets a trip takedown finally.
Light GnP as Reyes stands.  How are they alive!?!?!?!?
Reyes with a spinning back elbow.
MEGA RIGHT HAND FROM HELL by Reyes.  Kim shows nothing.  Indy wrestlers sell more than these guys.
Reyes shrugs Kim to the ground and pounds.  Kim is exhausted.
Round ends.  WOWOWOWOOWOOWOW!!!!!
Round Three
Kim looks like he's got some energy here.
Kick from Kim is blocked.
Fighting and standing because of Sheer Will is a cliche but that's all that applies here.
Left hook from Kim.  He follows it with a series of leg kicks.
Reyes now the one stalking and Kim on the outside, chipping away with jabs.
Reyes buzz saws Kim's left with a kick.
RIGHT HAND FROM REYES KILLS KIM!  HE IS FINALLY DOWN AND OUT!!!!!
Winner: Polo Reyes, R3, KO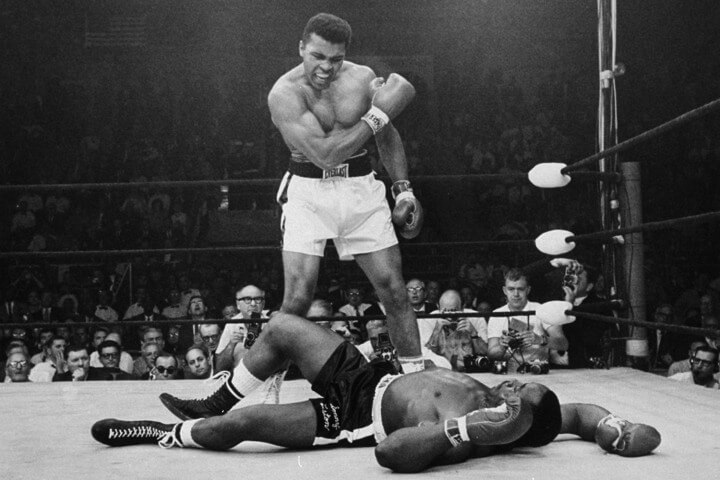 Should You Watch
This is no hyperbole: FIGHT OF THE YEAR CANDIDATE!!!!
Kevin Casey vs. Elvis Mutapcic – Middleweight
Round One
Casey is married to Muhammad Ali's daughter.  That's out of left field.
And Joe just mentions Casey's black belt under Rickson Gracie, talking it up like it's the most important black belt in BJJ.  Except that Casey has NEVER shown super great jits.  He's good and all but the Rickson name is … Ah, forget it.  He's good.  That's enough.
Casey staying on the outside and landing leg kicks through the first minute.
Elvis springs a kick to the head that is barely blocked.
Casey with one of the most blatantly telegraphed takedowns of all time.  And it worked.
Casey hanging out in halfguard(Ed.com).
Casey has landed a little GnP but nothing to show he has some super ground game. (I'll keep harping, I know.)
Casey with an instep pass.  He's being very deliberate here.  I mean, he's winning but eh.
Casey to mount but Elvis scrambles out and lands a knee in the process.
This round was the opposite of the last fight.
Round Two
Casey hanging out at distance, throwing leg kicks, not getting drawn into a striking battle.
Casey throws a big punch, misses, and Elvis counters well inside.
Aaaaaaaand Casey with a TD but Elvis is quickly up.
Elvis with knees in the clinch.  Casey times one, gets a takedown, and ends up in full mount.
Heavy base from Casey, allowing him to sit up and hit some elbows.  Still, he's not overwhelming or anything.
Elvis has his feet near the fence, may look to use it to escape.
Casey grinding with elbows but then Elvis USES THE FENCE TO GET OUT.  WHO CALLED IT, BITCHES?!?!
Elvis with knees in the clinch and I sense that Casey is tired.
One knee after another to the body of Casey.
Grinding knees to the thigh from Elvis.
Round Three
Casey definitely tired here and Elvis senses it as he's opening up more. Elvis doing work in the clinch.
Elbow in the clinch, shots to the body, just more grinding.
Elvis landing a front kick (TO THE FACE!) often.
Sickening leg kick from Elvis.
This is interesting, as Elvis is clearly winning the third and he didn't take a ton of damage earlier.  The 2nd round in particular could be close.  Even though Casey had dominant position for a long time, and did do damage, the last minute or so was Elvis doing really damage.
Elbows and knees from the clinch from Elvis again.
I can't say this is 10-8 but it's really lopsided.
Elvis switches a Casey TD attempt and ends up mounting Casey!  Brutal elbows as the round ends!  Now that might be 10-8…
WINNER: Majority Draw!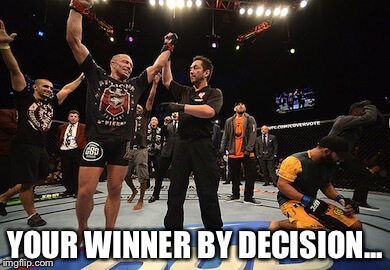 Should You Watch
Eh.  No.  No, you should not.
Jonathan Wilson vs. Luiz Henrique da Silva – Light Heavyweight
Round One
John Wilson is just about the whitest name ever. Wait, he's black though…
Somehow my FightPass went weird and I missed the first 4:30 of this.  I hate you, Dead Steve Jobs.
Round Two
Wilson with some nice punches but Silva eats them.
Silva has Wilson hurt.  Silva is letting his hands go.
Wilson drops his hands, mostly from exhaustion.  Eats more punches.
Wilson shoots successfully but he's tired as hell.
Silva pushes off and gets up.  He's punching Wilson.  That's it: just punching him.
Wilson answers back and he has Silva stunned!!!!  Silva is out on his feet.
Wilson drops Silva!!!!  Silva controls in the guard and looks to be recovering.
Silva with a perfect flower sweep.  He has Wilson mounted with 90 seconds to go.
Silva is pounding and Wilson is covering up.  This might be stopped.  Wilson is fighting though, trying to give his back or something.
Wilson has half guard but keeps getting punched.  It's over!!!
WINNER: Silva, R2, TKO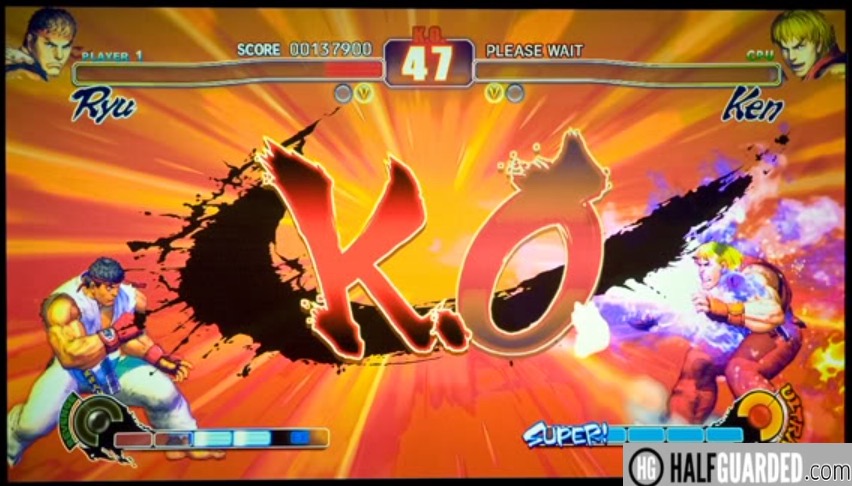 Should You Watch
Not sure about the first round but the second was AWESOME AS SHAVED BALLS!!!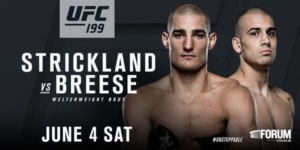 Sean Strickland vs. Tom "My nickname should be 'Stiff'" Breese – Welterweight
Round One
This two look like twins.
Strickland more upright as Breese is definitely lower in his approach.
This tells me Breese looking for more hands and Strikland thinking about kicks.
Straight punch to the midsection of Strickland.
Breese standing higher now and sure enough he's now throwing kicks.
Just pretend I'm smart.
Strickland slides his jab in.  Then an outside leg kick.  Finally a combination that ends with a left hook.
Both guys are respectful. Or tentative. Or cowardly. Or whatever you wanna say.
Fucking Rogan just said "respectful."  I swear I'm ahead of him on these things.  Also: Tony needs to update our security because obvs Rogan is reading all this before I publish.
I've written A LOT about two guys doing jack shit.
"Not a surprise that Breese is a Ricky Hatton fan."  Umm, Breese is Irish.  Goldberg knows that – despite sharing many of the same physically ugly characteristics – Ireland and England are different places, right?
Fuck this round.
Round Two
Strickland with a series of punches that land.  Most damage so far.
Breese is just too patient here.  Strickland is simply outworking him.
Breese narrowly misses a counter uppercut.
Strickland continually walking forward and Breese looks a bit uncomfortable.  But it's not like either guy is running away with this thing.
Half way through the fight and Strickland is ahead (whatever that means) but then Breese fires off some counter punches that score.
Breese showing a little more energy now but Strickland doing a good job of using lateral movement to avoid power shots.
Strickland finding better range with his boxing, teeing off with some punches.  Good left hook though from Breese right to the body.  Strickland takes it well and moves forward, throwing a number of kicks to the body.
Round Three
They just said Breese is from England.  Why did I think Ireland?  Fuck, he's from Birmingham.  Ignore my prior snark.
Breese was a local champion in wrestling in England, says Goldberg.  BECAUSE THAT MEANS SOMETHING.  ::eye roll emoji::
Strickland with double under hooks.  Breese pummels and breaks away.
Strickland still aggressor in all this but … Oh, fuck it.  IT IS BORING.  Nothing is happening, no one is really landing.
Crowd boos, which is the appropriate thing to do.
Breese almost gets a takedown.  Good job, sprawling, Strickland.  You have done your country proud.
WINNER: Strickland, split dec.
Should You Watch
No.  If you do then I hate you.
The good news is that there's almost no way the rest of the card isn't one amazing fight after another.
HOLY AWESOME!  Whatever the name is of that bald dude who pretends he's a badass and also covers football – he just made the most awkward throw to a Dana White narrated Ali tribute.

UFC 199 FREE LIVE STREAM of consciousness RESULTS & RECAP – Preliminary Card (Fox Sports 1) 8/7/6/5 (LONDON: 100)
Cole Miller vs. Alex "Bruce LeRoy" Caceres – Featherweight
Round One
I would've liked to see Penn fight here, because he's a god to me, but this might actually be a better fight.
Bruce with an immediate flash knockdown.  Not bad for 10 days notice. Miller looks to have recovered though and drags the fight to the mat.
LeRoy scrambles up but Miller holds on, takes the back, brings it down, but Caceres hips his way on top.
He's punching a bit but then backs away.
On the feet, Bruce looks loose and fluid on his feet.  Much more confident, bouncing around, slipping punches.
Miller seems flat out there.
Right hook from Bruce.
Spinning backfist into a left hand, and then a combination that rocks Miller.
Miller over extends and Bruce catches a knee and brings it to the ground where he's punching.
Bruce backs out again though.
Round Two
Jumping kick from Bruce.  Miller is really, really off here.  That and Bruce is a full step quicker.
Miller can barely get a punch off without getting hit three times.
Bruce now adding leg kicks into everything.  Another punch rocks Miller!
Bruce is smartly not going crazy here.
BAM!  Bruce just slams Miller down but then doesn't play the ground game.  He's no fool.
Miller tried to pull guard, in the most obvious manner possible, and it failed.
Bruce is stepping to the side wonderfully here.  Almost a Pro v Amateur feel.  Obviously Bruce is a good fighter but so is Miller so this is really surprising.  Kinda makes me wonder what would've happened had Penn not decided to turn to the needle in his old age.
DAMMIT TO HELL!  I write that and then Rogan mentions it.  I swear to fuck he's reading this somehow.
Bruce finishes the round by slamming Miller, backing away, then just landing whatever he wants on the feet.  This is a route.
Round Three
Bruce strikes, gets behind, and dumps Miller on his head.  GnP.  This is still Miller's game and … Bruce knows it as he stands up!
Cole has the back of Bruce.  It's high up though but he's clinging to it.  Armbar?  Yes.
IT IS DEEEEEEEEEEEEEEEP!!!!!!!!!!!!!!!!!!  NOOOOOOO!  Bruce gets out.  Holy shit that was awesome as fuck.
Bruce walks away like a pimp.  Damn I love this sport.
Miller turning it on as Bruce seems to be a little slow all of the sudden.
Miller tried to pull guard again but Bruce just slams him down and walks back.
They both just barely miss haymakers.
Bruce seems to have regained his mojo.  He seems like someone that feeds off his mojo.
Bruce behind, Miller rolls through for a kneebar, Bruce defends, Miller on top and has 30 seconds to finish.  Great exchange.
Miller has the back.  He's close under the him for a choke.  No!  Bruce gets out and will hold on.
Winner: Bruce LeRoy, dec.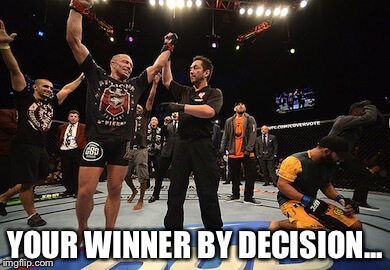 Should You Watch
FUCK. YES.  That third round was awesome as shit and really the whole fun was great.
LOLOLOLOL.  Fedor is fighting on some joke Russian show that's probably a money laundering deal – and it'll be on UFC Fight Pass.  Yes, the UFC got Fedor for free.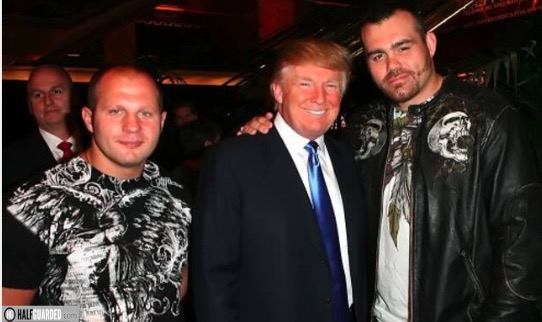 Jessica Penne vs. Jessica Andrade – Women's Strawweight
Round One
Andrade is gay and from Brazil. I always find that surprising for some reason.  I'm pretty sure Brazil is still homophobic as hell – but maybe they're ok with chicks? (I KNOW I AM!)
Oh damn!  Andrade let's her hands go early and it's impressive as hell. I think the move to SW was a good idea.
FUCK!  Andrade has some power in her punches here.
Penne seems completely caught off guard by the swarms of punches.
Every time Andrade steps forward and throws, Penne backs up against the cage and just covers up.  Penne is gonna go down if she keeps this up.
Andrade digs to the body and Penne is just outclassed so far.
Andrade looks like a stud at SW. Stud?  Slut?  What's the appropriate terms?  Mare?
Round Two
Round two starts off the same, with Andrade just throwing and Penne taking it.
Penne finally goes down, but it may have been a bad guard pull attempt, and Andrade had none of it.
Penne isn't bad or anything either – she fucking fought Joanna Champion for the title!!! – but this is a crazy difference in skill.
Andrade triples up on her right hand.  Now just throwing a ton.  Penne is standing and covering up but this is academic.
FINALLY it is stopped.
Winner: Andrade, KO, R2


Should You Watch
For. Fucking. Sure.
Andrade looked SCARY good here.
Commercial tells me the first Hooters was at the beach.  You don't say…
Beneil Dariush vs. James Vick – Lightweight
Round One
I'm a BIG Beneil fan.  But I like Vick too.  What is a girl to do?
Poor Dariush.  I remember when he got boo'd because his family was originally from Iran and he's all, "But I'm a Christian refugee!"
Should be a "striker vs grappler" match – in 2016.
Accidental eye poke halts everything after all of one minute.
Vick is soooooo much longer here and he's using it.
ANOTHER eye poke, this time from Vick.  LOL then Vick says HE was eye poked too.  There's a theme to this fight…
Darisush drops Vick BIG TIME!!!!!  Vick is hurt.  Beneil is swarming.
Vick gets up but he's still wobbly.
Mr. Iran (his name is tough to type without seeing it on screen) tries a body lock TD but Vick defends well.
Vick has cleared his head.
ANOTHER big shot from Dariush lands.
VICK IS DOWN AND OUT!!!!!!!
Winner: Dariush, KO, R1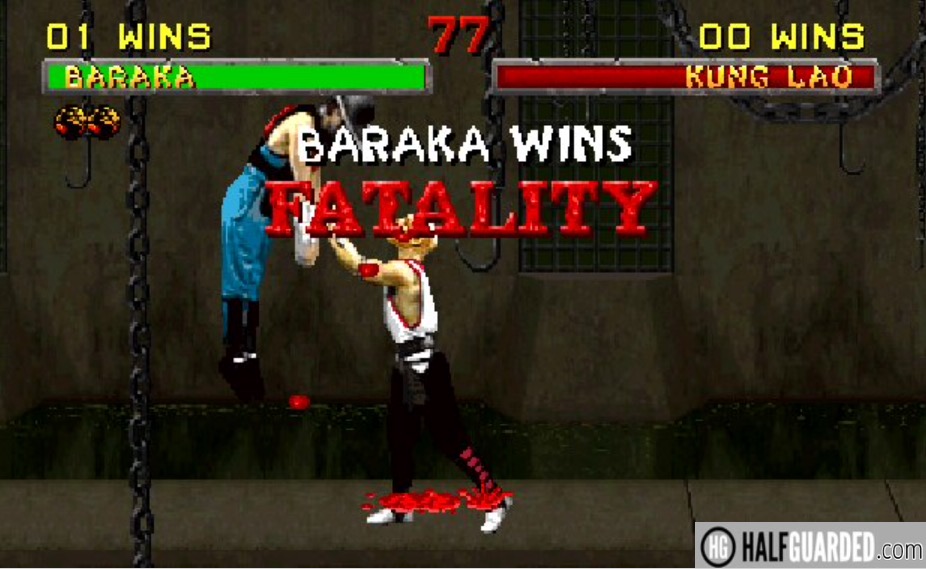 Should You Watch
OMG!  Yes.  FUCK ME THIS SHOW IS SO GOOD!!!!!
Just showed the SERIOUS ATHLETE WHO HAD A TOUGH LIFE, Paige VanZant.  Most pro fighters do a lot of dancing on TV.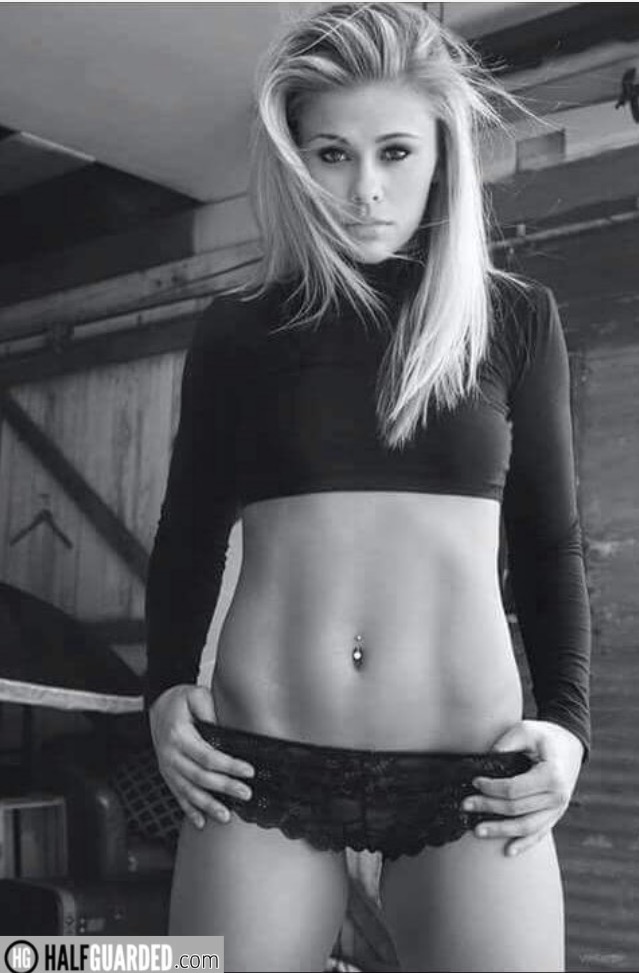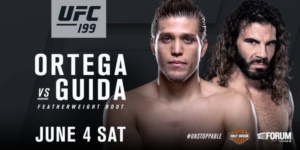 Brian Ortega vs. Clay Guida – Featherweight
Round One
I can't believe how good this show has been and THIS fight hasn't even happened yet.
Guida clips Ortega with a left hand right away.  Ortega is down but quickly up.
Guida's hair is so out of control that it's no longer amusing.
Guida shoots, Ortega sprawls.  Guida hasn't given up on it yet as he punches Ortega while punching with one hand.
Guida gives it up.
Guida is striking better than he has in the past.  #TeamAlphaMale (aka: Mike knows people on that team and is a whore)
Ortega is being exposed on the feet a bit.  He has a wicked guard but Guida is lighting him up on the feet here.
Round Two
Ortega throws an awkward backfist.  He looks uncomfortable out there.  Against CLAY GUIDA ON THE FEET!
Rogan is all over Ortega's dick about his BJJ.  And Ortega does have some good BJJ, don't get me wrong, but this is classic Rogan where he goes too crazy for a guy.
Guida lands a left hook from a southpaw stance.  Ortega is confusesed by Guida's movement it seems.
Guida keeps simply bouncing around, coming in with a 1-2 combo, then moving out.  Very predictable but it's working so good on him.
Guida now jabbing to the body.  That's a sign of a guy who feels very comfortable out there.
Guida teases a TD but abandons it when Ortega threatens a guillotine.  This is NOT Ortega sprawling but rather Guida being smart and not rushing into things.
Ortega just landed his best sequence of the fight. He's finding a home for his lead uppercut. ("Finding a home" is a fighting cliche, so fuck me.)
Round Three
So far, this has been a letdown.  Oh well, I've already seen a ton of awesomeness tonight that I don't mind.
Ortega IS landing his uppercut though.  He's also finally seeming to find some range with his jab.
More jabs from Ortega.  He's controlling the 3rd round and, honestly (why lie?), the 2nd was close enough that this might be enough.
It still sucks.
One TD from Guida might win this round and fight though; neither guy is doing a lot.
Crowd is booing.  This happens when they're both spoiled from amazing shit earlier AND a fight is kinda boring, which this is.
One minute to go and Ortega is turning it on.  He's MUCH more aggressive here and Guida isn't handling it well.
BIG KNEE FROM ORTEGA DROPS GUIDA AND ENDS IT ALL!!!!!!!!!!! HOLY BUTT FUCKING SHIT!!!!!
Winner: Ortega, KO, R3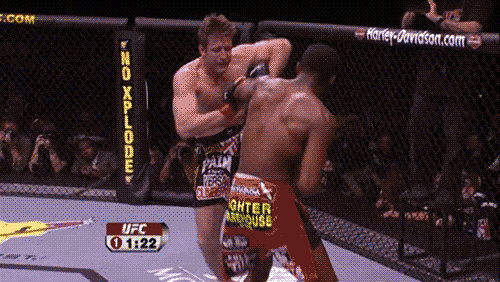 Should You Watch
Yes.  The fight, in real time, was incredible.  That finish is once in a lifetime in many respects.
YOU MUST WATCH THIS SHOW!  THE PPV HAS NOT EVEN STARTED AND I AM ALREADY SO HAPPY!!!!!!!!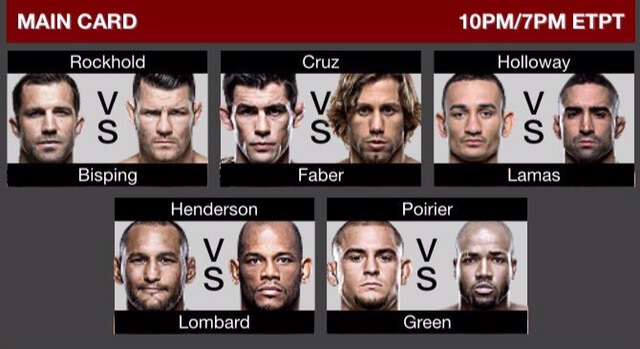 UFC 199 FREE LIVE STREAM of consciousness RESULTS & RECAP – PPV 10/9/8/7 (LONDON: 300)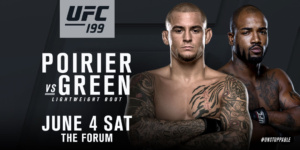 Dustin Poirier vs. Bobby Green – Lightweight
Round One
We haven't even started the PPV, and THIS is the first fight, and already I'm so happy.
For the record: Green beat Josh MR SEXY AS HELL Thomson and so I resent him.
Even though I'm a HUGE fan of all thing French (really) there's no way I'm gonna keep spelling Poirier in my drunken state.
Dustin doing well with leg kicks.
Green talked shit, dropped his hands, said "LET US GO AND FIGHT LIKE MEN" and then got dropped!!!!! LOLOLOLOLOL.
Green is lucky to be standing right now.  Or: he has a special skill to survive.
Dustin landing at will.  His left hand is connecting time and time again.  Green has no answer and is clearly trying to posture his way through things.
BIG STRIKE AND GREEN IS DEAD!!!!!!!!!!!!!!!!
Winner: Dustin Poirier, R1, KO OF DEATH!!!!!!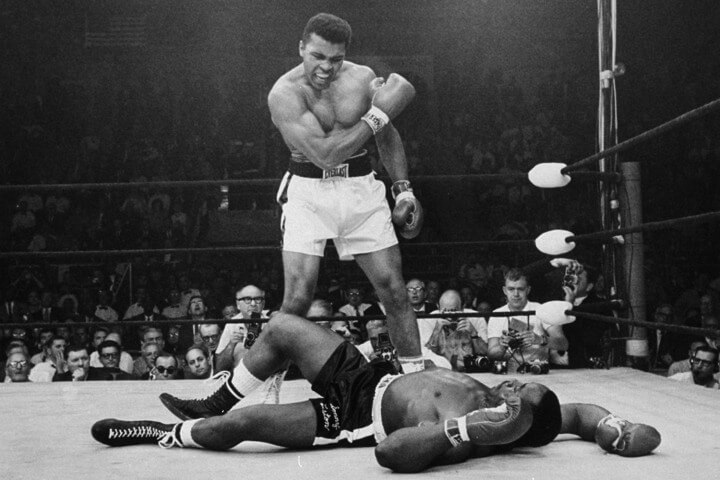 Should You Watch
If you don't, you suck.
DON FRYE IS IN THE UFC HOF!!!!
Dan Henderson vs. Hector Lombard – Middleweight
Round One
This is insane.  Both are swinging.  Dan lands.  Lombard lands.
Lombard drops Dan.  Almost has a straight armbar off a key lock setup.
They're up.  Lombard drops Hendo again.  This is crazy as fuck!!!!
Round Two
Ref randomly checks Dan.  Crowd boos but it's ok: he is good to get more brain damage!  YAY!
This feels like a matter of time before one of them cripples the other with one big punch.
OMG!!!!!!!!!!!!!!!!!!!!!!!!!!!
DAN LANDS A MEGA PUNCH OF DEATH!!!!!!!!!!!!!!!!!!!!!!!!!!!!!
Winner: Henderson, R2, KO OF DEATH!!!!!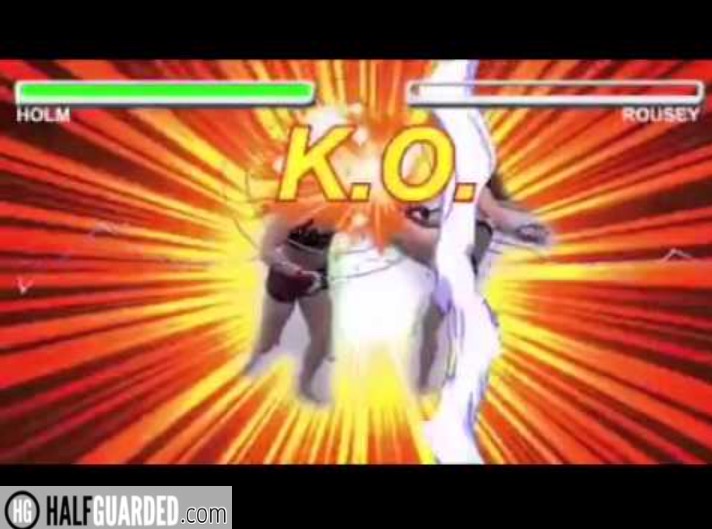 Should You Watch
OMG!  YES!  THIS IS THE BEST SHOW EVER!!!!!!!!!!!!!!!!!!!!
Just announced: Nate vs Conor 2!!!! August !!!!
This is the best sport ever!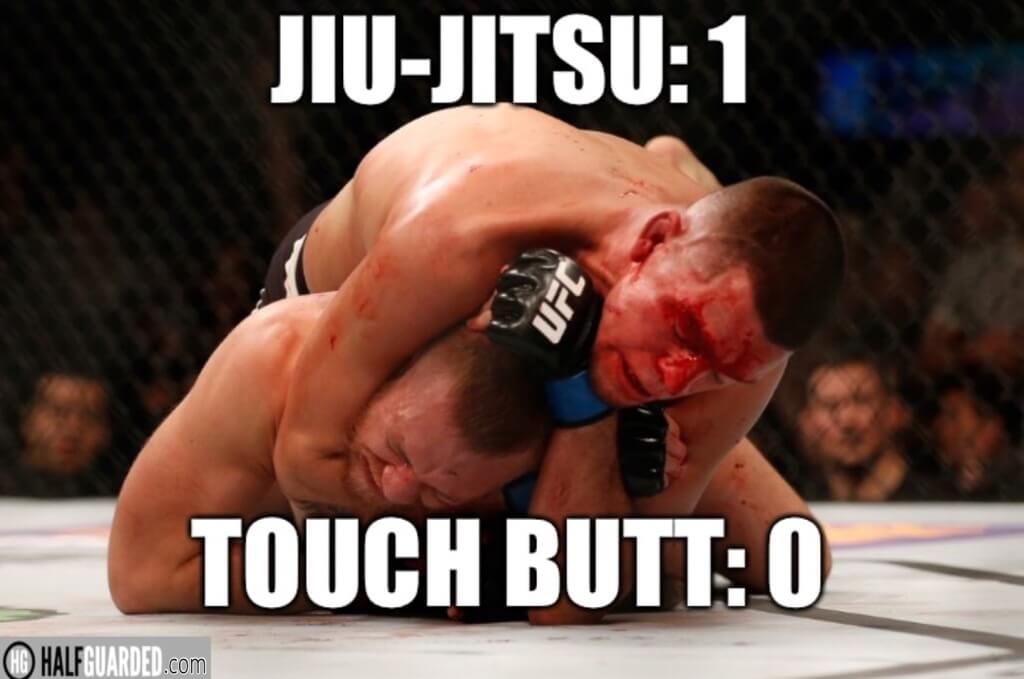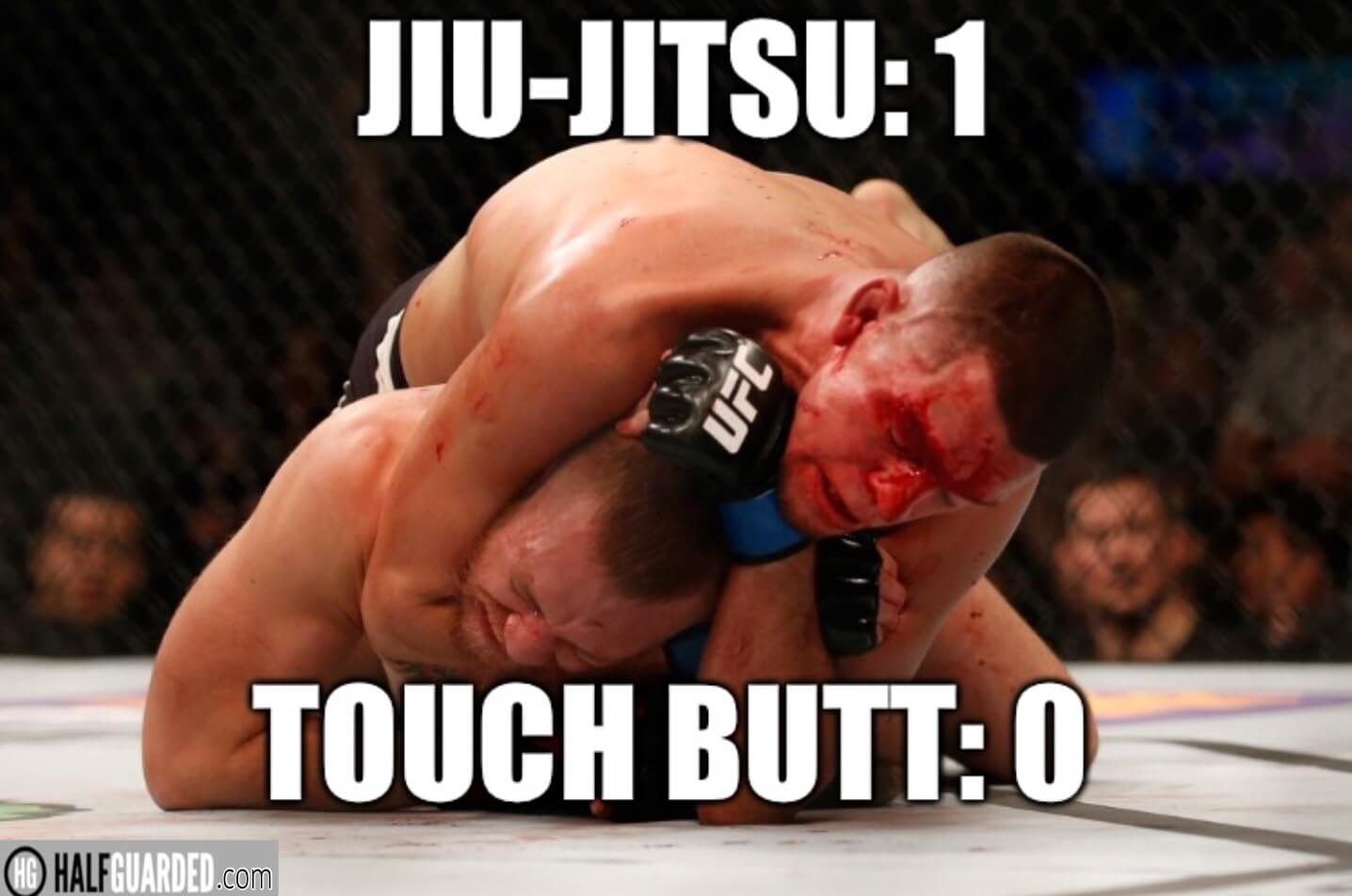 Max Holloway vs. Ricardo Lamas – Featherweight
Round One
All on the feet to start.  Holloway though is showing more composure and overall skill. (Btw, how is he only 24????)
Holloway has Lamas hurt BAD!!!!
Lamas can take a punch, that's for sure.
Holloway digs a hook to the body (all hooks to the body are "digging" for the record).
Lamas dives for a TD but Holloway sprawls with incredible skill.  Uh oh …
24….
I totally forgot that Holloway has the angel wings on his back but he has two different looking wings.  Moron.
Holloway ends the round battering Lamas.
Round Two
Lamas is slowly finding himself but Holloway is just better.  No other way to say it.
Lamas has been cracked.  Holloway is all over him.  LAMAS FIRES BACK!!!!!
Lamas shoots but Holloway with a brilliant sprawl, tries a guillotine, now a north south choke.  NO!!
Lamas up and he is eating (munching? Swallowing?) punches and kicks nonetheless.
Lamas with a desperate shot.  Holloway with a guillotine.  Moves to RNC…  SO CLOSE!!!!!!!!!
WOW!!!!!!
Round Three
Holloway is beating Lamas to the punch every time.  This is crazy.  Holloway is so good and yet both Jose Aldo AND Frankie Edgar deserve a shot against Irish McGee before him.(i.e., fuck off, Conor.)
Holloway is just hitting every punch he wants from the outside.  Lamas cannot deal with it, cannot counter, and his only response are sad TD attempts that fail.
With a minute to go, Holloway is putting on a clinic.  And a clinic against a VERY good fighter.
Theyre' slugging with 45 to go and Holloway is getting the better of everything.
Holloway with a puke inducing punch to the body.
Even though he had it won, Holloway decided to just THROW THE FUCK DOWN as the fight ended.  FUCKING AWESOME!!!!
Winner; Holloway, dec.
Should You Watch
Like everything on this show:  FUCKING HELL YEAH!!!!!!!!!
Dominick Cruz (c) vs. Urijah Faber – UFC Bantamweight Championship
Round One
I am SO excited for this shit.  Their second fight is one of my favorite fights ever.
Cruz IMMEDIATELY takes Faber down.  And with ease.
Faber scrambles up but Cruz holds on.
Uh, Faber's pants are falling down.  Let's see some California ass.
Faber in with a TD now, BIG slam BUUUUUUUUUT Cruz hits a switch in mid air and ends up on top.
Faber holds onto an ankle and almost gets a a TD.
Faber with a guillotine?  No.
Faber doing a great job of matching Cruz's footwork and not getting too caught up w the feints.
Cruz with a single leg but Faber limp legs his way out of it.
Cruz catches Faber but Faber is ok.
Round Two
HUUUUUUUGE LEFT HAND FROM CRUZ DROPS FABER!!!!!!!!
Wow!  Faber is up and alive but he isn't all there.  And we have four minutes to go.
Cruz almost hits a head kick.  Faber shoots.  Cruz sprawls, then pounds, but Faber escapes.
Now they are chanting "Let's go Cruz."  People from LA being front runners?  Nah…
For the record, I had dinner once wth Faber.  He was super nice.  He does not remember me, I know.
Cruz showing a ton of different angles and stuff.  I know that's a Joe Rogan cliche but it is true.
Faber is deliberately timing him but STILL cannot find success.
Cruz is clearly in control, dictating everything that happens, and forcing Faber to react.
Round Three
The biggest difference is the reach of Cruz.
Faber almost clipped Cruz.  Then Cruz almost returned wit the same.  "Almost" is the story of this fight.
Cruz is now switching stances to a degree he's never done before.  Clearly confident like a lion vs. me.
This is ridiculous.  Cruz is on SUCH a different level even when he isn't landing a lot.  You can just see it in movement and how Faber misses.
This makes me sad, because I'm obv very close with Daniel Wanderley from RousuSport, and he's BFF with Fanio Prado who is close with Faber, and I've spent time with Faber (NAME DROP!!!!!) but … Faber just can't beat Cruz.
Cruz is showing so man different angles here, with kicks, TD feints, punches.  He. Is. A. God.
Round Four
I have NEVER seen someone understand distance like Cruz. NOTHING Faber throws is even close.
Cruz does not have a stance.  He is not southpaw or orthodox.
FUCK! DOWN GOES FABER!!!!
No!!!!!!!!!!!!!  Faber is up!
Roga said that Cruz slight have an issue with his right hand.  BTW: Cruz just threw a right hand.
I feel bad for Faber here.  He is one of the few guys where for every second of the right he is in it w Cruz and yet he's being outclassed.
Round Five
In theory, these are the last five minutes Faber will ever have to win a UFC title.
Cruz is using his reach and ability to jab and move out of distance sooooooo well. It'salmost unfair.  Faber will counter appropriately and yet miss by a mile.
Cruz gets Faber's back.  There is 2:30 to go in this fight.  Faber is FUCKED.  He is spending valuable time defending the hooks meanwhile he needs a finish.
Faber stands and separates but Cruz throws a kick to keep him away.
Cruz shoots, Faber defends, but then Cruz lands a punch.
Another TD attempt from Cruz.  Easy success.  Side control.  Faber showing his amazing ability to hip out and stand.
Faber teased a guillotine with 45 seconds to go but no dice.
Dominick Cruz is simply the greatest ever. (Read column referenced above.)
Winner: Dominick Cruz, dec.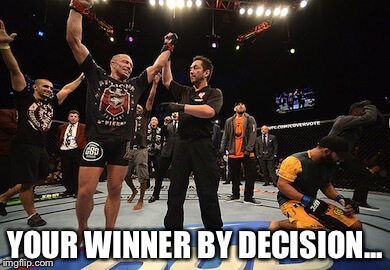 Should You Watch
If you want to see MMA 2.0, I think their second fight was better but this was still impressive as hell.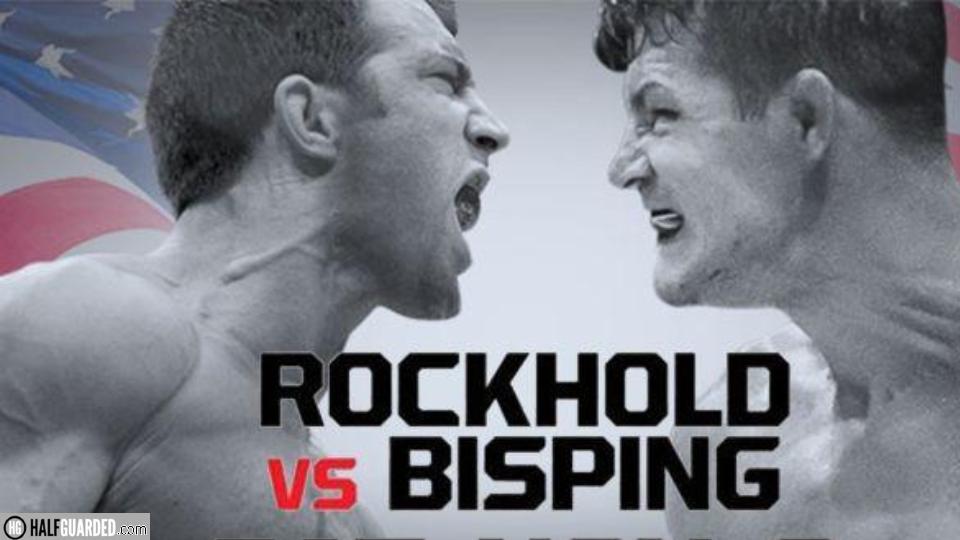 Luke Rockhold (c) vs. Michael Bisping – UFC Middleweight Championship
Round One
Blur's "Song #2" is old. Like, I'm 33 and was 14 when I first heard it and yet …  IT IS SO AWESOME!!!!!
Rockhold is 31?  I feel like he's 39 for some reason.
I have a soft spot for Bisping for some reason.
"Protect yourself at all times" is good advice for Bisping.
The Count is a bit more aggressive early. He's tying to go in and out and et Rockhold uneasy.
Luke doesn't care, btw.
HOLY FUCKING SHIT!!!!!!!!!!!!!!!
BISPING DROPPED AND FINISHED ROCKHOLD!!!!!!!!!!!!!!!!!!!!!!!!!!!!!!!!
WINNER; MICHAEL BISPING, R1, KO!!!!  WORLD FUCKING CHAMPION!!!!!!!!!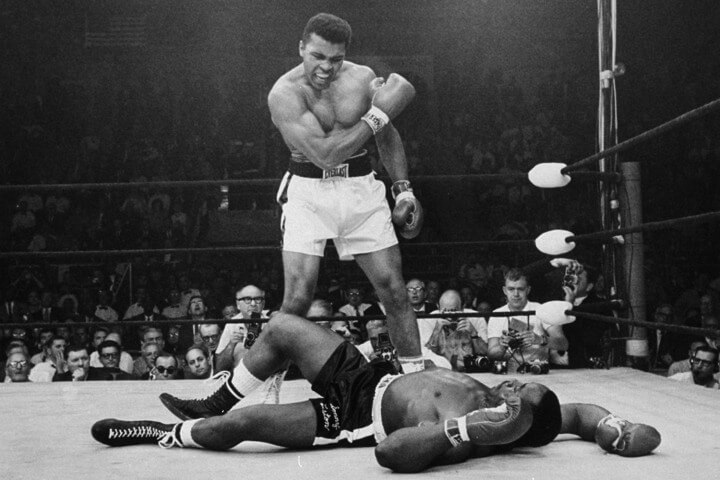 Should You Watch
NOW! NOW!  NOW!  This has been an amazing show overall!!!
QUICK & DIRTY UFC 199 FREE LIVE STREAM of consciousness RESULTS & RECAP
(Winners in bold)
Lightweight Polo Reyes vs. Dong Hyun Kim
Middleweight Kevin Casey DRAW Elvis Mutapcic
Light Heavyweight Jonathan Wilson vs. Luiz Henrique da Silva
Welterweight Sean Strickland vs. Tom Breese
---
Featherweight Cole Miller vs. Alex Caceres
Women's Strawweight Jessica Penne vs. Jessica Andrade
Lightweight Beneil Dariush vs. James Vick
Featherweight Brian Ortega vs. Clay Guida
---
Lightweight Dustin Poirier vs. Bobby Green
Middleweight Dan Henderson vs. Hector Lombard
Featherweight Max Holloway vs. Ricardo Lamas
Bantamweight Dominick Cruz (c) vs. Urijah Faber
Middleweight Luke Rockhold (c) vs. Michael Bisping