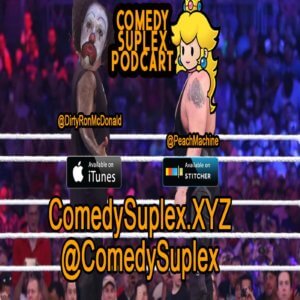 On this extra wacky edition of the Comedy Suplex Podcart, Mikey G and Peach discuss what happened with Nick Gage vs. David Arquette, Marko Stunt snapping his shin and becoming bone break brothers with Peach, the Charlotte Flair beatdown of Ronda Rousey, and Enzo Amore making a further ass of himself at WWE's Survivor Series.
If you ever would like a shout out on the show, all you need to do is retweet the tweet with the link for the most recent episode. Peach will shout you out every time you do this. Just search on twitter for @PeachMachine and @ComedySuplex.
Another way to get a shoutout is to answer our question of the day on Facebook or Twitter. We post one question at the beginning of our podcasts and read the answers at the end.
Don't forget to check out our new show sponsor, The Original Clearwater Smokeshop! If you're in the Clearwater / Tampa / St. Petersburg area of Florida and are in need of any smoking or vaping accessories, check out the original Clearwater Smoke Shop. It is located at 2862 Gulf to Bay Blvd, Unit F., Clearwater, FL 33759 right between S&M Truck World and RaceTrac. ClearwaterSmokeShop.com. Mention the Comedy Suplex Podcart and get 20% off of your purchase.
Mention the Comedy Suplex Podcart and receive 20% off of your purchase!