Imagine a mainstream magazine decides to do a feature on the X-Men. Take a guess what illustration will be used to accompany the article?
There are a few obvious possibilities. There is a chance you'll see a photo of the original X-Men, Cyclops, Marvel Girl, Iceman, Angel and pre-fur Beast, you know the one that flopped and was cancelled after 66 issues. Or you could get the 70's All New, All Different lineup that introduced Wolverine Storm, Colossus, Nightcrawler, Banshee. Alternatively you could get a combination of the two groups which draws on the direction the comic went in the 90's as mutants from these two eras moved into the Xavier Mansion, merging into one pool of mutants and pretty much dropping the concept of team rosters.
Which ever option they go for you can bet the house they won't show one of my all time favourite X-Men line ups. It's a line-up that kind of gets lost in the vast X-Men mythos, despite the fact that it was during an era that provided many iconic moments, great storylines and was so strong sales wise that for a time it became a bi-weekly publication.
This X-Team was the one to feature in two limited series (back when a limited series was an event in itself and something to get excited about) X-Men vs Fantastic Four and X-Men vs Avengers the latter been a damn sight better than the bloated saga I had to endure in 2012. Some people call it the Australian Outback period, I prefer to call it X-Men: the Third Generation.
Over fifteen years Chris Claremont guided the direction and fortunes of the X-Men and at some point he was going to burn out, although opinions of fans are divided as to which point that actually occurred. Some claim he peaked after the Dark Phoenix saga and that the Brood saga was the beginning of a slow decline and the comic weighed down by too many dangling plot threads..
To which I say "Bollocks", in my opinion Claremont was only getting going when Jean Grey sacrificed her life to save the Universe in 1980 (although it wasn't actually her, screw you Marvel you retconning bastards!) Personally I think when the third generation began in 1987 Claremont's work was as strong as ever, skilfully bringing us this changing of the guard and would remain so for at least another another five years.
Now I am biased as I always enjoyed the serial, soap opera style of story telling that he excelled in, along with his use of the slow burn and multiple plot strands. Uncanny X-Men under Claremont was a true sprawling, continuous saga. One of the elements of this was the evolving nature of team books at the time. I've stated this before, but line ups back then transitioned. You rarely got the lazy reboots of today, there was always a purpose and motivation behind characters joining and leaving a team.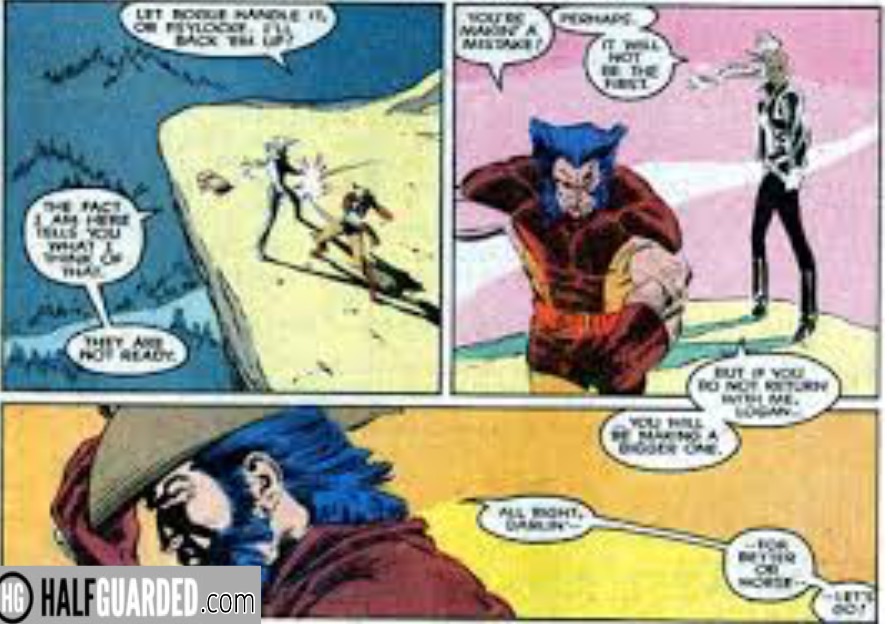 It's a philosophy very evident at the roots of this third wave of X-Men that really began in issue 213 and with the end of the Mutant Massacre* [*see last article, man I've always wanted to do that asterisk and box reference thing]. The team that Claremont inherited back in 1975 was an iconic sensation that caught reader's imaginations with it' weird and wonderful members. Nevertheless the only members to remain in 1987 are Storm and Wolverine (Colossus would return even though originally he'd been earmarked to join Excalibur with Nightcrawler and Kitty) In fact Storm is totally different from the Goddess who joined the X-Men, instead now in her streetwise, mohawk wearing stage and more importantly stripped of her powers. To compensate she has a darker more violent edge, relying on her agility, fighting skills and cunning during which she was the most interesting I ever found her and my favourite leader of the X-Men ever.
The final panel of the Mutant Massacre shows the two veterans with new member Psyclocke and long standing team mate Rogue. On the edges we see Magneto (in his first and most convincing run on the side of the X-Men) and Callisto, which hints they may become full time members. This never actually happens however as Magneto role with the X-Men remains more as the New Mutants headmaster (though he does play a large role in the clashes with Avengers and Fantastic Four) and Callisto drifts off to be with her recovering Morlocks on Muir Island.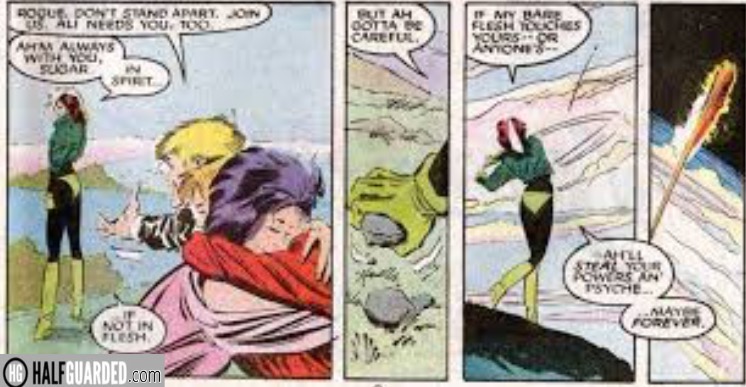 So over the course of the next six issues Claremont builds up a new team, introducing the new members one by one and giving each the chance to spotlight. There is also a familiarity in the roles that gives the new lineup a very X-Men feel. Psylocke obviously takes the telepath spot vacated by Xavier who'd buggered off into space and more recently Rachel Summers who'd left awaiting her own limited series that never actually happened, although Psylocke would take a more active battlefield role.
Longshot with his insane acrobats and comedy is a direct swap for Nightcrawler, even matching the blue skin injured mutant's innocence. Longshot's inclusion was more down to X-Men editor Ann Nocenti who had created him for a six issue mini series and no doubt wanted him in a comic she was involved in to keep control over her creation. In any case he proves a good fit in the X-Men and brings light hearted moments in a very dark period of the comic's history.
We even have a Summers brother in the new lineup with Havok who follows his big brother's example of relationship management by ditching his girlfriend Polaris to join the team and not even bothered to tell her or check that's she's ok. It's especially an arsehole move when you consider the Marauders are out there seemingly attacking X-Men allies and wouldn't you know it she has in fact been possessed by Malice.
I mean what the fuck is it with these Summers boys? Havok even hooks up with his own version of Jean Grey when Madeline Pryor joins the team after been rescued from the Maruaders.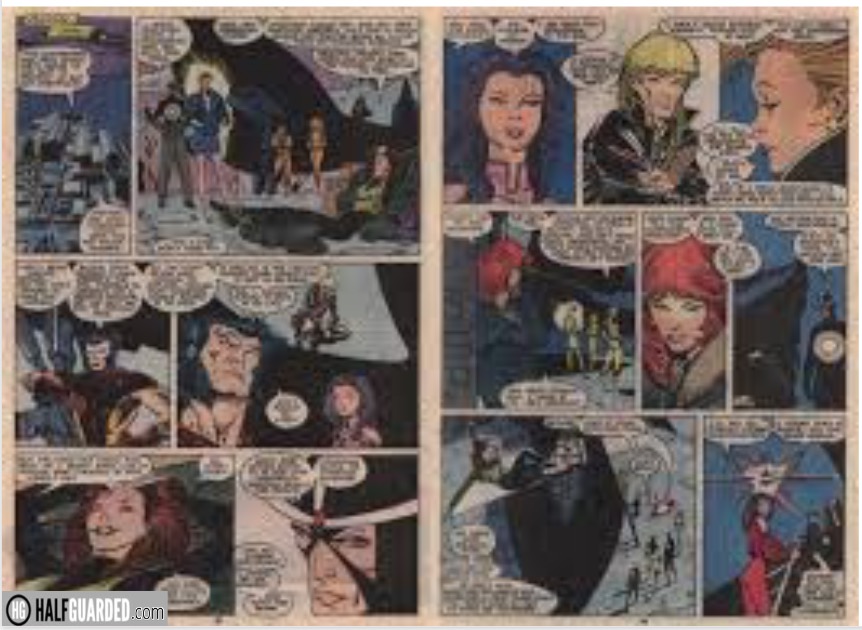 Then we come to one Alison Blair, fresh from her cancelled and much derided Dazzler comic and arguably taking the Kitty Pryde inexperienced member spot. Dazzler I think gets a raw deal from fans as an X-Men, though admittedly she was coming off a troubled concept with her disco persona making a debut about a year after the platform boot genre had started to slump. Fortunately when she joins the X-Men the glitter outfit has long gone and instead she's wearing a blue yoga style outfit with a black leather jacket which may have aged badly today but back in the mid 80's it was fine.
I personally found Dazzler a refreshing addition as the reluctant hero who's main reason for being with the X-Men is because she really has no where else to go. Dazzler is quite open that she'd rather be a star and an entertainer but Mutant prejudice has robbed her of this life and she's forced into the X-Men pretty much for her own protection. It's a change from the rest of the X-Men and New Mutants who seem to jump unquestioningly into Xavier's mutant squads at the first invite from the Professor (which makes me suspicious if Xavier was using his mind powers to influence his new recruits and could have made a great revelation if Marvel had the balls to do the Onslaught Saga properly, but I digress).
Fans have also branded her as a whiner and cited her lack of confidence as grating and decidedly unheroic. Again I find her development from being ultimately disinclined towards the superhero life yet fighting against her fears to fulfil the role as a great story to follow. The moment where she risks her life to save Rogue from drowning, someone that she resents from when the two clashed years before is a stirring moment.
Rogue by this time was a seasoned member of the X-Men and at this point was one of my favourite characters in the whole of comics. I loved her as a cocky hot head which was tempered by her efforts towards redemption for her crimes back with the Brotherhood of Evil Mutants. For all her bluster there was a tragic side to her, her mind a jumbled mess of her own personality and that of Ms Marvel who's memories she'd permanently absorbed. There's a wonderful moment of self reflection where she revisits the Golden Gate Bridge the scene of her fight with Ms Marvel and admits she's never sure what feelings are her own and which are influenced by Carol Danvers. There is also the issue of her being unable to touch another person without rendering them unconscious, which at a time when she is finally caring about and loving her team mates is a particularly heartbreaking situation to be in. One of the pleasures of reading a long running comic is the growth of it's characters and Rogue is a shining example of this.
Rogue and Dazzler being uneasy team mates brings an internal conflict that any good X-Men team need, especially when they begin to compete for the affections of Longshot. But there is lots more angst going on that the new team has to contend with in between it's battles with the Juggernaut and the Marauders. There's leadership troubles as Storm must question how far she should push her morality for the X-Men to survive the threatening world they find themselves at war with. She takes the decision to swallow her pride and find Forge to restore her powers, leaving Wolverine in charge.
Logan is reluctant to take the role as he's questioning his own sanity as he keeps getting a whiff of the presumably deceased Jean Grey. Naturally he also doesn't get along with Havok either.
As a loyal X-Men reader I could be expected to hate this new line up crying out for a return of Nightcrawler, Colossus and Kitty. Instead I totally embraced this team which had all the elements of what I loved about the comic, such as their outsider status and their conflicted but ultimate loyalty to each other. I also became invested in these characters as X-Men because their membership seemed important, even though the likes of Longshot and Psylocke I'd literally only just met I quickly got to know them, came to care about their fates and each of them brought something to the comic.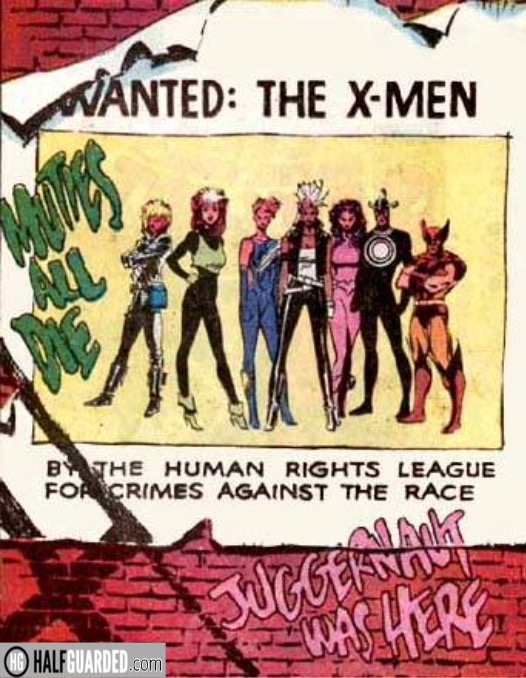 Compare this to when Northstar and Auroa had a stint with the X-Men a few years back and despite being such well known characters they brought little to the team as the stories were so mission heavy. They drifted in as part of a new team make up, lent their powers to a few fight scenes and then were just gone (though Northstar did feature in the much publicised first comics same sex marriage).
Another example is Pixie who I actually like from what I've seen of her but feel as if I get few chances to grow attached to as she's lost in an ocean of X-Men characters. New X-Men such as her don't get the space to develop and have defining scene stealing moments of their own and when the major events come around she'll rarely get a look in. If she was around in the days when the roster was limited to around half a dozen members she'd be given every chance to shine as I'm sure Claremont would be giving her solo stories and her own story arcs.
My fond memories are in no small part due to the fact that this was the team that took part in possibly my favourite Marvel event of all time, the action packed and super emotional Fall of the Mutants.
As well as the threats posed by the Marauders and Apocalypse, the overall tension for fans of the Mutant comics were further enhanced by the appearance of ads across the Marvel comics with the tagline "It's 1987 do you know what your children are?" showing photographs of four children, one of them Franklin Richards who had "Mutie" scrawled across his face. The ad, an obvious pun on the "Do you know where your children are?" TV campaign was supposedly "paid for by citizens in support of the Mutant registration act" had a sinister tone of foreboding. Another part of the marketing campaign was cards inserted into comics for readers to fill in and register themselves as mutants (also I'm sure a way for Marvel to get reader's addresses for their marketing lists).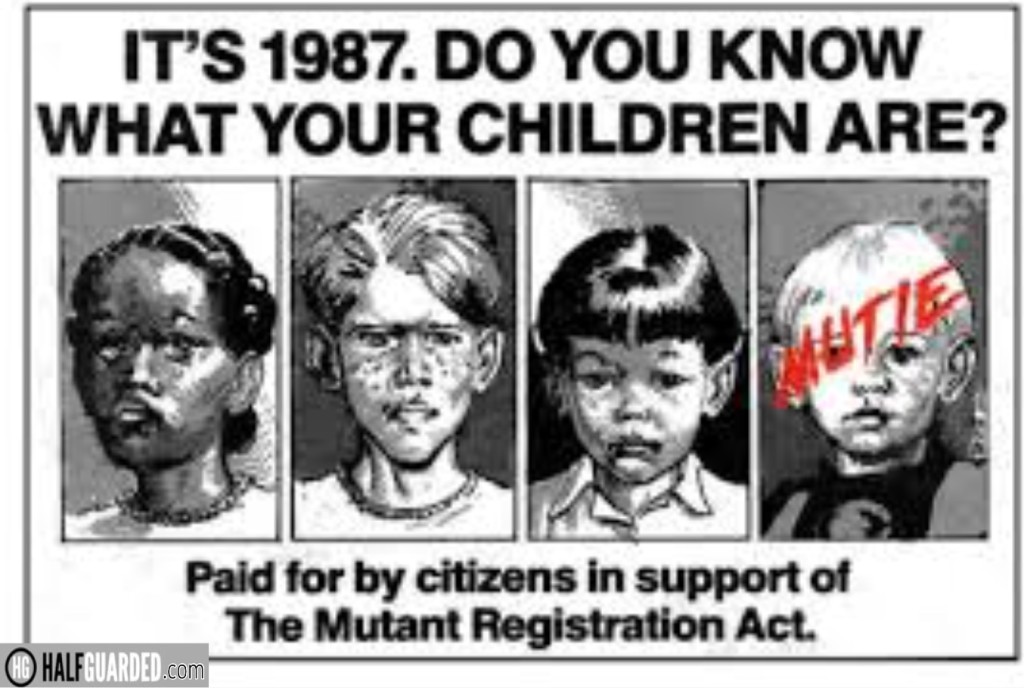 Just as striking was the chilling full page ad for Fall of the Mutants that depicted almost the entire cast of X-Men, New Mutants and X-factor laying defeated, sprawled under a crimson sunset.
Fall of the Mutants ran in the three mutant comics in early 1988 and wasn't a crossover in the tradition sense, instead being three separate stories running at the same time and featuring a major point of crisis for each team. Each story ran for three issues, with the middle issue in all three titles being a double issue.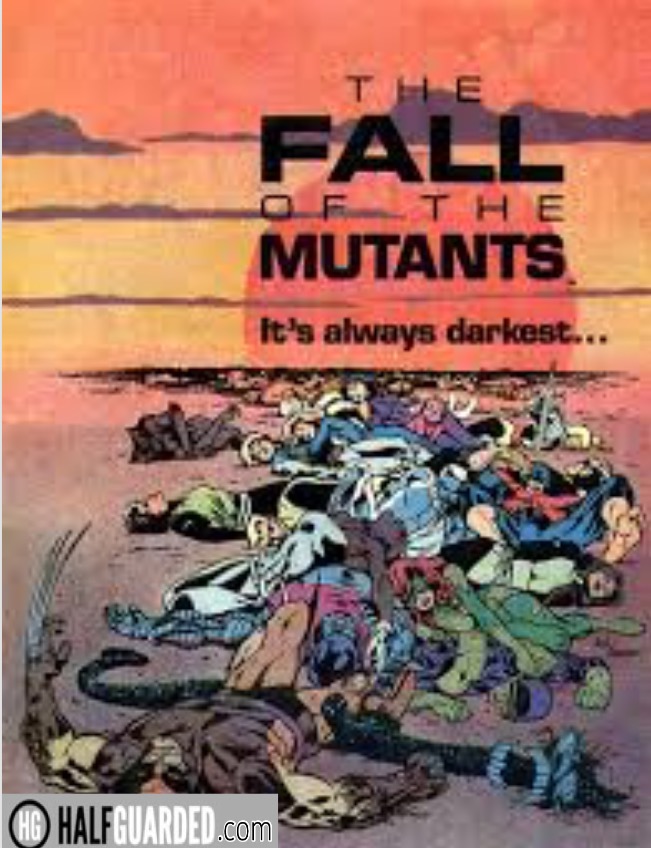 X-Factor's storyline dealt with the team battling Apocalypse who unleashed his four horsemen, led by Archangel in an attack on New York. New Mutants saw the young students facing off against Cameron Hodge and The Right in what may have been the most harrowing adventure seen in that comic. Doug Ramsey is shot dead in the storyline and the students and even headmaster Magneto's reactions are heartbreaking in one of the most emotional treatment of the death of a character Marvel has ever done. Part of it's power being that Ramsey is the kind of character you can imagine being killed off and staying dead (naturally he came back years later).
The X-Men part of the event is my favourite and features traces of Claremont's abandoned Sir James Jasper's reality tampering storyline [Again see my Mutant Massacre piece] as the team find themselves players in a contest between Goddess Roma and an ancient evil the Adversary (Once again it's worth pointing out that for all the anti-Mutant hysteria build driving the comics this didn't play into the main thrust of the year's big Mutant event).
In storyline build and in advertising Marvel teased the Fall of the Mutants would result in the deaths of the X-Men, and as naïve as this makes my young self sound I actually bought into that. What should be remembered that as big a selling as the X-Men comics were the characters were not well known outside of comic fans, even Wolverine was yet to be a mainstream star. Therefore it seemed perfectly plausible to me that some of the X-Men (or at least this lineup) could conceivably be killed off. In any case it added a layer of tension to my reading at the time and it was with a legit sense of dread that I purchased the final two X-Men instalments of the Fall of the Mutants (it's weird to think that almost thirty years later I can still remember that I bought issues 226 and 227 at the same time, yet today I go into a comic shop and have trouble remembering from the covers which Issues I've already bought).
There's an ominous tone to the story, beginning when Freedom Force's Destiny senses that the X-Men are set to be killed in Dallas and that their fate revolves around Storm. Mystique warns Rogue in an attempt to get her to leave the X-Men to their fate, but this only results in the X-Men journeying to Dallas to aid their missing leader, cos they're like heroes and stuff.
Initially the X-Men are ambushed by Freedom Force who have been tasked with bringing in unregistered mutants (although there's a hint Mystique is motivated to secure Rogue's safety), but the two teams end up having to fight side by side as chaos spreads in Dallas as the Adversary opens the barriers between time and space flooding Dallas with threats such as Vikings, Cavemen, Demons, Dinosaurs and even Vietcong troops.
Another factor for my fondness of this era is the artwork of Marc Silvestri, who's work I absolutely adore and his subtle style is in fitting with my personal taste of how I like a comic strip to look. His work in battle and fight scenes is a particular strength and is evident here in the double sized issue which is intense, non stop action on an epic scale. Silvestri was also able to draw women in a gorgeous manner which was as tasteful as you'll find when it comes to depicting sexiness in superheroes, definitely a lot more subtle than the busty, cheesecake renditions that would dominate comics in the decade ahead.
To compliment this there are some wonderful heartfelt moments, with Claremont in his element in delivering impassioned speeches and touching moments. Wolverine delivers a speech to the X-Men before embarking on their mission to Dallas, reminding them that this is possibly a suicide mission and how "I won't think any less of anyone who decides to deal themselves out!" This is actually a re-enactment of the speech Cyclops delivered before the trial by combat to determine the fate of Jean Grey (who wasn't Jean Grey but you know), however for some reason the speech feels more impassioned when delivered by Wolverine. Naturally the X-Men all take turns to pledge their support til the end in a fine goosebump inducing moment of heroism. Dazzler is especially poignant as she's obviously scared but joins anyway, having had a final moment of glory having just performed in front of a crowd for what could be one last time.
There are lump in the throat moments all around, especially as the X-Men embark on the final confrontation with the Adversary a battle in which they will seemingly die. Rogue and Mystique bid farewell to each other with Rogue thinking "mom" and Mystique thinking "daughter." There's another moment where Wolverine compares their situation to that of the Spartans, holding the line at Thermopyale (read a book, for fucks sake don't watch 300 it's shit), when Mystique comments she didn't peg him for a romantic, Wolverine responds "Darlin, how can anyone be an X-Men and not a romantic?" Madeline Pryor insists on joining to act as a blinded Dazzler's eyes and sends a plea out to Scott Summers and a watching television audience to find their missing son. Wolverine meanwhile tells the same audience that whether they return or not to remember them.
Even the villains have their moments, with Blob saving Rogue while Crimson Commando laments on whether for all their efforts whether mankind is even worth saving after a bunch of rednecks slaughter a tribe of time displaced Native Americans who have approached with an offer of an alliance.
Naturally I highly recommend Fall of the Mutants which is available in a massive 800 page collection. It's a stunning piece of work, full of action across all three storylines with high stakes drama but also lots of human emotion (or should it be mutant emotion). Coming out of Fall of the Mutants the direction of each title is changed massively, X-Factor becoming for a time a loved superhero team, New Mutants graduating in their own minds to take a more direct role in mutant affairs with the X-Men all dead.
Well not quite "dead" as the X-Men are only believed by the world to have sacrificed their lives to defeat the Adversary. This gives them the chance to pursue a plan they'd previously discussed where they fake their deaths in order to protect their families and loved ones from been targets by association and to free them to strike back at the long list of threats which have accumulated in recent years.
This is where the "Outback era" really begins as the X-Men base themselves in a deserted town in the Australian wilderness (well deserted once they kick the shit out of the cyborg army camped there known as the Reavers). There are some good stories during this period, with clashes with the Brood, the introduction of Genosha as a fascist country founded on Mutant slavery and the slow build towards Inferno [See my previous article on my mixed opinions on how that all turned out]. Claremont also seemed to be building a mysterious origin of the X-Men's new base (and all it's bizarre technology that seemed to have a mind of it's own but was quite ambiguous as to whether it's agenda was to aid or hinder the X-Men) and it's enigmatic teleporter Gateway.
Sadly while I was enjoying the Outback era, post Inferno is where the cracks began to show in the X-Men. Claremont was doing a great job of building up a new faction in the same menacing mould of the Marauders headed by Donald Pierce and formed of lady Deathstrike her team of ex-hellfire club cyborgs and the survivors of the Reavers. He also introduced Jubilee who would fill a great role as Wolverine's sidekick and just around the corner was the debut of Gambit.
But despite these exciting developments the story of the main team suffered as the third generation team was dismantled member by member in unsatisfying quick fashion and then scattered around the globe. Claremont's idea being to dissolve the team and over the next few years have the members strive to find each over and form a brand new team, presumably around the time of the X-Men issue 300 mega storyline he'd been planning for some years.
Post third generation is a curious time in that it's a Uncanny X-Men comic without an actual X-Men team, instead it becomes a serial of scattered solo plotlines (not unlike Game of Thrones). While I liked the concept, for me it was marred by the departure of Marc Silvestri, who was replaced by various artists that lowered the quality of the comic, though to be fair art is a subjective taste and the style across the who Marvel line was going in a direction that I hated. Unfortunately for me the main build in the comic was towards the threat of the Shadowking who would prove to be one of my least favourite X-Villains ever.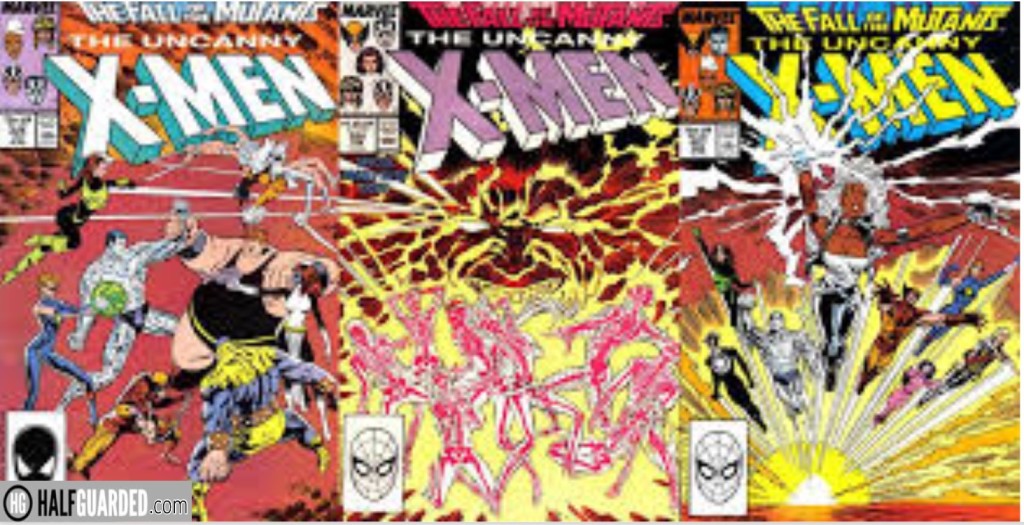 But this is an era of X-Men that requires a whole article to itself and frankly a hell of a lot more research by me to figure out what happened in the latter end of the Claremont era. And when I say "research" I mean sitting with my laptop trailing through podcasts, youtube videos and interviews with in my mind the king of X-Men.
Uncanny X-Men 213 to 251! It's an era of the book that I adore. If you've been a regular reader of my comicbook ramblings both here on Halfguarded and on the original Comic Conversations site (and if you are God bless you, I owe you a drink) you'll start to have a picture of the elements that I love in a team book. The third generation exemplifies those elements from it's ever evolving serial nature to it's soap opera style interaction of it's members.
To many they may be the forgotten X-Men, but to me they will always be MY X-Men.
Til next time
Dazza