In 1987 hearing that Star Trek was returning to TV with a brand new crew and even new Enterprise was like hearing one of your friends had got a new lover, when you'd got on really well with the last one. Sure you were going to be polite and give em a chance, but deep down you knew you were going to resent them and not take to them all that well.
And Next Generation did not make the greatest of first impressions. The overall look of the show felt dated, the characters stiff and thanks to Roddenberry being a nightmare and driving writers off (his ludicrous edict that there could be no conflict between the crew greatly reduced the creative potential for drama), the stories early on were very uneven. The first season of Next Generation is uninspiring in many ways and it's interesting to compare how he original series found it's footing so quickly and how many classic episodes were in it's first year.
However, Next Generation ratings were high and the show profitable, leading it to have time to find it's way. While still built on the single story format of episodes, Next Generation a greater sense of ongoing storylines and recurring characters and races than the original show. The characters of the crew started to develop more and before long Picard and Riker's gang gained an iconic status to match their predecessors and were ready to take the baton when Shatner's lot got too old to make the movies.
I became a big fan of Next Generation and found myself squarely in the Picard camp of the "Who'd the best captain?" debate. Here then is my list of my most beloved episodes (Listed in date order) a show that had many great stories, some of them even spectacular.
1: Q Who (Series 2: Episode 16)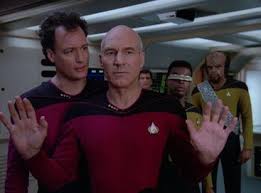 Visits by "Q" were always welcome to Next Generation, with the chemistry and conflict between Patrick Stewart and John De Lancie hilariously entertaining. But when that "Q" episode introduces the biggest, most fearsome threat in all of Star Trek, it deserves to go down as a classic (and you could argue the episode that really got Next Gen cooking).
The existence of a powerful new threat had been teased back in the season finale of the first season. Yet, it wasn't until over half way into season two when a petty "Q" flung the Enterprise thousands of light years across the Galaxy that we had our first meeting with the Borg. And what a first encounter, as the eerie tension grows with each engagement with the sinister looking Borg cube, it's unsettling cyborg crew and Guinan's (played by Whoopi Goldberg) repeated advice to just get the hell away while they still can.
The final act with the Enterprise desperately trying to escape the unstoppable Borg ship, is masterfully suspenseful, with the Federation ship seemingly outmatched in every sense. With the gloating of"Q" at how they are out of their league ("They will follow this ship until you exhaust your fuel, they will wear down your defenses, then you will be theirs") only Picard admitting he is humbled and needs help saves them.
"Q Who" does an phenomenal job of making the Star Trek Universe feel dangerous again, with a truly terrifying new adversary and brings a much needed vulnerability to the crew . The final scene with Guinan and Picard is goosebump inducing with the foreboding realisation that now the Borg know of them "they will be coming."
2: Yesterday's Enterprise (Season 3, Episode 15)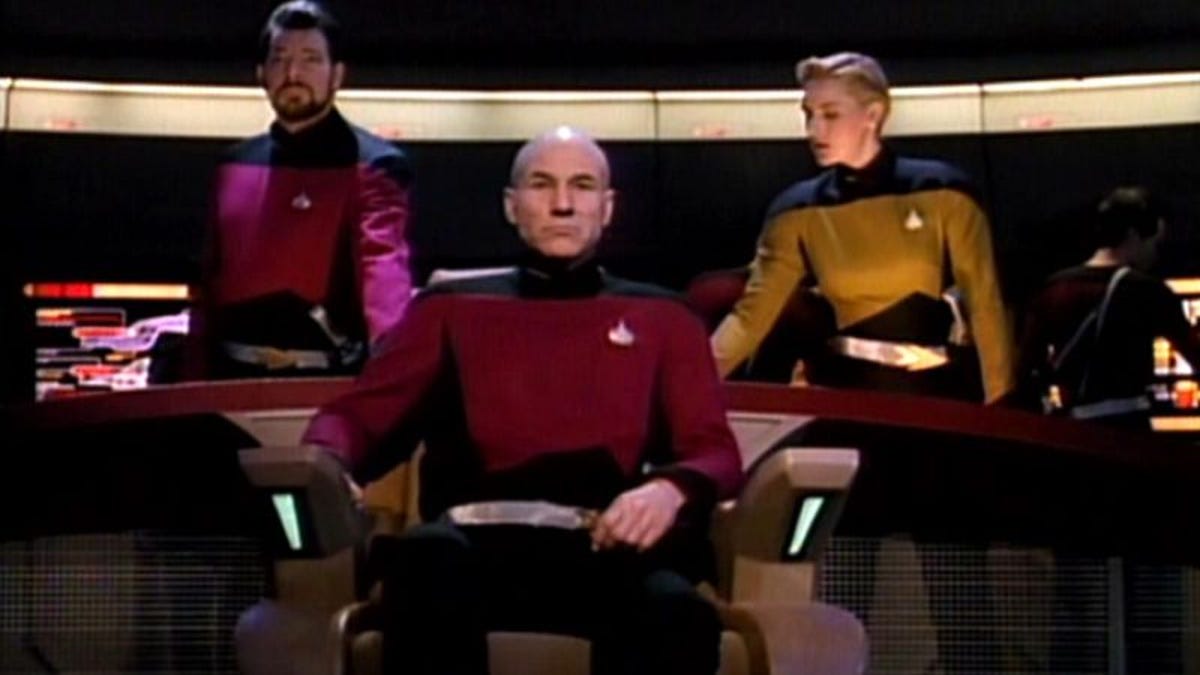 When you talk about diving right into the story this episode has one of the most dramatic pre credit openings of the series.When investigating an anomaly, the Enterprise-C emerges from over twenty years in the past to the present day, instantly changing history. In the blink of an eye the Enterprise is now a warship, the Federation is on the losing side of a war with the Klingons and Worf is gone replaced by the previously dead Tasha Yar. We've not even got to the theme music yet!
Alternate history shows are always fun. Yesterday's Enterprise has subtle changes such as a darker lit ship, sterner personalities of crew members (Picard and Riker clearly don't get on in this version) to give the present more hard edged versions of the characters we know. It also allows a brief fan pleasing return to the days of Klingons vs Federation including a cracking "everyone dies" battle, with Picard going down swinging taking control of phasers in a fuck yeah moment.
Picard is in full Agincourt mode when he proclaims"Let's make sure history never forgets the name Enterprise," and the episode is full of heroics. There's a touching sense of bravery amongst the Enterprise-C who know they have to go back in time to their certain deaths to restore a history where the Klingons and Federation made peace. The fate of Tasha Yar is also moving as she realises that by correcting history she will be doomed to a "meaningless death."
Next Generation was noted for being a more philosophical Star Trek, but could still do top notch exciting action.Speaking of which……
3: Best of Both Worlds (Season Three, Episode 26 and Season Four, Episode One)
It's been a season and half since we last saw them in "Q Who," but when the Borg finally arrive in Federation space boy is it fucking epic. Put the episodes together and this two parter rivals any Trek film in terms of drama and stakes, and leave aside the television special effects and it's a damn sight better movie than some actual Trek theatrical features.
Not only notable for having one of the greatest cliff hangers in TV history, with Picard assimilated by the Borg, Riker giving the order to blow him to bits and that bombastically dramatic tune to finish off episode one (the season finale, meaning fans had a tortuous three month wait), it's also conceivably the biggest threat the show has ever put it's characters through. There is a real sense not just the Federation but the Klingons, the Romulans, the entire Alpha Quadrant are going to fall, with a real sense of desperation as the Enterprise flys through the wreckage of an entire fleet destroyed by the Borg.
While it's Picard shockingly transformed into Locutus and leading the Borg that is visually memorable, Best of Both Worlds is very much a Riker story. The appearance of the driven and hungry Borg expert Shelby challenges Riker to ponder whether he has become complacent in his role as second in command. With Picard gone, Riker is the one who has to step up to lead against the crisis and fight not only the Borg but the shadow of his former Captain.
Even thirty years on, Best of Both Worlds is a stunning achievement in television and is one of the greatest ride in Star Trek history.
4. First Contact (Season 4, Episode 15)
This is a interesting and often overlooked episode that puts your perspective with a xenophobic race, one that would look upon the with mistrust at an Enterprise crew it regards as mysterious aliens and outsiders. In reality, the race the Malcorions are essentially like us.
Riker is injured while disguised as an alien to investigate a race which is about to achieve warp drive. When taken to a hospital his cover is blown when doctors discover his biology is different and he's taken into secret custody, fearing that there will be public panic if the existence of visitors from another planet is revealed.
There are a lots of nods and winks to the conspiracy theories of Area 51 and Roswell with references to cover ups, aliens recovered and witnesses who come forward being ridiculed.
The episode has a fun cameo with Bebe Neuwith (Lilath from Cheers) as a alien obsessed woman who offers to help Riker escape if he'll have sex with her. While it's never confirmed for sure we can assume Riker does as she sets him free, the old dog. Kirj would be proud.
5: Drumhead (Season 4, Episode 21)
When I heard that Gene Simmons was appearing in a Next Generation episode I expected the KISS bass player was going to be a long tongued Klingon.When I saw instead it was actually the world renowned, classic movie actress JEAN Simmons appearing on a transporter pad I was even more gobsmaked! Surprise, suprise, she's bloody awesome in it.
Simmons plays Admiral Satie who comes to investigate an explosion, possibly an act of sabotage on the Enterprise. Satie's investigation soon turns into a witch hunt, focusing on a young crew member who concealed that he was one quarter Romulan. When Picard, unnerved by Satie's tactics attempts to defend the crewman he finds himself on a witness stand and his own past under attack. In particular Satie's ruthless tactic of bringing up Picard's stint with the Borg is savagely cruel and Simmons in that moment becomes to the audience one of the biggest villains in the series.
With obvious parallels to McCarthyism , this is one of the earliest times that the Federation is shown to have a sinister side (Roddenberry was no longer creatively involved by this point). Sadly, with it's narratives on fear mongering and fanaticism this episode has gained more relevancy since it first aired in 1991.
With it's court room drama focus, this is as dramatically compelling as any Star Trek story from any series. It's also one of Picard's finest character moments, as he makes a stand for what is right and does so by outwitting Satie. The quote he uses to make is point (taken from a speech by Satie's father), is truly wonderful:
"With the first link, the chain is forged. The first speech censured, the first thought forbidden, the first freedom denied, chains us all irrevocably. "
Delivered with inspiring gravitas by Stewart, when the line causes the meltdown from Satie's and the enraged "I've brought down bigger men than you Picard!" it's a gotcha moment which is as satisfying as any victory in Star Trek.
6. Disaster (Season 5, Episode 5)
Striking a balance between funny and light hearted, while keeping the drama and peril very real is rarely done as well as here, where Next Generation employs all the tropes of disaster movies to excellent use. An accident renders the Enterprise inoperable, cutting off the crew members in various sections of the ship all with their own problems they need to overcome if they are to survive and save the ship.
The crux of the episode is in pairing off some crew members into odd couples to work together (Geordi and Crusher, Riker and Data), while others are put into situations outside of their expertise. Troi is forced to take command of the Bridge, an injured Picard is trapped in a elevator with three children (Picard being uncomfortable around children is a ongoing gag throughout the series) and hilariously Worf is forced to deliver the O'Brien's baby.
Disaster is a fun episode, and a rare one where all the cast get something to do and have their moment to shine.
7. Cause and Effect (Season 4, Episode 18)
The technobabble heavy episodes of Star Trek often left me cold, and for TNG they were a staple of the series. Fortunately Cause and Effect had an intriguing premise that allowed for an original clever story method. The Enterprise is caught in a time loop that starts with the crew playing cards, ends with the ship's destruction colliding with another vessel and throws them back to the start to go through the whole day again.
Yes, it sounds a lot like Groundhog Day, however the episode aired a year before that film came out. The enjoyment comes in that we the audience are a step ahead of the crew. We know what's going on and we can see their sense of deja vu growing each time they live the day, with their building realisation of the problem and their attempts to correct it are ingenious and for once understandable and not based on half arsed quantum physics theory.
And yes, that is Kelsey Grammar in one of the more left field throwaway cameos.
8: Inner Light (Season 5, Episode 25)
It takes a subtle but strong Science Fiction premise to also provide us one of the most heart warming stories in Star Trek, giving us my favourite Picard episode in the series. The Enterprise encounters a probe that links with Picard's mind who wakes up to discover he is villager called Kamin, living in a small community. Here he has a wife and friends who try to convince him his memories of the Enterprise are hallucinations he suffered while having a fever.
Eventually Picard settles into living the life of Kamin, starting a family, living to an old age, all the while the community faces extinction from the radiation given off by the planet's nearby sun. When the purpose of the probe and it's attachment to Picard is finally revealed, it's one of the most moving moments in Trek history.
Through the life that Picard lives as Kamin (the decades he lives are only twenty minutes in his real world), you get the sense that this is the happiness that his Star Fleet life has denied him. Though the memories are never mentioned again in the series, it's clear that Picard's time as Kamin remains with him. The flute that he learns to play is found within the probe and becomes a fixture in his room for the rest of the series, even been brought out to play in a few episodes.
Despite it's gentleness and simplicity, The Inner Light became one of the most beloved Star Trek episodes. It won a Hugo, the first Trek episode to do so since City on the Edge of Forever and features highly on best of lists. It's as wonderfully sweet as the little ditty that Picard plays to end the episode.
9: Chain of Command (Season 6, Episodes 10 and 11)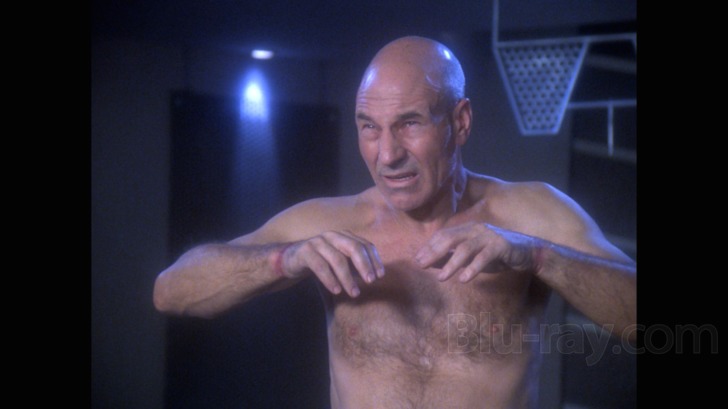 There have been some criticisms that the vibe of Next Generation was a little too cosy at times. Well this epic two parter buggers to death that opinion, with some damn right dark and disturbing moments which puts our boy Picard through sheer physical and mental hell.
Tensions are building with the Cardissians (no, not them twats on that reality show), with Picard been sent to lead a covert mission to destroy one of their biological weapon bases. Meanwhile the rest of the crew have to deal with a replacement Captain called Jellico, who is colder, has a lot sterner methods than Picard and clashes constantly with Riker. He also makes Troi wear a uniform and gets rid of Picard's fish, the bastard!
Things really get dark in the second part when Picard is captured and subjected to brutal torture by the Cardassians. In scenes reminiscent of 1984, he's humiliated, stripped naked, deprived of sleep and food and in an attempt to break him mentally is punished for refusing to say he can see five lights in front of him when there are really only four.
The abuse inflicted on Picard is distressing to watch, the scene is given extra menace due to the sinister, understated performance of David Warner as torturer Gul Madred. Warner is incredible, with his ruthless cruelty becoming a template for the viciousness of Cardassian fascist culture going forward. Warner is particularly impressive as he was a last minute replacement for the role, and not having time to learn his lines had to use cue cards during most of his scenes.
It's an incredible exciting saga, that relies more on characters as opposed to straight action, with two really strong diverse stories linking together. Stewart is practically Shakespearean in his performance resisting Madred's attempts to break him. While the conflict between Riker and Jellico leads to some outstanding exchanges, as Riker at odds with his new Captain's cold pragmatism (Ronny Cox also gives an excellent performance).
This is a cracking feature length episode, and really set up the Cardassians as a fearsome adversary.
10: All Good Things….(Season 7, Episode 25)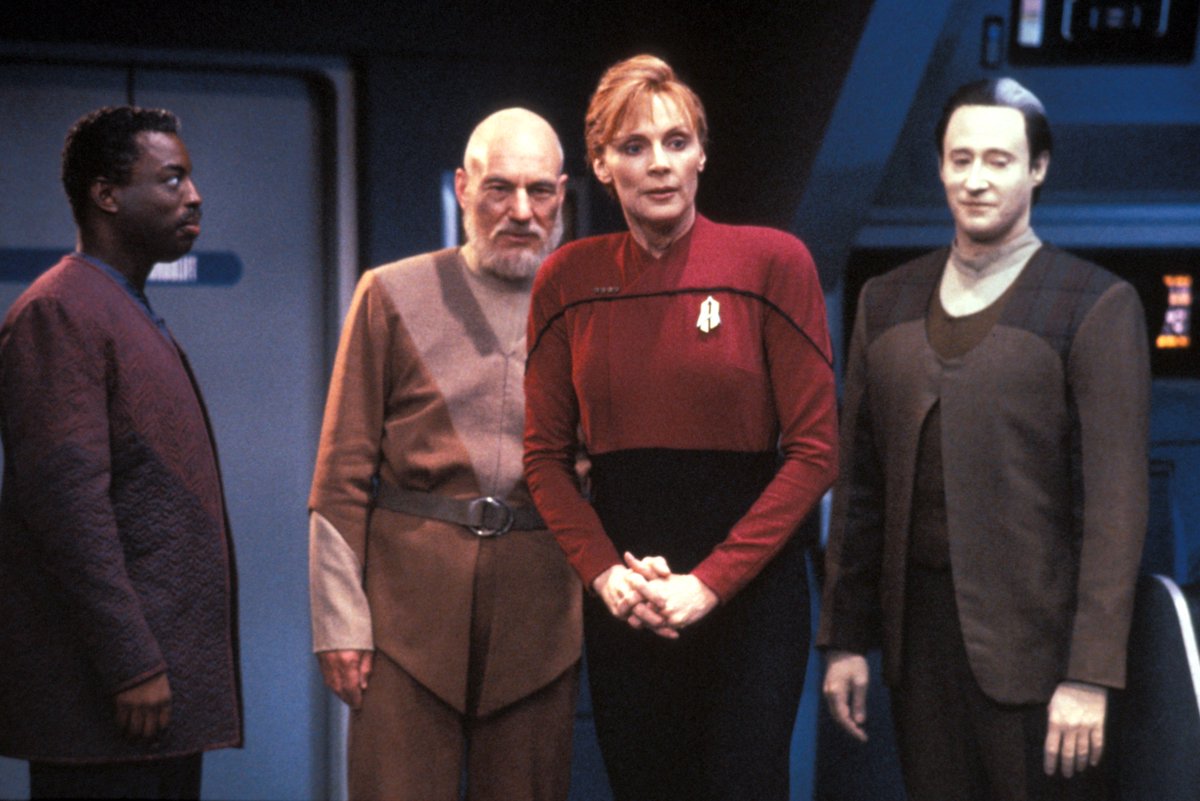 The final season of Next Generation was a mixed bag, with some nice setting up episodes for spin off series DS9 and the upcoming Voyager, as well as life down the ranks show "Lower Decks" (which I really wanted to squeeze into the top ten). However the season was also littered with baffling and dull metaphysical style episodes (Enterprise becoming sentient for God's sake?). Fortunately the series went out with fitting farewell, a feature length episode that balanced a great, poignant story with plenty of fan pleasing elements.
"All Good Things…" cleverly bookends the series, bringing Q's trial of mankind back from the first episode with Picard being tested and finding himself thrown back and forth through time. As well as been in the present, Picard randomly finds himself in the past on the day he took command of the Enterprise and far in the future in his elderly, retired years and the crew all gone their separate ways.
In a way it's the ultimate fanboy fantasy. Fans love the old characters in their future tropes, as well being able to indulge in nostalgia. So here they get (pardon the pun) The Best of Both Worlds! Denise Crosby and Colm Meany are among the fan treats reprising their roles as Yar and O'Brien, along with the now retro uniforms from when the series first started.
Yet this is all icing on a wonderful goodbye cake. The story driving it with Picard trying to solve the riddle of his time jumps along with it's twists and resolution is clever and engaging and is refreshingly easy to follow despite it's complicated web of narratives. There is also one last chance to have the duelling Picard-Q relationship, with Q especially goading and mocking, but it becoming clear here the amount of respect he holds for the unfortunate Captain he's spent seven years harassing. It's just a shame we never got to find out what Q was going to whisper to Picard.
A finale to a beloved show should leave you with goosebumps, a contented feeling that your saying goodbye but leaving characters you've got to know and love in a good place and with a sense of optimism. In that sense, All Good Things is a wonderful goodbye, because it's about endings, beginnings and the present and how they're all connected in making us who we are. But it's also about new beginnings and as Picard finally joins his crew for their card games, lamenting that he should have done this long ago, it's an uplifting realisation that time is as precious as it is ultimately finite and as he looks fondly at his crew he knows he's making up for lost time.
Next time, I'll be recapping my favourite DS9 episodes. A series so epic and so loved by me, that I'm going to have to cover it in a two parter. But more of that next time.
Dazza