My Favourite Movie Fights article was immensely popular, to the extent I almost had to use two hands to count the number of people who commented on it. Because of this I've come up with a follow up, admittedly to take my mind off going back to work next week and actually leave the house. As such, allow me to present my top ten favourite tv fights!!!
For Tv fightclubm I've slightly amended the rules I made for the movie version of Couchzone Fightclub.
You DO talk about Couchzone Fightclub. Yes, share with your friends or whatever, tell em about this piece.
See above.
All fights are one on one, mano on mano, femme on femme, femme on mano etc
A discretionary use of weapons is allowed, although hand to hand must feature in some capacity .
All fights must be live action. (because I may do an animated fight club at some point).
Only one fight per series.
Because I hate ranking stuff, all ten fights are in date order.
Kirk vs Khan (Star Trek: Season One) 1967
If there is one thing Captain Kirk loved more than seducing alien women, it was kicking crap out of alien men, for which he created an arsenal of moves all typically executed with typical Shatner dramatic exaggeration. While there are many choices on offer, I've gone for the climatic fight with Khan for the battle of the Enterprise in Space Seed.
We didn't get to see the two go at it in Wrath of Khan, but here we get to see Shatner and Montalban go at it mano on mano. Well, for some of it at least, as the use of two stunt doubles is hilariously obvious for much of the fight. Putting that to one side it's a fun fight that sees Kirk use a head scissors and manages to overcome Khan's superior, strength, speed and intellect by beating him repeatedly with some sort of space wrench.
Sadly the usual Star Trek fight music was not employed for this scene.
Crystal vs Alexis (Dynasty: Season Two) 1982
It has to be said, for much of the 70s, 80s, and even 90s, due to the single episodic nature of TV action shows, you rarely got to invest in ongoing feuds and enjoy a good fisticuffs between two long term bitter rivals. For that you had to turn to the soap operas of the day, which fortunately regularly featured an audience pleasing brawl.
Two hated enemies who couldn't keep their hands off each other's necks were Dynasty's goody two shoes Crystal and bitchy Alexis, who regularly went at it ruining each other's hair and designer dresses in the process. While it's the lilly pool brawl that has the most notoriety, I personally think the fight in Alexis's studio has a bit more viciousness and furniture breaking to boot.
We also get a clear winner in this one as opposed to Blake running in and breaking it up with "What the hell is going on?" Also Crystal is amazingly kick arse when after winning the fight she says, "If you want a rematch, just whistle!"
Worf vs Ikat'ika (Deep Space Nine: Season Five) 1997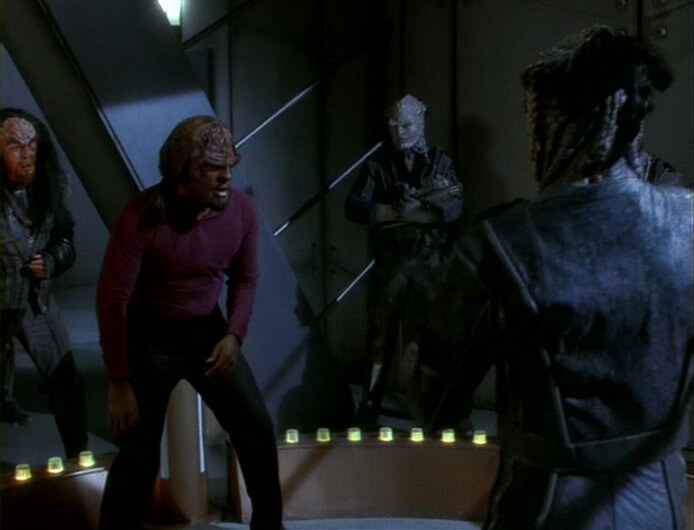 Worf has never been more Klingon in the amazing DS9 series defining episode "By Inferno's Light," which sees him a prisoner of the Jem'Haddar and being used as training, forced to fight soldier after soldier in hand to hand combat. After defeating scores of Jem'Haddar, an already battered and injured Worf is pitted against the menacing squad leader Ikat'ika.
Bravery and pride are the elements driving this fight. Worf takes a horrendous beating, but gets up every time and refuses to quit. Worf wins the respect of his fellow Klingon General Martok and even his Jem'Haddar opponent, both of whom urge him to yield. Finally it's Ikat'ika who calls an end to the fight, realising that Worf will fight until he is dead and refuses the order to finish him.
In accepting death for his insubordination, Ikat'ika hints at a warrior code amongst the Jem'Haddar, which was a plot point that was sadly never fully explored in the series. Nether the less, this was a level of dramatic combat that hadn't been seen in Star Trek since the days of Kirk.
Buffy VS Faith (Buffy: Season 3) 1999
It's easy to forget how much of a phenomenon Buffy the Vampire Slayer was, and how despite it's hooky premise it was utterly brilliant at times. Arguably it was season three that saw the show at it's strongest, with a poignancy to this been Buffy's final year at school, the end of her relationship with Angel (popping off to have his own spinoff series) and a stunning story arc involving her and fellow slayer Faith.
Faith proves to be the hard rock anti Buffy in many ways and after threatening to lead her astray, her instability and violent tendencies slowly lead her to side with the evil Mayor of Sunnydale. It all comes to a head in the penultimate episode, where Faith infects Angel with a vampire killing virus which it turns out can be cured only by the blood of a Slayer.
Planning to capture Faith and essentially feed her to Angel is an incredibly dark direction for Buffy's character, and the preparations for the fight are accompanied by an intense, brooding montage. The battle itself is excellent, fast paced and full of crazy kung fu moves and incredibly hard hitting.
There's a moment where Buffy pulls out Faith's fancy knife that she brought to the battle, "That's my knife," Faith says, to which Buffy chillingly replies "You're going to get it back." And incredibly she is good as her word, as the fight ends with Buffy stabbing Faith right in the gut! Yes, this on a show watched by youngsters.
Everything about this fight is just awesome, from the atmosphere, the action, the character motivations, the music. It's an epic battle, driven by great paced storytelling and in terms of drama was way ahead of it's time.
Dan Dority vs Captain Turner (Deadwood: Season 3) 2006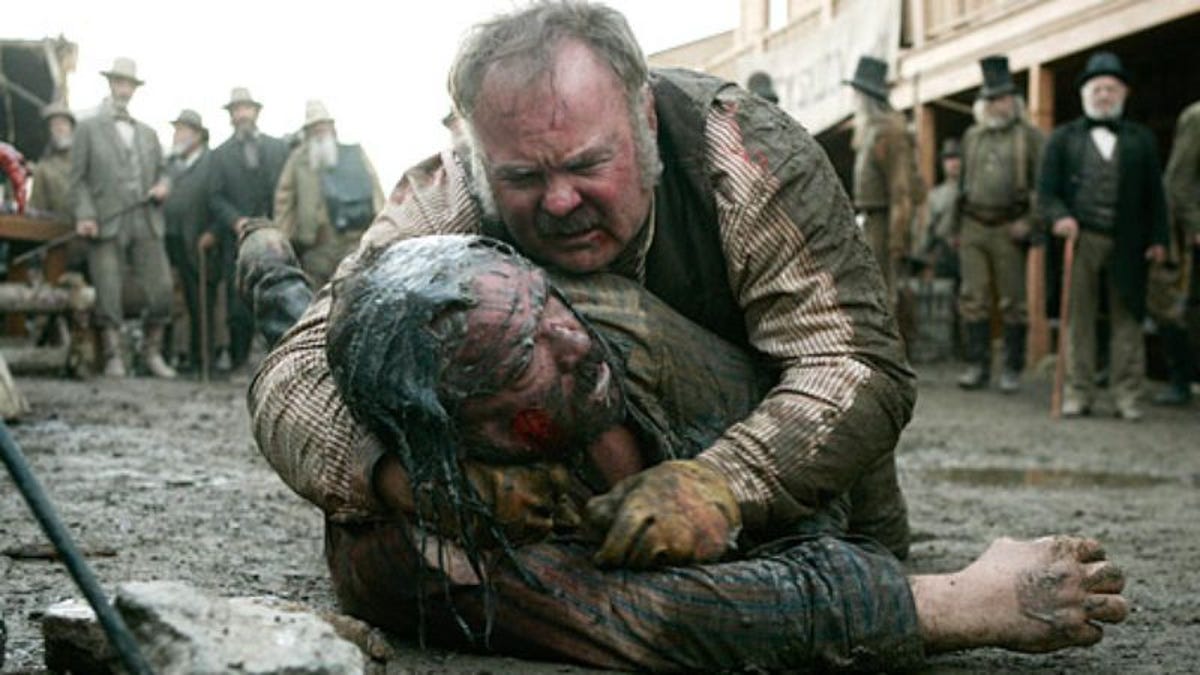 Ok, this one is so brutal that it took a lot to stomach watching it again. As well as being horribly, gut wrenching in it's violence, there is also an unsettling background to the fight. The fight occurs as a formal challenge from Captain Turner to Dority to meet him on the street, with the eerie implication that it will be a fight to the death in broad daylight in front of a crowd of onlookers.
It's an ugly, fight as the two grapple and claw at each other in the mud, all the more unsavoury that the fight is not really even between them. Both are fighting as representatives of their bosses, Swearengen and Hearst who are at odds over who is the real power in Deadwood. The two watch their heavies fight from the safety of their balconies, barely betraying any emotion.
Deadwood being the show that it was leads to a genuine uncertainty over who is going to come out alive, and it seems that Dority is the one who is on the brink of death. However in a gruesome turn around the smaller man manages to tear out Turner's eyeball and as the man screams in horror and pain, despite being obviously beaten Dority proceeds to beat him to death with a piece of timber.
It's a nasty scene, but it fits in with the brutal world of Deadwood and conveys the politics of power in leaders sending men off to die on their behalf.
Clay vs Jax (Sons of Anarchy: Season Two) 2009
Despite being tossed from channel to channel here in the UK, Sons of Anarchy was at one point my favourite show on television. Bringing a Shakespeare drama to the fortunes of a biker gang and throwing in tons of prison rape, SOA's main arc followed the twisted step father-son relationship of gang leader Clay and his second in command Jax.
The conflicts between the two worked on many levels as young vs old, philosophies on the future and soul of the Sons and the Hamlet style mystery of whether Clay was responsible for the death of Jax's father. Violence was bound to erupt and it was while both were in prison that the tensions exploded into a brawl.
The two just pound the shit out of each other, punching and choking each other with the bars of the cell naturally coming into play. Nothing really gets solved as the rest of the imprisoned Sons stand back and let them settle their beef biker style.
Walter White vs Jesse Pinkman (Breaking Bad: Season 4) 2011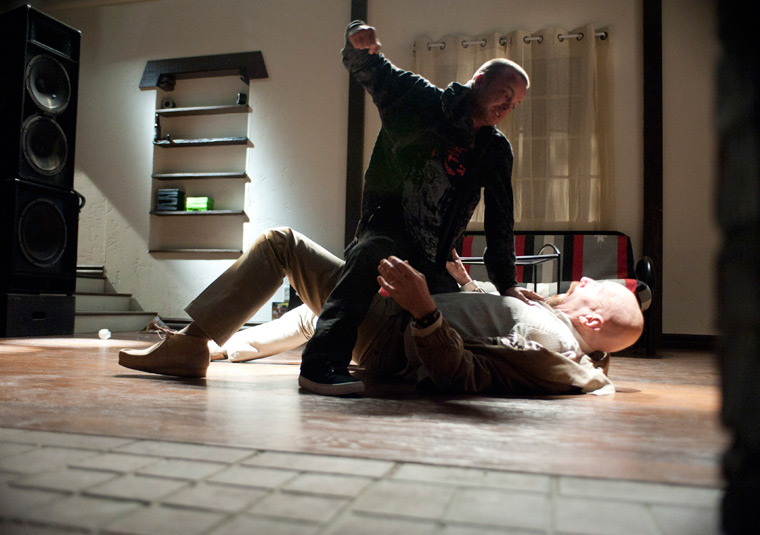 Tempers flared between Jesse and Walter from the very first to final episode of Breaking Bad. Their partnership of creating and dealing meth was a never ending conflict as their moral compasses spun irrevocably around each other.
Their arguments resulted in blows quite a few times, but never was it more violent or prolonged than in the season four finale, as the two brawled in Jesse's living room. Both feel aggrieved and betrayed by the other, Walter for Jesse's failure to kill Gus when he had the chance (the fearsome Chicken Man) and Jesse for Walter spying and bugging him.
The fight is "bowling shoe ugly," in terms of technique, suitably so as neither are tough guys or fighters. It's the sheer hatred and frustration in that moment that is so compelling, as the two scratch and claw at each other, clumsily throwing each other to the ground and trying to rain punches on each other.
A classic styled fight this is not, but in terms of emotion and a real desire to inflict pain on the other person, this clash is hard to beat.
Brienne vs The Hound (Game of Thrones: Season 4) 2014
We may have all been waiting for the Hound to battle his brother the Mountain in the Cleganebowl, but looking back his best fight was clearly his tussle with Brianne of Tarth way back in season four.
It's a battle over the young Arya Stark, and their motivations for doing so reach deep into the core of their characters. Brianne is driven by her honour, as her oath was to find and protect the Stark sisters. The Hound wants Arya as his meal ticket so he can claim a ransom for returning her to her family.
Their personalities also shape the fight. Brianne has the upper hand during a hard but honourable sword fight, but when the fight gets dirty and vicious and descending into a brawl then it's the Hound who is in his element. Brianne throws off her dignity and becomes as wild an animal as the Hound, forced to sink to his level to win.
It's a fight that explodes the myth of the gallantry and chivalrousness of Knights in battle and maybe one of the best in the bloody history of Game of Thrones.
Billy Russo vs Frank Castle (Punisher: Season 1) 2017
When the opening salvos in a fight are the twon combatants shooting each other, you know that this beatdown is going to be epic! The fact that the entire fight takes place in the confines of a carousel, just brings a veneer of surrealism that amps up the insanity of what we're watching.
The Jon Bernthal version of Punisher is the definite interpretation of the character, capturing the range rage, bile, loneliness and grieving pain. In this fight we see the Punisher truly unleashed in a violent fight with this version of his nemesis Jigsaw.
It's a bloody, exhausting fight and the ending where Castle drags Russo face down a shattered mirror is one of the hardest things to watch in any of the Netflix Marvel series. And that includes season one of Iron Fist. hahahahahahahahahahahahhahahahahahaha, I'm so funny.
(Editor Mike: Iron Fist is the most underrated media property Marvel has produced.)
Daredevil vs Bullseye vs Kingpin (Daredevil: Season 3) 2018
Yes, I've broken my own third rule here, and I realise there are two other fights from Daredevil season three that I could have gone for, both of which were incredible and would have fallen within the rules of Couchzone Fightclub. But this three way fight is so much fun and is the perfect finale to the Daredevil series.
Three men, Matt Murdock in his original black Daredevil outfit, Bullseye in the traditional red Daredevil outfit and Kingpin in his white wedding suit no less, all hating each other and all beating the hell out of each other in a fight that has miles better psychology than any WWE three way dance.
Acrobatics, power moves, lightening fast kung fu exchanges, people being thrown through furniture, this fight has it all, including Kingpin charging around like the Hulk. As the Kingpin's luxury home falls apart around them, Bullseye is dispatched in bone shattering fashion by Kingpin and then it's the violent one on one we've been waiting three years for.
Murdock vs Kingpin is brilliantly brutal as the two enemies beat each other to bloody pulps, but amongst the punches there is a bigger metaphysical battle going on within Daredevil. A beaten Kingpin realises that if he can't beat Murdock physically he can take his soul, and tries to gourd him into killing him.
After everything that Daredevil has lost in his feud with the Kingpin it takes incredible restraint for him not to take advantage of his fallen foe, and here the true victory of Murdock is won.
The Netflix Marvel series while at one time lauded by fans and critics for their gritty portrayals and storytelling, kinda fizzled out in their respective conclusions. However the final season of Daredevil delivered a stunning and worthy climax.
That's all folks. Remember when we resort to violence, no one really wins, which is why every UFC fight should be declared a draw.
Take care, be safe
Dazza