Maybe it's just my taste in films but the three films that have stood out for me for the year 1991, feel like they have a 1970's vibe to them. They're quite grounded, creative and have an always welcome alternative, anti establishment subversive feel to them.
And that friends, is a very good thing.
Thelma and Louise
As far as I'm concerned Thelma and Louise is one of the most important films to ever come out of Hollywood. It's certainly a film I would recommend to every woman and anyone who is interested in the portrayal of women in films. While marketed, at least in trailers as a light hearted comedy romp of two women taking off for a weekend road trip of rebellious fun, it's in fact an often dark, subversive that though tragic also uplifting.
Thelma (Geena Davis) and Louise (Susan Sarandon) are two friends who takeoff for a weekend, frustrated by their partners (Thelma's husband is a domineering bore and Louise's boyfriend musician has commitment issues). While stopping off at a country bar for a night of drinking and dancing the fun comes to a halt when Thelma is almost raped and Louise shoots and kills her attacker.
The roadtrip turns into a race to avoid the authorities and get Louise across the border to Mexico. Along the way obstacles are thrown their way typically by men. Thelma's husband works with the police to try and bring them in, while Louise's one night stand with a charming young man (played by an unknown Brad Pitt in his break out role) leads to her been robbed of their money which leads them deeper into trouble. Along the way they're also harassed and leered at by bikers and truckers.
Thelma and Louise are great examples of female empowerment done right. They have a bond of friendship that supports one another throughout the film. They switch constantly in their roles, Louise is normally the streetwise one to the naive Thelma, but there are times when Louise takes charge as Thelma is on the verge of giving up and takes the drastic act of robbing a store to get them the money they need to make it to Mexico. When pulled over by a policeman, she is the one that takes charge and holds him at gunpoint to the shock of Louise.
They strive to get themselves out of the situation they find themselves in, with their own choices and take the action they need to. Conversely the deeper they get in leads them further from the lives they were unhappy with and they seem more comfortable and free. As they drive through the desert, drinking as they drive, listening to music, now dressed in jeans and t-shirts like wild west outlaws they seem weirdly happy and in the case of Thelma for the first feels alive.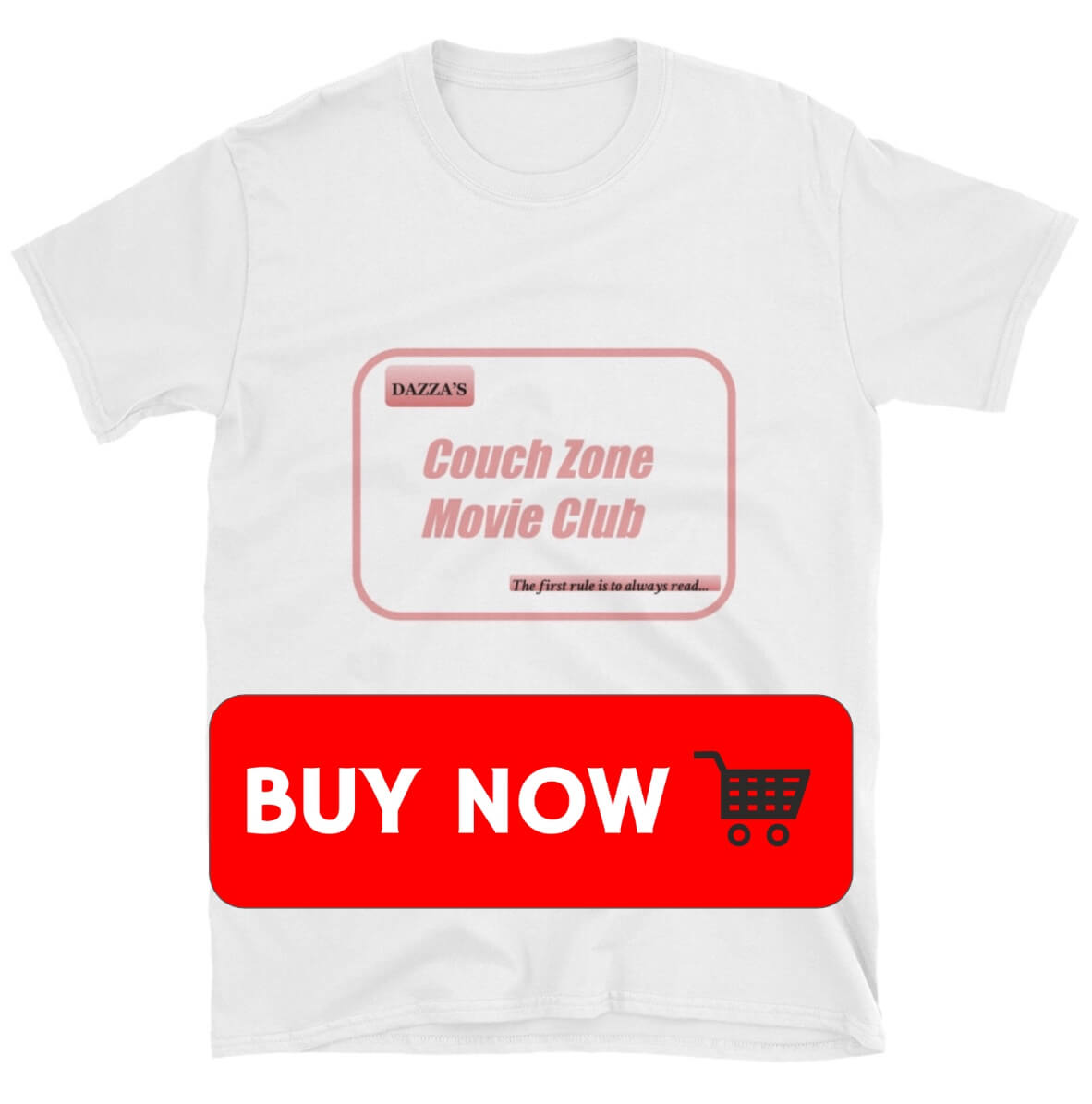 While women almost universally loved the film, there were some men who objected to the portrayal of men as generally being negative. Such whiny opinions ignore the fact that the number of negative men in Thelma and Louise is probably consistent with the amount found in any action movie, though it seems no one finds a problem when the protagonists are male.
In any case there are positives to be found in the males. Michael Madsen as Thelma's boyfriend while lacking in their relationship does love her and clearly wants to help her. Harvey Keitel as the detective in the hunt for the pair, although doing is job to bring them in seems sincere in wanting to help them as best he can and wants at least for them to come out of this scrape alive. In the finale he arrives on the scene to try and save them, arriving in a helicopter like a superhero from the sky. But Thelma and Louise take it this out of his hands, it's not his story and not for him to save them and he's left to run impotently after them as they make their final decision.
Which brings us to that ending.
SPOILERS AHEAD:
Opinions are divisive on the final moments of Thelma and Louise, as surrounded by police drive off the edge of the Grand Canyon. Some have criticised it as a punishment inflicted on the characters, a downbeat conclusion after the empowerment they have achieved.
In a realistic, practical sense then yes the two effectively commit suicide, although we never see them die as the film freezes frame with them in the car triumphantly mid flight and fades to white (which I find a more whimsical, upbeat moment as opposed to fading to black).
But in a more poetic and symbolic interpretation, the two make the choice to go out on their own terms. In the face of a seemingly all male, armed police force with a future of incarnation they choose defiance. Avoiding a destructive bloody last stand (as would typically happen in a film with male outlaws), they leave their guns unfired and meet their fate with first a kiss (seen by some writers as the final taboo, the culmination of their all female relationship) and hold hands in love and solidarity, surrounded by some of the most naturally beautiful scenery on this planet.
For me Thelma and Louise doesn't end with the fade, it continues with a joyous score as the credits raise to a backdrop of the happier scenes from their holiday. I personally find the whole ending of Thelma and Louise beautiful. In real life it would be horrible, but the beauty of films is they aren't reality, they are art and because of this I can see Thelma and Louise in the drive off the canyon as being forever free.
JFK
A guy dies and goes to heaven, God meets him at the gates and says:
"All your life you've been a good person and done nothing but help others, so I'm going to grant you one wish before you enter heaven."
The guy thinks and replies "Who really killed Kennedy?"
God replies "It was Lee Harvey Oswald acting alone."
The guy shakes his head and says "This cover up goes higher than I ever thought!"
By 1991 I like many people was obsessed by the JFK assassination. For years we'd read books on the "definitive" account on who had actually killed Kennedy and thought "well it's in a book there must be something to this." We had been bombarded with documentaries, nodding our heads as we were shown diagrams of the trajectory of bullets hitting Kennedy and agreed "yep, something amiss there." We looked at blurred photographs, focusing on vague shapes on the grassy knoll that when the shape of a figure was drawn around them made you realise that "yes, that's definitely a guy firing a gun there. By the way, what's a Knoll?"
We were all sure that Kennedy was killed by a grand conspiracy and in 1991 Oliver Stone brought us JFK. Here we were told the story of Jim Garrison, the courageous District Attorney and his crusade to expose the cover up created around the JFK assassination and bring to justice those responsible. It's a fantastic drama, telling a compelling story as Garrison (played by all American boy Kevin Costner) with the aid of flashbacks during interviews featuring a stunning array of cameos, uncovers the plot that seems to implicate everyone from the Mafia, CIA, US military and Government, Cuban exiles and Marxists, pretty much everyone except Lee Harvey Oswald.
It's a fascinating, exciting movie with a thunderously stirring courtroom speech from Costner in the climax as he presents the evidence in the trial of business mean Clay Shaw (played by Tommy Lee Jones).
It's also an unsubtle, one sided manipulative film.
The casting of Costner is inspired. Not because he is like the real life Garrison but because Costner at the time was the epitome of "the good guy," able to convey someone of honour, integrity and someone the viewer could trust as he presented the case for conspiracy. Costner is great in this role, although there are one or two cringe moments, especially on the day of the assassination where a loudmouth in a bar is cheering at the news of the President's death and Costner solemnly utters "I'm ashamed to be an American."
Here is not the place to go into the validity of evidence for and against the official version of events, but in JFK Stone throws in rumours, myths and popular assumptions and gives weight to them by putting them to film. An example of this is infamous photograph of Oswald with the rifle, which some claim is a fake (examiners have found otherwise). We see a glimpse of unknown hands cutting and pasting Oswald's face onto the photo and by doing so Stone cements the theory into his narrative.
Stone plays loose with history, embellishing events and making composites of witnesses to create new characters. Interviews and confessions that he presents never in reality happened such as that presented by Joe Pesci's frantic performance as suspect David Ferrie (likewise the hint that he was murdered to silence him when he in fact died of natural causes).
Totally fictional as well is the scene where Costner meet's up with a mystery former black op agent played by Donald Sutherland. It's one of the great monologue's in film, for 15 minutes Sutherland conveys a gripping narrative accompanied by flashes of his black and white memories on the history and evidence of an American operation to kill Kennedy in effectively a coup. It's a brilliant, hypnotic scene and by the end of it you're ready and wanting to believe the conspiracy.
JFK is an entertaining film, because it taps into the the key element about all conspiracy theories, that being they are fun. Conspiracy theories are outlandish and exciting, they make the world seem more interesting than it really is with plots by evil governments so much more inciting a story than the possible reality of a lone gunman.
On first viewing it's so easy to get so sucked into the film that you'll be forgiven for overlooking that a lot of threads in the mystery don't make a lot of sense. Oswald for example is shown to have a shady background and be heavily involved with the alleged plotters, but when it comes to the day of the actual assassination we're led to believe he was an innocent bystander in the book depository from where the shots were fired. Likewise after Sutherland reveals the American Governments plot and Costner shows us the evidence with the Zapruder footage and the magic bullet theory, the film is at a loss to explain what this all has to do with Clay being the accused. The jury in the film as in real life agree and Clay is found not guilty within in an hour.
As a conclusion it's unsatisfying, but considering the confused web of multiple theories, myths and speculation it is really apt.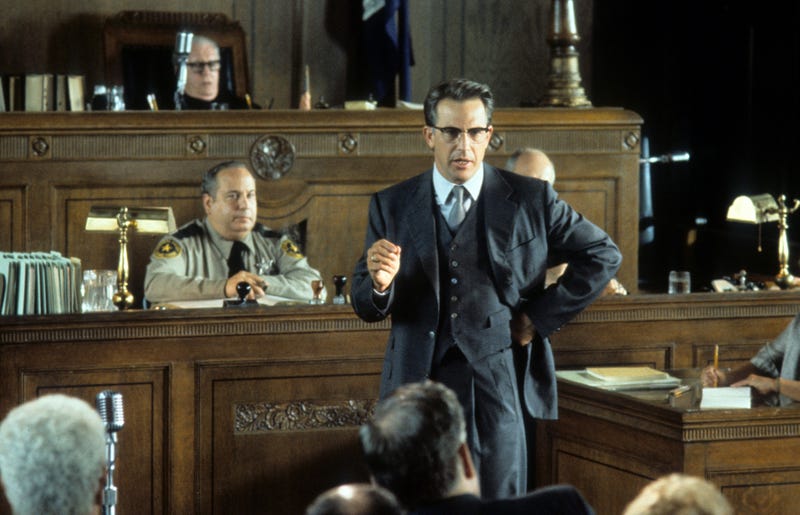 Point Break
On the face of it Point Break shouldn't work. It's a cop movie putting two heart throbs against each other on opposite side of the law. One was known for goofy comedies (Keanu Reeves), the other more for romantic films (Patrick Swayse). The plot revolves around a young FBI agents going undercover in the surfing community to track down a gang of bank robbers, which cynically looks like an excuse to get the two pretty boys wet and undressed.
The whole premise screams of cheesiness from back in the 80's, but fortunately Kathryn Bigelow was brought in to direct and the film redefined and subverted the action genre.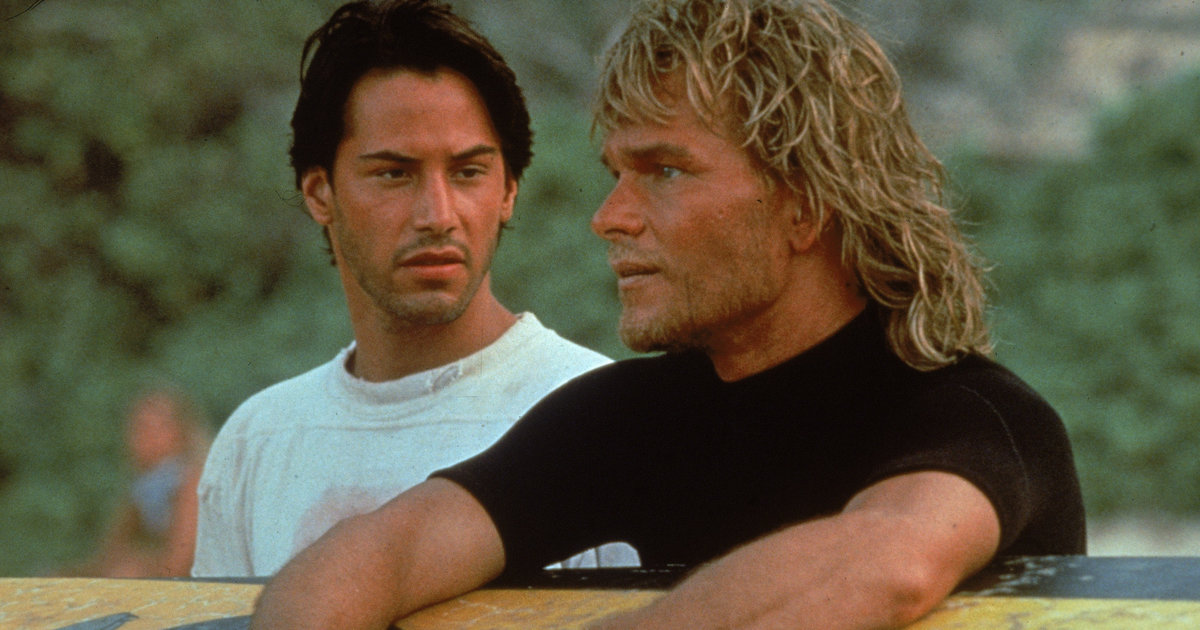 In the early 90's action films were starting to look tired, the macho, one man army meatheads beginning to bore audiences (a boxoffice dip was on the cards, (preparing for this Schwarzenegger had started dipping his toes into comedies). In Point Break Bigelow was to induce both hero and villain's macho qualities with vulnerability and sensitivity.
There are many similarities in Point Break with Bigelow's earlier cult favourite and genre bending "Near Dark." Like with Near Dark's vampire family, the villians in Point Break are a group of surfers, robbing banks as the gang known as the Ex-Presidents (due to their theatrical gimmick of wear masks of former presidents) and in their own way an alternative family built on brotherhood.
The Ex-Presidents are outsiders from society, rejecting the capitalist culture of the recent 80's and robbing banks to allow their thrill seeking lives. As a young man it's clear Reeves finds their life style appealing, much more suited to it than his stringent life as an FBI agent. When undercover while he never seems to go "native" and actually join them, it's clear he starts to feel a bond and conflict of interest when he's given a opportunity to shoot Swayse mid robbery but can't bring himself to do it and instead fires into the air screaming.
Bigelow takes risks that male action directors probably wouldn't have. She has her hero meet his love interest when she saves him from drowning, and played by Lori Petty with a tomboyish quality instead of a classic long haired beach babe. She also doesn't shy from using Reeves and Swayse's pinup potential in beach scenes much to the delight of female audience members.
There's a fair bit of male bonding on screen, with this buddy movie having not one but two such relationships tugging at Reeves. There is the cop buddy dynamic of Reeves and grizzled veteran Gary Busey and the potential brotherhood of Reeves and the man he is trying to bring down Swayse. Even though the two become enemies the final scene where Reeves battles Swayse and then allows him to go free to catch the big wave he's always dreamed of riding shows the bond still has a hold of him.
But for all the playing around with gender roles and ideals of masculinity, Bigelow still delivers in the action stakes. The shootouts and chase scenes, are as intense an adrenaline rush as the surfing. The shootout with the drug surfer gang (headed by the red hot chilli peppers leader singer) is particularly chaotic and wild. The robberies of the Ex-Presidents are so quick and full of theatrics, especially for the guy in the Nixon mask that they are actually fun and infectious to the audience. While the shootout at the airport that sees casualties on both sides has real emotional stakes to it.
Reactions to Point Break were mixed on it's release. However I think it's held up well as an action movie, and has refreshing complexity to it's relationships and is a blisteringly fun movie.
WTF???? Terminator 2: you spoiled it!!!!!
Yes Terminator 2 is my WTF? moment for this year.
Don't get me wrong the movie is great, groundbreaking action scenes and special effects and one of the greatest action films of all time, also one of the best sequels ever. But it could have been so much better for audiences.
The problem with Terminator 2 is that due to the trailers and marketing audiences knew that in this film the Schwarzeneggar Terminator was the good guy this time and battling an even more advanced dangerous Terminator. So the moment Robert Patrick appears you know he's the villain and out to find John Connor so he can kill him, likewise when Schwarzeneggar turns up you know he'd looking for Connor to protect him.
However watch the actual film carefully and you'll realise early on there is no indication of their respective roles. Patrick doesn't show any of his Terminator ability and from the camera angle it looks like he merely punches the policeman who's uniform and car he steals. Likewise the Schwarzeneggar pretty much acts like his predecessor does in the original in obtaining his clothes and transport (although without killing and the playing of "Bad to the Bone," sort of gives it away). Their are the odd clues, but it's clear the narrative is drawing on what happened in the first film to trick you into expecting that Patrick is in the Kyle Reese role as saviour and Schwarzeneggar is just another Terminator.
Even Linda Hamilton's voiceover in the introduction refers only to a Terminator being sent to kill him and a "warrior" sent to protect him, not hinting that the protector was a Terminator.
The film itself does not reveal this dynamic until the two reach John Connor at the same time. Even here, the film tries to swerve us as in the shot of Connor trapped in the corridor between the two and Schwarzeneggar pulling out and aiming his rifle is meant to look like he is shooting at the boy.
When he says "Get down!" and instead shoots Patrick who now reveals himself to be the T-1000, this should have been a "holy shit" twist that would have been talked about as on of the greatest reveals of all time. If audiences had been allowed to go in cold and see the film as it was meant to. Instead the moment is wasted as everyone was aware going in who was who.
I understand from the promotional point of view that there was a lot of boxoffice in Schwarzeneggar being the hero this time and the draw of a Terminator vs Terminator clash. Not to mention the incredible special effects of the T-1000 morphing were something the makers wanted to share in clips before hand.
However I'm sure it would have been possible to put together a trailer that didn't spoil the reveal and threw the audience that made it look like Schwarzeneggar was on the hunt for the Connors.
A great movie nonetheless, but imagine if you'd gone opening week and witnessed that twist in the film itself and not in the marketing.
Cool trivia note: The Sarah Connor that appears in the dream sequence (the non muscular one) is actually the twin of Sarah Hamilton.
That's all for 1991,
Dazza