Washington D.C.-
In an attempt to start 2019 off on the remaining foot, President Trump is inviting the American Diabetes Association to the White House for a dinner in the vein of his celebration for The NCAA Champion Clemson Tigers.
Due to the government shutdown, his usual staff is not available to cook for these events so Trump is coming out of pocket to show his appreciation for all the work the group has done to help victims of diabetes.
"We will have a full spread, all you can eat! I got Twinkies, Ring Dings, Oatmeal Pies, Star Crunch, Zingers, and those cup cakes with the swirly white things on top, and much more!! Huge event!!"
When concern was raised that these food choices may be detrimental to those suffering from diabetes Trump tweeted the following.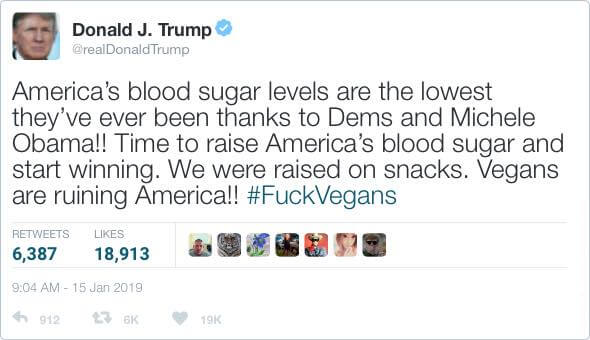 "America's blood sugar levels are the lowest they've ever been thanks to Dems and Michele Obama!! Time to raise America's blood sugar and start winning. We were raised on snacks. Vegans are ruining America!! #FuckVegans"
It's clear Trump doesn't fully understand what diabetes is, in fact he has no idea, but that hasn't stopped him from trying to help.
He also announced he will be hosting the WNBA champion Seattle Storm and has already planned a giant all you can eat seafood buffet.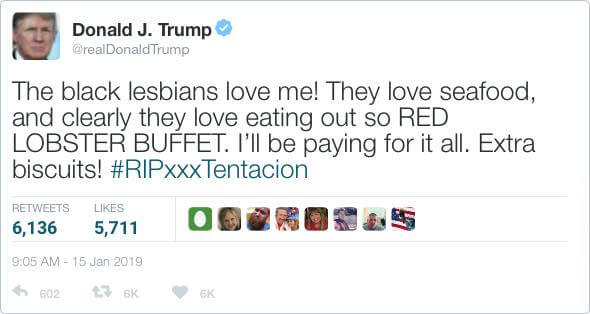 "The black lesbians love me! They love seafood, and clearly they love eating out so RED LOBSTER BUFFET. I'll be paying for it all. Extra biscuits! #RIPxxxTentacion"