I know what you're thinking.
You're thinking, "It's 1998, he's gonna be talking about The Big Lebowski!!"
Well, sorry but no. I mean I liked Big Lebowski, Jeff Bridges was great, but it wouldn't even be considered to be on the fringes on my favourite films of all time.
So with that out of the way, and if you haven't clicked out in sheer disgust, here are three films that I really do like from 1998 and one that I'd gladly take a baseball bat to.
Saving Private Ryan (Director: Steven Spielberg)
When three brothers are killed during the D-Day landings, a US platoon journey through war torn France on a mission to find and bring home the last surviving sibling "Private Ryan."
I'm a crier. In all my years of watching movies, I've shed tears many times for both happy and sad reasons and I've had my emotions torn to shreds as many times as they've been uplifted. But through all that ugly crying in darkened theatres, there is one film that stands out above them all and specifically a scene that absolutely drained me and left me a wreck for the rest of the film. Because the D-Day landing in Saving Private Ryan is the most relentlessly brutal and horrifying battle scene I've ever personally watched.
Rarely in this half hour battle do a few seconds pass when we don't see soldiers been torn apart by machine gun fire or thrown into the air by explosions, while all around the injured scream in agony and the sea turns a sickening red. There are harrowing moments that have stuck with me forever, such as a soldier walking around in shock carrying his own severed arm (real life amputees were used throughout the scene) and a medical team trying desperately to save a solider in the middle of the battlefield using dead bodies as shields.
Amongst all this carnage there is a blink of levity, as a soldier takes a bullet to the forehead and miraculously is unhurt as his helmet protects him. "Lucky bastard!" Tom Hanks remarks as the soldier looks in shock at the bullet hole in his helmet, then sickeningly a second shot hits his unprotected forehead killing him instantly. The giving and taking of hope in this moment just destroys the audience that has let its guard down for just a second.
The atrocity in this battle comes from both sides. We see surrendering German soldiers gunned down by joking GI's and when flame throwers are used on a Gun Placement, Germans run out engulfed in flames while an American yells not to shoot them and "Let em burn!"
Just like in Schinder's List where Spielberg was able to get his actors to fall dead in a scarily authentic manner, here you really feel every painful, dirty death. When I saw this film as the battle drew to a close I felt exhausted, sickened and rightfully so. It's a triumph Spielberg was able to do something that the majority of war movies don't (or won't) do, which is to portray war as not an exciting action scene, but as sheer murdering horror.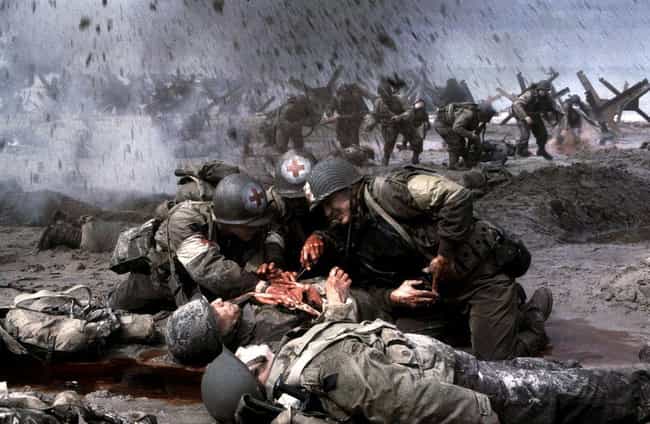 In a war that reduced humans to cold numbers and statistics, Saving Private Ryan reminds us of the importance of the individual. With a mother about to receive letters notifying her that three of her sons were killed in the landings, the discovery that a fourth brother is somewhere fighting in France leads to a rescue mission to order him home.
As Tom Hanks and John Sizemore lead their ragtag platoon across France to rescue the last surviving Ryan brother, that opening lies heavily over the film. Despite being a massive fan of action movies and having sat through my share of scenes of blood drenched carnage, I came to dread the battles in this film. Never have I wanted a men on a mission film to pass as uneventfully as I did here. I would seriously have been happy for them to pass through the French countryside never seeing another German and find Ryan safe, turning him around walking him home.
When the final act came along, with Hank's platoon joining with Ryan's squad to defend a key bridge from German attack (Ryan refuses to leave his comrades with an imminent attack coming) I began to feel physically sick. The rumbling of an approaching Panzer division terrified me, as I dreaded a repeat of the earlier D-Day scene. But in it's own way this felt even worse, as now I had become invested in these characters and although the ending was not the non stop slaughter of the opening, the deaths were now more personal and even more soul destroying.
Saving Private Ryan is brilliant, a film that has a perpetually dirty, dusty feel of war and expressing that the desire of every soldier in war is to simply make it back home. But for all the great filmmaking and incredible performances, I can never stomach the idea of sitting through the viciousness of this film again. Nor do I need to, for Saving Private Ryan leaves a scar on the viewing that is unforgettable.
.
Run, Lola Run (Director: Tom Twker)
When her boyfriend loses a bag of money belonging to a gangster, Lola has twenty minutes to replace the money before he attempts to rob a supermarket. Each time she fails she'll have to start from scratch with a different course of action.
It may have took me twenty years after it was released to come across it (the sight of Franka Potente on a dvd cover with striking dyed red punky hair caught my attention last year), but Run Lola Run lost none of it's vibrancy or blistering uniqueness on my first time viewing.
Watching Run Lola Run is akin to experiencing a live video game, with it's lightening pace in both action and story which is built all around a single situation. You don't need to know anything about the background of Lola, only that she has a boyfriend who is a bagman for a gangster and has managed to lose a bag containing 100,000 deutche marks of his bosses money. Lola has twenty minutes to reach her boyfriend with 100,000 marks or in desperation he will rob a supermarket. It's a single objection race against the clock across town, reminiscent of a Grand Theft Auto mission (the first crude versions of which were just starting to take a hold on public consciousness).
Lola's plans is to get the funds from her father and when that fails it all ends badly as she reaches her boyfriend empty handed. But in true video game fashion every time she runs out of time or is killed the film resets and she starts at the beginning, able to try a new approach with different choices changing the story.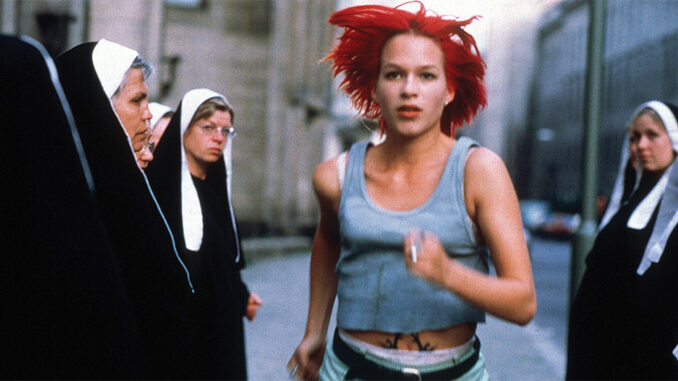 Run Lola Run flies by at a brisk but exhilarating 80 minutes. It's a very ambiguous film, with only implications that Lola remembers her previous attempts to "complete" the film (on one attempt she trips over a dog on a stairwell, but the next time is able to leap over it and she seems to learn how to prepare a gun more effectively on her second run after learning from the first). There are even hints that some people she comes across in each run remember the events of the previous ones.
Naturally there are Groundhog day themes at play here, but also there is a sense of the butterfly effect principle in play. Lola reaching certain points of the story at different times alters the narrative. There are characters who we get a flash forward for who Lola passes them in the briefest interactions and who because of it have their destinies altered in the most extreme ways, sometimes ending up in poverty, other times in luxury. Whether or not these changes are truly down entirely to Lola or if these are alternative realities, or just that the future is determined by events that could go one way or another and never can repeat the same is up for debate.
There is a clash of philosophises and theories at play here, with ideas about causality, free will, determinism and other metaphysical shit that is way above my intellectual pay grade. What I can say is this film is riot with tons of adrenaline fuelled action, pleasingly punk rock visuals and music in a non stop race against the clock romp.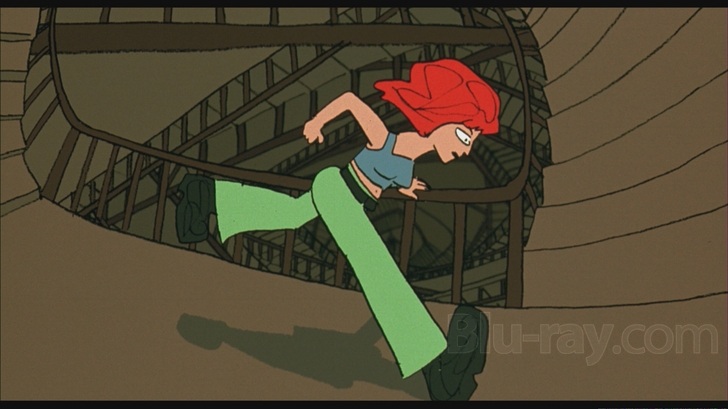 .
Man in the Iron Mask (Director:Randall Wallace)
The ageing three Musketeers reunite to replace the sadistic King Louis XIV with his twin "The Man in the Iron Mask." One of the men standing in their way is their old comrade D'Artagnan.
One of the masochistic joys of revisiting movies year by year, is remembering a film I loved back in the pre internet culture (before everyone could inflict their opinions on everyone else) but finding out everyone else thought it sucked New Coke out of a Camel's arse. Not that I care a rat's ass what my off the wall tastes are thought of (just wait until we get to the year 2016, oh yeah it will be on then), and to be honest if you can't count some derided films as ones you love then you're a pretty dull film fan.
Which brings me to The Man in the Iron Mask, which has a 33% rating on Rotten Tomatoes, was nominated for a razzie as "Worst couple" for Leonardo DiCaprio playing twins, yet I adored as a swashbuckling adventure. I've always been a fan of the Three Musketeers stories, especially the Michael York and Oliver Reed versions in the 70's (and all right the cartoon Dogtanian and the three Muskehounds), so this was right up my street anyway but the premise really set my imagination running.
The idea of the original three with their sword playing days behind them, but coming together one last time to rebel against the very throne they've spent their lives serving brought a real edge to the story. Especially as doing so put them in conflict with their beloved comrade D'artagan who's sense of duty and honour means he cannot betray his King no matter how undeserving a monarch he may be .
France is been driven to ruin under the rule of King Louis XIV, a petty, spoilt and vengeful youth (played with villainous glee by Leonardo DiCaprio). The Musakteers are mostly retired but brought back together by Aramis (Jeremy Irons) with the plan to replace the King with his identical twin brother Phillippe who has been locked away in secret as the Man in the Iron Mask.
What follows is (well what I thought at least) is a fun adventure romp, with a heist to rescue Phillppe and kidnap the real King and switch the two, with lots of sword fights along the way. The action is enjoyable, but what I really loved was idea of comradeship and loyalty between them proving themselves to be forever "One for one, and all for one," and going out in a last blaze of glory.
The casting is something I loved. DiCaprio is great playing both the slimy Louis with a "God you could throttle the fucker," feel about him, and the genuinely lovable Phillippe. Irons brings the class as Aramis and Gerard Depardieu is perfectly cast as a broken down, drunk Athos (a scene where he attempts to hang himself is hilarious). Agewise Gabriel Byrne as D'Artagnan is an odd choice (his character is meant to be younger than the others but in real life he's around the same age as his co-stars) however he plays the role as a soldier well as torn between his loyalty to his comrades but duty to the crown.
However the standout is John Malkovich who is cool as fuck as Athos, looking for revenge over the death of his son who Louis had sent to war to be killed just so he can entrap his wife. He's a mix of rage, constantly up for a fight and tenderness, having been hurt over the betrayal of D'Artangan and becoming a protective father figure over Phillppe.
Critics be damned, I still find this a fun movie. There's great chemistry between the characters and there is real tension as the Muskateers attempt to make the switch and Phillppe tries to pass himself off as Louis. While many attempts to bring the Dumas characters to the screen have been woefully horrible, this one at least embraces the spirit of old fashioned honour and adventure.
.
WTF??? Drillers save the world?
"Why is it easier to train oil drillers to become astronauts than to train astronauts to become oil drillers?"
This is the immortal question Ben Afflecks asked shite director Michael Bay on the set of Armageddon, and he's absolutely bloody spot on. Because although I love dumb, entertaining movies, even I admit there are limits. And this film took my patience to the limit, and I only went to see it because I was on a date that to top it all off I completely struck out on.
It's a totally unaware of itself movie, that takes it's self way too seriously. The "story" is that a giant asteroid is approaching Earth and Nasa ends up sending a shuttle up with an obnoxious team of drillers led by Bruce Willis to drill deep enough into it plant a bomb and blow it up. Throughout the film Bruce Willis acts all condescending towards all the Nasa scientists, looking down on them because all they know how to do is send people into space and don't know the first thing about drilling. Imagine not knowing about tungsten carbide engineering? Silly nerds.
This film feels like it was written by a drilling enthusiast, who wanted to show everyone how awesome drillers are and portray them as the ones to save the day when all the eggheads can't. Maybe it was a driller, who knows? (actually IMDB knows and I could look it up but it's funnier this way).
Anyway the film has all the hallmarks of a Michael Bay movie, slow motion shots , scenes drenched in orange, the Americans saving the day. Although surprisingly for a Bay movie there aren't any lingering shots of women bent over in short skirts or tight short. But what the film is all about is drilling, and we get loads of that, as Bruce Willis (who along with his team nail been astronauts) constantly reminds us "this is what I do" and to prove it has an entire montage to show off him putting drills together, drilling into the asteroid and replacing drills to drill some more.
Yes, this is a garbage film. But guess what it made more at the box office than any film other film in 1998 and paved the way for Michael Bay to ruin the Transformers franchise down the line. Sometimes there is no justice in this world.
Oh Spoiler: Bruce Willis blows up the asteroid with a variation of Yippe K'ay motherfucker. There you don't have to see it, you're welcome.
Armageddon is shite, but it did leave us with two good things.
1, the line "That's not a salesman, that's your daddy!" is unintentionally hilarious. (I think I lost it in the cinema)
2. and of course Aerosmith's "Don't wanna close your eyes," is one of the greatest songs ever made.
So only one more year of the 90's (and indeed the 20th century) to go.
Till then, have a good one
Dazza