War! What is it good for? Nothing!
Well actually that's not exactly true, because some awesome films have come out of mankind's ability to wipe out their fellow species on a wide scale for really dumb reasons. Does that excuse the tragedy and stupidity of war? no. But you can think Silence of the Lambs is awesome and not think, "thank God for real life serial killers!"
This weekend the incredibly tense and atmospheric Dunkirk by Christopher Nolan was released and I thought it was amazing. I'm not doing a full on review because there are far more gifted writers out there than me to rave over the virtues of this Oscar worthy achievement, but I will advise you to go see this in the biggest screen that you can to appreciate the sheer glorious spectacle of this film.
Instead in a change to the regular Couchzone format I'm going to list some of my favourite war films of all time. As always these aren't what I am calling the best, but they are my personal favourites.
Battle of Britain (1969)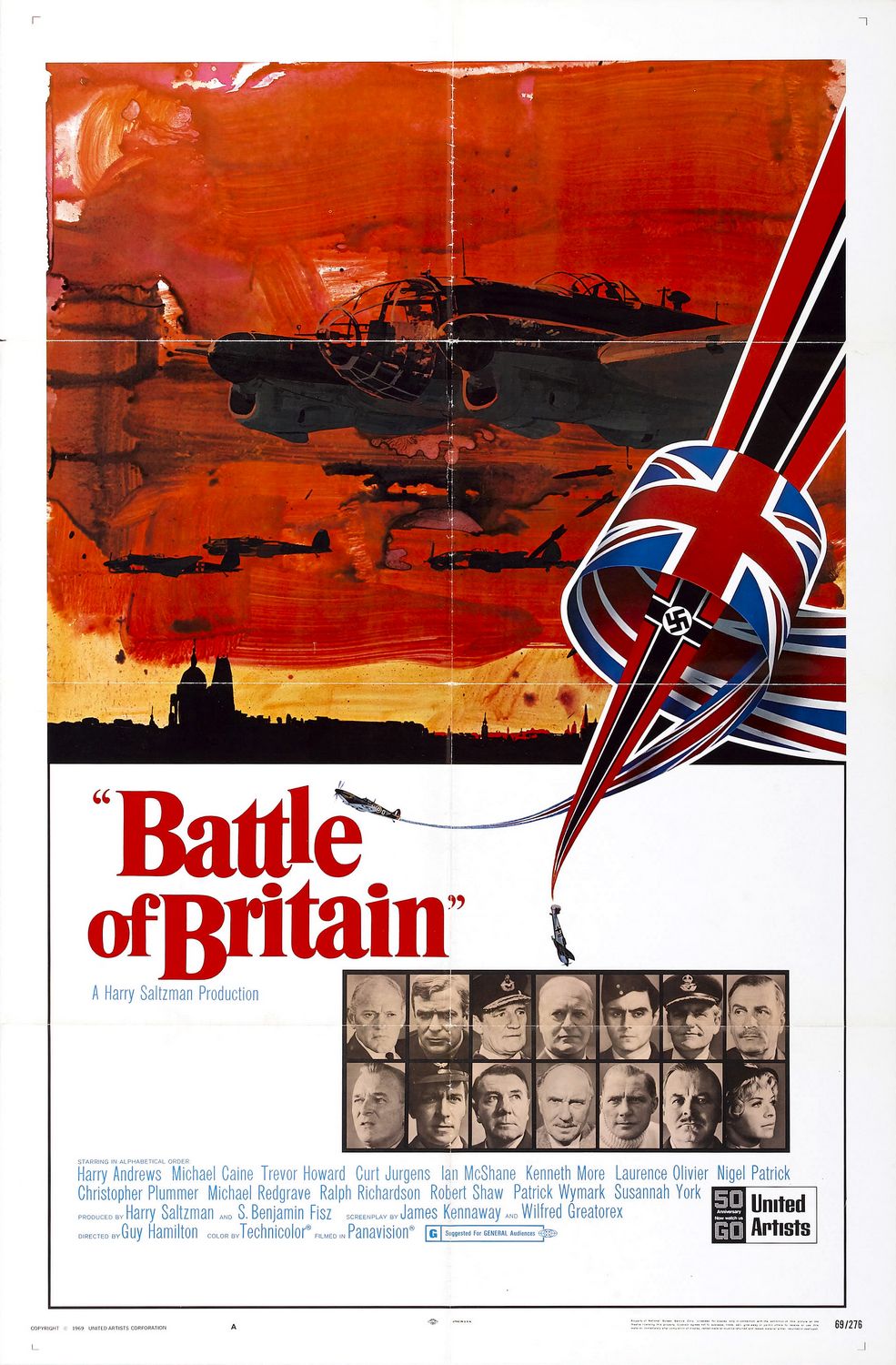 Today with CGI so prevalent in film making, it's hard to appreciate what an achievement it was for a sixties film to produce such epic aerial combat scenes as found in Battle of Britain. Everything you're seeing in this film is real, every dive, manoeuvre, engagement between fighters, is a real plane being flown by a real pilot and filmed by a crew in another plane. It's an authenticity that may be lost on audiences and probably considered quaint. But then there's a lot you can call quaint about the film Battle of Britain.
Battle of Britain is an account of the aerial battle that ran for three and a half months in the summer of 1940, an attempt by Germany to win the skies over Britain and achieve one part of conditions for a possible invasion of Britain. It's a period that's been seen as our darkest days turning into our finest hour and as such this film is full of heroism, daring pilots rushing off to meet the Hun in the skies and save the day for jolly old England old boy. All accompanied by a stirring triumphant score that's decided to get the heart racing with pride whenever  the RAF fighter squadrons gets the upper hand of the engagements (to be fair the Germans also get a rousing score as well).
You can call it on it's sentimentalism towards the subject, maybe bordering on propagandist. But come on let us have this one, this was a time when "never was so much owed by so many to so few."
In common with may war films, this has a massive cast of stars with a variety of concurrent storylines. Taking the fight to the skies are Robert Shaw, Christopher Plummer, Michael Caine (who doesn't make it out of the first half hour, causing his distraught dog to look off teary eyed into the distance when he realises his master is not coming back) Ian Mcshane, Edward Fox. On the ground there's Susannah York, Patrick Wymark, Kenneth More, Trevor Howard and the always goosebump inducing Lawrence Olivier as the Air Chief Marshall who delivers a haunting speech on the critical position the war was in as they began to run out of pilots.
There's a fair amount of humour in the film far more than 21st century audiences would expect in  a war movie. When crossing a battered airfield Robert Shaw demands that a group of freshly captured Germans be put to work to help clear it up as they made the mess. When it's pointed out they are officers Shaw mutters "Well get em a bloody shovel." Early on we see Kenneth More chastising Susannah York that her women staff have been taking cover in the men's bunkers. Immediately after this scolding a German raid begins and More naturally leaps into the nearest shelter which turns out to be a women's one.
Sometimes the humour can bring a curious lighthearted feel with such a senses of foreboding annihilation on the horizon. At one moment an old man is the target of jovially mocking at his morose reaction to his favourite pub being bombed. It's a cute moment, but it highlights how the frightening horror that civilians had to endure in the Blitz is not conveyed as effective as it warrants.  Ian Mcshane returning to find the church his wife and children have been taking shelter in has been bombed goes some way to addressing that, but weirdly his loss is forgotten in his subsequent scenes.
Battle of Britain was not well received either at the box office or critically. The film's victorious tone and exhaling the heroics of war was at odds with a generation turning on such concepts in response to the Vietnam war. Despite the impressive cast and the spectacular aerial scenes Battle of Britain was too cheery for cynical audiences as the 70's loomed.
History has been far kinder to it, with a nostalgic eye overlooking the old fashioned tropes and embracing the account of the one battle we can probably look back on with a sense of pride.
By the way  Tom Cruise has been threatening to make a film on the Battle of Britain called "The Few" where he as an American pilot comes to take part in the battle and help turn the tide………FUCK YOU TOM CRUISE!
(Sounds legit to me. – American Mike)
The Longest Day (1962)
Nowadays if you ask people to name the greatest D-Day film you'll probably get the answer Saving Private Ryan. Understandable as the opening scene depiction of the Normandy landings is a savage, heartbreaking slaughter that leaves even the hardest viewers traumatised.
However I would opt for another 60's film "The longest day." What it lacks in brutality of war it makes up in it's wider portrayal of all aspects of D-Day in the build, aftermath and the many factors that made up the campaign, on the beach, behind the lines and the planners back home from the perspective of both the Allies and German forces.
Like Battle of Britain (incidentally Longest Day seems far more modern despite been made a good eight years earlier) Longest Day has an impressive cast for it's ensemble approach. Henry Fonda, John Wayne, Robert Mitchum (who on set was disgusted by extras who reused to leap into the waters of the beach for fear it was too cold and led by example by jumping in first), Sean Connery, Peter Lawford, Richard Burton, Robert Wagner and Red Buttons appear on the allies star cast while  two future Bond baddies Gert Frobe (Goldfinger) and Curd Jurgens (The Spy who loved me) appear on the German side.
It's a huge film with more than 2000 extras being used in the beach scenes and covers many various aspects utilised in the campaign. We see the regular infantry, bored on their ships after many false starts, tense but dubious if this is finally the real deal. The French resistance's efforts to give accurate positions of German lines to the invaders. The paratroopers dropping behind enemy lines to secure key installations. The pilots providing air support (a cold, bloodthirsty pilot is played chillingly by Richard Burton).The use of dropping dummies to act as decoys. It's a rich account, along with the many personal stories, one in particular is memorable and surreal in showing a line of Allied paratroopers and a line of Germans marching past each other unknowingly in the dark.
There's even a sense of sympathy for the German commanders who know their position is doomed due to the incompetent orders from the high command and a delusional Hitler.
The Longest Day is epic with many fine moments.  But for some reason there is one scene that always stays with me. A wounded John Wayne arrives in a village to see dead Paratroopers hanging by their parachutes from trees and lamp posts. The expression on John Wayne's face, tears welling in his eyes and with fury and heartbreak orders that the man in cut down. It's an incredible moment and a break from the machismo normally associated with Wayne.
Is that a bra on John Wayne's head? No one seems brave enough to tell him.
A Bridge Too Far (1977)
There's a more sobering 70's vibe to A Bridge Too Far, even bordering on anti war from Richard Attenborough . Not surprisingly grim in that it deals with Operation Marketgarden, the brainchild of Montogomery to deploy over 30,000 troops behind enemy lines to seize a network of bridges and in doing so bring an early end to the war. The campaign proved to be a disaster and 17,000 allied troops were either killed or captured (more than the 10,000 lost at Normandy).
Once again we have an epic cast with Michael Caine, Dirk Bogarde, Anthony Hopkins, Sean Connery, Edward Fox, Gene Hackman, Elliott Gould, Laurence Olivier, James Caan, Ryan O'Neil and a little known guy called Robert Redford (but more of him later).
Right from the start there's a sense of foreboding about the operation. Intelligence suggesting the German army is far stronger and prepared than initially thought is dismissed. When the attacks begin, the forces aren't able to secure a key bridge before it is destroyed. Equipment proves not up to the task and the transport routes prove too small for the forces to transport with the speed necessary to provide reinforcements.
Troops are left stranded and the situation becomes hopeless, despite repeated attempts to turn the battle around. There's one scene where a squad are under siege in a mansion. A plane attempts to drop supplies to them but they miss their target, with one load dropping out in the open. One troop makes a brave  run to retrieve it, risking being taken out by snipers. Nether less he looks like he is going to make it and the rest of his squad cheer just as he is shot dead on his way back with the load. The tragedy is compounded when the load breaks open to reveal that what he gave his life for was a supply of spare berets.
It's an epic, ambitious movie showing various threads of the campaign. There is a wonderful tracking shot that follows an allied charge into battle that is one of the most amazingly shot battle scenes in any war movie.
There are faults with the film. At almost three hours and being relentlessly downbeat it can be a slog to get through. But probably the part that takes me most out of the moving and is incredible to think it, is the scenes that feature Robert Redford. The inclusion of Redford was a concession by Attenborough to studio execs who wanted a major star to feature in the film. And it sticks out like a sore thumb.
It's almost laughable the moment the immaculate looking Redford turns around to be recruited by a fawning Ryan O'Neal with cringe worthy dialogue to lead a special covert mission. Just as corny is Redford reciting a prayer as he leads the mission which like everything else in the film ends in failure.
A Bridge Too Far was not a box office success, no doubt due to it's heavy subject of an allied defeat and it's long running time. Though remembered now as a classic war movie at the time there were detractors who felt it repetitive and bogged down with too many characters and story lines.
It's not an easy watch and leaves you feeling deflated, but it's an important film of a disastrous missfire by military commanders and the troops on the ground that pay the price.
The Great Escape (1963)
A little more lighthearted film here.
People who argue whether Die Hard should be considered a Christmas Movie or not would be baffled to realise that The Great Escape became a staple of UK Christmas TV. Somehow it came to pass that The Great Escape would always be shown somewhere around Christmas (normally Christmas Day or Boxing Day) to the extent that for those years it  failed to be shown it's absence was clearly felt and would draw complaints from fans. I even bought it on video and later DVD just in case programmers decided to give it a rest one year. (Nowadays The Great Escape does the rounds on the smaller channels and is always shown somewhere during Turkey time).
While The Great Escape being shown at Christmas became a source of joke for British comedians I was fine with it, as The Great Escape became from a young age one of my favourite films (and is legitimately one of the first films I remember watching the whole way through even if I didn't understand everything about it).
Naturally we have an epic cast list with Steve McQueen, James Garner, Richard Attenborough, Charles Bronson, James Coburn, Donald Pleasance, David Mcallum, (what is it with war movies getting these massive line ups?) all with a reputation for breaking out of World War II prison camps and locked up in Stalag Luft III as a way to keep an eye on all the most troublesome escapees (although the fact that they are still prisoners means you can argue they are not very good at it. The film is based on a real life ambitious breakout from the prison in 1944, however many of the best remembered and iconic aspects of the movie are purely fictional (there were no Americans in the camp at the time of the escape for a start).
While the number of actual escapees who successfully made it home as a result of the breakout is accurate (only three) and the slaughter of fifty of those captured are historically accurate (although the manner of the execution is different from what actually happened), some of the however many of the more iconic aspects of the movie are purely fictional.
For  start there were no Americans at the camp at the time of the escape, and James Garner's attempt to escape Germany by stealing a fighter plane is totally made up. But while historical sticklers may baulk at such liberties, It still  makes for a great movie, partly because The Great Escape is more of a light hearted adventure movie but also without playing around with history the film would have been robbed of one of it's finest storylines. That being Steve Mcqueen who just owns this movie, writing the book on cool with his single minded approach to how he's going to escape from Germany.

Mcqueen's character Hilts is just so laid back awesome. From his first day in the camp he makes hot headed escape attempts which result in him consistently spending time  in the "cooler" (solitary confinement) where he spends his time bouncing his baseball against the wall, waiting for his next opportunity. When it comes to the big escape, while all the other escapees are using  calculated strategies and disguises to evade the Nazi's and make their way into friendly territories along carefully chosen escape routes, Steve McQueen's plan is simply. A, get out of camp, b, steal motorbike, c, ride at full speed to Switzerland and jump over the massive fence at the border. Fuck Yeah, what a guy!
Every time I watch this film and we get to the climax of McQueen's race for freedom as he revs up to make that big jump with a legion of German troops swarming down on him (it takes an army to bring down the King of Cool) I think this is the time he's going to make it. And every time he ends up in tangled in the barbed wire, patting his ruined motorbike for a job well down and an undefeated grin on his face as he takes in his German captors. McQueen finishes the film back at the camp in the cooler,  but he's not beaten, as the German guard finishes locking him in his cell we once again hear the defiant bouncing his baseball as the wonderful marching, triumphant score begins.
McQueen steals the movie but there are cast of colourful characters that get you invested in their varying fortunes as they make their bid for freedom. Richard Attenborough's "Big X" who masterminds the escape as a way of revenge against the Gestapo who tortured him, Charles Bronson's "Tunnel King" the digger who begins to get crippling claustrophobia, Donald Pleasance's "Forger" who begins to go blind at the time of the escape and is taken under the wing of his loyal friend the ultra cool James Garner, and there is Gordon Jackson who in rehearsals chastises an escapee for falling for a trick to get him to speak English, only for him to fall for the same trick in the field.
Perhaps there is an argument for a more historically correct film version of the escape because it is an amazing story. Yet for know we have and amazing classic film that has brought pleasure to many people and in a weird way has become a television institution. Some will argue that The Great Escape is not serious of factual enough to be considered an actual war film, but for a Second World War themed  fun movie it's tons of fun. It's funny, exciting, bittersweet and tragic at times, but for Christmas just isn't the same without it.
Das Boot (1981)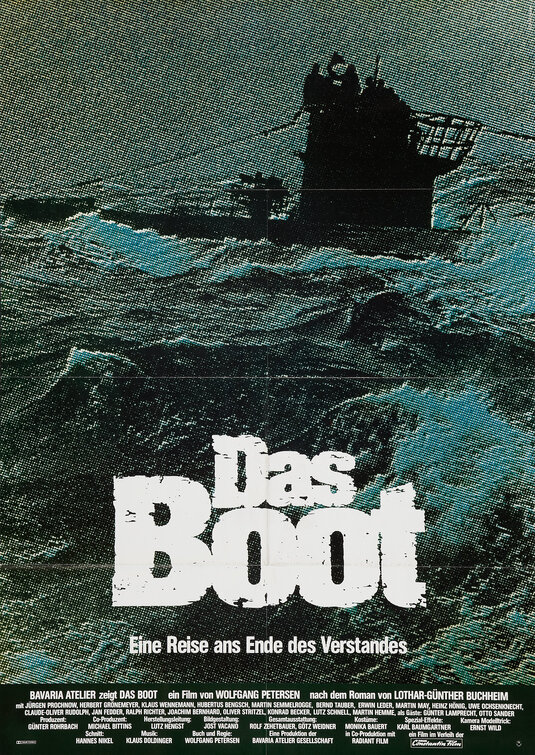 It stands to reason that a German war film is going to be a more sobering viewing experience. It's because of this that Das Boot comes across as the most authentic film on the realities of war for it's combatants.
Das Boot (translated as The Boat), is the story of a German U Boat crew on a mission to disrupt the Allies shipping lines. An immense amount of footage was shot for the film leading  to many versions of the film. The original cut ran for 150 minutes with an extended release  in 1997 of 208 minutes. The version I first saw as a teenager was broadcast on BBC as a mini series over three nights in instalments of 100 minutes each, which comes in at a whopping five hours in total.
For those three nights I sat with my parents in tense rapture as we followed the fortunes of the men of the U Boat crew. It's the crew that we became invested in, not the mission, but the everyday Germans who are  not political Nazi's but soliders doing their duty and fighting in service of their country. Through them we feel their long bouts of boredom, the excitement and triumph  of the hunt and the unnerving moments of battle when they are the hunted and listening for the sounds of explosions.  Worst of all is the fear of  suffering the most slow gristly of deaths in the claustrophobic  iron tomb when the boat seems on the verge of being trapped at the bottom of the ocean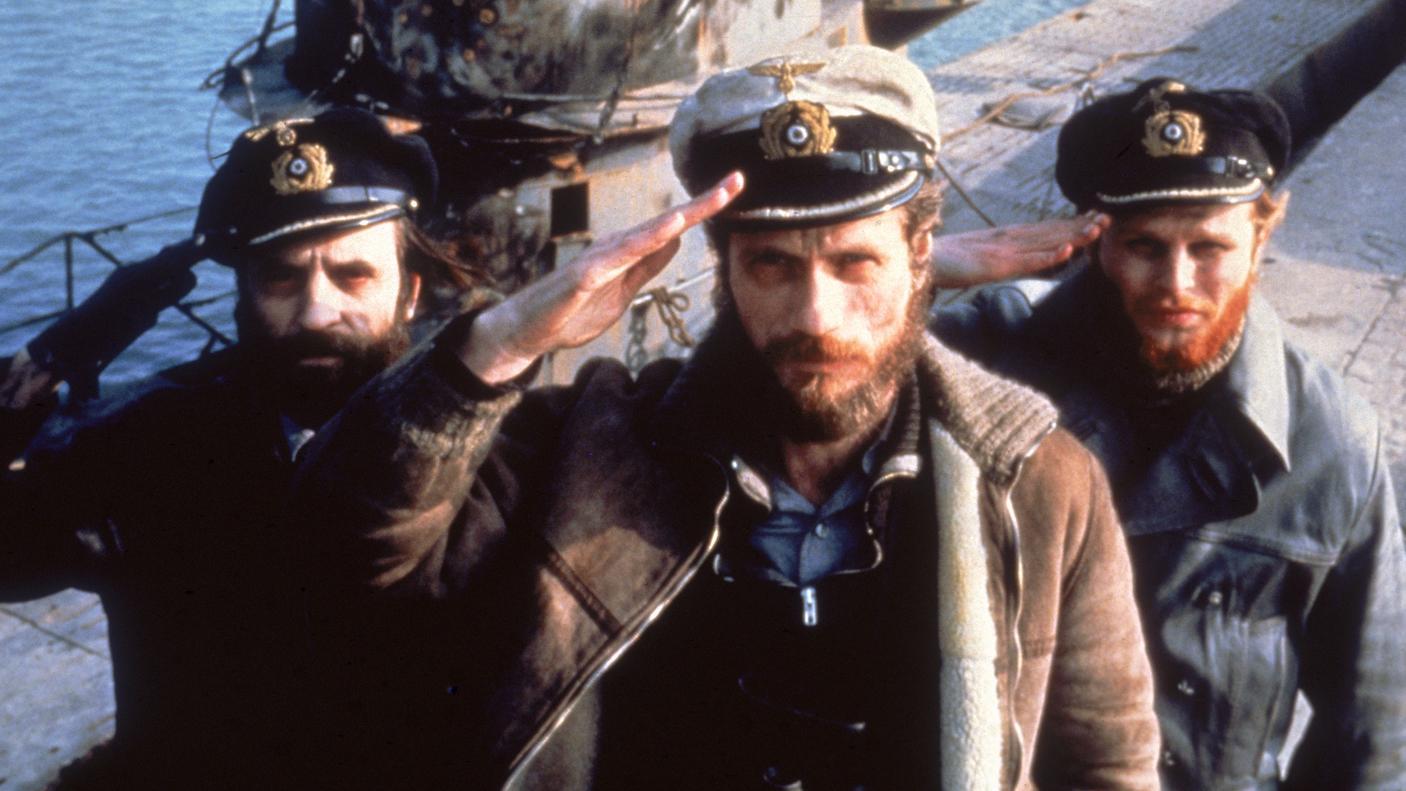 The crew led by the smouldering, charismatic Captain (played wonderfully by Jurgen Prochnow an actor once considered for the role of The Terminator) take a heavy toll for their time at sea, the uncomfortable and unhealthy confines of the Boat reducing them to pale, gaunt figures by the end of their mission.
WARNING: THE FOLLOWING CONTAINS SPOILERS THAT IF YOU INTEND TO WATCH DAS BOOT (AND YOU REALLY SHOULD) YOU SHOULD LOOK AWAY NOW.
Watching Das Boot in the fashion that I did was a tense experience and there was an almost sickening dread as my family sat down to watch the final instalment and discover the fortunes of the men we'd grown to care so much about. It's a testament to the film that it made us sympathetic to the fates of men who were actually engaged in fighting against our own country and coming into the final episode all we wanted was these men to get home and through the war safe.
It's therefore heartbreaking at the end when just as it seems we're getting a happish ending, with the crew returning to docks to a relived  chorus of "It's a long way to Tipperay" an RAF attack bears down on them. It's the ultimate kick in the gut as we see the crew who have survived so much in the inhuman confines of the U-Boat, killed one by one in the open air, barely given the chance to enjoy being back on land.
As the mortally wounded Captain watches in shock the sinking U-Boat disappear beneath the water before dying himself, I cried. My Dad looked sad (my dad only cries if Barnsley lose to Sheffield United) while my Mum in floods of tears exclaimed "Bastard English!"
Das Boot is tremendous. It puts war into perspective as how it should be viewed, in it's ugly, destructive  example of the worst in humanity. And the brunt of it borne by ordinary people not monsters, made an enemy only by geographically location. I can think of no finer film to end this piece on.
Next time on Couchzone movie club I'll be looking at a 2000ad comic movie (sort of), an animated tale of a girl growing up in Iran, a man and young girl embark on a killspree on American Culture and in the black and white section I will be revealing my favourite movie of all time.
Til next time
Peace
Dazza