In 2002 more people went to the cinema than other year in history, due most probably to three massive franchises all having releases. Harry Potter, Lord of the Rings and Star Wars all had instalments out, but were beaten at the box office (well in America at least) by a superhero movie that had been many years in the making. Spiderman marked the first time in movie history that a Marvel character had been in the number one film of the year. Not that this superhero fad was ever going to last.
Away from the crowded screenings of blockbusters, 2002 also had some cracking and interesting low budget movies. And it's from this side of the movies that my three personal highlights of the year come from, along with an absolutely killer of a stinker for my WTF? moment.
Signs (Director: M Night Shayamalan)
As crop circles and UFO sightings send the world into panic, a family prepare to defend their secluded home from alien invasion.
At the dawn of the new century M Night Shyamalan was on a roll. He'd made the big twisty supernatural Sixth Sense and he'd broke the mould of the superhero genre with Unbreakable (which Marvel would painstakingly put back together right after). In 2002 he brought his "auteur" style to a tense hybrid of horror and impending alien threat with a home invasion vibe.
In Signs we following a grieving family the Hess's who six months early lost their wife and mother in a driving accident. The family has a real melancholy over them as they try to continue life in their secluded existence on their farm on their edges of a small town. Mel Gibson is the head of the family and losing his wife has made him quit his position of Priest after losing his faith. Joaquin Phoenix is his brother who has moved in to help and is trying to find his own direction in life after failing his potential as a baseball player. The two young children have issues, the son Morgan is prone to asthma attacks and the daughter Bo has a habit of leaving glasses of water round the house and claims she has seen monsters.
Intruding on their troubled, ordinary existence is a worldwide phenomenon of crop circles (one of which appears on their farm) and UFO and alien sightings which slowly become more overt and threatening. As the news channels build up the tensions with updates from around the world (a video sighting of an alien from Brazil is shockingly creepy and is sold wonderfully by Phoenix who responds to the footage in horror), weird occurrences on the farm create a impending sense of threat. The family are harassed by mysterious and elusive intruders, the family dog goes berserk and has to be put down and weird sounds can be heard on the children's makeshift walkie talkies.
A year on from 9/11, Signs has an eerie vibe that mirrors some of the events of that day, although as far as I can tell signs was filmed before September of 2002. Paranoia runs through the family, with the children becoming engrossed in UFO writers, much as in the same way people become obsessed with conspiracy theories and Nostradamus (on a side note In 2002 the most annoying book enquires I had to deal with were the ones for "The Nostradamus book where he predicated 9/11"). Likewise Phoenix becomes obsessed with the 24 hour news cycle, and locks himself in the closet under the stairs with the TV at night, mirroring how 9/11 and the aftermath seemed to be playing non stop in some people's lives.
Signs has a tense slow build, which is really effective in terms of creating suspense but also gives us time to get to know the family and their problems. We're seeing the whole crisis through them, the confusion, the dread and the helplessness of not being on the front line, unable to steer events only to survive. There are genuinely tender moments , such as when the family have a last meal of sorts, with each having their favourite foods on a diverse feast. Gibson is especially moving as in the final moments before the impending attack on their house, in between building barricades he tells the children the stories of their births.
Signs also has some great elements of humour that gets a raise out of the foreboding grim tone. There's some great comedy out of a sullen Gibson been forced to listen to the sex life of young woman at a store despite him reminding her he is no longer a priest. The children taking to wearing tin foil hats (to protect from alien mindreaders) is also funny, especially when an ever increasingly spooked Phoenix joins them.
The payoff to all the tension is horrifically brilliant, the alien attack is terrifyingly horrific, especially when they are forced to take refuge in the dark basement. Yet for all it's down to earth, every family scenario, the film takes a fantastically weird u-turn at the climax. The title "Signs" takes a new meaning as pretty much every dropped detail in the film suddenly plays a part in the final showdown with the aliens. There are twists that stretch the credibility of storytelling, though in their own way seem bizarrely satisfying.
Quite what Shaymalan's overall intention is remains ambiguous. There is a heavy handed trite conclusion of "everything happens for a reason," with a spiritual, even religious connotation that can slightly grate depending on you beliefs or absence of them. But this shouldn't detract from what is a masterful build on a horror take on the War of the Worlds idea.
Personally I'd be more than happy if Signs had somehow tied in to the the Shamaylan universe with Spilt and Glass.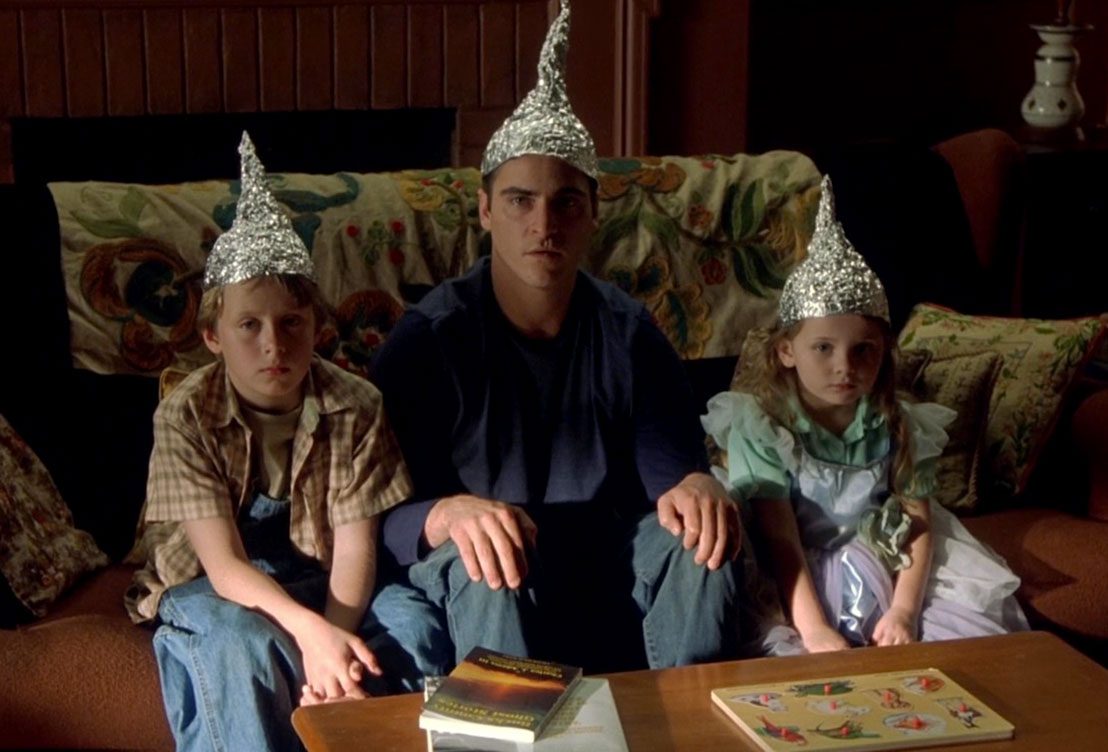 Reign of Fire (director: Rob Bowman)
An archaeological dig in London accidentally awakens a race of dragons which lay waste to the world. Many years later a small community of survivors in Britain are joined by an American military squad to begin the fight back.
One film that the mass of cinema audiences in 2002 were not going to see was Reign of Fire, a curious little movie of a dragon apocalypse starring Christian Bale, Matthew Mcconaughey and Gerard Butler. Despite this decent cast, it barely brought in much more than it's $60 million budget (which means it made a loss) and aside from an eye catching poster was barely noticed as it disappeared after just a few weeks.
I'll be honest, this was a film that I had zero awareness of, knowing the title but that is all. It wasn't until I saw it mentioned in the excellent film magazine Film Stories (yes a print magazine in 2019, something which fills me with joy), that I became intrigued of a post apocalyptic tale of dragon hunters. Coming across a dvd in a charity shop for next to nothing (movie fan tip, scouring the dvd section of charity shops is a fun way to stumble on little gems like this), I was pleasantly entertained by a very British take on the post apocalyptic genre.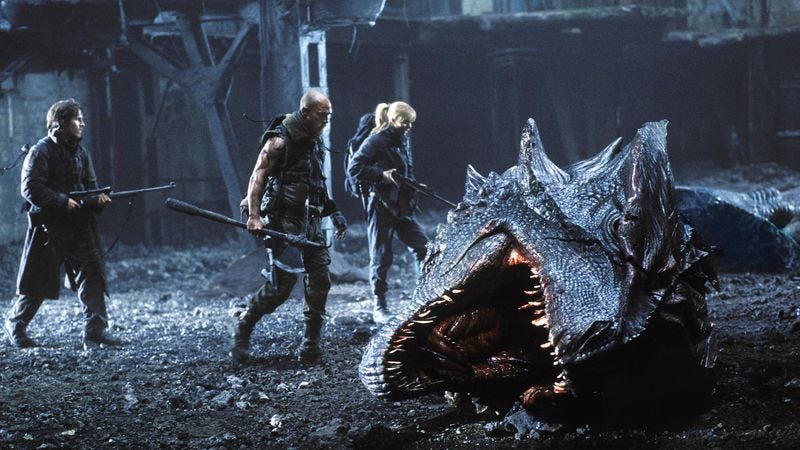 In Reign of Fire, there is a very British Middle Ages feel to the world that the dragon apocalypse has reduced the country to. Christian Bale's band of survivors live within a medieval style fortress, hidden out in the countryside and surviving on a feudal like farming existence. Even the threat of rogue dragons has a vibe of the Saint George mythology about it, especially when the heavily armed Americans arrive led by Matthew McConaughey arrive on the scene as dragon hunters, swapping horses and lances for combat helicopters and missles.
There is some really good world building at display in Reign of Fire. Aside from hiding and defending against dragons there are problems within the community with Bale dealing with infighting, resistance to his leadership and tensions that only increase with the arrival of the Americans and McConaughey's harsh military pragmatism. In contrast to this bleakness there is a nice scene where Bale and Butler act out the story of Star Wars in a play for the young children of the community .
Reign of Fire comes across as delightfully B-Movie next to the splendour of Lord of the Rings that was bringing in the crowds at the time. It offers a different vibe, with a land and people that appear covered with a grim coating of ash, fitting in with the idea of a world ravished by fire. The CGI special effects are obviously on a limited budget and some may baulk at the dating of the look of the dragons (if comparing them to today;s Game of Thrones), but the film makes use of them effectively, choreographing every appearance of the dragons to create some truly exciting action scenes.
The film builds its plots and action well to potentially explosive climax as the survivors take on a mission to storm London and destroy the main male dragon. However the third act slightly fails on the final showdown which does not feel as satisfactorily epic or dangerous as it could be. The tensions between the British and American factions also offer little in the way of a payoff.
Lukewarm as the reviews may have been at the time, I still found Reign of Fire a lot of fun, a mixing a Mad Max world with dragons. I can't help but think if it has done decently, this had the potential for a mini franchise with the seeds set for how other countries were dealing with a world of dragons and a larger budget for a prequel could have been spectacular. It's also interesting to see Bale and McConaughey on their rise to super stardom in a fantasy B-Movie like this. Overshadowed it may have been in theatres in 2002, it's still a worthwhile film to watch at home for a lazy evening.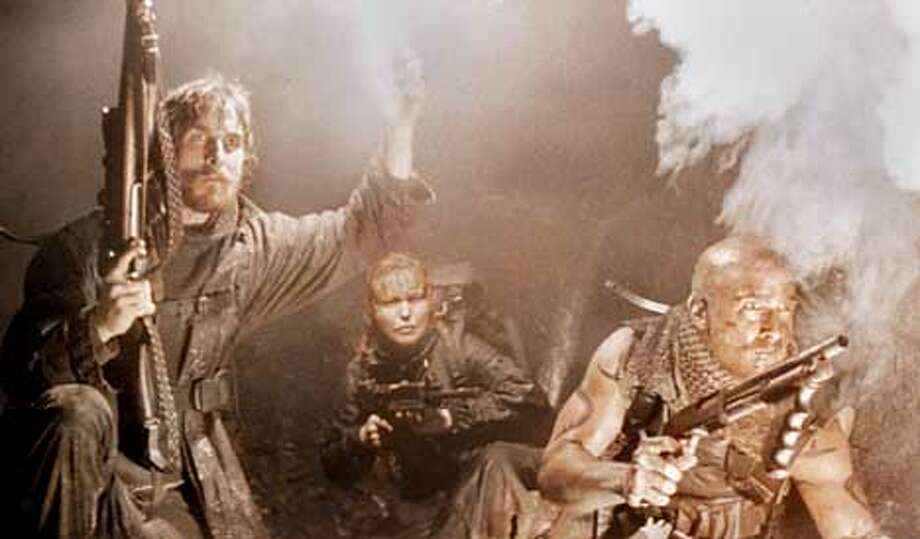 8 Mile (director: Scott Silver)
A young rapper tries to break out of his trailer park life by making his reputation competing in rap battles
You can't help but groan when you hear a musician is going to be the lead in a movie. Memories of cringe performances from Prince, Vanilla Ice and also in 2002 Brittany Spears created a prejudice against singers performing in anything longer than a five minute music video. So we could have been forgiven for thinking that Eminem playing virtually himself as a young, rising rapper, would be painfully awkward and massively self indulgent.
Thankfully 8 Mile turned out to be a damn fine movie, while Eminem was a revelation with a grounded honest performance that at times exuded vulnerability and likeability. There was even moments of tenderness in the relationship between Eminem's character Rabbit and his little sister.
Where I think 8 Mile excels is that this is a very different musicians with dreams movie. This is not a tale of rags to riches, with tropes of the passionate artists becoming seduced by the trappings of stardom and losing his way. Instead 8 Mile stays away from the fairytale, and keeps Rabbit grounded throughout the film on the streets with little progress towards a life as a successful rapper.
8 Mile focuses on on the concept of Rap Battles, where two rappers face off and trade raps attempting to run down their opponents. By winning these freestyle contests, Rabbit and his group intend to win respect and a reputation that will open doors within the rap community. With a violent feud against a rival rap group "Leaders of the free world", 8 Mile takes the music film more into the realms of a sports movie. Rabbit has to fight through a case of stage fright that causes him to freeze during battles, building up to a Rocky style showdown with the rival gang and it's leader Papa Doc in a tournament final.
The build of the rivalry, intensified by Rabbit been beaten up by the Leaders in front of his horrified little sister, meant I was rooting him and engrossed in the rap battles, even though I'm not a massive fan of rap or hip hop (the only CD's I ever bought were ironically those of Eminem). Add to that his struggles with his fractured relationship with his mother and abusive boyfriend (obviously based on the real life enmity between Eminem and his mother) holding a factory job and facing eviction, Rabbit gets you into his corner and can't help but makes you cheer for him.
In the tradition of Rocky, 8 Mile has a hell of an anthem in "lose yourself," a song that Eminem wrote and recorded while on the set of the film. It's a academy award winning song, that tells pretty much tells the story of Rabbit, with references to his freezing on the stage, and geeing him up to take his "one shot," and fight for his dream.
8 Mile has a surprisingly ambiguous conclusion. As an audience you're left wondering if he's given up on his dreams, walking a more stable path in taking his job seriously, as if his victory in the rap tournament (oh sorry spoiler) has given him a closure. But in any case it's clear as the credits roll that something has changed in him with a more confident aura about him.
For whatever reason Eminem never followed his acclaimed performance with any major roles (he was offered the main role in Eliysum), appearing only as cameos in film normally as himself. However in 8 Mile he made sure his one role was a great one and worked his arse off to be credible and worthy of a great little movie.
WTF?? Star Wars: Attack of the clones (director: George Lucas)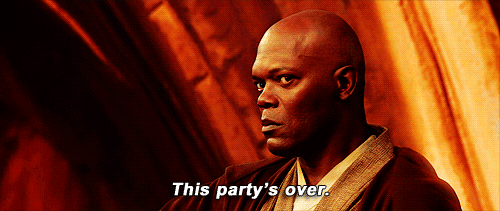 "Maybe Star Wars has had it's day, or maybe you've started to grow out of this kind of stuff," 
These were the words of my mum after I got back from one of the most miserable experiences I've ever had in a cinema. Honestly both of her conclusions scared the hell out of me. Because maybe she was right. After all, I seem to be the only person in that opening night showing of Attack of the Clones who wasn't cheering and applauding when the film ended. So appalled was I that this piece of shit movie, an embarrassment to the Star Wars name, was getting a standing ovation that I longed to do an Annie Wilkes style rant on how George Lucas had done a dirty birdy and cheated us.
17 years later that rant lands here.
Stars Wars Episode II: Attack of the Clones is one of the most miserable films I've ever seen, and I'd gone into the theatre with such high hopes. Sure, Phantom Menace wasn't good, but surely they'd get back on track for this one. After all, this was the second in the prequel trilogy, the Empire Strikes Back one. Where the Republic was going to start falling apart to make way for the Empire. We were going to see the clone wars, which we'd only heard about once in a throw away line in New Hope and didn't know what it was but it sounded cool as fuck. Most of all, this is where we were gonna see Anakin start to walk the path to the Dark Side, he wouldn't be a little kid anymore, he'd be a badass about to become Vader.
This film was gonna rock. It even was going to have a Boba Fett origin. Well as it happened the parts with his dad Jango Fett proved to be the only entertaining moments in the film, that and the ending with the deployment of the clones to the Imperial march theme while Jimmy Smitts looks all concerned.
What I could never have foreseen was the unforgivably wooden acting from the principle players. Including from Ewan Mcgregor, who many fans seem to see as a bright light in this storm cloud of a movie, which I don't get as his forced Alec Guinness like impression grates me throughout the film. The only thing I can think that gets him a pass is that he's not sharing the screen for much of the film with Natalie Portman and Hayden Christian as they portray possibly the most chemistry free relationship ever set to celluloid.
And where to begin with the creepy, obsessive nature of the "love story" of Anakin and Amidala. Aside from how Anakin was a kid last time Amidala saw him, or the revelation at the start that Anakin has probably been using his Jedi choke power to jack off to her for the last ten years, it's also unbearably boring. That infamous line about sand been course and getting everywhere, I never picked up on it the first time I saw this film, because I had completely zoned out. Yes when watching a Star Wars film for the first time, I was actually bored!!!! A thing I would never have thought possible.
That sickeningly sappy scene on the field where the future coolest, most terrifying villain in science fiction history is frolicking and giggling is the moment I realised that they should never have bothered with the sequels. Not that Anakin at any time has any hint of being the future Vader. When he's not pouting and stamping his feet about Obi Wan, he's acting disturbingly obsessed about Amidalee. But worst of all is in the moment where he reveals he slaughtered a colony of Sandpeople (is that a racist term?). This big moment, that finally displays a hint of Anakin's steps towards darkness falls flat (even inexplicably when aided by the a brief reprise of Vader's theme) with his whiny delivery and his laughably lip pouting.
Speaking of Anakin's slaughter of the Sandpeople (or POS as the politically correct term should probably be) this is done as revenge for the killing of his mother. The same mother he never bothered to check up on for ten years after he left her in a life of slavery. Well if only he'd saved a really rich planet like Naboo in the previous film, maybe he could have asked their royal family during the celebrations if in return they could buy his mom out of slavery from the Jewish alien who was now broke and having to sell her anyway. And while we're on this subject, how about that revelation that Uncle Owen and Aunt Bero are from a family that buys slaves?
Hey, do you like Light Sabres? Yeah, you love light sabres, remember how in the original trilogy they'd be used quite sparingly so when they appeared it would be really special and exciting and you'd only get one duel per film that you could get really engrossed in. Well, in Attack of the Clones you're getting light sabres every five minutes. There's even going to be a scene where there's about a hundred guys flaying light sabres at the same time, spinning them around devoid of any grace or passion.
Even Yoda it turns out has a light sabre, which he brings out for a fight scene with Christopher Lee in one of the dumbest sequences in a film ever. As CGI Yoda (not my Yoda) jumped and spun and flipped and somersaulted, bouncing around like woody fucking woodpecker the audience I was unfortunate to be amongst cheered and applauded and laughed hysterically while I just seethed and hated everyone around me.
This is the problem I have with Attack of the Clones, it's so in love with what it can do with CGI that it mistakes having more and bigger things on screen as more spectacle. A single lingering shot of the underside of a massive Star Destroyer will forever be more memorable than five minutes of a hundred ships shooting at each other so fast you can't take it in. A single one on one passionate light sabre duel with characters you're invested in, will draw you in more than several fights with no real stakes. Several AT-AT's that are tough to bring down is a more menacing, compelling battle than tons of giant machines blowing each other up with a single shot. This isn't spectacle, it's just lots of dazzle and is pointless if there isn't heart driving it.
I could go on about how much I dislike this film. I haven't even gone into Obi-Wan's quest to solve mystery of the Clone Army creation, which never makes any sense (I still don't know how the Jedi end up with the clones). Or that god awful factory scene that is straight out of a video game, and don't get me started on that whole C3PO "comedy" moment where his head gets stuck on a combat droid.
However, there is one last point I'd like to make. I left that film dejected, maybe angry, and for years whenever the topic of prequels came up I would argue passionately every thing I felt was wrong with them. However never once did I feel compelled to send hateful abuse at Natalie Portman or Hayden Christensen. Even if the means existed back then I doubt I would have gone out of my way to attack anyone who enjoyed the film, no matter how questionable I found their taste. Nor would I claim they were not true Star Wars fans. I certainly would never have started a pointless petition to remake the Attack of the Clones.
As disappointing, maybe even frustrating as Attack of the Clones was I moved on. Perhaps Star Wars (at that time at least) had had it's day, but I still had the original trilogy to enjoy, and there would always be better movies and new sagas to explore.
At the end of the day, no film (no matter how much it means to you) is worth leaving you feeling so poisoned that it drives you to want to make human beings feel like shit.
Because you know what side that leads to…..
Now that that's over with, See you next time
Dazza