1987 is another year that I feel spoiled for choice in writing about three films from the year I love, along with one WTF? moment (there were so many films from this year for this category, but I chose a great film that was misunderstood rather than one of the awful ones on offer). There was also a fair few British movies  from this year that I could have included, and no I'm not talking about Withnail and I, which I liked the one time I saw it but never fell in love with it in the same way every other movie lover I know did. 84 Charing Cross Road, Hope and Glory and rather bizarrely two films said to be based on the life of notorious Brothel Madam Cynthia Payne with Wish you Were Here and Personal Services were all films I remember enjoying.
While comedies were proving more popular at the box office, this was a great year for iconic action movies, with Mel Gibson and Gary Busey having one of the best film fights in Lethal Weapon (a film which blew me away at how good it was as a kid), and Schwarzeneggar at his prime with Predator and Running Man.
But one action film really stood out for me, one that had surprising depth despite having a potentially silly premise.
Robocop (click HERE and HERE for more)
The picture in the above poster was the first sight I ever saw of Robocop. This rather sleeker depiction of the character we would see in the actual film accompanied am alarmist news article (I believe in the now dead tabloid The News of The World) decrying how sickeningly violent this film was and that censors were ready to slap an 18 rating on it to protect UK children from seeing it. For me it was like Gremlins all over again. I was outraged that these busy bodies were denying me a film with it's premise of a wounded cop, rebuilt as a super robot to fight crime was so obviously aimed at a younger audience.
Fortunately my Dad knew a guy at work who got me a good quality pirated video tape, not that long after it was in theatres. Naturally I soon realised that this was a comic book story wrapped around a very adult movie.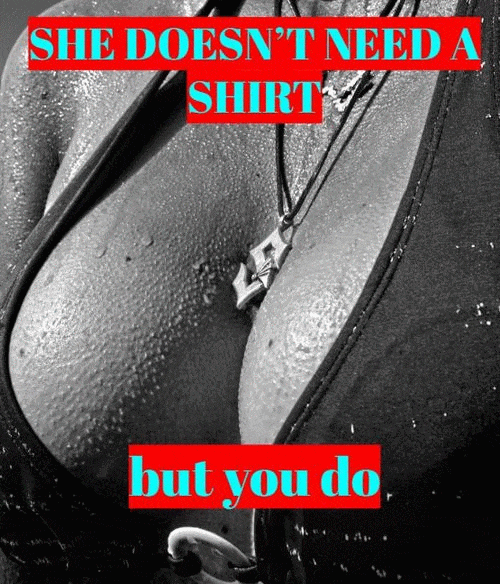 Robocop is jarringly violent, probably the most vicious and explicit action film I'd seen up to that point in my life. It. When people are shot it's with more intensity than the average action scene of that era, the bullet squibs are way larger, with not just a small hole appearing in a body when hit but an explosion of blood and flesh, the victim jerking in powerful spasms. We see people beaten to a pulp, an attempted rapist shot in the bollocks, a suitably gruesome end for an irritating henchmen who emerges from falling in a vat of chemical waste hideously deformed and his body fall apart when hit by a car. But the most difficult to watch is future Robocop Officer Murphy who is shot to pieces in a prolonged execution by a gang of truly hateful thugs.
But this violence fits in with overall tone of the movie. Because although Robocop has the look, title, story and rousing score of a superhero movie, it has an ingenious amount of satire and social commentary as well as black humour. Robocop's quest to track down and bring to justice that gang that essentially murdered him when he was officer Murphy, plays out against a backdrop of corporate corruption and an institutional failure to deal with the causes of crime.
The film targets the privatisation of public services by depicting a scenario where the police forces of Detroit are handed over to the control of a corporation OCP. Underfunded and saddled with unreliable equipment, the police are suffering casualties on streets where crime is running rampart and their union is close to going on strike. In a direct satire on Government military contracts the OCP attempt to introduce an armed police robot, not caring that it doesn't work and when it malfunctions and kills a young exec at a demonstration the head of the board is more annoyed at it's failure then the death it caused.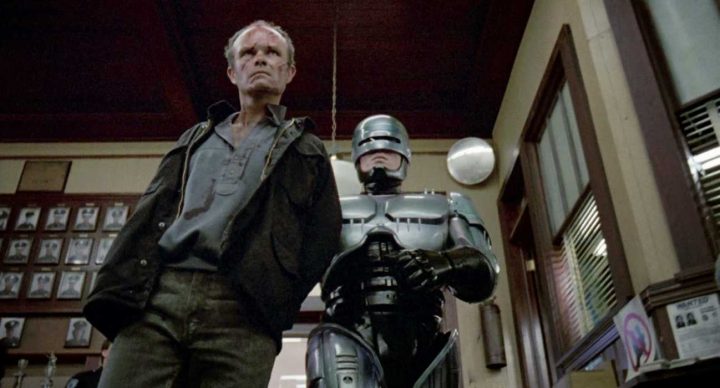 There's also commentary of politics with Robocop called to deal with an armed siege where a politician has taken hostages to demand a recount. But it's the network media that the film really rips into. Throughout the film there are segments of news clips where cheerful newsreaders glibly read out horrific and downbeat stories, while also promoting OCP propaganda pieces ("Good luck Frank" one newsreader gleefully signs off a story of a cop fighting for his life with). There are spoofs on american tv ads, with a memorable one for a family board game "Nuke Em" based around nuclear war. Popular culture also gets sent up with the most popular TV show seemingly being a sex comedy built around a repetitive catch phrase "I'd buy that for a dollar!"
With the satire, dystopian setting of a crime ridden city and a heavy handed policeman with hints of fascism given Carte Blanche to be Judge, Jury and Executioner, it's no surprise that a major influence for Paul Verhoeven was the UK's very own Judge Dredd. Robocop's design is based on a combination of Dredd and the Marvel comic Rom: Spaceknight (a copy of which can be seen on a rack in the scene where Robocop stops a store robbery).
Robocop is a great action film, with a lot of emotional heart. Throughout the film Robocop begins to recall the memories of Murphy, remembering his wife and family and reliving the trauma of his death. As his personality slowly resurfaces thanks to the help of his former partner Anne Lewis, we build to the iconic final moments of the film where when asked his name he replies "Murphy." It's a shame then that the following sequels did away with Murphy finding his way back and instead regressed Robocop's personality back to the robotic persona he first had upon his activation. The potential of the world of Robocop was wasted on the uninspired two sequels and a dull television series, so that the character became a joke (wrestling fans may remember him appearing at a WCW PPV chasing off Ric Flair and the Four Horsemen). As for the 2014 remake, it may have had some of the social commentary of the original but it was decidedly less fun (not to mention having one of the most unintentionally hilarious moments of the year).
The original Robocop however remains one of the shining lights of 80's movies, a fun and deceptively clever romp.
Princess Bride 
While younger audiences may have been denied possibly the greatest sci-fi movie of the decade, they could have consoled themselves with one of the most warmhearted, endearing and exciting family movies of the whole 80s. The Princess Bride is a swashbuckling adventure, teaming a Giant and a fencer (on a lifelong quest to find the six fingered swordsman who killed his father) with a pirate trying to save the love of his life from being married to an evil Prince. It's a fairy tale premise, which also appeals to adults with it's humour but not in a way that is designed to go over the heads of kids in a Shrek way.
Princess Bride was a real labour of love for director Rob Reiner who adored the novel by William Goldman and had to fight studios to be given the chance at the adaptation as previous attempts to bring it to the screen had failed. Reiner stayed true to the book and included the framing device of Princess Bride being a story within a story, as it's actually a book read by a Grandfather (played by Peter Faulk) to his sick Grandson (played by Fred Savage, he of Wonder Years fame). "When I was your age, television was called books," Faulk says to the less than impressed kid, who goes on to narrate the story with a few interruptions along the way which bounce the viewer out of the story, such as when Savage baulks because the story has "kissing" and when the Grandpa considers bringing the reading to a halt because the Grandson is taking the story too seriously.
The kid is reluctantly won over by the story, which features the Pirate Wesley  running a gauntlet of tests of skill, strength, wits and the dangers of a monster ridden, fearsome wood to save his beloved Buttercup, before subsuming to the scheming and betrayal of the evil king. But there is one scene that stands out and that anyone who sees this film can never forget.
It's possibly the greatest sword fight ever put to celluloid between Wesley (in his persona of the Dread Pirate Roberts) and world class fencer Indigo Montoya.  Almost three minutes of relentless thrusts, parries, acrobatics, banter and one upmanship. There is the coolest of moments half way through the battle Montoya reveals that he has been fighting left handed as a way to handicap himself and give his opponent a sporting chance, but when he switches and gains the advantage Wesley reveals that he is not left handed either and has been doing the same. It's an amazing battle as the two gain respect for each other in the contest.
There are memorable performances from top to bottom of the cast. Cary Elwes and Mandy Patinkin are perfect as the dashing swashbucklers, Robin Wright in her first major role is a delight as Buttercup, while the most inspired casting triumph is the film managing to convince the WWF to allow them to use Andre the Giant for the role of the tough but gentle Fezzik (while Andre has the size or the role he was suffering a back injury and had to use cables and ramps to help in the scenes where he's seen carrying the other actors). There are some minor roles which pay off with hilarious comedy moments, such as Peter Cook as the short tongued clergyman conducting the wedding and Billy Crystal ab libs his way from his scenes as a healer.
Wallace Shawn is also utterly memorable in his brief role as the criminal mastermind Vizzini, where he manages to get his catchphrase "Inconceivable!" in five times despite been killed off early in the film. Princess Bride  isn't short on highly quotable lines. Even today, Cary Elwes can rarely buy a cup of coffee or make a food order without receiving the reply "as you wish," the signature response that Wesley gives to Buttercup. Likewise Mandy Patinkin is plagued with fans reciting to him the most famous line:
"My name is Inigo Montoya. You killed my father. Prepare to die."
For all the love that went into the making of Princess Bride, the film did not set the box office on fire. The studio didn't seem to know how to get across the tone of the film and their promotion was bordering on  incompetent. With a less than eye catching poster that didn't get across the adventure element of the film, even worse came in the painful (even by 80's standards) trailer that portrayed Princess Bride as a slapstick comedy with shades of  Monty Python. Unappealing to kids and causing parents to be wary, this campaign while not resulting in a bomb (it brought in 30 mill against a budget of 15) it made little profit in theatres.
However the film gained a cult audience on home release and today is considered one of the finest family movies of all time. It has a timeless look and appeal and is a film that parents who like to instill an enjoyment of films to their kids should have high on their list as one to introduce them to. It's too wonderful a film to pass up on.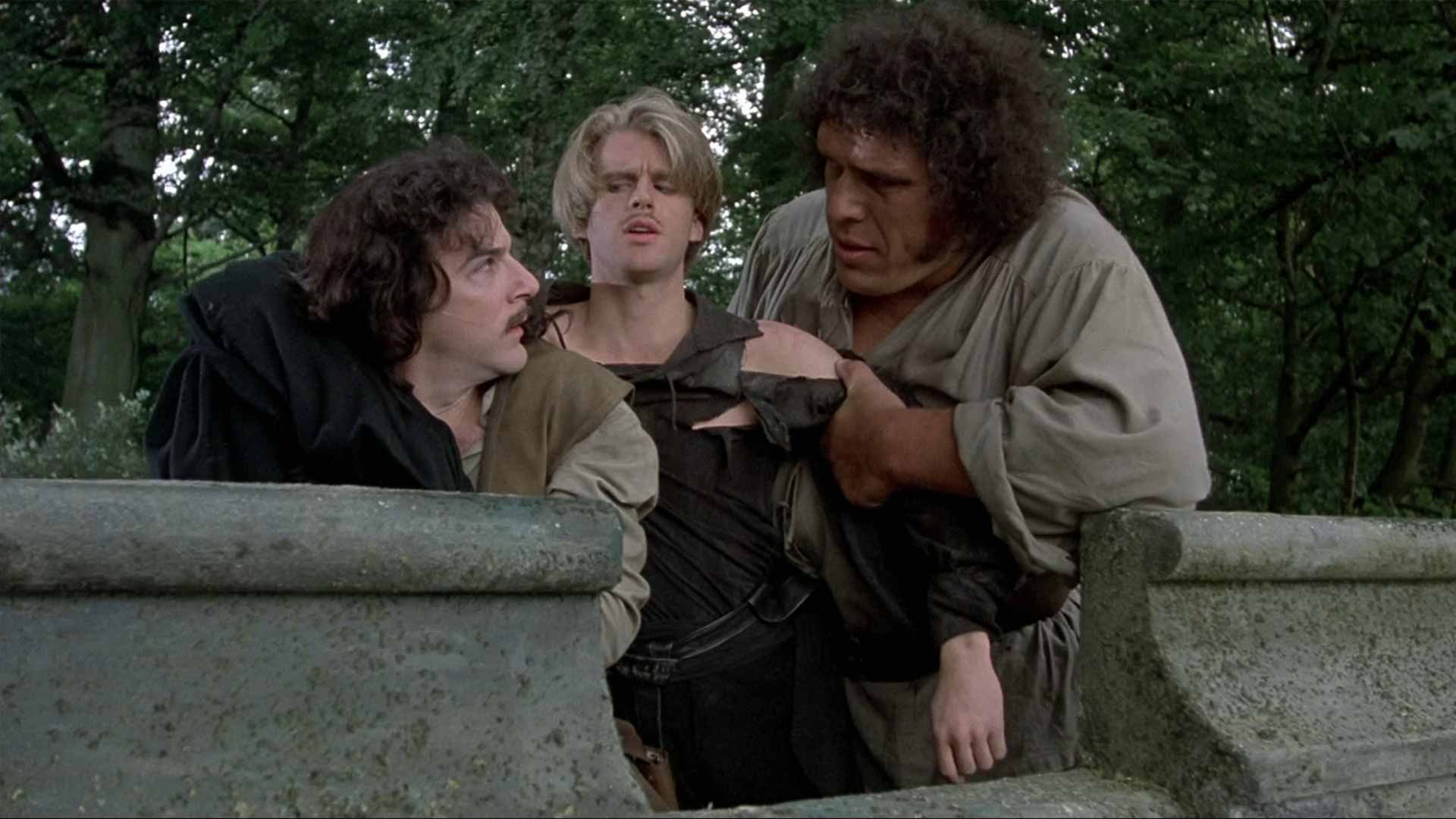 While writing this I discovered that a PG version of Deadpool 2 is to be released this Christmas. In a homage to Princess Bride, the film will ape it's storybook framing device with Deadpool as the grandfather and the grown up Fred Savage reprising his role as the grandson. 
Near Dark
Although I've already covered Near Dark in one of my first Couchzone Movie Club blogs (back before I started the year retrospective theme) I decided I couldn't cover 1987 and not include this film. Also I'd like to think I may inspire at least one person to discover this cult classic through reading this.
As a teen I considered 1987 to be the year that the greatest vampire movie of all time was released. A modern reworking of the vampire mythos, that also happened to one of the coolest movies of the 80's. It was called Lost Boys. Come my twenties, I still thought the greatest, coolest modern take on vampires came out in 1987, but it was no longer Lost Boys, it was a little known cult movie, directed by Katherine Bigelow.
Released just two months before Lost Boys, and sadly completely over shadowed by it, Near Dark is far better movie with a grittier edge. It combines elements of westerns, road movies and biker movies with the true horror of vampires (back in the day when they were still scary and you stuck a stake through their hearts as opposed to them been Emo posers who teenage girls fucked).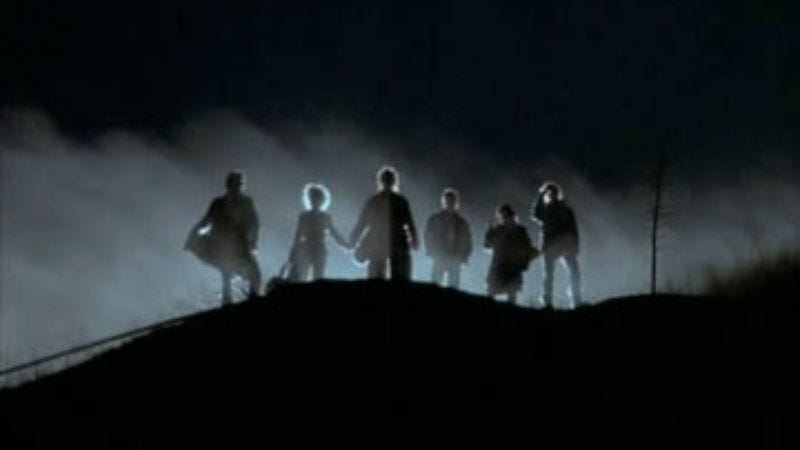 Near Dark does have similarities in story with Lost Boys. It follows a young man Caleb (Adrian Pasdar of Heroes) who is accidentally turned to a vampire by a young girl "Mae" he meets on a night out. He's then kidnapped by the group of vampires Mae belongs to, a dysfunctional family dynamic (one of the vampires is trapped in the body of a child) that drift through remote American towns in a RV picking off victims to prey on. While they initially want to kill Caleb to keep their existence hidden, Mae convinces them to give Caleb a chance to join their family and teach him how to hunt.
Near Dark does away with the magical aspects of Vampire myth, stripping it down to the tropes of immortality, blood feasting and their vulnerability to sunlight. This helps to ground the film in a modern western setting that plays well with the vampires grimy, rock, biker vibe to, and the arsenal of firearms they travel with. They give a whole new meaning to going to a bar for a drink, as they descend on a bar, slaughter the inhabitants and feed on them. This leads to a vicious gunfight with local police who track them down and surround the motel that they have holed up in.
There is some inspired casting, with Near Dark reuniting three principal players from the previous year's Aliens (directed by Bigelow's one time husband), with Lance Henriksen as Jesse Hooker (head of the Vampire family and a Civil War veteran on the South side), Jennette Goldstein (Hooker's wife Diamondback) and Bill Paxton as the cocky, denim, cowboy boots and sunglasses clad Severen. Paxton steals scenes just like he did in Aliens and is obviously relishing the role.
Near Dark hits the atmosphere and tone perfectly, not only of the horror world of the vampire, but the alternative lifestyle of Hooker's group of outlaws. This has always been Bigelow's hallmark, capturing the right look and mood for a movie, as well as subverting familiar genres. She takes the concept of vampires and converts them into 20th century themes, in Near Dark  that being the need for blood and way the group live resembling drug addiction, along with the nature of the family unit. There is also the  desire for companionship, with two romances in the group and with Homer (the vampire trapped as child) attempting to turn Caleb's young sister to a vampire so he will have someone his own age (in body not mentally) to go through life with.
Near Dark is a great film, with charismatic Anti-heroes who you switch from rooting for to against. It's a hard edged, and darkly cool vampire movie, a heavy rock alternative to the pop feel of Lost Boys. This is the vampires that popular culture should have embraced instead of them being new-romantic pussies.
WTF? Wallstreet "no that's not what I meant at all!"
There were so many WTFs I could have gone for. The done on the cheap Superman IV, the barmy Jaws: The Revenge, the "ghost" in Three Men and a Baby. But instead I thought I'd go with a great movie, that was admired by some for all the wrong reasons. 
"Greed is good, Greed works!" are the words of Gordon Gekko as he delivers a speech that was intended to be a savage attack on the selfishness of 80's capitalism. With Oliver Stone's typical subtle as a baseball bat to the face heavy handiness, Wall Street addresses the get rich quick, profit first philosophy of the decade. Gekko, represents everything that is wrong with the way America was heading and as an audience we are meant to hate him, be angered by his speech.
But in the words of Mother Theresa "That fucking backfired!"
Because for a generation of young men making their starts in life, "Greed is good!" sounded a great motto to live life by, a justification to be selfish, shallow and indulgent and everything the yuppie stood for. Film goers left theatres in 1987 not inspired to take to the streets and tear down the institutions of Wall Street, but to find out how they could get a job as a stockbroker.
Oilver Stone no doubt shook his head, bemused that he couldn't have been any clearer that in the battle for the soul of Charlie Sheen's Bud Fox you're supposed to identify with Bud's father the Union guy and not the nasty rich guy. I mean he named him GEKKO, how much more obvious could he make it that he was the baddie.
Truthfully though, Stone didn't go about getting his message across in the best way. I mean who is the more appealing role model here? They guy who works hard his whole life and ends up having a heart attack, or the multi millionaire who has his own plane and island?
Fact is, once you put a piece of art out there, you've absolutely no control how people will interpret it or what message they will take from it. Wall Street is a great film of it's time, a warning of where society was heading and it does have a well intentioned agenda. It doesn't attack the general concept of capitalism, but rather the get rich quick philosophy of the 80's. It encourages instead to profit through working and building something up. It's a noble thought and when you look at the amount of companies and businesses which exist to make money without actually creating goods or services or contributing any thing to society it's a film which is all the more relevant in the 21st century as it was in the 80's.
The sad thing about Wall Street, it's a film we watched but never really listened to.
And on that cheery note, see ya next time
Dazza