And it came to pass that Marvel Movies announced that in 2014 it would be releasing Guardians of the Galaxy. And lo, the keyboard experts all laughed at the folly, pointing out what Marvel didn't know that no one would go see a movie on a comic book property no one knew. "Silly Marvel, making a film about a tree and a racoon, they're going to lose so much money, if only they were as smart as me!"
Guardians of the Galaxy came the third on world boxoffice takings (beaten by Hobbit 3 and Transformers 4, both of which were incredibly shit), and introduced us to some of the most endearing characters in the MCU.
However in terms of US box office, two films drew more than Guardians of the Galaxy. Bringing in the audiences were American Sniper which had a shocking trailer showing a Navy Seal about to shoot a small boy (carrying a bomb to attack Marines with) and Hunger Games which was built around a TV show where children were pitted against each other in a fight to the death. Yep killing kids was boxoffice gold in 2014.
Chef (Director: Jon Favreau)
Disillusioned with the restrictiveness of working in the kitchen of an upscale restaurant, a chef sets out on his own in a food truck.
Sometimes, a film doesn't need to be full of drama to have you fixated. In fact sometimes you don't even need a classic storyline, sometimes a film with a nice warmth is enough to make you want to hang out with it for a couple of hours.
A case in point is Chef, written, directed, produced and starring John Favreau. The story is pretty simple, Carl Casper (Favreau) is an accomplished chef but creatively stifled working in a restaurant where the manager insists on a strict and traditional menu. When a food critic gives him an uninspired review, Carl gets into a twitter war with him (not understanding that Twitter is public), and in the ensuring meltdown ends up out of work. Along with his young son he takes ownership of a broken down foodtruck, setting off on a roadtrip building up this new business.
That's it, that's the story. There are no obstacles to overcome along the way, no sudden tumultuous curves in the plot. Nothing more than a Chef rediscovering his passion for creating and serving food. And it's pretty great and heart warming.
Chef is the sort of movie that if you're open to it's gentle journey is gratifyingly uplifting. It's an idealised dream that many workers have, throwing off the stiffing restraints of working for an institution of the establishment (in this case a refined but emotionally sterile fancy restaurant) and instead being your own boss and finding your passion in life. Carl get's to experiment, serve the sort of food he wants to an appreciative working class market and ultimately have a lot of fun doing it.
Chef can de described as "On the Road," but with food, glorious food at that. Some of the best scenes feature mouth watering meals, where Favreau conveys the joy of cooking and eating food that's been passionately prepared. This is especially the case as Carl trains up his young son, instilling in him the passion for the role of a Chef, as sense of pride in his work and bonding with him at the same time. One of my favourite scenes involved them sampling some choice cuts of ribs, and warning this film will make you hungry.
There is a real indy feel to Chef, especially in it's romanticism for the colour and vibrancy of an urban and down to earth life, but also in it's unconventional style and narrative. Despite this, there is still an impressive cast, with Dustin Hoffman as the restaurant boss, Oliver Platt as the snooty food critic and Favreau's Iron Man buddies Robert Downey Jnr and Scarlet Johansson. Admittedly there is a sense of self indulgence here as Favreau writes himself as being Johansson's lover while having an ex-wife played by Sofia Vergara (that must be some cooking he does).
I hate to use the term "nice," but Chef is a nice film and sometimes a nice film is the food for the soul we need.
The Lego Movie (Directors: Christopher Miller & Phil Lord)
In a Lego world, an ordinary, everyday worker finds he may be the key to helping a resistance stop a tyrannical head of a corporation.
"There's going to be a movie based on Lego? Oh that'll be nice for the kiddies," is the kind of dismissive response that greeted the arrival of a film based on the popular children's toy. Parents who dutifully took their kids to see Lego: The Movie, were no doubt ready for an hour and half of rolling their eyes at sweet, toddler friendly and wondering how much money they were going to be shelling out for the brick based toys come Christmas. Yet it must have been shocking to find that this film, was in fact……well awesome.
Not just awesome, but in my opinion, one of the best movies of 2014.
The Lego Universe works because the film attempts to make a universe based entirely on Lego and incredibly it actually works. As well as squeezing in all the various Lego worlds (Medieval, Western etc) the main plot is set in a society based on conformity, where following the instructions is vital to everyday life. Within this an ordinary, everyday worker Emett falls in with a resistance group made up of colourful individuals (including famous figures from most of the properties licensed to Lego), fighting against the head of a corporation (Lord Business) who seeks to unleash a mysterious weapon that will freeze the world in his own vision of perfection. It's a wacky story but it all works because of effective world building, genuinely great characters, tight story telling and is also bloody funny.
Visually The Lego Movie is absolute insanity unleashed on the eyeballs. Mesmerising you with a wild palette of amazing colours, there are scenes that zip along unbelievably fast filled with a frenzy of objects constantly changing shapes. Yet impressively this whirlwind of sights manages to stay coherent to the viewer, no matter how busy the scene is.
Drawing you into this crazy world, the Lego Movie has you accepting such lunacy as Unicorns joining forces with Pirate Robots and astronauts, Batman joining up with Han Solo and Chewbacca while Superman, Teenage Mutant Ninja Turtles, Harry Potter, Gandalf and Shaquille O'Neill fighting side by side against an army of robot policemen.
In all this alluring chaos is a compelling satirical edge. The world of conformity in which Emmett exists is clearly a knock on our own 21st century Starbuckish lives. All the citizens follows the same routine, consuming the same products, watching the same one comedy show and laughing hysterically at the catch line they hear time and time again ("Where's my pants?" could easily be "We were on a break!"). But the crowning glory on this commentary on consumerist banality is the pop propaganda song "Everything is Awesome!", the only song that ever plays on the radio of Legoland, and is so brilliantly catchy it gives Frozen a run for being stuck inside of your head (it provided the film's only Oscar nomination).
The multi coloured, exotically flavoured icing on this most glorious rainbow cake, is that The Lego Movie is also hysterically funny, even (and possibly more so) to adults. The appearance of Batman into the main cast is bizarrely random, but this interpretation of a self absorbed, smug Caped Crusader making his own beatbox music about being an orphan, is a send up which has actually endeared him into being an accepted facet of Batman lore. The humour ranges from the dry ("Taco Tuesday will be now known as Freedom Friday….but still on a Tuesday")), the satirical (Uni-Kitty blagging her way through a business meeting with "Numbers, numbers, business, numbers") and the surreal (a Robot Pirate turning into another robot singing "How Ya Gonna Keep em Down on the Farm," is one of those "What was that?" moments). But maybe the funniest moment is an spaceman from the 80's Lego space range, finally getting his moment to shine and going absolutely berserk. "SPACESHIP!!!!!!"
And just when you think you have the whole film figured out, the story throws a complete curveball in the final act that reinvents your understanding of the Lego world but conversely brings the story together beautifully.
The Lego Movie is a triumph that had more care and attention to it than could ever have been expected. There are wide ranging themes such as individualism against conformity, the dangers of not questioning authority (with it's rebellious streak the film is very subversive for a "kids" movie), and a simple celebration of teamwork and realising your potential. With an incredible voice cast (Christ Pratt, Elizabeth Pratt, Will Ferrell, Liam Neeson and Morgan Freeman) breathing life into a wonderful array of characters, this may be the most surprisingly awesome film ever.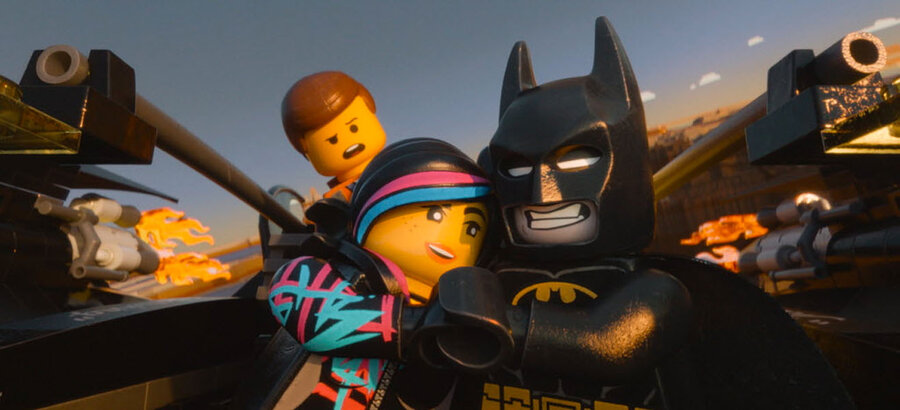 The Babadook (Director: Jennifer Kent)
"Turn that awful film off now!" This was the advice of a friend who I'd been texting one Halloween night to describe the horror film I was watching rather than gatecrashing one of the many parties I'd failed to get invited to. In truth I was texting my friend as an attempt to create the illusion of company to help me getting through the said film that was frankly freaking me the hell out.
The Australian made Babadook is a very tense, unsettling film and also happens to be a masterpiece of 21st century film making. It carries a harsh, blank, downbeat tone throughout the film even before any elements of horror are introduced.
Amelia is a widowed single mother (her husband was killed in an accident driving her to the hospital to give birth) with a six year old son Sam who is suffering from emotional problems. The two suffer through a very dire existence, their house is cold and sparse with little life, they seemingly have little in the way of company (to be fair the kid has obvious problems and the mum isn't exactly a laugh a minute) and what family they have falls out with them when Sam is gourded into attacking his nasty bitch cousin. There is a noticeable lack of colour in the film, with a white, black and grey tinted feel throughout that expresses the isolation of the mother and son's isolated life.
Grief over her husband and unable to cope with mothering an unstable child, things get worse when Amelia reads a pop up book to Sam that has mysteriously appeared in their home. The really creepy drawn story is of a sinister top hat wearing creature that torments a young child which naturally further traumatises Sam who already is paranoid that monsters are in his room and now believes the Babadook is out to get him. Here's a tip to parents, read through any picture book before you read it to your child especially if they're the sort of child who'd get freaked out by the excellent but potentially upsetting "Not now Bernard" by David Mckee.
Only trouble is Sam's right because reading the book has released the Babadook onto the family, slowly taunting and terrorising them. Even when Amelia destroys the book it returns intact with an even worse story.
The Babadook (with a nod to the 19th century German children's character Der Struwwelpeter ) is a terrifying creature. It appears fleetingly, in the shadows, scurrying on ceilings with glimpses of it seen in mirrors and behind curtains. It's presence is so unnerving and had the potential for it's appearance had me so tense that the sight of a door opening on it's own scared the living shit out of me. But it's grim, guttering voice with it's booming growl of BABADOOK!!! really sent me wanting to find a sofa to jump behind.
Babadook is not a pleasant film to get through but it's an amazing and clever movie. It's not simply a monster movie, it's a film about grief and depression and anxiety, about the difficulties of parenthood. There are times when both mother and son either through what they are wearing or the way they stand resemble the Babadook and it's presence brings out the worst traits in both of them, their fears, their paranoia and in particular with Amelia the anger she keeps bottled up and an implied resentment towards Sam blaming him in part for losing her husband and her happiness with life.
Speaking of Ameila, the performance of Essie Davis is incredible. She portrays Amelia as someone who is ready to fall apart at any moment, a range of grim emotions etched on her face at any one time. You can see the hurt, despair of what she is going through and how she looks ready to snap at Sam at any moment and at times looks like she is uncomfortable to be in his company and how ultimately motherhood seems to be draining her.
Babadook is horror at it's best. It's disturbing, threatening, but also thought provoking and has symbolism beyond the immediate menace of the monster in the room. It also has an ending that is surprising and open to interpenetration with possible ideas both troubling and uplifting.
WTF? Well I thought its was funny.
Million Ways to Die in the West (Director: Seth Macfarlane)
I mean, I know film taste is subjective and one thing I'm used to while doing these retrospectives is finding out films I love are universally panned by critics, the audience and sometimes even the people who actually made the bloody things, but how in God's name am I the only person who finds this movie fucking laugh out hilarious?
While critics begrudgingly credited the film with the odd good gag, when I was watching this for the first time I was laughing at nearly every other line. Even rereading the quotes for writing this piece I was genuinely having a good chuckle at some of the less than PC subjects for some of the jokes. It's not Blazing Saddles in it's edginess, but there is enough skirting the line of 21st century sensibilities to make you go oooh, while making fun of slavery (the shooting game at the fair, don't worry it has a payoff), underage (sometimes non consequential ) sex ( "have you ever had sex with anyone? "Well, there was some stuff with my uncle but it's really hard to remember all that stuff")and Native Americans ("We're splitting this country with them 50/50" "they're just selfish").
While Seth Mcfarlane doesn't have the acting chops to pull off being a leading man, he still has a dry, sarcastic delivery of lines and I found his underdog persona really likeable. He also has surprisingly hot chemistry with Charliza Theron, who was taking a big leap into comedy and herself is hilarious, with the two enjoying some natural banter.
I howled when Theron says to Amanda Seyfriend "How can you be so blind with eyes that big?" (I almost did the same when Neil Patrick Harris tries to reassure Seyfriend "Oh honey, they're practically Chinese"). Then the moment Theron puts a flower up unconscious villain Liam Neeson's arse, well I guess you had to be there to see how funny I found it.
Sure some moments didn't do it for me. The Hat Song and hallucination scenes outstay their welcome and running for almost two hours is always stretching things for a comedy. Yet personally I found A Million Ways to Die in the West a fun and dirty minded laugh.
Then again I find Matadors getting gored highly entertaining, so maybe it's just me.
See you next time, stay safe and indoors, we can do this shit,
Dazza.