So we reach the end of this journey of recapping movies year by year, as if my opinion actually meant a damn. As I mentioned last time, seeing as I've already done top ten reviews for the years 2017-19, here seems to be as good a place as any to call it a day.
Well not quite. Seeing as I started with the year 1975 (before that I'd covered the periods in five years blocks), I thought why not pick up with 1974 and work my way backwards? Kinda like my own personal prequel.
As for 2016, well this was a weird year, one where people just seemed to be perpetually shouting at each other. In real life we had him off The Apprentice starting a spinoff series where he becomes the most powerful man in the most powerful country in the world, with hilarious results. Meanwhile in the supposedly fun escapism world of the movies, everyone seemed to be losing their shit over a Ghostbusters remake.
The new female led Ghostbusters marked a watershed for me in how I viewed a lot of film fandom. The simplicity of liking or disliking a movie took on violently toxic undertones, with a weird need to try to destroy any film (even one that hadn't been seen yet) that offended on some level. Similarly expressing enjoyment or displeasure upon seeing a film could be seen as an indication of what sort of person you are, motivating attacks for a presumption of prejudices.
I don't have the space here to get into my opinions of how "film Twitter" has negatively affected the vibe of movie discussions, or how any loudmouth who can afford a microphone now has the ability to get their unrestrained thoughts out into a online audience. What I will say, is that I wish (and it's the one thing I've come to realise in doing these pieces) people would realise just how big the movie world actually is, how far it stretches with regard potentially satisfying people's taste, with so much choice on offer. There is enough room for everyone to enjoy films and no need to get angry about the existence of films that aren't tailored to what you want them to be specifically.
Except for the fact that none of you went to see Bumblebee and Birds of Prey because I'll always be sore at you for that.
Anyway, here are three films that I loved in 2016, all made for very little at a time when franchises were reigning supreme on the boxoffice. As always there is my WTF? moment of the year, which incidentally may be my most personal take on being a film fan and a suitable end to this journey (which isn't quite the end but whatever).
War With Everyone (Director: John Michael McDonagh)
Two dirty cops investigate a heist in order to secure the loot for themselves.
"I've always wondered if you hit a mime does he make a sound?" Michael Pena as Detective Bolano muses as he and his partner Detective Monroe drive towards a mime they have been chasing.
Alexander Skarsdard as Monroe drives right into the cornered mime and responds nonchalantly "Well now you know!"
This opening sets the tone perfectly for War With Everyone, with it's dark humour and establishing the quip exchanging cop duo as a pair of not giving a shit arseholes. It's hard to think of a more despicable pair who are the "heroes," of a film. They hate and are hated back by everyone, even by their fellow cops, and their long suffering Lieutenant who try to bring the pair in line. They abuse, blackmail and rob criminals while accepting bribes and their home life does little to mellow them, with Bolano in particular being snarkyly foul mouthed towards his kids.
Yet there is something refreshing in the uncompromising, out for themselves pair, and quite likeable, mainly due to despite them being brutally callous and violent they are very funny while doing it. Skarsgard and Pena have a great chemistry, firing grim one liners at each other and not seemingly giving a damn about anyone outside of each other.
It's fortunate that the villains they go up against are despicable enough that you don't mind the duo giving them a bit of a kicking, in that you positively welcome it. Aside from the low lifes on the bottom rung of the criminal underworld that they routinely bully, the pair while following a lead on a planned heist into conflict with a arrogant British Lord who is head of a crime gang. One of his cohorts is a strip club owner, a weasly, slimy individual who it becomes clear is a paedophile.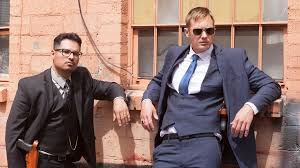 There's a real guilty pleasure of living vicariously through Pena and Skarsgard as they dispense a warped sense of justice on criminals, even if their motivation for doing so is to take the criminals ill gotten gains for themselves. In this case, it's the million dollars stolen in the heist that they are searching for to claim for themselves.
Along the way, Monroe betrays a sensitive side when he begins dating the girlfriend of a criminal they extort for information (played heavenly by Tessa Thompson), and takes in a young boy left homeless and on the run after his getaway father is slain. The three form an unlikely family unit, displaying genuine warmth amongst this trio of outsiders. There are heavy hints that Monroe has had a troubled childhood and is the victim of abuse, which motivates him caring for the young boy Danny, and sees him taking a personal interest in combating the Lord when he realises the more seedy and disgusting side of his empire.
Some reviewers couldn't take to the violent tone of the two leads, yet their grim sense of humour really appealed to me. There is a distinctly 70's vibe to the film, with a film noir style plot and even a pleasing sense of redemption, when it becomes evident that although the two dirty cops may be bad, they are not evil like the gang they ultimately have a bloody feud with.
War With Everyone was a refreshing take on the buddy cop concept, funny with great characters. Yet like the similar themed Nice Guys that came out that yea, it did not find an audience, which is so disappointing as both films offered something genuinely different but entertaining and introduced characters who could have easily fostered sequels.
I really do recommend War With Everyone, especially as there is a gag that had me in hysterics (it takes place during a trip to Iceland), for almost a minute and drew a few concerned looks from other audience members.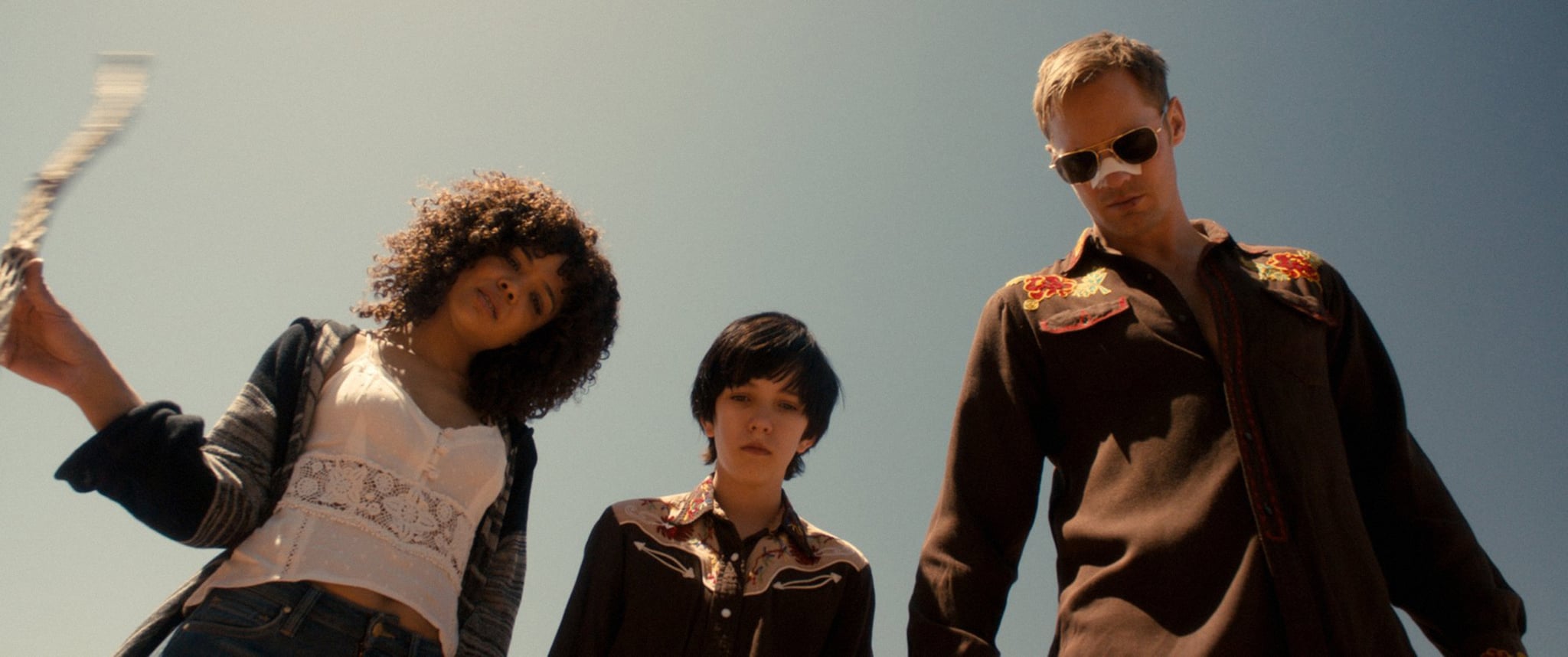 Free Fire (Director: Ben Wheatley)
When a tense arms deal goes sour, an abandoned factory becomes a battleground.
Another 2016 film that had even more of a seventies vibe and style came from one of my favourite film partnerships, that being director Ben Wheatley and Amy Jump who brought us the incredibly great Kill List, Sightseers and Hi-Rise (and hopefully in the future bringing some much needed life and grit to the Tomb Raider series).
In common with their other wild, anarchist rides, Free Fire bends traditional genres, in this case the crime action one by focusing on a single shootout between two factions. It's a small premise, two intermediaries (Brie Larson and Arnie Hammer) have organised a deal between IRA gunmen and a gundealer (Sharlto Copley) with his own entourage in an abandoned factory. Tensions and suspicions mount between the two sides, but just as the deal seems to have been completed two from the opposing sides recognise each other from a previous altercation and it all kicks off.
The pressure builds masterfully, with arguments upon arguments, infighting in the factions and grudges across both sides, until inevitably the bullets start flying. The battle is chaos, with the combatants taking cover, jostling for positions and trying to get shots off, invariably missing but occasionally managing to nick or wound someone from the other side.
During the stand off there is no respite to the dialogue, as abuse is shouted back and forth and there are arguments within the two sides. The direction skilfully keeps track on where everyone is, cleverly keeping the audience pov crouched low amongst the combatants and taking cover along with them. While a sense of confusion is retained with fast cuts,and the sound of bullets whizzing in all directions, often fired with inept, blind aim. At one point one of the less intelligent participants in the IRA side, yells that he's lost track of which side he's shooting at.
There's a lot of dark humour amongst the action. Arguments over who should dash to retrieve the case of money left exposed without cover, sarcastic comments about each others shooting and jibes at each other across the battlefield. Yet despite the banter, the film doesn't lose sight of the dirty violence they are engaged in. The wounded either take a while to die agonising deaths or continue the battle crawling around in pain and on bullet ridden limbs.
Free Fire is an insane ride, a spectacle of bullets and bloodshed but with a down to earth execution that carries weight and consequences. You really get invested in which side is going to come out on top.It's also a refreshing alternative to those who made be burned out on the video game style of John Wick style movies.
The Edge of Seventeen (Director: Kelly Fremon Craig)
A disillusioned 17 year old struggles with coming of age drama gets worse when her best friend starts a relationship with her older brother.
There's a chance I'm closer to death than I am my years in school and even then I was never a girl. So I've no idea how accurate the experience presented by Hailee Steinfeld's Nadine is with regards the coming of age of a 17 year old girl. Frankly it shouldn't (and doesn't) matter to me, because what I get out of Edge of Seventeen is one of the funniest films of the late 2010's a well as a study of a person trying to find their way in a life that just doesn't seem to be playing ball.
Hailee Steinfeld is absolutely enchanting as Nadine. She's hilariously quick witted, has a dry sense of humour and she's bright. She can also be stubborn, self absorbed and has an amazing ability to put her foot in her mouth and screw up. In fairness, life hasn't dealt her the easiest hand for a teen. Her father who was the family member she bonded with the most died of a heart attack when she was 13 and she's grown up in the shadow of her perfect jock older brother.
Suffering a mild outcast status (which stretches the imagination as she's so funny and charismatic you'd think people would flock to her), the one constant in her life is her best friend Krista. However when Krista begins seeing Nadine's brother (which she discovers when she walks in on them mid handjob resulting in one of many hysterical loud mouth shocked reactions in the film), it drives a wedge between them as her friend begins to drift into his social circle.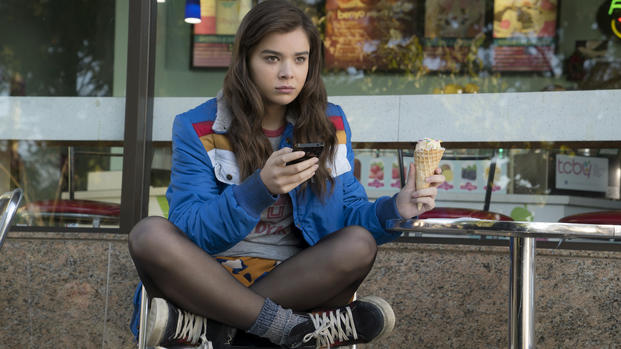 Nadine is extremely likeable, even though she is flawed and brings some of her misery on herself. Yet you still feel for her through the difficulties she is overcoming and realising that she is hurting and lonely through the loss of her father and the growing distance with her best friend. Also her ability to screw up is somewhat endearing, especially when she types an explicit text to her crush, thinks better of sending it and the accidentally does so.
The film benefits from an excellent supporting cast. Hayey Lu Richardson and Blake Jenner bring a depth and individuality in their roles and become more than simply Nadine's best friend and brother, becoming leaving breathing people who have their own lives, hopes and fears beyond being simply part of the central character's story. Hayden Szeto is also charming as a talented boy who has a crush on Nadine, but is initially rebuked in favour of the better looking Nick.
The best and funniest moments in the film come with Nadine's interactions with her teacher Mr Bruner played with dry wit by Woody Harrelson. Nadine constantly irritates Bruner as she interrupts his lunches with her problems despite his disinterest in listening. There is an excellent antagonistic chemistry in their relationship and the comedy is electric whenever they share a scene.
Edge of 17 is hilarious, sad at times but uplifting and hopeful that the changing directions of our lives can open us up to new and welcome experiences and people. It's colourful, easy going entertaining style has more in common with coming of age movies of the 80's rather than the more arty films such as Juno and Ladybird.
WTF? I LOVE BVS and SUICIDE SQUAD, LEAVE ME THE FUCK ALONE
They scored less than 30% on Rotten Tomatoes, featured on many worst of 2016 lists and appeared across the board on categories at the Razzies. The derision of critics was matched by movie goers, with seemingly only the most ardent of DC fans coming to the defence of the two films.
Yet I thoroughly enjoyed both. Suicide Squad I went to see three times in the theatres, have watched it many times since on DVD, each time wondering if this will be the viewing that makes me dislike it as vehemently as everyone else does. Batman V Superman I liked when I saw it in theatres and absolutely loved when the far superior ultimate cut was released. If I was to do my favourite ten films of 2016, both these films would be in there.
I can see the flaws in both movies, and understand why people may dislike them. Yet I find it weird how people react to me saying I love these two movies, as if people are offended somehow by me gaining enjoyment from them. In person, on message boards, on social media I've been bombarded by incredulously demands to justify my nerve in subjectively liking Suicide Squad and BVS (Ultimate Edition). Sometimes me saying I like either film has inspired uninvited essays on why really I shouldn't. Only recently when stating I loved Suicide Squad on twitter (some three and a half years after it was released) it raised the ire of a particularly pompous film twitter account to practically demand I explain why, stating incredulously that it couldn't be because of the editing and pacing. And tis true, I have never skipped out of a cinema, my spirits lifted by how well a film was edited and paced.
I wasn't inclined to issue a lengthy defence of what is at the end of the day simply a blockbuster comic book movie, and I'm certainly not going to bother doing so here. Sure I could come up with some clever argument that went someway to justifying the existence of both movies (ever considered that Suicide Squad has the most diverse cast in a superhero movie, including a woman with mental trauma and is centred on institutionalised rights violation, mistreatment and exploitation of the incarnated?), but really I've come to enjoy being amongst the "29%" who love both movies.
Whenever I come across someone on social media or a youtube show, or a podcast who states that they like Suicide Squad or BVS, I throw them a virtual high five, feeling like I've found a kindred spirit. Another member of the "29%".
What it comes down to, is that film taste, and whether a film has the ability to make you happy (or fails to do so), is 100% subjective. If it wasn't all films would have a Rotten Tomatoes score of either under 10% or over 90%. Yes, there are predetermined measures of quality that can be used to judge if a film is "good" or "bad", but such arguments leave me cold and remind me of the savaging that Robin Williams gives Dr Pritchard's "Understanding Poetry" essay in Dead Poet's Society. Throughout me writing my many instalments of Couchzone, I've try to avoid talking about movies as "good" or "bad", and instead focused on what I enjoy, even my yearly top tens I've been careful to free myself by classing them as "favourite" as opposed to "best." Because you can't realistically argue against someones "favourite" choices, you really can't.
Many times when making my choices for these articles, I've discovered that films I always enjoyed, even loved, were greeted with derision when released. And I've found there is a real guilty pleasure in that, because really If there aren't films that you love unconditionally that are panned by pretty much everyone else, then I think it makes you kind of a dull film fan. Sure, high in the top of my favourite films are undeniable classics like Jaws, Casablanca, before there is a special joy to be found in counting the cult, the obscure, the cheap, the weird and sometimes yes "the bad," and some of the most interesting film fans and discussions on movies I've had have been about the joys of Troma movies, exploitation films and video rental B-Movie fare.
So what am I trying to say in all this? Dunno really, but Suicide Squad won an oscar so fuck off!!!!!!!!!*
Just a little something I'd like to add that I find curious. Both Empire and SFX magazines gave Suicide Squad 4 star reviews when it was released in cinemas. However, this breaking from popular opinion was reversed with the DVD releases, where both magazines now gave the film negative reviews. Funny that.
So, yes I will be returning to literally go backwards in film history starting with 1974 next time.
Dazza
*Going back to the Oscars for 2016, my love of Suicide Squad in the face of utter derision from all around instilled in me an almost sports team like support of the film. Such a fan had I become that I actually got up in the early hours to watch the Oscars, excited to see if it won the award for best Makeup and Hair. The joy I felt when then golden envelope was opened and Suicide Squad was read out, was almost akin to my Barnsley getting a last minute winner against Liverpool in the FA Cup Quarter final.
And imagine this. What if instead of accidentally been given the best actress envelope, Warren Beatty and Faye Dunaway had been given the Best Hair and Makeup envelope? Winner of best picture….Suicide Squad!