Here's how my movie club works. I pick four movies that mean something to me from my life long love of film under the criteria of a black and white movie, a foreign language film, something from the past ten years and a random general choice normally a cult favourite or forgotten classic.
I write about them. Then you read what I write, laugh and cry and go and share the experience with all your friends. Then maybe I'll get loads of "hits" and if I get enough maybe Halfguarded will release one of your loved ones from captivity.
ESCAPE TO VICTORY (1981)
I love the film "The Great Escape," I love football and I love Michael Caine.
So it's like a dream come true that someone thought to themselves "We should make a film like the Great Escape, but have a football match with the POW's against the Nazi's in it and you know who should captain the POW's team? Michael Caine!"
In Escape to Victory Michael Caine is  POW Colby a former West Ham player who is approached by a Nazi Major played Max Von Syndow with a proposition to captain an Allies team against a  German side in an exhibition football match. Caine agrees unaware that the Major intends to escalate the match into a propaganda exercise in front of a large stadium crowd and broadcast on radio around the world. However the allies have plans of their own and with the urging of a Canadian officer played by Sylvester Stallone intend to use the match as a means to escape at half time.
Caine's team is made up of real life footballers including Pele (hailing from Trinidad as Brazil was not involved in the war at the time the film is set), Bobby Moore, Ozzy Ardiles, Michael Summerbee. To keep him with the side Stallone is given the role of reserve goalkeeper (in a gruesome scene Caine has to break regular goalie Kevin O'Gallaghan's arm  by stamping on it, thus providing a reason for Stallone to be there) which leads to an ongoing joke that he keeps asking where the goalkeeper should stand for a corner kick. Stallone incidentally reportedly brought the superstar diva attitude to the filming, refusing to speak to Kevin Beattie after losing an arm wrestling match to him and later wanted to score the winning goal in the film, with it having to be explained to him that a goalkeeper doing this couldn't believably be written in.
There is an unashamed corny feel to the premise, especially when we get to the match itself. For English viewers in particular a match against a baddie team of Germans is always going to appeal to their emotions as it plays on a rivalry which will always be intense for football an non football history. With this German team being Nazi's it's really something to get fans teeth into, especially as the referee proves to be  heavily biased towards the Germans, disallowing goals and ignoring the dirty tactics of the Nazi side, (even the English commentator on the international Radio broadcast is a Nazi propagandist who plays in fake crowd cheers for the German side).
The match takes on a very "Rocky" vibe to it with stirring dramatic score, slow motion shots as the Allies try to use their skills and teamwork while the Germans are allowed to get away with murder by the ref and kick the shit out their opponents, with Pele uncomfortably being the main target of the violent fouls. Over the top it may be but it's also incredibly good fun, it draws me in every time  I watch it, reducing me to a pantomime audience member wanting to  boo and yell at the evil Germans and cheer the inspiring heroes, especially when Pele scores with a dramatic over head kick.
The film has a very loose basis on a real event. Journalist Andy Dougan's book "Dynamo" is an excellent gripping read of a series of matches that took place between a local team in Nazi occupied Kiev and a Luftwaffe team. Despite a biased referee and implied threats to throw the match, the local team beat the Germans with the final insult being in the final moments of the last match with a Kiev player beating through the defence and goalkeeper and when reaching the goal line stooped the ball and defiantly kicked it back into play. Much of the team were arrested by the Gestapo and spent time in a concentration camp where four were eventually executed.
It's a stirring and tragic story but sadly bollocks as it appears the  myth has taken over from  reality over the years. Soviet propaganda has rewritten the events, with the details of the so called "Death Match" being exaggerated, as their is little evidence that the fates of the players was due to the the events of the game, neither does it look like the intimidation to throw the match occurred.
But anyway, real life sucks. Escape to Victory goes for a fun adventure story rather than a serious tale of propaganda and escape attempts. When the players decide to abandon the escape in favour of staying and winning the game you'll either groan and roll your eyes or throw a fist in the air and yell "Hell Yeah," it's that kind of divisive movie. But it is fun and the football scenes are impressive.
Clerks (
I used to have a postcard of the above poster on my locker at work, That tagline "Just because they serve you doesn't mean they like you," was a cathartic statement )that only a retail jockey like me could embrace so heartily. Clerks really tapped into the insanity of working behind a counter with this day in the life story  it's never ending flow of customers, some annoying, some overly sensitive, some ridiculously dumb, some weird, some aggressively rude and some really cool leaving interesting exchanges in that brief meeting of clerk and customer. There's a vibe to Clerks that only people who have worked in retail can get, who hasn't for example found themselves with a last minute shift they didn't want either having to stay late or come in on their day off like with Dante's frustrated cry "I wasn't even meant to be here today!"
But while I appreciate the film more because of my years in retail and can so relate to the simmering frustration of easy going Dante and embrace the attitude of sarcastic Randall and live vicariously through his fight back against the customers who erk him,  the truth is I loved Clerks before I'd ever worked in a shop. It's just a splendid movie, with great performances knocking it out of the park to bring us unforgettable characters and hilarious situations such as organising a hockey game on the roof, taking a trip to a funeral wake that ends disastrously and an unfortunate incident with a  dead body found in the bathroom. All this in a day where Dante's life gets more and more complicated as his relationship with his lovely current girlfriend is threatened by his obsession with his bitchy Ex who wanders back into his life.
All the while in the background is the drug selling duo Jay and Silent Bob (played by director Kevin Smith and his friend Jason Mewes) who would incredibly become a break out iconic characters.
Several things make Clerks such a wonderful experience. Primarily it's the keen ear for dialogue with wonderful back and forth banter between Dante and Randell especially. Throughout the film you're party to conversations filled with delightfully quotable lines on a range of topics. Discussions on Dante's girlfriend troubles, Randall's arguments with customers, competing stories of the worst customers, the number of men Dante's girlfriend has given oral sex to, self fellatio and the incredibly awesome discussion on  Star Wars with the arguments over the morality of destroying the Death Stars.
Smith made Clerks on a small budget of $27,000 all raised by himself by clearing out his savings, maxing out his credit cards and sell chunks of his prized comic collection. This meant a low budget look that the film benefits greatly from with the rough, sometimes grainy, black and white focus giving the film a really authentic streetwise vibe. It adds to the reality of the film and it's fly on the wall feel to observing the characters in their mundane  job.
Even the challenges Smith endured in the 30 day shoot meant some creative changes to the film that actually made it more interesting.  Smith was only able to film in the store after closing at night so had to come up with the gag of the jammed window shutter that prompts the repeated question "are you open?" Likewise Smith had to ditch the funeral parlour scene and instead come up with a cut that makes it way funnier.
Mixing perfectly with the gritty, homemade feel is the gloriously punk styled soundtrack. The songs fit so perfectly they feel like anthems to the characters from the opening "Clerks" by Love among the Freaks, to Alice in Chains occupying the struttingintroduction of Randall to a triumphant thank God the shift is over feel to Soul Asylum's "can't even tell." My favourite is the spirited cover of "Go your own way" by Seaweed to accompany the scene with the weirdo with a fixation for finding the perfect set of eggs.
Clerks was a phenomena which captured the angst of a young 90's audience and capitulated Smith to Hollywood where he expanded into a variety of original movies but Clerks with it's raw energy to me is his masterpiece. Clerks spawned a whole slew of spinoffs with a wonderful set of comics, a great but shortlived animated series and a frankly horrible television adaptation which went ahead without Smith's knowledge and featuring none of the original cast (although the original Dante and Randall, Brian O'Hallaran and Jeff Anderson auditioned and fortunately for them did not get on the show).
Clerks did spin off a shared universe with some of Smith's other films such as Mallrats and Chasing Amy as events in Clerks are referenced as well as featuring appearances from Jay and Silent Bob. Over a decade later Clerks II appeared with Dante and Randall working together in a fast food restaurant after Randall accidentally burns down the original store. With a higher budget the film is of course glossier  and more professionally made (which strangely fits in well with the bright, superficial setting of a fast food establishment)  but it still retains the biting humour of working in a service industry (a wonderful sequel to the Deathstar talk of the original is Randall engaging in a vicious but hilarious Star Wars vs Lord of the Rings argument.)
Clerks is a triumph of a guerrilla film making passion and  as well as essential viewing it's also worth tracking down the anniversary edition which features the original downbeat ending where Dante is killed by a robber.
AKIRA (1988)
The first time I encountered Akira was a clip of the movie that couldn't have been more than five seconds. It was part of a news piece on Eastern film culture and the brief moment showed a group of bikers terrorising a driver and blowing up his car. As tiny as that clip was that rushed by so fast I couldn't catch the name of the film (only that is was a one word title) it drew one of those "What the fuck was that?" reactions from me. Without internet back then I had no clue how to track down what appeared to be a full length and adult animated movie, a concept I'd rarely come across before.
A chance visit to a comic shop enlightened me when I recognised the animation on a poster. A glorious poster with the name "AKIRA" blazoned across it and depicting the bike, oh what a bike, that beautiful, red, long sleek, futuristic bike. I began to crave this movie.
I got to see Akira on Christmas day 1992. I know this because it was part of my Christmas day haul, the first year that my wishlist was filled with video tapes rather than vinyl albums and I remember it was the first thing I popped in my VCR (with that lovely sound of the  little solid clunk and the warming noise whirring of the welcoming gears inside that you just don't get with streaming sights) after when feeling that post Christmas mellow chill after everyone had buggered off out of our house.
Akira did not disappoint. I was emerged in the swooping scenes of the neon drenched future Tokyo and thrilled by the opening where I was bombarded with scenes of a chase and violent battle between rival motorbike gangs, intermixed with a protest and riot in another part of the city and linking the two is a child exhibiting telekinetic abilities on the run from authorities.  It's a blistering beginning, and despite knowing nothing of the technicalities of animation  I recognised how smooth it was and was a cut above the television cartoons I was used to. Also the score was intense, with the rhythmic click clack beat and the use of haunting operatic growls. I wasn't watching a cartoon, I was watching a legitimate film that was animated and made full use of the freedoms that allowed it to make.
I was surprised to find Akira was not the name of the young red clad, motorcycle rider that featured so heavily in the promtion of the film, that was Kaneda. Neither was it his best friend the quiet and troubled Teutso who becomes the focus of the film having had his own powers awakened after the colliding with the young boy who is not Akira either. Akira is an enigmatic mysterious figure who is absent for the majority of the movie and is referred to in almost mythic terms, while Teutso drunk on his power rages war against the authorities who try to control and goes on a city wide rage of destruction, turning into a bizarre creature of Lovecraftian proportions. It's up to his friend Kaneda to try and tame or destroy his friend.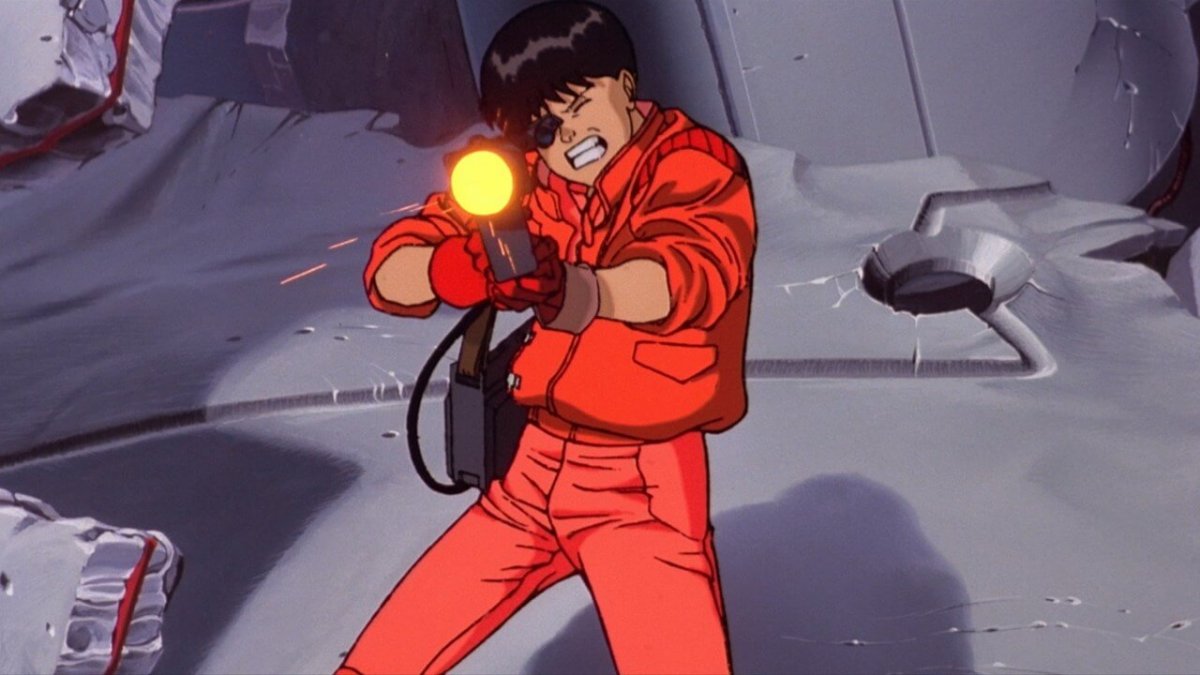 As much as I loved watching Akira the film became hard to follow on the first viewing. The nature and origin of the character Akira is very vague at times (something not helped by the interpretation of the dialogue subtitling on the first version I saw) and it's interesting when I met people who had seen the film we all seemed to having different opinions on Akira and how he came to be. Some thought that Akira's powers had awakened from the nuclear explosion we see in the first scene of the film, while the train of thought I belonged to assumed the explosion was a result of Akira using his powers.
Although I didn't know it at the time some of this confusion probably came from the fact that the story the film attempts to condense is from a giant Manga saga that ran over eight years, six volumes and 2000 pages and had in fact yet to finish when the film was released. Because of this the film leaves out many elements, with key characters such as Joker the leader of the Clowns and Lady Miyako are reduced to cameos.
Confusing as I sometimes found Akira I was sucked in with the action and the insane visuals as Teutso's powers grew further out of control. The film kicked off a whole fascination for Japanses animes in Western audiences and even here in the UK to fill the demand distribution companies began buying up new and classic animes as video stores began stocking a sizeable selection for new fans. I eagerly began renting these films but sadly was disappointed with what I found. Despite the adult scenes of animated violence and sexiness I found most of them hollow and nothing that reached the heights set by Akira. It wasn't until such shows as Cowboy Bebop and Attack on Titan and the work of Hayao Miyazaki many years later that I found anything that thrilled me as Akira had done.
For years attempts have been made to get a live action adaptation off the ground. Personally I see no need except to cash in on the massive fanbase that have followed the film. Akira works perfectly as an animated movie and I'd prefer Hollywood to keep their whitewashing hands off it.
Colossal (2017)
I find it really uplifting, in a leaving the cinema skipping all the way back to the car sort of way, when I go into a film thinking it's going to be a goofy bit of fluff and end up surprised by a film with an unexpected depth and real edge to it.
Like when I went to see Colossal earlier this year. The trailers were ok nothing outstanding, depicting Anne Hathaway who finds that she is unintentionally controlling a giant Kaiju type monster which is appearing seemingly at random and terrorising Seoul. This along with the rather meh poster practically politely announced  out light hearted comedy, throwaway comedy. Which is fine, I'm no cinema snob but even with the promise of a giant Kaiju this was one to file under the "if I'm around with a couple of hours to spare" as opposed to the "must see" list.
The joy of having a cinema pass is being free to check out films I'm not expecting much from without fear of wasting ten hard earned UK pounds. And here it paid off because Colossal was not what I was expecting, it proved to be a very dark comedy and impressed me by daring to go beyond the giant monster premise of the trailer and become an engaging human drama.
For a start Anne Hathaway's character Gloria is not the endearing klutz that you'd normally see potrayed when is comes to someone "down on their luck." Gloria is a screwup, losing her big city  writing job, her boyfriend, her home and is on a dangerous spiral of alcohol abuse as she's forced to move back to her small hometown and reconnect with the past she thought she'd left behind. On a cycle of binge drinking, blackouts and hangovers you feel little sympathy for her as she's on a self destructive path of her own making. Hathaway's performance does not sugarcoat the realities of such a person and she's amazingly real in it. Neither does the film against the dark tone when the Kaiju story kicks in, as the comedy of the situation and Hathaway's realisations is tempered by the reality of the mass destruction and deaths that she is inadvertently causing.
Gloria attempts to redeem herself to the city she's accidentally terrorised and in the process work to get her life back together. But just as you think the film is taking a heart warming, feel good direction following Gloria sorting  herself out, the story absolutely smashes a hammer into your senses and goes into very unsettling territory. I'm not going to say more as I really want people to witness and feel the twists like I did, but I will say that Jason Sudakis brings an incredible performance as the childhood friend Gloria gets back together with.
Colossal is a complete surprise, taking a monster movie premise and crossing it with themes such as alcoholism, redemption and abusive relationships. There's even a hint of satire on  current events with a lack of empathy towards tragedy in distant countries, with the catastrophe in Korea being used as entertainment for American audiences.  I found it gripping and emotional and even though there are times the story threatens to unravel (the whole reason for Gloria's connection to the monster feels forced and stretches credibility even in a fantasy movie) it manages to hold together due to the performances and that you begin to root for Gloria.
Sadly it feels like this was a film that when passed to the marketing team they simply didn't know what to do with. Perhaps scared to put the depressingly bleak edge the film has at times to the front they went with the watered down depiction we got in the trailers that wasn't indicative of the movie's strength. It was released with little fanfare in less than a hundred theatres in the slow month of April, and didn't make a dent in the charts finishing up taking less than five million dollars at the box not even reaching it's modest costs of  fifteen million.
This is heartbreaking to me because Colossal was so good and deserves to have done so much better. At a time when we hear tired complaints against endless reboots, remakes, sequels and franchises, here was a daring, original and refreshing cross genre movie on offer and no one went to see it. Audiences stayed away despite it's big name actress, good reviews and a decent 80% Rotten Tomatoes rating. While I'll blame the joke of the marketing for some of this, if audiences aren't open to being adventurous with which ticket they purchase at the movies interesting films like Colossal aren't going to get made. But don't worry they'll be more Pirates of the Caribbean and Transformers movies along soon, maybe we'll get a comedy remake of Cagney and Lacey or some shit like that.
(Mike: Colossal is the most underrated movie no one ever saw and that's a shame. It blew me away.)
Next time I think I'll do a Halloween special because it's my article and you can't stop me.
So next time expect a spooky kid with a cool 666 tattoo on his head, the film without which we wouldn't have The Walking Dead, a mum chooses the wrong bedtime story for her troubled son and a horror film with subtitles (ok I don't know which one I'm doing yet).
Til next time
Try to be nice to each other
Dazza