We have: Title fight to crown new champion, after old champion is stripped of title, loses one challenger but gains a new champion to fight a former champion for the newly vacant championship.
Yup, that's how the UFC rolls these days. Megan Anderson (who I was once set up to do an interview with but then just disappeared – a wise career decision on her part) is out of her fight with Lady Cyborg for the UFC Women's 145 lb title due to personal issues.
"Due to personal issues, Megan Anderson has been forced to withdraw from her UFC 214 bout against Cris 'Cyborg' Justino on July 29."
The UFC told ESPN.
Anderson's loss is a WMMA legend's gain as current Invicta FC Bantamweight Champion will step in to challenge Cyborg. Yes, the feeder promotion to the UFC's 135 lb champ will fight Roidy McRoiderson.
Let's all follow along now:
UFC announces they're going to have a 145 lb women's title
Cyborg – the only female featherweight on earth anyone cares about – says she won't be ready for the inaugural title fight
UFC signs first ever title fight for this past February between two bantamweights (one of whom was coming off a two fight losing streak)
One of them wins said belt
Champion says she won't fight Cyborg because Cyborg is a drug using cheater
UFC decides that integrity isn't important for a division and strips the only champion ever of her belt
UFC decrees that Cyborg will get a title fight, against current Invicta FC 145 champion, Megan Anderson
Anderson has to withdraw almost immediately
UFC replaces Anderson with Tonya Evinger, a bantamweight
…
$$$
Extra layer of slap your forehead fuckery to all this: Cyborg used to be the Invict 145 lb champion. She didn't defend it for a while as she was in the UFC. This past January, Anderson won the interim Invicta 145 lb belt that then became the real belt.
Anderson was a boring pro about everything, Tweeting this: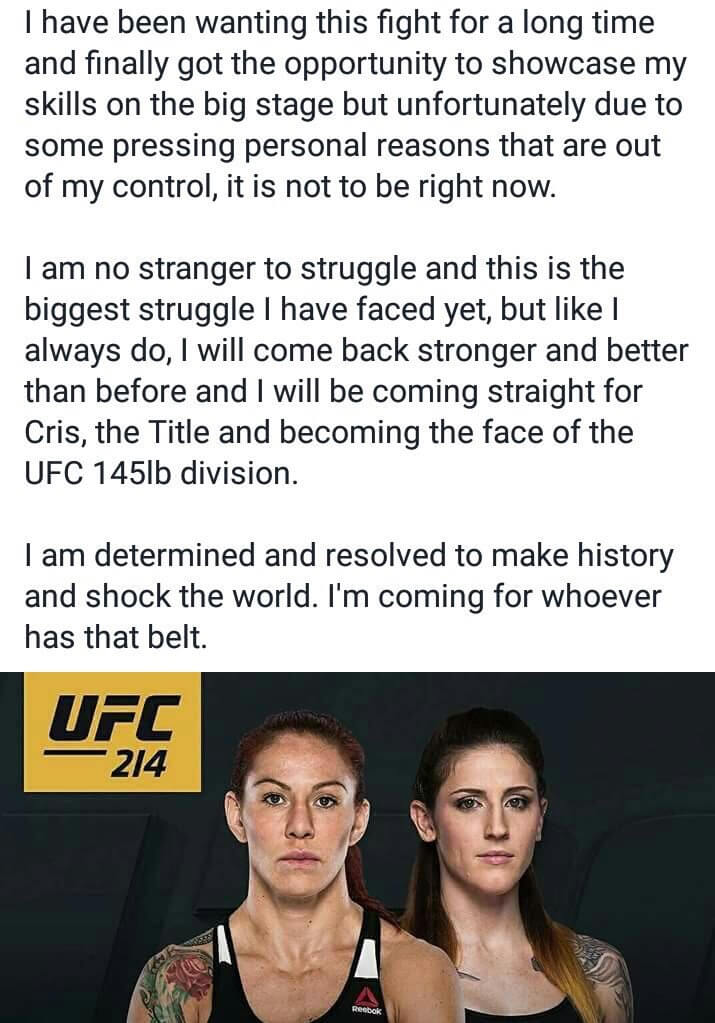 Oh well, at least I got an excuse to rant about the UFC's dumb as fuck title situation.