Donald Cerrone is hurt.  FUCK.
Word on the internets is that Cerrone hurt something and his fight against Robbie Lawler is off, making this approximately the 40th this fight has fallen through.
Fear not, my friends, as even though UFC 213 loses a great fight, UFC 214 gains one as … Cerrone vs Lawler is tentatively rumored or considered or whatever to be moving to the bigger show in July.  So, we get to see the fight still, most likely, hopefully, JUST MAKE IT HAPPEN.
Can't be a serious injury if it only delays things a couple of weeks, so that's bueno.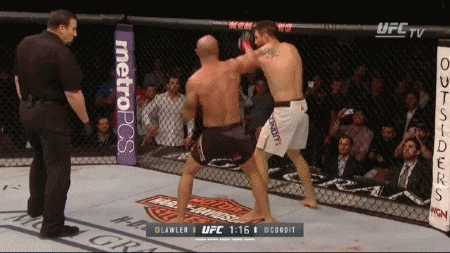 Women's Bantamweight Championship Amanda Nunes (c) vs. Valentina Shevchenko
BS INTERIM Middleweight Title Yoel Romero vs. Robert Whittaker
Welterweight Robbie Lawler vs. Donald Cerrone
Heavyweight Fabricio Werdum vs. Alistair Overeem
Lightweight Anthony Pettis vs. Jim Miller
Heavyweight Travis Browne vs. Oleksiy Oliynyk
Welterweight Jordan Mein vs. Belal Muhammad
Welterweight Chad Laprise vs. Brian Camozzi
Middleweight Thiago Santos vs. Gerald Meerschaert
Bantamweight Douglas Silva de Andrade vs. Rob Font
Heavyweight Daniel Omielańczuk vs. Curtis Blaydes
UFC products you can actually buy!