Entourage 2 Poll: Do you want to high five your bros, drink a forty and watch another Entourage movie??

Loading ...
Has Entourage 2 been greenlit?
Well, no. And it doesn't look likely that there'll be another Entourage movie. Pretty much every interview with the stars has said roughly the same thing, which is that the cast is interested, which of course they are since they're pretty much all unemployed without Entourage, but the first film didn't exactly make a ton of money. It was made for about $30 million, which isn't terribly expensive, and made just a bit more than that at the domestic box office (about $32 million) and just shy of $17 million internationally. That doesn't exactly bode well for the film.
What I love is that some of the stars are still hopeful (not unlike me for a Shape of Water Sequel). Adrian Grenier in particular has said he thinks there are SOO many stories they can still tell with these characters (just steal the plot to Get Out 2). HAHAHA. Right. I wonder why they didn't chose to tell a story in the first place. I watched most of the show until I finally just gave up. I only watched because of Jeremy Piven and his schtick got old after a while. Oooohhhhh, you're a jerk. Great.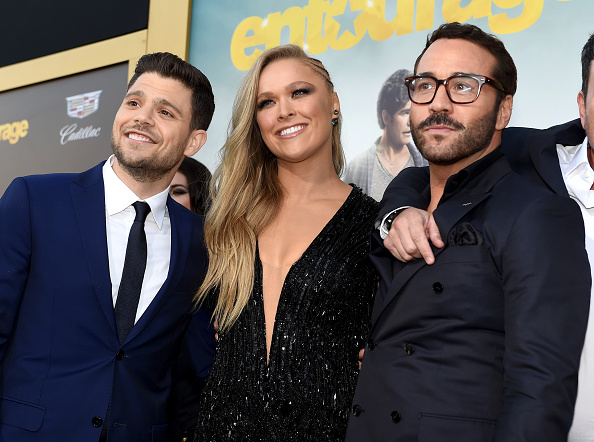 Anyways, Kevin Connelly, who played "E", has stated he doesn't see the sequel happening, and he's moved on. I actually think he may not be a total moron, which kinda makes me like him more and dislike him more all at the same time. Let's not dissect that. But he just finished directing a movie based on John Gotti's life, starring John Travolta, and it was all set to go straight to DVD and On Demand but the filmmakers bought the rights back and are aiming at a summer 2018 wide release. I predict it will make about $28. That's Connelly's ticket and the ticket he buys for his imaginary girlfriend. Travolta will be too embarrassed to buy a ticket so he'll buy one to Deadpool 2 and sneak into Gotti.
As for the rest of the cast, I saw somewhere that the guy who played Turtle lost a lot of weight, so I'm guessing he looks like a turtle without it's shell now. Maybe a turtle in a half shell? I think he's been in some comedies, but the real comedy will come in 10 years when he's a prison pin cushion (he'll go to jail for some stupid crime and then get… pricked a bunch).
And there's the brother, what's his face with the stupid mustache. He's probably got the clap.
Oh, and I love that the film, which was supposed to pick up days after the series concluded in 2011, but the movie came out 4 years later and referenced all sorts of stuff that happened in the meantime. Hahaha. Well done, sirs.
Entourage 2 Video Interview with Star Adrian Grenier