I did this earlier and nailed it. so here is your world famous FANTASTIC FOUR REVIEW!!
Pure crap.
I legit fell asleep half way through and was told I actually snored. From drunk teenagers going to another dimension whilst NO ONE ANYWHERE EVER NOTICES to … oh. Screw it. It's terrible. I'm gonna see it again and live blog it or whatever. Thank fully, Dazza is a pro and did a REAL REVIEW HERE!!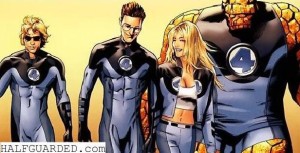 Best at summed up this way: a major action movie – in 2015 – did LESS THAN $30m for a weekend. Yeah and I could accidentally release a movie that does better. Oh, and Sue has autism. I'm not even joking.
And fuck off, Josh Trank with this shit: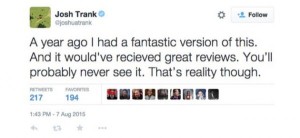 You're so full of it. This is your garbage. Own it. Bitch.
Its not even so bad it's funny. It just isn't good – and I slept through the "bad" parts. Amazing. Random evil government types. A weird adoption from no where. A half slow moron getting to visit another dimensional. Sue's autism. AUTISM!! Who can support something where the lead is autistic? And not in the Rainman sense – in the "this is lazy writing" sense.
None of you saw it – and thankfully (HOPEFULLY none will because of this review).