People are morons.
Several years ago the BBC employed a young lady called Cerrie Burnell as a children's television presenter. She was everything you want from a children's presenter, a good talker with a perky, warm friendly personality, really pretty and above all damn good at her job and perfect for keeping little buggers occupied when you dump them in front of the telly so you can have a glass of wine.
Unfortunately a few parents were horrified when this nice young lady appeared on Cbeebies (the BBC's kids only channel) due to the fact that she was born with only one arm, her right one ending just below the elbow. It was probably just a tiny minority of parents, but unfortunately tiny minorities can scream loud and still create a lot of fuss. Fearful of maybe having to sit down and explain to their little ones that some people in the world have bodies that are different from other people these morons did what morons do and wrote letters to the BBC, complaining that their kids were scared, yes scared by a one armed lady on their TV screens.
It was one of those ridiculous moments that should make us ashamed as a "modern society" that a hate campaign (which is what I call it) was started against someone who was nice and above all really good at her job rather than perhaps educating their children in order to raise them to be open minded and respectful of others.
Was it really the children who had a problem and were "scared" of this young lady? It's quite baffling when you consider that while watching Cbeebies with my Godchildren I'll see big talking animals, talking cars, purple dinosaurs and weird, furry boggle eyed monstrosities babbling bollocks in high pitched tongues. But no a lady with one arm, no that's really weird and disturbing.
I hope that as a child I wouldn't have been so distressed by a presenter like Cerrie. After all there were far more disturbing images I had to contend with in what was laughable called children's TV.
UK Kid's TV: Mister Noseybonk
If I ever went to a psychiatrist I'm pretty certain that after several sessions the name Mister Noseybonk would rise from my subconscious as a long hidden source of childhood trauma.
Back in the early 80's the BBC ran an afternoon series called Jigsaw, a fairly easygoing show presented by a talking jigsaw piece that floated in the air called Jigg (it seemed normal at the time) Here the kid's at home were tasked with deciphering clues from a series of skits to determine the letters that would form a conundrum at the end of the show. It was a fun premise, except for the inclusion of a character so visually creepy and nightmarish that if Dante had thought him up he'd have said "No, this is taking things too far, I'll stick to nine circles of hell!"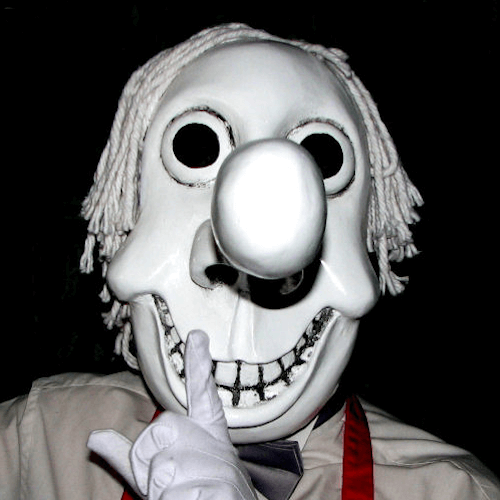 Mister Nosy bonk looked absolutely terrifying. A silent, tuxedo clad individual with a mask etched with an expression that would instil bowl loosening fear in an adult let alone a child. A fixed, creepy, wide eyed grin, complete with a massive nose, this thing rivalled the child snatcher from Chitty Chitty Bang Bang in causing more sleepless nights. The jolly, trombone music that occupied Nosybonk's weird antics only served to heighten the terror that this supposedly funny character inflicted on a nation.
UK Kid's TV: Hartley Hare
Looking back at some of the shows I remembered as being weird have disappointingly proved to be a lot tamer on revisiting them. However there are those which are even more disturbing having now seen them once again through adult eyes.
Of all the shows I've rewatched from my childhood none have caused my jaw to drop more than Hartley Hare from the seventies ITV show Pipkins. I remember this show as a toddler for having some unsettlingly weird puppet characters such as Topov the Monkey, a nameless tortoise and a disturbing black eyed pig. But weirdest of all was Hartley Hare.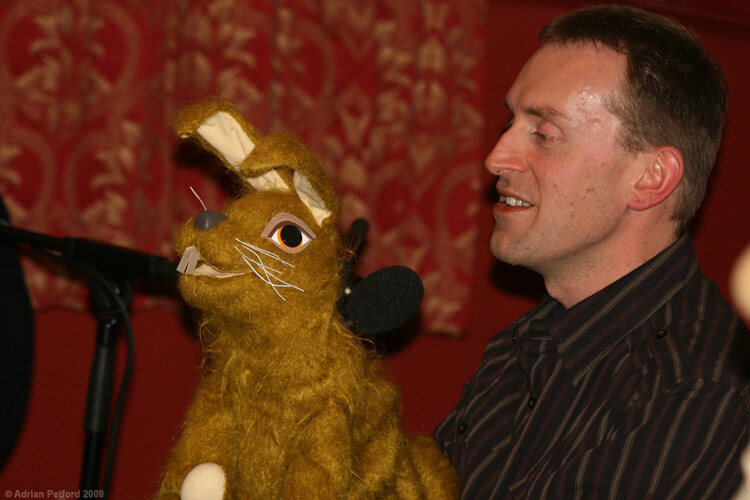 I always remembered Hartley Hare as being a creepily, rat tag of a toy, so battered and dog-eared that it looked like it was ridden with fleas and if you came across it in an attic any parent would tell order you "don't touch that it's probably got diseases." However after tracking down footage of Hartley it's clear his miss kept appearance is the least of this scruffy hare's disturbing traits.
It's possible that the creators meant Hartley to have a foppish, dandy type trait in him. However when he looks into the camera and utters with a lingering, drawl "I want to talk to you about being naughty" you can't help but shiver and think he's more like a boy hungry predator grooming his next victim. In the footage I've found The creepiness mounts and mounts the as Hartley drops camp innuendos while talking about the joys of having fun with a glove puppet he's named Michael "deary me Michael, we have been up to lots of trouble haven't we mmmmm?"
Oh God, I don't know what ever happened to Michael but I'm sure it didn't end well.
UK Kid's TV: Fingerbobs
A lot more innocent puppet show could be found on BBC around the same time, although it still had a strangely melancholic feel about it that you could only really find in the 70's. Fingerbobs ran for one season in 1972 and was presented by a Mick Fleetwood lookalike called Yoffy (yeah Yoffy) who to the laid back sounds of pipe music and a gentle drum beat would use gloves and paper cones to create animals out of his hands. The star was Fingermouse, but there was also Gulliver a Seagull, Flash a Tortoise (called Flash because you know Tortoise are slow, so it's ironic you see!) and in a rather bizarre choice a Scampi, yeah a scampi! Truth is I've eaten lots of scampi, but I've never seen a scampi, except on fingerbobs (really if you're going to eat an animal you should at least know what it looks like, ever wondered what those animals McDonald's breed for their burgers look like? I'll bet they walk on two legs and can actually talk and we'll never see them because they never let the, out of their secret farms.) What was the scampi called? Well Scampi, what else? Why would you give a scampi a name? Come on that would be silly. The whole show had a hippy vibe to it and in contrast to most kid's TV has a mellow, soft, relaxing tone to it. I suspect because Yoffy and crew were all stoned off their tits when filming it.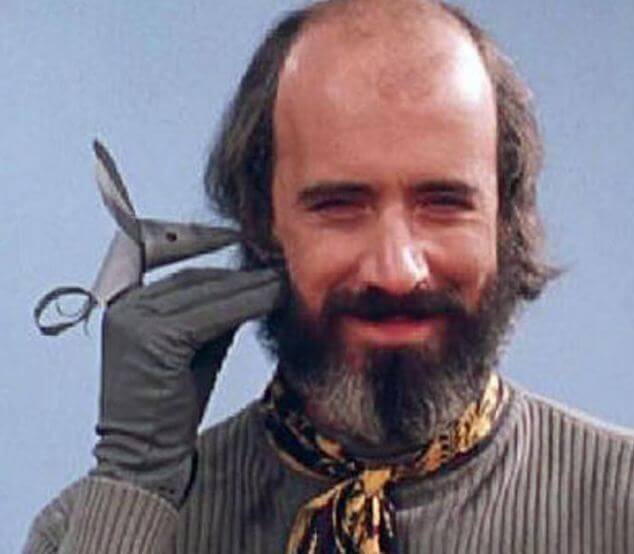 In truth, there's something really enchanting about this show.
UK Kid's TV: Minipops
Some of these shows weirdness you can put down to being "of their time", misjudged or simply the creators slipping a few naughty in jokes into the shows (this actually was known to happen although sadly the characters "Seaman Stains" and "Master Bates" from Captain Pugwash are sadly urban myths). However one show in particular strikes me as totally unforgivable on any level, and creepy to the extent it's almost sinister to think how this ever got made.
Kid's TV has always had a plethora of shows actually featuring kids. Shows presented by kids for kids, because apparently kids want to see other kids their own age. Well I must have missed that fucking meeting. Maybe it's just me and my reluctance as a child to engage in social interaction with others my own age, but as a kid I hated seeing other kids on TV (the exception being school drama Grange Hill). Badly presented shows by kids with heavy accents that couldn't string two words together and no doubt only on there because their dad was the producer or some form of nepotism, they were a stain on after school TV.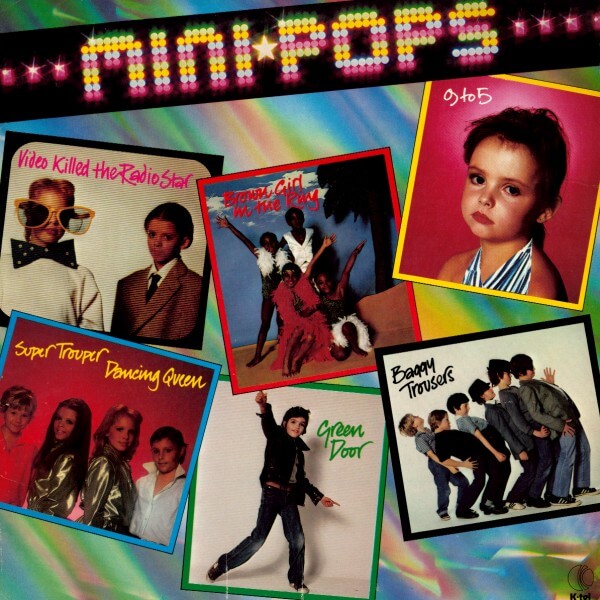 None more so than the frankly disturbing Mini Pops, a show that featured pre teens performing pop songs of the day. Now you may think that's all innocent fun and kinda cute (if you're really weird) but when you have six year olds dolled up with make up and dressed up like little tarts you don't have to be a prude to be alarmed by the suggestive overtones. The choices of songs didn't help matters and with all the pop tunes available how did no one suggest it may not be a good idea to have a five year old sing Sheena Easton's "9-5" a song that has lyrics about making love? (the five year old performing the song dressed in a bath robe was the final layer in this cake of inappropriateness)
The backlash from the public and newspapers was immediate and a baffled Channel Four soon cancelled the series. No doubt the dreams of young viewers wanting the chance to perform on the show were shattered by the shows disappearance but probably not as much as those of the pushy parents who were eager to cash in on their kids and shove them in front of the cameras hoping they'd be discovered for future stardom.
This show was just wrong!
UK Kid's TV: The Krankies
Kids's dressed as adults has proven to be unsettling, but what about when it goes the other way? I dare you to read further into the hideous world of the Krankies.
The Krankies were a comedy double act that did the rounds on a variety of children's shows in the 80's starting with Crackerjack (CRACKERJACK! It's the law in the UK, if you say Crackerjack in reference to the TV show you have to yell back "CRACKERJACK") and eventually their own tv show. They were "Little Jimmy" Krankie a riotously, mischievous schoolboy (always dressed in shorts, school blazer and red cap) with a catchphrase "Fandabbydosey" (which the Urban Dictionary describes as an "expression of delight or approval") and the straight laced Ian Krankie who acted as a paternal figure to the out of control Jimmy but what the actual relationship was never made clear (probably over thinking this).
As a kid I always thought there was something amiss with the diminutive Jimmy but couldn't quite put my figure on it. Then one day I happened to see an article in a magazine on the Krankies and was shocked to see the two of them photographed on holiday on a beach with Little Jimmy wearing a BIKINI!!!! What the fuck????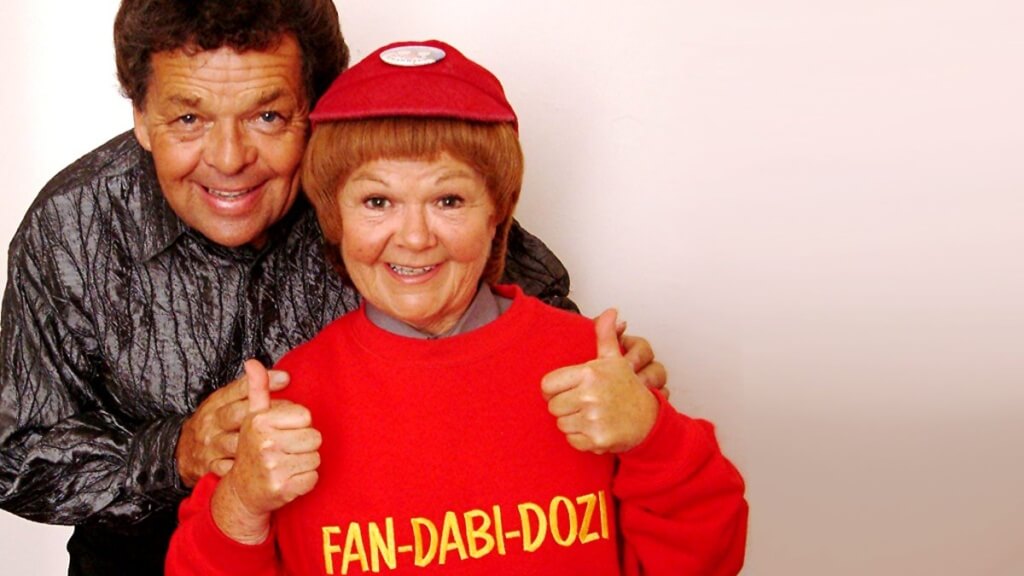 It turned out that Jimmy Krankie was actually Janet Krankie, a woman in her thirties. Not only that but she and Ian Krankie were husband and wife. As mind blowing as I found this as a child it's even more bizarre when I think about it now since as husband and wife the two were obviously having sex (in a radio interview the two talked about being part of the swinging scene) and you know as much as you try to deny yourself the image that at some point the two of them may well have engaged in a bit of roleplay with Janet in her Jimmy persona! Oh yes you know this "oooh fandabbydosey Ian!"
So think about that the next time you take your kids to a panto featuring the Krankies!
UK Kid's TV: Phantom Flan Flinger
In truth the reason that I'm bringing up the Phantom Flan Flinger is not because he's weird or creepy, (although to be honest a silent masked guy in a black outfit throwing cake into people's faces is a bit odd) but because it gives me a chance to talk about the greatness that was Tiswas!
In the Seventies there were two television shows on a Saturday morning competing for the kids audience, and which one you stuck your allegiance to probably said a lot about you. The BBC had Multi Coloured Swap Shop, a lively but well behaved show built around celebrity guests and pop stars and presented by Noel Edmonds before people thought he was a wanker.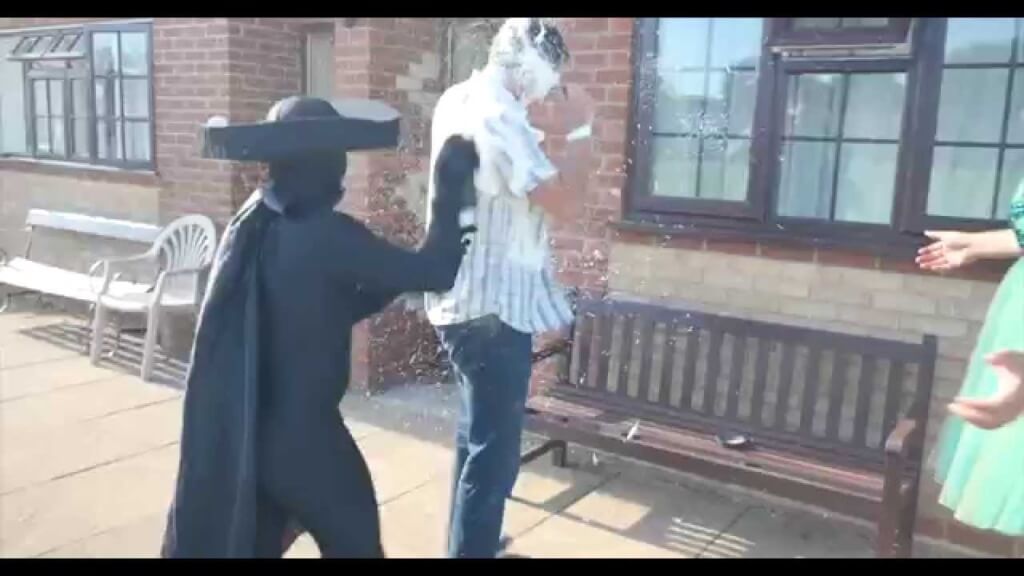 ITV had Tiswas, which was absolute mayhem and anarchy, following a formula of comedy sketches and appearances by popstars and other celebrities but with lots of custard flans thrown in faces. No guest was safe from such treatment, even celebrity scientists or astronomers could expect to be covered in custard or get a pie in the face at the end of the interview. Even the kids in the studio audience and their accompanying parents would be victims of the run ins of the phantom flan flinger.
And there was plenty of buckets of water thrown around too. One such gimmick was to have a family in a cage for the entire duration of the show who were randomly subjected to dousing of water and flans. There was even a song "we sing our song, the bucket of water song" released as a single by the Four Bucketeers.
It was loud, brash, chaotic, anything went and I loved it and it's a tragedy that so few episodes from it's eight year run survive today. Tiswas was by far more fun and rebellious than the goody two shoes Swap Shop. Also Tiswas presenter Sally James had boobs, was as hot as hell and even as a kid I found her horny and a damn sight sexier than Swap Shop's Maggie Philburn.
UK Kid's TV: Animal Kwackers
And finally the show that may have inspired or depending on your point of view doomed my future tastes in music, Animal Kwackers.
"Do you believe in rock and Roll?" asked the theme music, well yes I obviously did as a toddler as I loved this show. It was a complete ripoff of the American Banana Splits and like that show featured animals playing in a rock band. There was a blue Lion (Rory) on guitar and vocals, a tiger with an eye patch (Boots) on guitar, a monkey (Twang) on bass and a dog (Bongo) on drums. By the way I have to share this, wikipedia helpfully points out that the "characters were played by actors in costumes" Just In case you thought they'd actually trained animals to mime to the songs with instruments.
Looking back on this one the show is a lot freakier looking then I remember, but it still looks awesome as hell and anything that introduces little ones to rock music at an early age is all right by me. Also I can still clearly remember the story time where the other band members would sing "Rory, Rory, tell us a story, Rory, Rory tell us like it is!"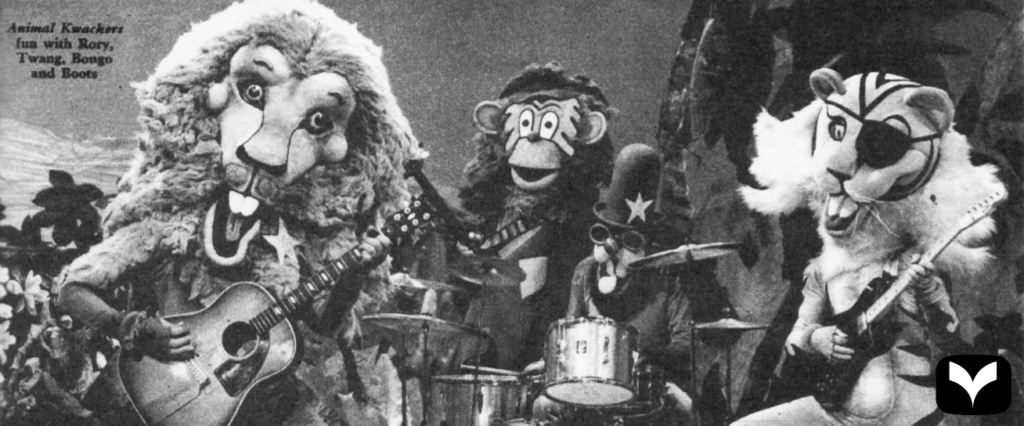 Sadly this is another one where surviving episodes are few and far between, meaning that so many of their performances of cover versions such as "Yellow Submarine," "Lucy in the Sky with Diamonds" and many other classics are lost for all time. Though I do hold out hope that one day I'll come across the 1972 album from the show. I'm sure that hidden in the back of my mind are some other frightening, solidly repressed memories of more children's television, but these will have to do for now.
And if you think that the shows here are creepy and weird, just think this is what creators produced when they were simply trying to entertain the kiddies. Think what producers could come up with if they were deliberately trying to scare the hell out of us?
Because the next time I write a Fool Britannia piece, that is exactly what I'll be covering.
To Be Continued…
Till Next time,
Dazza