Throughout the history of England it's people have excelled at two things. Conquering other nations and inventing sports. The inhabitants of those conquered nations obviously felt aggrieved at been occupied and their resources plundered and wanted revenge but were unable to actually match us on the battlefield itself. So after years of constant defeats they came up with a new way to make us hurt where it mattered. They decided to start playing those awesome sports we had invented. They practised and practised and became superior to us at playing our own sports and eventually beating us at them and inflicting on us centuries of depression and ruining our summers during major sporting tournaments.
English football fans did come up with a strategy of smashing up any foreign city that beat one of our football teams but ultimately this backfired as hooligans enjoyed the tribal rivalry so much they took to battling their own countrymen every Saturday afternoon.
So we came to be humbled at our beloved football, cricket and rugby, even the Americans started kicking our arse every two years at Golf in the Ryder cup where to compete we were forced to team up with our natural enemies the rest of Europe.
But one sport they would never take away from us and that's the proud working class tradition of Darts, a sport where we would forever reign supreme…because no one else really wanted to play it.
DARTS DARTS DARTS
Ever since it exploded onto our TV screens in the 60's, Darts totally redefined the concept of what it was to be an athlete. Taking the exceptional skill and concentration required to consistently hit a small target seven feet away with a tiny dart and combining it with massively overweight physiques, copious amounts of beer drinking and ability to perform split second mathematical calculations.
Seriously darts requires some serious mathematical qualifications…
"Ok so I got to get 95, so I need treble 20 and then 1 and double 17 to win….right I've hit treble 18 so that's 54 so take that from 95 and I need 41 now so I need to hit 1 which would leave me with 40 share that by 2 and thats 20 so I'd need double 20 to win, oh bollocks I hit treble 8 so that's what 24? take that from 41 ok give me a minute, thats 18 no 17, so if I hit 1 I'd have 16 share that by 2 It's 8 I'd need double 8, oh fucking hell treble 4"
The genius of darts is that it exercises the brain cells while the beer drinking destroys them.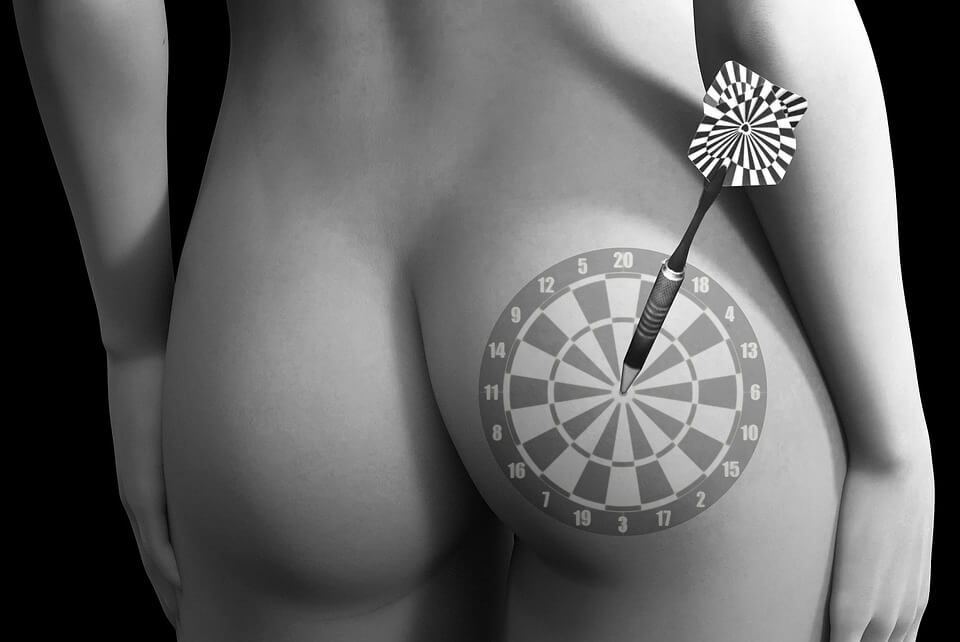 I have two overriding memories of darts.
Darts natural home was in small clubs with a packed lively crowd and a well stocked bar nearby. The sport however grew so that the face of 21st century darts was in large arenas with crowds of up to 10,000 and the large bellied players coming out with dolly birds on each arm to boxing style entrance music. Always eager to savour the live experience me and a friend decided to attend a show at the Manchester Evening Arena a few years ago, expecting a good lively, party like atmosphere and another sport I could tick off the bucket list as having seen live.
Really what could go wrong?
Alarm bells started ringing when we arrived at the arena entrance where a steady stream of stumbling, shaven headed drunks were coming the other way having already been ejected by security staff. This was about half an hour before a single dart had been thrown.
Unperturbed I took the complementary 180 sign (to be waved whenever a score of 180 was achieved) and took my seat in the stands which despite been only half the arena size from the playing area was still so far away from the 18nch diameter dart board that seeing the actual darts land in it was impossible.
Realising I was going to be taking in the darts by watching the large screens I sat back and took in the raucous atmosphere and what I was hoping was good natured banter. A rivalry seemed to have developed between those in the seats in the stands and those on the arena floor sat around tables. Those in the stands were chanting at those on the floor "BORING, BORING TABLES! BORING BORING TABLES" While those in the stands chanted back "YOU CAN'T AFFORD A TABLE, YOU CAN'T AFFORD A TABLE!"
The novelty of these chants never seemed to waiver throughout the night, although the voices seemed to become more slurred. It reminded me of the scene at the start of 2001: A Space Odyssey with the two gangs of apes screaming at each other. Then one of the apes in the stand discovered his own version of the bone from 2001 in the form of a plastic bottle of beer and lobbed it at those who'd dared to choose to sit at a table.
Things stepped up a notch and the security staff had to stop a few nutcases from both sides from crossing the barriers between the stand and floor for a bit of fisticuffs. One yobbish youth stood on one of the tables he was so proud off and gestured a dare to the stand factions to throw more bottles as his skinheaded father looked on proudly.
By this point I was counting down the minutes for the darts to actually start, hoping it would act like the black monolith in 2001 and distract the silly apes on both sides. (I apologise if you've not seen 2001 and don't get these references but maybe you should watch more classic films instead of reading crap like this.)
When the darts did start it was actually fun for a while, getting to join in with cries of "180" and wave my little sign. But the idiot rabble weren't going to get any sober and the bottle throwing began to escalate as did the number of fans being dragged out and ejected and inevitability brawls began to break out in the stands.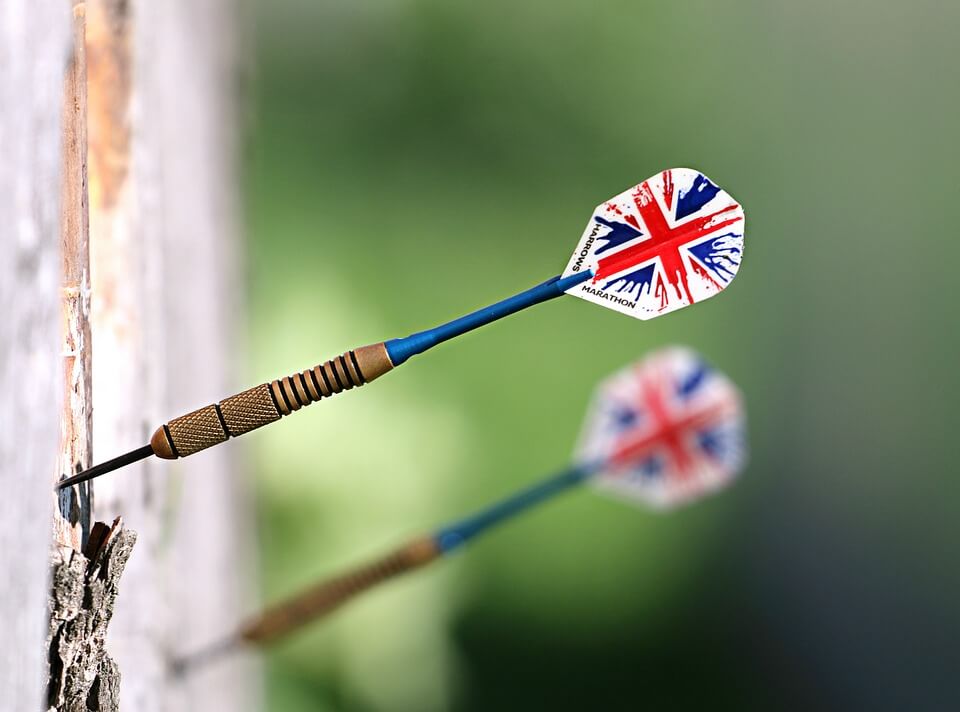 I've been to many rowdy live shows in my time. Heavy metal concerts, punk concerts, Pro wrestling, boxing, MMA, heated football derbies, I even had to run a bookstall at a launch for a gangster's autobiography where I suspect I was the only male there who didn't have a criminal record. Ironically out of all these the only time I've actually felt uncomfortable enough to want to get the hell out of there was at the darts (all right the gangster book launch was a bit scary, especially as I had to fight not to ogle the incredibly hot gangster's girlfriends for fear of ending the night without both kneecaps ).
There was a brief respite when a chant started of "STAND UP IF YOU LOVE THE DARTS, STAND UP IF YOU LOVE THE DARTS." In which everyone stood and waved their hands in the air, hereby confirming their status as darts lovers. I joined in in order not to look like someone who didn't love the darts in case it singled me out for a fist in the back of the head. Although as we stood with our arms spread out to signify our love of the darts my friend pointed out the irony that as much as they professed to "love the darts" no one seemed to be paying attention to what was going on at the dartboard itself.
I confess I wasn't watching the darts much myself, having one eye out for any projectile that may have been coming my way and the other on the spectacle of the groups of security charging from one trouble spot to the next. Whatever they were been paid that night they deserved double as they stormed in to break up fights and throw one after another drunken lout out with the intensity of Stone Cold Steve Austin charging into an army of wrestlers.
Anarchy seemed to have broken out in the arena and if the darts had gone on much longer I reckon I'd have seen Han Solo shoot Greedo under a table, a schoolkid called Piggy crushed under a boulder and a policeman dragged screaming towards a giant wicker man. Fortunately the final dart went in and with it the sky was filled with a rain of bottles and half drunk cups of beers thrown by yobs who didn't give a fuck on who they landed. Me and my friend rushed for the exit as if we were heading for the last helecopter at the fall of Saigon, beer soaked containers crashing around us one of which bounced off my nose which isn't the hardest thing to hit I have to be honest.
"Still not as bad as the darts show in Glasgow!" I heard one fan say as we made it out of the building.
DARTS – BULLSEYE
A more sedate and endearing memory of darts comes from my childhood on Sunday afternoons in front of the telly watching the quizshow Bullseye.
Bullseye was a national institution and ran for 15 years through the 80's and 90's hosted by comedian Jim Bowen in front of a crowd of almost entirely geriatrics, probably there because the bingo halls were shut on a Sunday and the Ferrett Legging and Gurning seasons had come to a close.
Bullseye was brilliant entertainment for so many reasons, combing darts with general knowledge questions. Three duos would compete, with one being the darts player and other answering the questions. The show would revolve around the darts player throwing darts at a board split into sections of various subjects such as History, films etc to determine what questions would be asked of the partner. The darts players would also throw darts at a traditional board to determine how much money the questions were worth.
The winning pair coming out of the quiz rounds would get a shot at "Bully's Prize board" (Bully being the show's cartoon bull mascot) where the board would be spilt into eight red segments separated by eight black larger segments. Both contestants would throw into the board (the dartplayer had six goes, the general knowledge person got three) and hitting the red segment would win one of "Bully's prizes," hit that segment again and you'd forfeit that prize, hit the black you got nothing. Or as Jim Bowen would break it down as "Stay out the black and in the red, nothing in this game for two in a bed!" which kind of sounds like warning against anal sex.
The prizes would typically consist of such luxuries as a television, a drill, a washing machine, a radio clock, some sort of large vase you wouldn't put in your lounge in a million years. Hit the bullseye and you'd get "Bully's special prize" which would be something more expensive like a scooter or a dishwasher.
Do well and the pair could come away with a fine booty of all nine prizes, do crap and you could come away with an aquarium (fish and plants not included).
Then would come the dramatic finale of the show known as "Bully's star prize gamble" where the contestants would have the chance to gamble their luxurious haul against whatever was Bully's mystery prize, the tension in the decision made palatable by the geriatrics in attendance gruffly shouting advice that sounded roughly like the walking dead muttering "gamble" (no doubt impatient for show to end so they could shuffle off to the toilet and wait for the meat raffle to start).
If they gambled the pair would throw three darts each at a traditional dart board the aim being to reach a score of over 101. Now that doesn't sound too difficult and in fairness it shouldn't be. To get over 101 with six darts the players only needed to score an average of 17 per dart (see I'm using maths). Now a regular decent dart player should be able to get three darts in the 20's more often that not, so there should at least be 60 there. Which would leave the none dart player (who always went first) only 41 to score to set them up for that, so that's only 14 per dart. The obvious strategy for the non player to go for is to aim for the 14 and 11 segments which are right next to each other. Even if the non dart player gets all three darts in the single 11 section that's 33 right there (this would mean a treble 20 being required from the darts player but it's still doable) and there is a good chance even with crap dart players one dart or maybe more could land in the treble 11 or treble 14 section so that is 33 or 42 with a single dart.
Point is it's quite an attainable target unless your non dart player can't throw a fucking dart straight to save their lives.
Unfortunately most of the time the non dart player couldn't throw a fucking dart to save their life!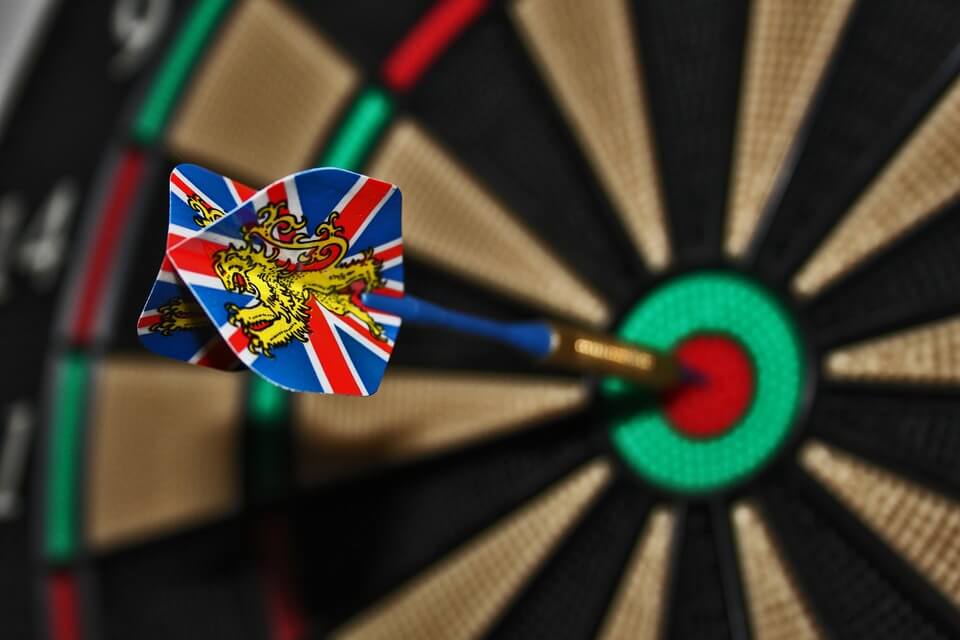 I'm sure that back in the 80's some research must have been conducted to determine the correlation between being good at general knowledge but shit at throwing a dart, as if the use of the portion of the brain that retains general knowledge reduces the hand to eye coordination required to throw a dart into a board and have it stay there.
I never went on Bullseye, but if I was a dart player I'm sure I'd pick a partner who not only had good general knowledge but also was at least competent at throwing a dart. At the very least if I was going on Bullseye as the general knowledge person I'd practice with throwing darts into a darts board, I mean Bully's Mystery star prize is at stake.
Yet it would seem general knowledge does not include common sense and many times you'd see darts lobbed at the board with all the skill of a hooligan throwing a bottle at an actual darts show.
Because of this many times the pair would lose their haul from Bully's prize board as the non player darts sailed off well wide of the mark and allow Jim Bowen to mock the losers with his catchphrase "look at what you would have won," as more often than not a brand new car was paraded in front of the gutted duo.
Rather bizarrely in a pattern that would confound statisticians on the concepts of chance and probability the car almost always seemed to be Bully's Mystery star prize when the 101 challenge had failed to be achieved. When contestants won the prize it more often than not seemed to be a speedboat they were leaving with. Now what the fuck the working class contestants were meant to do with a sodding speedboat is anyone's guess and if they lived in landlocked cities like Sheffield or Birmingham then well such a prize is really taking the piss isn't it?
But that's not Bully's problem is it.?
Incidentally quite a lot of these moments from Bullseye can be found on youtube to watch and there are certainly worse ways to waste an evening. Such as going to watch the Darts at Manchester Arena.
Til next time,
Dazza