Hi, my name's Tanguy (I bet you can't pronounce it correctly on your first try) and I'm French –which means that yes, my food tastes will probably gross you out. But fear not! I am not here to talk about the delicacy of our cuisine, I'm here to tell you about the crazy world of Franco-Belgian comic books. They're pretty popular around here and they have close to nothing in common with their American counterpart. For example, did you know that in 2016, there's still zero French superheroes? How weird is that? Actually, it's not that weird if you know a little about French culture.
Today, I'll list some of the most famous series and give a quick summary for each of them.
Astérix the Gaul:
He's our national hero. He's a small Gaul warrior who fights Roman invaders with his friend Obélix. The series is known for its well-researched historical references. So far, 36 Astérix books have been published.
Tintin:
He's a reporter who goes on adventures all around the world. I don't like Tintin but I'll expand on that at length in another post. The series is made of 24 books.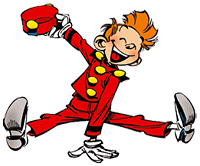 Spirou and Fantasio:
Spirou is like Tintin except it's actually good. Spirou goes on adventures around the world with Fantasio, both of whom are reporters at the Journal de Spirou. Yes, that guy in canon has a newspaper named after him. 55 books and 4 one-shots.
Marsupilami:
The marsupilami looks kind of like a monkey with leopard fur. Most importantly, its tail is super long and the marsupilami can bend it into whatever form it wants. 29 books.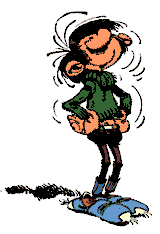 Gaston:
Gaston is a slob that works at the Journal de Spirou. He sucks at his job and he drives Fantasio crazy. This is all part of the Spirou extended universe. Take that, Marvel. 19 books.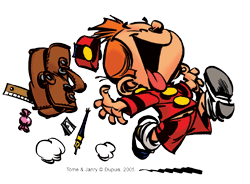 The Little Spirou:
The Little Spirou is Spirou's son. Whereas Spirou Senior is a paragon of virtue, his son is not as clean cut, to say the least. That kid is obsessed with sex and is like six years old. Contrary to what the title of this series might suggest, this book is definitely aimed at an older audience. 18 books.
So that's what I'll be doing here, telling you about this weird culture of ours through the lens of Franco-Belgian comic books. I know, this sounds atrociously pretentious (but that's because we're atrociously pretentious people). What will this feature be about? French comic books for the most part. Rest assured that I'll regularly go off topic to spew nonsense. Will I write regularly? How long will it last? Fuck if I know. All of this is nothing but an excuse to talk and rant about comic books on the Internet.
I hope you'll enjoy this ride as much as I do!
See you next time!
Hit my music!