In my introductory column about Franco-Belgian comic books, I mentioned some of the most famous series in the genre: Astérix, of course, but also Spirou, the Marsupilami and Tintin. A few days later, I realized that I had forgotten one of the most important series with Lucky Luke.
WHAT'S A LUCKY LUKE?
Lucky Luke is a good introduction to the world of Franco-Belgian comic books in that this series uses most of the tropes that defines the genre. Format-wise, it's a hard-covered book of 46 pages, which is the standard. Most of the time, French comic books are self-contained stories. Sure, you may spot one or two minor references to previous episodes here and there, but nothing important. You can pretty much jump into any book of a given series and never feel lost. This format plays a big part in the success of these books: they're self-contained, family-friendly adventures that anyone from your grandmother to your kid can pick up and read without needing any kind of exposition or backstory. While this formula has proven to be very popular in these parts, this comes at a cost, as you can't have any kind of character development, there's no real tension in the story because you know that your favorite characters are never in danger. The most important trope in these books is the respect of the status quo. For example, every Lucky Luke book ends with the same panel of Luke riding Jolly Jumper in the sunset, singing "I'm a poor lonesome cowboy and a long way from home." Some things have changed since the series' creation in 1946: Luke originally was a violent and rude character who killed his ennemies. This changed when writer René Goscinny joined the series. Also, Luke used to smoke but now sucks a ear of wheat because TV stations wouldn't let a character smoke on TV.
So what about Lucky Luke? What makes this book special? Set in the Old West, the series tells the tale of Lucky Luke, a cowboy. Actually, he's much more than that. He's the man who shoots twice as fast as his shadow. He doesn't have a well-defined job, I guess you could call him a vigilante who helps people catch the Daltons, the most famous (but also the most ineffective) outlaws in the world. Luke is a smart man who rarely gets angry at anything. He's a sharpshooter who never misses his target but only use his gun to disarm his foes. Luke protects the weak from the mighty and is a defender of justice. He always knows when something is up and he always wins in the end. Surprisingly (or is it?) Luke doesn't seem to have any friends. He's always nice to people and people are mostly nice to him, but that's all. He doesn't have a love interest or anything of the sort. If you're thinking "wow this character seems boring", you would be correct. In this series, everybody is more interesting than the hero. I don't exactly know if it's by design or not, but I think it's an effective way to bring life to this universe. Anyway, here are some of the more interesting characters:
Jolly Jumper: Jolly Jumper is Luke's horse. His horse is more interesting than him, OK? Jolly is the most intelligent horse in the world. He's a smartass (pun somewhat intended): while he doesn't speak, the reader can read his thoughts and he generally makes fun of the story or a given situation.
Rantanplan: Rantanplan is the most useless dog in the world. He's not only useless, he's -in canon- the dumbest dog in the universe. He's a police dog that frequently helps prisoners escape the jail he's supposed to watch because he's so dumb. I dearly love that dog. Some other people must love him as well, as he appeared in the Lucky Luke animated TV show and got his own spinoff series in 2006.
The Dalton brothers: they're the series' main villains. In the Lucky Luke universe, they're the cousins of the Dalton Gang brothers, a real life gang of outlaws specialized in bank and train robberies. There are four of them: Joe, the oldest, shortest and angriest of the bunch, William and Jack, the middle brothers who don't really have a role except to act as buffer between Joe and their youngest brother Averell, the dumbest Dalton, who's also obsessed with food. Every Dalton looks the same, except that the younger the Dalton, the taller. Most of the time, the Daltons are in jail trying to escape. The Daltons are so popular that Xilam Animation has produced an animated television series called "Les Dalton", focusing on them.
WHY DO WE LIKE THAT LUCKY LUKE GUY EXACTLY?
Lucky Luke is popular because of its humor and use of historical references. Luke has crossed paths with Billy the Kid and has received orders from Abraham Lincoln. While some adult themes are present in the books, such as the presence of "dancers" (hookers), nothing is ever explicit. It is a family-friendly book first and foremost.
The fact that the action doesn't take place in France and that the hero is a cowboy should surprise you and says a lot about our fascination for the good ol' U.S. of A. We love you, America. Almost as much as we're repulsed by you. Lucky Luke is one of the most important franchises in French entertainment and its hero is not a French character? Think about how proud French people are, and then think about that. We've got Astérix, a Frenchman fighting Roman invaders, and we've got a cowboy doing his thing in Arizona? Luke was born in 1946, at a time when the American dream was an idea that everybody wanted to believe in. Hell, we still want to believe in it in 2016. World War II just happened and the Nazis were defeated with the help of American forces. At the end of World War II, the American dream was a beautiful thing. It was hope, opportunities, a better future. People bought into this idea that there was a place where all the atrocities of the first half of the 20th century didn't matter. America became a de facto land of heroes. And this doesn't just apply to France. People all over Europe thought the exact same thing. For example, why do you think it is that Italians made the best westerns? America was the deus ex machina of the World War plays. Europe saw America as a hero, and every hero needs their origin story. And that's what westerns are: a romanticized, often idealized origin story for this country. Europe woke up after World War II, saw this new heroic figure in the United States and thought: "this is the way to go now, they didn't go to war, they saved us, let's pay tribute to them. We owe them." Lucky Luke is a product of its time and it's really interesting to see that the series is still ongoing, which says a lot about the strength of this myth we've built.
Lucky Luke is one of the longest running Franco-Belgian comic books because creative teams have changed with time, contrary to most books which end when their creators die. That's why the series is 77 books long and still going, with a new book scheduled for this September. The series has produced several spinoffs, TV series, video games and two (awful) live action movies (that I will expand on in a future column).
Until next time, take care!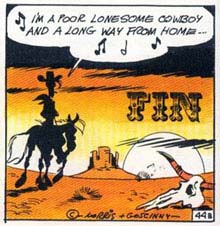 Feedback, suggestions? I'm available @Linkorius on Twitter and in the comments below!